PayPal is among the most widely used banking solutions for making online purchases and transactions, with over 200 million active customers on the global scale. This online payment system was first introduced back in 1998 and quickly established itself as one of the fastest, safest, and most efficient banking solutions in the world. The service is available in over 200 countries worldwide and supports as many as 25 currencies, making it possible for customers to process online payments across international locations in a variety of languages.
Being one of the most commonly used digital wallets in the world, PayPal has also gained popularity among online gambling enthusiasts as it enables them to transfer funds to and from their interactive casino accounts in a secure and hassle-free manner, without having to reveal any sensitive financial or personal information.
Given the widespread acceptance of this online banking processor, it is not surprising PayPal is supported by many web-based casinos for deposits and withdrawals. However, it is worth mentioning that players residing in the United States cannot use the method for such purposes due to the legal restrictions pertaining to online gambling in their country, despite the fact PayPal is actually headquartered in San Jose, California.
Using PayPal for Gambling Transactions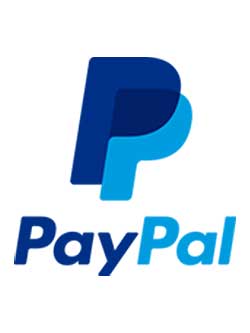 Processing gambling transactions via PayPal is as simple and safe as making an online purchase. The method functions as an e-wallet, so players are prompted to first sign up with a PayPal account at no charge. In the process, one is required to provide some personal details such as date of birth, mobile number, email, and permanent address. One needs to input the number and expiration date of a valid credit or debit card to attach to their new PayPal account although it is also possible to link the e-wallet to one's personal bank account as well.
Once players have successfully created a PayPal account, they can use their PayPal log-in details (email and password) to process casino deposits without having to disclose their banking information each time. The first thing to do is load some money into the PayPal account via a bank transfer or a debit/credit card.
To boost their balance, players simply need to sign into their online casino accounts, visit the cashier section, and choose PayPal from the list of accepted banking solutions. Once the desired deposit amount is specified, players will be redirected to a new window where they should enter their email and PayPal password to confirm and complete the gambling transaction.
Using PayPal for Gambling Transactions Additional TipsPayments conducted with PayPal are normally processed within instants at no charge, so the money you wish to deposit will be added to the casino balance shortly after the transaction's initiation. More importantly, there are no fees involved neither on behalf of PayPal or on interactive casinos accepting it as a deposit method.
Once players have accumulated some winnings, they most certainly would wish to cash them out. The great thing about PayPal is that the majority of online casinos support it for withdrawals as well. Cash-outs with PayPal are conducted pretty much in the same manner as deposits. You need to go through the same steps – visit the withdrawals section, select PayPal from the list, enter your PayPal log-in credentials in the form, and specify how much money you want to cash out. The sum will be sent to you in a couple of business days.
The reason for this small delay is that withdrawals from online casinos would normally remain pending for a day or two so that the transaction can be verified. Oftentimes, it is also possible to reverse the withdrawal while it is still pending although this is rarely a good idea – you may end up losing your winnings back to the casino. Please note that the timeframes for withdrawals with PayPal may vary between online casinos. Gambling operators normally do not charge for withdrawals with this method but it would be smart to contact your casino's support agents and ask, just to be positive.
Advantages and Disadvantages of PayPal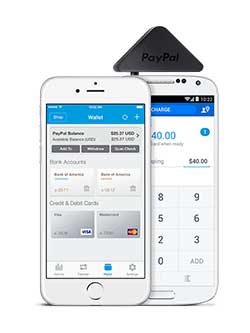 It should be noted the benefits of using PayPal for gambling transactions greatly outnumber the disadvantages. One of the biggest positives of using this popular banking solution is the security it offers. Players, who use it can feel safe in the knowledge they are well protected against thefts and other illicit activities, mostly because giving away any sensitive information is not necessary to initiate a deposit. From this, it also follows that PayPal allows casino players to retain their anonymity as they only need to enter their account's email and password to deposit or withdraw.
Apart from its high level of security, PayPal comes with a number of other perks. Players are often granted reload bonuses for depositing with this payment solution. The bonus is normally a percentage (5% to 15% depending on the casino) of the deposited sum, which certainly is a great way to earn a few extra casino credits to play at no charge with.
PayPal is also an incredibly affordable way to bolster your casino balance as it rarely involves any fees, except those for currency conversion. In addition, this digital wallet is extremely user-friendly and simple to work with even by those who have no previous experience with it. After you carry out a couple of deposits, you will get so familiar with it that it would feel like you have been using it for years. And let us not forget the great number of gambling operators that list PayPal in their cashier sections – if PayPal is your preferred banking solution, rest assured you will experience no difficulties in finding an online casino to gamble at.
More Advantages and Disadvantages of PayPalThis leads us to one of the very few downsides of using PayPal for online gambling purposes. While exceptionally popular and widespread, this method of payment is impossible to use by players from the United States, even if they sign up at an online casino that accepts registrations from this country. Despite the recent developments in regard to online gambling legislation in several US states, PayPal is overall prohibited by law from transferring payments to and from web-based casinos. This is actually kind of ironic considering the fact 72% of shoppers from the US hold a PayPal account which can be used for everything else but gambling transactions.
Some players consider having to register an account to use PayPal a minor annoyance. That being said, registration is completed very quickly but linking the credit/debit card to one's new PayPal account may take a little time due to the verification procedure. Yet, given how many advantages PayPal can offer, this is nothing but a slight inconvenience.
PayPal Fees for Gambling Transactions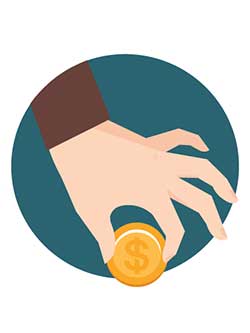 As was said earlier on, players who load money into their online casino accounts via PayPal are not charged on deposits by the digital wallet itself or their gambling provider. The charges for the transaction are normally covered by the gaming operators or vendors themselves. Opening an account with this digital wallet is also free of charge.
The majority of online casinos would normally not charge their players for withdrawing with PayPal but there are exceptions to all rules, so do not hesitate to contact representatives of your casino's staff to request more detailed information on their withdrawal policies. PayPal users are normally charged a quite reasonable fee to receive their money. The fee is set to $0.30 plus the additional 1.9% to 2.9% of the sum you receive. This percentage would be deducted automatically from your withdrawal when you initiate it. There is also a fee when players receive money from other countries but the amounts are country-specific and as such, vary.
Please note that it would be wise on your behalf to open your PayPal account in the same currency you use when playing at your online casino of choice. This will prevent you from incurring fees associated with currency conversion.
Processing Times with PayPal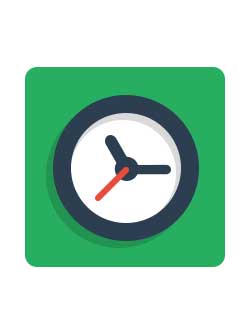 Time-efficiency is one of the strongest points of PayPal. The digital wallet is widely preferred by online casino players because it enables them to deposit within a few instants and start playing their favorite casino games right away. The majority of interactive casinos to accept this digital wallet, will have PayPal deposits reflected immediately into their players' accounts at no cost. This is certainly a positive as it saves players the frustration associated with delays and having to wait for their money to reach their casino balance.
That being said, we should warn you that it takes a little time to actually load money into the PayPal account itself, especially if the latter is connected to one's bank account. Normally, transfers from bank accounts to the PayPal accounts require between 3 to 5 business days to complete successfully. On the bright side, players can easily check when their PayPal balance will be topped up by logging into their accounts and visiting the "Transfer to Your Bank" section. These timeframes are country-specific, though. For example, players who boost their PayPal from Canadian bank accounts will have to wait between 7 and 8 work days.
As far as withdrawals from online casinos go, these usually take a little more time, which is the case with the majority of accepted withdrawal methods, in fact. This can be explained by the pending procedures we hinted about earlier. Note that your PayPal withdrawal will remain pending for a specific period of time, required by the online casino to verify the transaction in order to ensure they are sending the right amount of money to the right person. This period depends solely on the casino you have registered an account with, but in most cases, the transaction will clear through within 48 hours.
PayPal Processing Times Additional TipsAnother thing to bear in mind concerns first-time withdrawals with PayPal. When you first attempt to cash out with PayPal, it may take some time since you will be required to go through verification but this time on behalf of your preferred online casino. The reason for this is again security since the operator's staff will have to review your account and ensure all the details you have provided when registering, both personal and banking, coincide and are correct.
Also, you will be asked to send copies of some documents to verify your identity, method of payment, and permanent address. It would be wiser to scan the documents in advance and have them ready prior to initiating your first withdrawal as this will save you time.
Mobile Payments with PayPal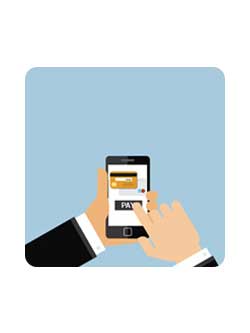 Have you ever been in a situation where you decide to play your favorite 3D slot on the go but have exhausted your casino balance? With the current explosion of mobile gaming, many players can identify with this. Those who have opted for PayPal as their casino banking method can load additional funds into their accounts via their smartphones since the payment processor offers a convenient and user-friendly mobile app.
There are, in fact, two applications for a free download. The iOS-compatible app can be found at the official App Store and enables players to conveniently send and receive money to and from their PayPal accounts. The Android-based mobile application is available for a free download at the Google Play store.
Certain system requirements need to be met if you wish to run the applications on your mobile devices. The Android app requires 4.0.3 platform or above while the iOS one runs smoothly on iPhones and iPads, based on 8.1 or later, and is available in a variety of languages, including Swedish, Norwegian, Spanish, German, and French, among others. Both applications have a rather user-friendly interface so players would hardly face any difficulties with navigation even if they have never used the mobile services of PayPal before.
Mobile Payments with PayPal Additional TipsThere is an additional benefit of using PayPal's native mobile applications and it lies in the fact players receive instant notifications when depositing or withdrawing money, which enables them to keep track of their gambling profits and expenses.
There is an alternative for players who lack storage space on their hand-held devices, preventing them from installing the payment service applications. In order to initiate a deposit on the go, they should simply load PayPal's website in their phones' browsers, at which point, they will be automatically taken to its mobile version where they will be prompted to enter their email and PayPal password. Of course, you can always visit the website of your favorite casino on your mobile phone and initiate the deposit from its cashier section after selecting PayPal from the list of options. In fact, this is the most convenient option for players who own devices based on Windows Phone OS, especially.
Security at PayPal Online Casinos
Those who are new to the entire online gambling experience are usually concerned about the safety of their funds and personal details. However, there are absolutely no grounds for such apprehensions, especially if one uses PayPal as a banking method. This payment service is largely considered one of the safest methods to make transfers to and from online casino accounts.
First of all, those who use it need not disclose any sensitive data to carry out a payment. When signing up, all players need to do is input the number of the credit card (or bank account, respectively) they want to link to the newly opened PayPal account. Since this is a one-time process only, you will not be required to enter this sensitive banking information when initiating your deposits at the casino. You will be prompted to provide the PayPal password and the email you have registered with.
The fact PayPal does not share its customers' banking information with any third parties gives it an additional layer of security. On top of that, all transactions to and from your favorite casino are monitored by PayPal around the clock to eliminate any risks of identity thefts and other frauds. If any suspicious activity is detected, PayPal would aid players in dealing with the issue. Those, who notice a transaction has been carried out without their authorization, can report it to PayPal.
Moreover, if PayPal detects an unauthorized transaction has taken place from a given player's account, the transfer will be put on hold so that the amount cannot be withdrawn by the fraudsters. Provided that PayPal establishes the payment indeed has not been authenticated by the rightful account holder, the money will be automatically returned to the balance.
PayPal Security Additional TipsAlso, PayPal has adopted the latest security measures in the online payment industry to protect players' bank account and card numbers. All the information to and from PayPal's official website is encoded with state-of-the-art encryptions, rendering it impossible for malicious persons to steal and misuse it. If a suspicious activity takes place, PayPal's security specialists will immediately commence work on resolving the issue.
The company has also adopted the latest safety protocol, called 3D-Secure, to protect the credit and debit cards customers link to their PayPal accounts. In order to fully benefit from this extra level of protection, players are required to contact the banking institution that has issued the card they have connected to their PayPal accounts. The bank would then provide them with a unique security code, or "safekey", that is known only to them. As of the summer of 2015, all payment service companies operating within the European Union are required by law to enforce this security protocol when conducting financial transactions.
When players initiate deposits to their online casino via PayPal, they will be prompted to enter their security codes in order to verify they are the legitimate owners of the cards linked to the PayPal accounts and authenticate the financial transactions. After the player enters the valid security code, their money transfer will be completed successfully. If an incorrect code is entered, the transaction will be immediately blocked to prevent the perpetrators from misappropriating the player's funds.
PayPal Casino FAQ
We have provided answers to some of the most common questions of players who are new to depositing and betting for real-money at interactive casinos supporting PayPal. We hope you, too, will find the information you are looking for below. If there are other aspects to using PayPal you are uncertain about, we strongly urge you to either contact your casino's support representatives or get in touch with PayPal's customer service team to request more extensive information.
There are many perks of using PayPal at online casinos, including security, ease of use, low fees, and dependability. PayPal is also a widely accepted method, so those who intend to use it will hardly struggle with finding an online casino that works with it.
Players who process their deposits via PayPal will also be rewarded by some casinos with free credits each time they bolster their accounts' balance. Many big gambling operators give away additional bonuses on deposits carried out with PayPal. The deposited sum is normally matched by a certain percentage. For example, if your casino offers a 15% reload bonus for PayPal payments and you deposit $100, you will have a total of $115 to play with.
Residents of the United States can freely use PayPal to shop online but depositing with this payment solution at web-based casinos is totally out of the question. Most attempts to initiate such transfers result in the transactions being blocked.
This is also valid for players from Australia who can pay for online purchases with PayPal but are basically restricted from depositing at web-based casinos with this method. The same applies to several other countries like India, Egypt, and Turkey. There are many gambling operators which accept registrations from the United States, yet do not support PayPal as a banking method.
Unfortunately, the answer to this question is negative – PayPal is not available as a banking option at all online casinos, partially due to the restrictive legislation in regard to online gambling in specific countries.
Also, PayPal enjoys an excellent reputation for its reliability and strives to keep it this way. Because of this, the company is rather picky when it comes to selecting which gambling operators can use its services for processing their transactions. The payment services giant is reluctant to have its name associated with unfair or illegal gambling activities. Hence, many operators with a shady reputation do not list PayPal among their accepted banking methods. This payment processor is used primarily by casinos with top-notch reputation, including big names in the industry like Eurogrand, for instance.
One of the greatest advantages of using PayPal as a casino deposit method is the ability to open an account in one of 25 different currencies. The majority of the currencies are also supported by most online gambling operators, so there is a good chance you will be able to deposit in your local currency and thus avoid the additional fees associated with conversion. Some of the most commonly used currencies PayPal supports include EUR, USD, GBP, AUD, and CAD.
This is a burning question many online gambling novices ask themselves. There are several indicators that can vouch for the reliability of a given online casino that accepts payments with PayPal. One of the easiest ways to tell a gambling operator is trustworthy is to check which authority has issued its license and is responsible for its regulation. Do not trust an online casino which has not published information regarding its licenses, even if it accepts your preferred payment method PayPal. Such compromises may end up costing you a lot of money and nerves at a later stage.
Additionally, check the casino's website for information concerning its payout percentages. If the casino you have chosen has the seal of approval of respected independent auditors, such as eCOGRA, you can rest assured you will be playing fair games that are not rigged against you. The software the casino uses may also serve as an indicator for its trustworthiness. Renowned gambling operators would normally team up with software developers of equally great repute, like Microgaming, IGT, NetEnt, and Playtech, among a few others.
And finally, you should definitely do your homework and conduct a little research before you register a real-money account at a casino and make a PayPal deposit. Check out some reviews of the casino you are interested in to get a better idea what it offers and whether it can be trusted. Reading some player reviews online is also a smart idea as this will provide you with different angles and more objective points of view. If the PayPal casino you have chosen meets these criteria, you have nothing to be concerned about.