Video poker is an automated casino game that has some of the most passionate fans in the gambling community. It does not have the colorful graphics and fun music of slots, nor does it possess the glamor of classics such as roulette or craps. It does, however, attract many novices and experienced players with its relative simplicity and the thrill of poker. It offers potential returns of over 99%, it is easy to play and at the same time, it is a challenging and exciting game.
In the 1970's when video poker first appeared, it was played on machines, similar to slots. Resembling a big television, video poker looked rather primitive and as far from table poker as you can imagine. But fundamentally, it remained poker – it followed the same rules and it required certain knowledge and skills in order to win. Over the following decades, it grew in popularity and players in Las Vegas developed strategies which helped them score more constant winnings. With the arrival of web-based casinos, it became available to all kinds of players and even to those who had not set a foot in a casino before. Its virtual nature made the transfer to online video poker smooth and natural, while game developers started creating different variations of the basic game in order to keep players' interested.
Today, there are hundreds of video poker games that can be played online. They are the preferred choice for an increasing number of casino visitors because they are easy to play and unlike in live poker games, players do not feel intimidated and stressed. In video poker, you do not play against a dealer or against other gamblers but against a computer. You can control the pace of the game, the bets you place, and with your actions, you can effectively influence the outcome of the game. In fact, video poker is the electronic casino game, which has the lowest house edge. This means that in the long run, you have the opportunity to win back a huge portion of your entire bet.
Casino
Bonus
Compatibility
Claim Bonus
How Video Poker Works
Based on a simple form of poker, 5-card draw poker to be precise, video poker is played with a single deck of 52 cards. The lowest paying hand is a pair of Jacks, called Jacks or Better, which became the name of the most basic video poker variation. In stead of being dealt the cards by a croupier like in poker, the player here receives 5 random cards from a computer. While the game is, indeed, simple and easy to play, you can significantly increase your odds of winning by knowing the basic rules and the nature of this computerized game.
Video Poker Rules and Basics
Video poker, also known as Draw Poker, is a game where the player is given 5 cards from a 52-card deck (from Twos to Aces), which can be replaced or kept so that they can form a winning hand. In order to start a video poker game, you need to first place a bet. In most games, you will be able to choose from 1 to 5 coins in your preferred denomination – anything from $0.05 to $5. Once you push the Deal/Draw button, you will be dealt 5 cards which you can hold or replace. You need to select all the cards you wish to keep – any or all of them.
The goal is to collect cards that will form a winning hand, so choose your cards well. Then, you need to push the Deal button again and the cards you decided to discard will be replaced by new ones. Typically, the game will immediately indicate whether or not your hand is winning anything. The payout depends on the particular combination of cards you collected – how strong the hand is and the size of your bet. In video poker, playing with the maximum amount of coins is a good strategy because the payout for a Royal Flush is much larger than the money given for a 1 coin bet, for instance. The Royal Flush is the highest paying hand in the game, but getting it is not an easy task. That is why all new players should learn what the winning hands in video poker are and how they are ranked.
Winning Hands
As video poker derives from classic poker, the winning hands here are very similar to the ones you may already be familiar with from table poker. There is some deviation from the classic rules and it is individual to each particular variation of video poker. However, the rules and hand ranking in the game of Jacks or Better is considered fundamental and are the basis for almost all other versions.
In the regular Jacks or Better, the strongest hand is called Royal Flush and it a combination of a Ten, a Jack, a Queen, a King, and an Ace of the same suit. It brings the highest payout and it is the least likely to get. The next best hand is Straight Flush which is formed by five consecutive cards of the same suit. In other words, a Royal Flush is simply the strongest Straight Flush. This hand is followed by Four of a Kind, which is exactly what it sounds – four cards with the same value.
The next best hand in the ranking is called Full House and it comprises of a pair and a triple – for instance, a pair of Nines and three Fives. It is followed by a card combination known as Flush, or five cards of the same suit, which do not need to be in any order. The next best ranking hand is Straight and it is formed by five consecutive cards of any suit. The lowest winning hands are Three of a Kind, Two Pairs and Two of a Kind. In most video poker variations, the weakest hand is a pair of Jacks or higher face cards, but sometimes a pair of Tens is also considered winning. Another thing you should remember is that the lowest hand, the Jacks or Better, is paid evenly – the player receives a winning equal to the bet placed for this round.
Wild Cards
A wild card is a playing card which can substitute for any other card of the deck and is usually used in poker games. For example, if you have two Kings, two Fives and a Joker, the Joker may stand for a King. In this case, you will get a Full House instead of Two Pairs, which means you will win much more with the help of the wild card. This special card has been featured in some games because it makes the forming of winning hands much easier and adds an element of surprise.
While typically Jokers are designated a wild status, other cards can also serve as wilds in video poker. One of the most popular variations, for instance, uses all four Twos as wild cards. The Twos are referred to as Deuces and the name of the game is Deuces Wild. Another popular video poker version is Joker Poker, where one Joker is added to the deck and it is used as a wild. In Double Joker Poker, you have two Jokers, or in other words, two wilds.
Typically, video poker games with wild cards do not offer payouts for the Jacks or Better and Two Pair hands. The reason for this is the higher chance of putting together a winning set of cards when you have wilds. So, these games make up for the difference by eliminating the two lowest ranking hands. Another aspect of wild video poker games is that they have two types of Royal Flush – a Natural Royal Flush and a Wild Royal Flush. The difference between them is easy to guess – the Wild Royal Flush is formed with a wild card. In such games, the Natural Royal Flush is always the strongest and highest paying hand.
Random Number Generator
In order to be able to play video poker accurately and maximize their odds of winning, players need to understand the inner workings of this game. There are quite a few myths associated with video poker and with electronic casino games as a whole. One of them is that these machines or virtual games are pre-programmed to pay out jackpots once in six months, for instance, or once per 100,000 rounds. There is also no automated shuffling of the cards in video poker, either. These misconceptions not only confuse the players – they also lead them to make wrong decisions while playing.
The truth is that all virtual casino games are dictated by a Random Number Generator technology. This is a powerful microprocessor which with the help of complex computational algorithms constantly generates long sequences of numbers. These numbers are random and they determine which card will be dealt and in which position on the screen. These Random Number Generators, or RNGs, are extremely complicated, secure and almost impossible to manipulate. For this reason, they have hundreds of applications in all kinds of activities and industries which need the creation of random, unpredictable results. The RNG technology is used not only in the development of video poker and slot games but also in computer simulations, statistical sampling and cryptography.
The practical aspect of RNG-powered video poker games is that the odds of getting any particular hand are always the same. The cards you are being dealt in each draw are randomly selected and you can, for example, win the jackpot two times in a row – although this is highly unlikely. It is also possible to play Jacks or Better for weeks without ever getting a Royal Flush. Or, you may hit a high paying hand the first time you play the game.
Pay Tables and Expected Return
One of the most important things players need to take into account before placing real money bets on any video poker game is the pay table. This is a chart displaying all possible winning hands and their respective payouts. Pay tables vary from one video poker variation to another but they are all more or less based on the pay table of the Jacks or Better game.
The lowest paying hand, usually a pair of Jacks, is paid out evenly, which means that the winning from it equals the bet. The payout for next best hand, Two Pair is twice the size of the bet, while for Three of a Kind and for Straight, it is 3 and 4 times the size of the bet, respectively. The payouts for the next two hands is very important and players should always check it beforehand, as it is indicative of whether that particular game variation is good or not. When the Flush is paid out 6 times the size of the bet and the Full House – 9 times, the game is referred to as a "Full-Pay" game. These variations are also known as 9/6 games, which means that the return they offer is most probably high. However, a large part of the video poker variations pays out less for these hands, so beginners should try to stick to only full-pay games.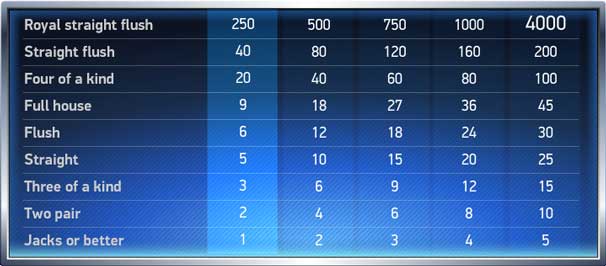 Video Poker Pay Tables TipsIn the basic Jacks or Better pay table, the payouts for Four of a Kind and Straight Flush are 25 and 50 times the size of your bet, while for a Royal Flush you will receive winnings equal to 250 times your bet. However, the Royal Flush payout increases dramatically when you play with 5 coins, or the maximum amount of coins offered by the game – instead of 1250 times the size of your bet, it jumps to 4000 times the size of the bet. It is, therefore, recommended that you always play the max bet, especially if you are aiming for the jackpot.
The expected return is the average theoretical return of placed bets in each game, or what percentage of your bets you can expect to win back in the long run. This return is usually displayed as a percentage and online casinos refer to it as Return To Player or RTP. For instance, if you wager $100 on a game with an RTP of 95%, you can expect eventually to win $95. The return percentage is a valuable piece of information because it shows whether you can generate regular earnings by playing a particular video poker variation.
The expected return depends on the pay table and the player's ability to use the proper strategy when playing a game. A regular, full-pay Jacks or Better game, for example, has a payback percentage of 99.54%, which means that the house edge is almost insignificant at 0.46%. Still, this is the average potential return of the game, which means that in order to achieve it, you need to employ a perfect strategy with minimum mistakes and play a large number of rounds.
Even low-pay video poker variations usually have high RTPs, so they still have much less house edge than most casino games. The return of blackjack is typically around 99.5%, while the percentage for slots varies from 80% for games in land-based gambling facilities to up to 98% for online slots. Interestingly, bingo games and various lotteries typically have an average return of less than 50% and although statistically speaking, they are the worst gambling options, millions of people play them regularly.
Single-Hand and Multi-Hand Video Poker
In classic video poker, players bet on a single hand dealt by the computer but in recent years, multi-hand variations have become very popular. They allow you to play 5, 10 or up to 100 hands simultaneously, which spices up the game and makes it much more intriguing. When you start the game, you choose the cards you wish to hold and then you push the Deal/Draw button – just like in regular video poker. But instead of receiving a single set of new cards, you are presented with multiple hands where the cards you hold remain the original positions.
These multi-hand variations give you the opportunity to win multiple hands at a time. However, the bet you place is multiplied by the number of hands you are playing, so each round, you will be required to bet much more. For instance, if you playing with 1 coin on a 100-hand game, the bet per single round will be 100 coins. This is why multi-hand video poker is not recommended for novice or budget players – they can lose large amounts of money within minutes, even with a perfect strategy.
Popular Video Poker Variations
When video poker first made its way into casino floors across Las Vegas, players could choose from two or three versions of the game, which were almost identical. But today,
both brick-and-mortar and online casinos offer numerous variations that cater to all types of players
. Some of the games have wild cards, others come with extra payouts for certain hands.
There is also a gamble or a Double Up feature in many of them – after a winning, players are presented with a bonus guessing game where they need to guess the color or suit of the card, for instance. If they guess right, their winning from the round is doubled, but if they are wrong, they lose their winnings. Some of the most popular versions of the game also feature progressive jackpots, which are usually paid out only if the player bets the maximum amount of coins and hits a strong hand, usually a Royal Flush.
Jacks or Better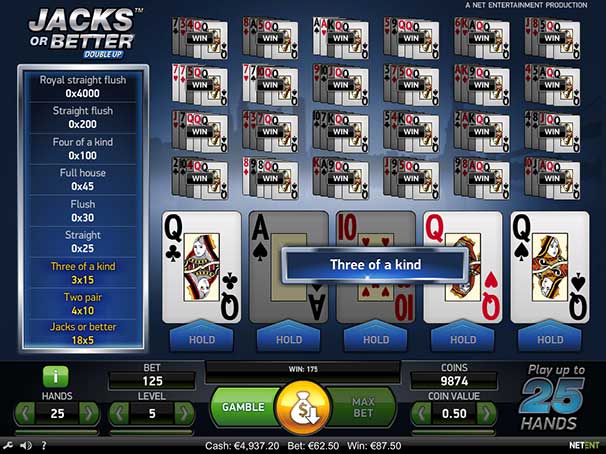 Jacks or Better is probably the most widespread variation of video poker in the world. It is the simplest and most basic game and it is available in multiple formats. Along with the 9/6 full-pay Jacks or Better, game developers have also created plenty of low-pay variations where the payout for Full House and Flush are 9 to 1 and 5 to 1 or much lower – there are 8/5/, 8/6, 7/5 and even 6/5 Jacks or Better. As a result of the lower payouts, the average return percentages of these games are significantly reduced to 95%.
Deuces Wild
This is another very popular variation of video poker and as the name suggests, it features wild cards. All Twos from the deck, or Deuces, serve as wilds, so they can substitute for any of the other cards in your hand. The full-pay version of Deuces Wild has a return of 100.76% but unfortunately, it is rarely offered by casinos. Usually, players would find low-pay games with RTP of around 98%-99%.
The lowest card combination that qualifies for a winning is Three of a Kind. New winning hands are added here – Four Deuces, which has a different payout in different variations, as well as Five of Kind, which comprises of 4 cards of the same value and a Deuce.
All Aces
All Aces is a popular video poker variation which can be found in some of the largest online casinos. With a potential payout of 99.92%, it is quite generous and often preferred by many players. This is a 7/5 game, but the largest difference here is the increased payout for Four of a Kind hands and most of all for Four Aces, which is 400 times the size of the bet. If the Four of a Kind hand comprises of Twos, Threes or Fours, the payout is 100 times the bet and if is formed by cards from Fives to Kings, it pays out 50 times. The payout for Two Pair is the same as it is for Jacks or Better – equal to the bet.
Tens or Better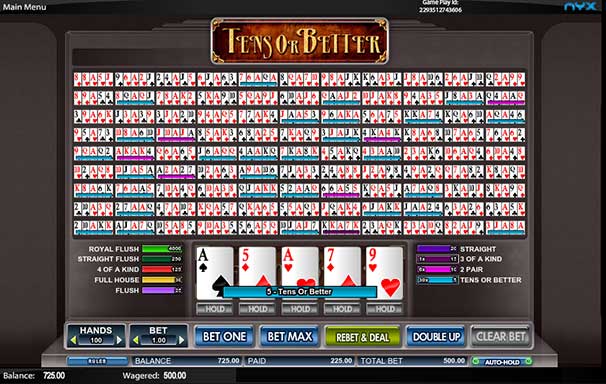 Tens or Better does not offer huge payouts but it is suitable for novices because the winnings here are small, yet more frequent. The reason for this is that the lowest winning hand in this variation is a pair of Tens or higher. So, you will be able to win more frequently in this game, even if you win only what you have wagered. There are several versions of Tens or Better with slightly different pay tables, but usually, the Full House and Flush hands pay out 6 and 5 times the size of the bet.
The game comes with a gamble feature which is triggered after a winning. You can choose the Double button, which opens the game, or the Collect button, which will bring you back to your game session. If you choose to gamble, you will be given 5 cards, one of which face up. You will be required to pick a card from the other four cards, which has a higher value than the face-up card. If you guess right, your winnings will be doubled. If not, you will lose the winnings you were just paid out.
Progressive Video Poker
Some video poker games offer progressive jackpots for getting a Royal Flush with a max coin bet. These games are linked together and a percentage of every bet placed at them goes to the joint jackpot. Of course, you can hit the jackpot from any of the networked games. Often, these games have lower average returns, but once their jackpot is won, the return jumps well over 100%.
Although most progressive video poker variations give the jackpot only after hitting a Royal Flush, some of them would pay it out even for lower paying hands such as Straight Flush or Four of a Kind.
Software Providers
Video poker is not as popular as slots, but all large casino software developers have created their own versions of the game. Some gaming studios focus on providing players with variety, others are dedicated to bringing them only high-quality games with beautiful graphics and plenty of bonuses. While several decades ago, there was just a single video poker variation, today they are hundreds. Each of them has a distinct pay table, although some software developers allow casinos and gambling operators to adjust the payouts individually.
IGT
International Game Technology is the pioneering company when it comes to video poker – the company acquired the first patent for a video poker machine in the 1970's and introduced the game to all casinos in the USA and later, abroad.
Playtech
Playtech was founded in 1999 in Estonia and probably few people could predict at the time how successful the company would become in the following years. Today, the gaming and casino software solutions firm is based in the Isle of Man and has hundreds of top-quality casino games in its portfolio.
Playtech Additional InformationEveryone who has ever played video poker would know that this is among the least visually appealing casino games ever created. Playtech's video poker titles, however, are masterfully crafted and are almost as interactive as modern video slot games. Among them are innovative takes on classics such as Jacks or Better, Tens or Better, and Deuces Wild, as well as All American, Joker Poker, and many others.
IGT Additional InformationToday, IGT is also the largest manufacturer and supplier of slot machines, while its virtual games continue to be some of the best on the market. Although IGT's collection of video poker games is not as massive as we would imagine, the studio has covered all popular variations – Jacks or Better, Joker Poker, Bonus Poker, etc. The content comes not only in 20 languages, but the company's software supports more than 30 currencies. Multi-hand variations are also available.
Microgaming
Microgaming is undoubtedly a leader in the design of casino software – not only because the company has the largest library of games, but also because it has over 20 years of experience in this industry. And it continues to create new and exciting games, some of which – video poker.
Net Entertainment
NetEnt's outstanding software solutions are used by some of the most successful gambling operators right now. The company is another veteran in the development and supply of casino games, but it offers some of the most advanced slots, virtual and live table games.
Microgaming Additional InformationIn fact, Microgaming video poker games can be played at almost all large online casinos. They are available for download and instantly as Flash games. Along with the regular video poker variations, Microgaming also has several releases that feature progressive jackpots. Another great addition to the studio's game collection is the range of Power Video Poker titles – these are multi-hand versions of Tens or Better, Bonus Deuces Wild, etc.
NetEnt Additional InformationNetEnt's largest gaming offering is the online slots, but it has also released a diverse range of video poker variations. They include classic Jacks or Better, Deuces Wild, Joker Wild, as well as several multi-hand variations with RTP percentages of over 97.95%.