Introduced in 2005, iDEAL is an online payment method that has become the standard for borderless money transfers across the Netherlands. The launch of iDEAL was brought about by the necessity of introducing a universally accepted online banking solution that allowed for the reduction of transaction costs.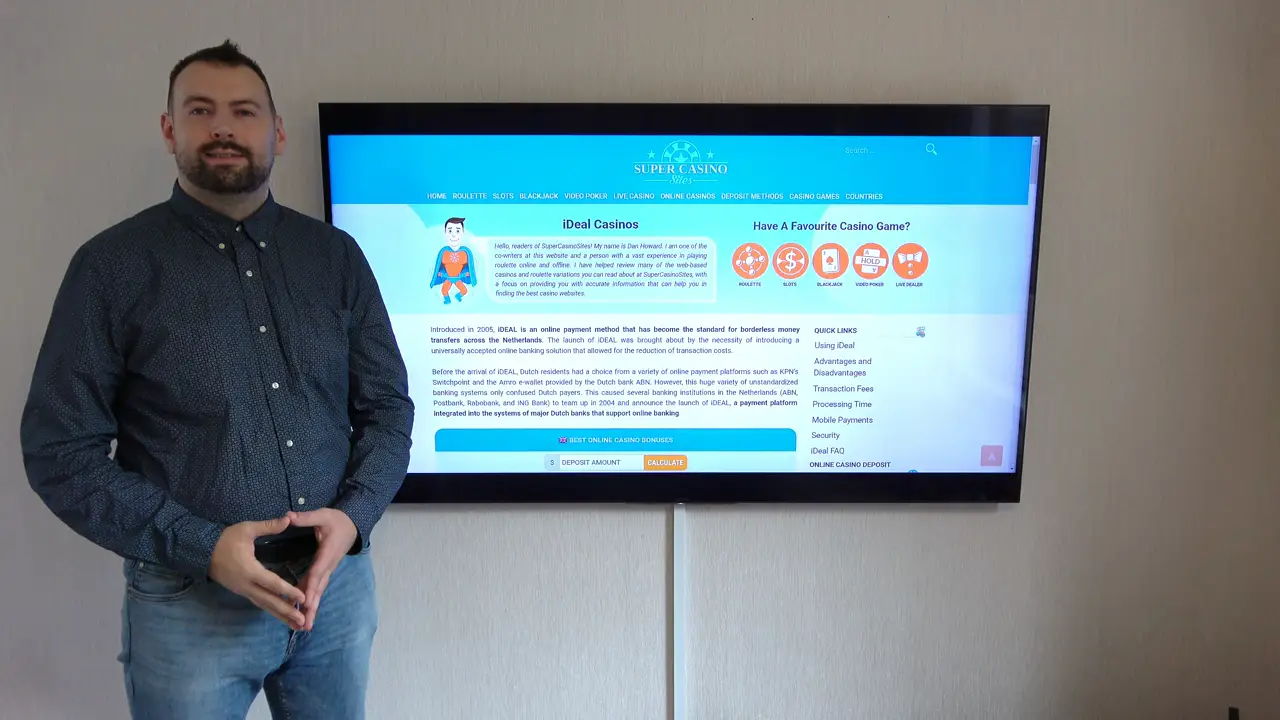 iDeal Summary
Available in
The Netherlands
Website
www.ideal.nl
Connecting bank account to iDeal
Free
Withdrawal balance from iDeal to your bank account
Free
Pay to online merchants
Free
Available for deposit
Yes
Available for withdrawal
Yes
Usual deposit time in online casino
Up to 10 business days as iDeal is a bank-dependent method
Live chat
No
Telephone support
No
E-mail support
Yes, an online form
Before the arrival of iDEAL, Dutch residents had a choice from a variety of online payment platforms such as KPN's Switchpoint and the Amro e-wallet provided by the Dutch bank ABN. However, this huge variety of unstandardized banking systems only confused Dutch payers. This caused several banking institutions in the Netherlands (ABN, Postbank, Rabobank, and ING Bank) to team up in 2004 and announce the launch of iDEAL, a payment platform integrated into the systems of major Dutch banks that support online banking.
In 2006, iDEAL became part of Currence, an association whose purpose is to coordinate all payment systems across the Netherlands. Today, iDEAL is easily the most popular online payment solution in the country and one that boasts the figures necessary to back its solid position on the local market. As of 2017 alone, the platform has processed over 378 million borderless transactions.
The method is widely used by online casino players from the Netherlands. It is preferred by many because of its simplicity, low costs, and optimal safety of use. You will see it in the cashier systems of most Dutch-friendly gambling sites but how does it work? Read on to figure out.
iDeal Registration Process
iDeal is considered to be one of the most convenient payment solutions in the Netherlands, and a major factor that ensures its ease of use is the fact that it is not necessary for you to create a separate iDeal account. If you wish to utilize this payment service for online gaming, the only requirement you need to meet is to have an account at a Dutch banking institution. In order to start utilizing iDeal, you can follow the steps below.
Visit the official website of iDeal.

You will see that there is a list of menus at the top of the page. What you need to do is navigate to the banking institutions page by clicking "Partners" and following the link dubbed "Issuers".

You will then be presented with a list of banks that can offer iDeal services to their customers.

Find your personal banking institution, and click the link provided by iDeal. You will be taken to your bank's webpage.

Finally, you must log in to your online banking and follow your bank's instructions regarding how you can utilize iDeal.

All in all, it is not difficult to start using iDeal, but do note that if you find something confusing or you run into some type of issue, you can always contact your bank's staff. They will be able to assist you and resolve any problems swiftly.
We also need to reiterate that iDeal is a banking solution that is only available to Dutch individuals. If you do not have a bank account at a participating bank in the Netherlands, you will have to look for a different deposit method for online gaming. Depending on where you reside, you might be able to find a service that offers similar functionality. Alternatively, you could go for other deposit solutions, such as digital wallets, prepaid cards, bank cards, and the like.
How iDeal Works
iDEAL Registration Process FAQ
Using iDEAL for Gambling Transactions
This payment solution allows for risk-free online money transfers in real time and does away with the necessity of using a credit/debit card or an e-wallet. In fact, iDEAL is not an online banking service by itself since all it does is provide the protocols needed to conduct payments at no cost using your existing online banking account.
In essence, the platform acts as a middleman between the player and their bank. This makes it possible for the player to transfer money from their personal account to that of any iDEAL-friendly casino on the web without compromising their sensitive banking information.
The method works similarly to payment solutions like Giropay and Sofort, which are quite popular among casino players from Germany. To use iDEAL, one is, above all, required to hold a bank account with a participating financial institution in the Netherlands.
The Dutch banks that currently support it include:
bunq
Moneyou
ING
ABN Amro
RegioBank
ASN Bank
Triodos Bank
Handelsbanken
Knab
Rabobank
Van Lanschot
SNS Bank
Dutch residents interested in using iDEAL for online gambling purposes should open accounts at one of the above listed financial institutions and subscribe for its online banking service if they have not done it already.
All you have to do afterward is find an online casino that supports the payment platform. Such gambling sites are easy to spot since they typically display the company's logo with a capital pink D in their cashiers. Here is a step-by-step explanation on how to make a casino deposit with iDEAL if this is your first time using the method:
Once you log into your casino account, you must open the cashier and select iDEAL as your desired method of payment.
You enter the preferred deposit amount in the designated field and click the Deposit button.
A new window that transfers you to the iDEAL system will pop up and you need to select one of the banks affiliated with iDEAL from the drop-down menu.
The system will then prompt you to choose from online and mobile banking. Once you pick one of the two options, you will be redirected to the log-in page of your bank where you must input your banking details. Some banks would require Two-Factor Authentication codes as well. These codes can be used a single time only and greatly enhance the safety of your payments.
All that is left for you to do is follow the system's prompts in order to complete the money transfer successfully. Make sure your transaction's details are entered correctly. These normally include the deposit amount, your name, the number of your bank account, the transaction's date and time, and the transfer's reference number. Once you hit the Confirm button, you will be taken back to your online casino of choice.
The money you have deposited will be credited to your casino balance as soon as the casino receives a confirmation for the transaction from your bank, which usually happens immediately. The deposited amount will show at the top of the page, next to your casino username, within a couple of seconds.
Note that it is also possible for you to carry out an iDEAL payment on your mobile device but we shall talk about this later in the Mobile Payments section.
In the majority of cases, the player receives an email by the recipient, i.e. the online casino, as a confirmation for the successful deposit. Minimum deposit amounts for iDEAL depend on which casino you have signed up with but normally range between €5 and €20.
One downside is the reverse process of withdrawing your winnings is largely impossible with iDEAL. You will need to choose an alternative method to cash your winnings out. Keep in mind many online casinos process the withdrawals of iDEAL depositors via standard bank transfers so it may take several days for you to receive the money.
iDeal Gambling Transactions
Supported transactions
Deposits and withdrawals
Deposit pending time
Instant
Withdrawal pending time
Up to 72 hours depending on the casino
Additional security
Users receive an iDeal payment link
Advantages & Disadvantages
Using iDEAL for the purposes of conducting gambling-related transactions comes with many advantages. First and foremost, iDEAL boasts high levels of safety due to the fact the only parties involved in the transfer are your bank and the bank of your online casino.
In practice, you are not sharing sensitive information with any third parties (or casinos in this case) since you are redirected to the online banking page of your own bank. This also enables you to conduct fully anonymous deposits.
Your transactions are also well-protected against hacker attacks with robust SSL encryptions. Payments with iDEAL live up to the same security standards as regular bank transfers.
Deposits with iDEAL are also conducted in real time and are completed seconds after you confirm the payment. Following the confirmation, the funds are immediately added to your online casino balance and you can start placing bets right away.
What is more, iDEAL is also a very affordable banking solution. Consumers are not charged additionally by most casino operators when depositing through this payment platform. It is also unlikely for the affiliated banking institutions to charge service fees for processing iDEAL payments, but even if they do, the cost is usually nominal.
The only fees that may result from using the service are those for payment requests with QR codes from one iDEAL consumer to another, in which case you will have to pay the nominal amount of €0.30 per payment request.
Many of the largest gambling sites in the industry have already picked on iDEAL's growing popularity and have added the method to their cashier systems. What this means is you will not have to look around for long before you find a reputable online casino that supports iDEAL payments.
There is no need for you to register any accounts in order to use the service. Having a credit or debit card is also unnecessary with iDEAL although you can top up your card with this method if you do have one. The same goes for e-wallets like Neteller which also can be funded via this third-party banking platform. Purchasing Paysafecard through the iDEAL system is also an option.
Another important benefit that comes with using iDEAL is that it allows for greater flexibility with your payments. Deposits with iDEAL can be conducted effectively on mobile devices as well as on desktop computers and laptops. This gives you round-the-clock access to your funds and bank account and enables you to top up your casino balance from any location you like.
There are but a few negatives that result from using iDEAL as a casino deposit method. As cost-effective and user-friendly as this banking solution is, it processes money transfers in one currency only, which is the EUR. This may lead to you paying extra for currency conversion which is always a nuisance.
Another disadvantage results from the necessity of having a bank account at a bank that also provides online banking services. Not all casino players have one but even if they do, some people may be reluctant to use it for gambling purposes.
That brings us to the biggest issue with iDEAL. You must have an account at one of the Dutch banks affiliated with this payment processor. In essence, only players from the Netherlands can use iDEAL which is a major downside.
The fact iDEAL is unsupported for withdrawals only heaps insult on injury. This puts you to a major inconvenience because you will either have your returns credited back to you via a bank transfer or will have to look for an alternative method to cash them out.
Last but not least, let us not forget iDEAL payments are practically irreversible. The money you deposit is deducted straight from your bank account. Once the payment goes through (and this happens within seconds), you cannot cancel it or receive reimbursement.
| iDEAL Pros | iDEAL Cons |
| --- | --- |
| The fees associated with this payment method are budget-friendly | iDeal does not collaborate with all Dutch banks |
| Deposits are processed withing a few seconds | It is available only to Dutch residents |
| iDeal offers a dedicated mobile app | Its customer support department is available only via a single avenue of contact |
| All financial operations are processed safely | It can be connected only to a bank account |
iDEAL Fees for Gambling Transactions
As we mentioned above, affordability is one of the biggest positives that result from using iDEAL. Consumers are not charged service fees when paying through the iDEAL system. However, the party on the receiving end of the money transfer is allowed to charge additionally for payments with this method.
That being said, all trusted online merchants would announce the service fees attached to iDEAL payments before the transfer is completed. The same applies to online casinos – most gambling operators are more than happy to absorb any additional charges resulting from depositing with iDEAL.
The only case when you may be required to pay extra is when you request QR codes for payment requests between consumers. These charges are, however, minuscule at €0.30 only. It is up to the parties involved in the transaction to decide who pays this small fee.
iDeal Fees
Gambling deposit fee
Free, but the recipient might impose a service fee
Gambling withdrawal fee
Free
Bank account deposit fee
Free
Bank account withdrawal fee
Free
Credit/debit card deposit fee
N/A
Credit/debit card withdrawal fee
N/A
Maintenance fee
Free
Processing Times with iDEAL
As you have probably noticed already, the funds are instantly deducted from your personal bank account when you are using iDEAL for online casino deposits. There are no waiting times whatsoever. The desired deposit amount is added to your available balance in the casino within a few seconds, which is great if you are itching to place a few bets.
Time-efficiency is further improved by the fact there is no need to waste time signing up with an account when using iDEAL. You can start depositing immediately as long as you have subscribed for the online banking services of one of the participating banks.
The absence of a registration process naturally eliminates the necessity of having to undergo identity verification on behalf of iDEAL. This spares you a good deal of time not to mention you will not have to bother with scanning and sending any documentation.
Since withdrawals are not an option with iDEAL, there is a good chance your preferred online casino will issue your winnings via a bank transfer, in which case, you may be prompted to provide some documentation for identification. Of course, this all depends on the policies of the gambling operator. You can check with the support staff to ask whether or not this will be necessary.
Keep in mind bank transfers are a relatively slow method to cash out from your online casino account. The completion of the transaction may require between 3 and 10 business days depending on the gaming operator.
iDeal Processing times
Gambling deposit time
Instant
Gambling withdrawal time
Up to 10 business days
Bank account deposit time
Instant
Bank account withdrawal time
From a couple of hours to 2 business days
Credit/debit card deposit time
N/A
Credit/debit card withdrawal time
N/A
Mobile Payments with iDEAL
Mobile payments are made possible with iDEAL with the help of two dedicated applications for iOS and Android. The apps allow consumers to pay for online purchases by scanning the QR codes of the products they are interested in buying. You can also generate your own QR codes via the app and send them as payment requests to other iDEAL consumers. You are required to sign up within the app and provide your email address. Then you need to make a small payment of €0.01 to register the number of your bank account.
Mobile casino players can also initiate deposits as they go with iDEAL. The procedure is roughly the same as that when depositing on desktop. The payment method works on all smartphones and tablets connected to the internet.
You can deposit directly in your mobile browser by clicking on the iDEAL logo in the casino's cashier, specifying the deposit amount, and choosing your bank from the drop-down menu. Many of the banks associated with iDEAL offer their own mobile banking. Provided that you are banking with a financial institution without a native mobile app, you can proceed to pay in your browser.
The cashier will redirect you to the mobile banking page of your bank where you need to log in with your username and password. Then you select the bank account you want to deposit from. What follows next is largely based on which financial institution you are banking with.
Some of the affiliated banks would send you a special code via a text message. You need to enter it into the specified field to authorize the payment. This is frequently referred to as a TAN code. You click the "Finish Order" to confirm the transfer and have the funds added to your casino account immediately. It really does not get any simpler than this.
iDeal Mobile Payments
Apple pay
Yes, users receive a QR code. A charge of €0.30 will apply.
Google pay
No
Security at iDEAL Online Casinos
Since this payment method relies on internet and mobile banking, depositing with it at online casinos is just as safe as paying for online purchases through your bank's online banking platform. In essence, you are doing just that since iDEAL is nothing but a middleman that connects you with your bank.
No information regarding your account number is revealed to the casino in the process – all the better for players who insist on higher levels of anonymity. The payment details remain safe between you and your bank. Additionally, iDEAL utilizes advanced SSL encryption technologies to scramble your information in such a way so as to make it undecipherable for hackers and fraudsters.
The same goes for iDEAL-friendly online casinos where SSL encryptions are also in place to protect players' information from being compromised. Neither iDEAL nor the online casinos supporting it will reveal your personal information to third parties without having your permission first.
iDeal Security
Passcode
No
Fingerprint
No
FaceID
No
Two-factor authentication
Yes
Trusted devices
No
IP Restrictions
No
iDeal Alternatives
No one can deny that there is a lot to like about iDeal, especially if you are lucky to reside in the Netherlands and are thus a player who can take advantage of this excellent deposit method. Not everyone is Dutch, however, and the fact that iDeal is not a withdrawal solution can be disappointing to some players. All in all, there are various reasons iDeal might be a solution you will not wish or can utilize, but there are, thankfully, plenty of alternatives out there.
Casino Games with iDeal
The Dutch tend to have varied tastes as far as casino games are concerned. Some players tend to go for the classic casino games of old that are still as popular as ever, while others are more fond of the colorful and flashy simplicity of slots. Netherlands-friendly casinos know their audience well, which is why iDeal users will have no problems finding games that catch their fancy whenever they play on the web.
Slots with iDeal
You will seldom find an online casino that does not have a well-stocked library of slots. Video slots are often considered to be the most thrilling games you can find on the web, and many Dutch gaming enthusiasts are fond of them. Their simple play style has proven to be both engaging and easy, and casino game suppliers have also taken to adding interesting extra modes to modern slot titles.
Maneki88 Gold


Maneki88 Gold features the Maneki Neko, or Lucky Cats, Japanese figurines that are known to bring prosperity and good luck. The artwork of the backdrop and the symbols is beautifully rendered, and the traditional Japanese music further helps to immerse players in the serene atmosphere.
The game allows you to choose how many golden symbols can appear on the reels, and the more you select, the more bonuses you might win. For instance, selecting 2+ golden icons will mean that special wild symbols with coins will start landing on the reels. Each coin is hung besides the Lucky Cat, and when you receive 12, you will unlock the coin matching game. Flipping a coin reviews a jackpot crystal, and once you get three of the same crystals, you receive the jackpot it represents. Apart from the jackpots, the game also features free spins, which can be triggered by the Japanese gates, this slot's scatter.
Cirque De La Fortune


Cirque De La Fortune is a stunning slot that is themed after the luxurious performance of circus artists. Even the symbols that represent playing cards look right at home on the reels.
On top of the fitting artwork, Cirque De La Fortune will impress players with a variety of exciting extra features. Free spins are available, for instance, and the wheel above the reels can reward players with a generous multiplier if lady luck decides to grace them with her presence. In addition, the Win Wheel can set reels on fire, turning entire reels into wilds. You can also get extra wilds if the wheel lands on the Juggling feature, while the Magic gloves will expand certain symbols. Finally, the Disappearing hat of the illusionist will replace low payout icons with more generous ones.
Money Train 2


Money Train 2 transports players to a steampunk world set somewhere in the Wild West, and the artwork, ambient sounds, and music do a lot to enhance this slot's charm. What is more, the highest-paying symbols illustrate interesting characters who make spinning the reels even more dramatic and exciting.
The Bonus Symbol awards players with multipliers, and it also acts as the scatter that triggers the Money Cary Bonus Round when three icons land on the reels. During this mode, players can win free spins and excellent multipliers. There are 40 paylines, and Money Train 2 has an RTP of 96.4%.
Live Dealer Games with iDeal
In the old days of remote gaming, it was difficult to find gambling games on the web that truly mimicked what it is like to play at land-based casinos. With the evolution of live streaming technology, however, live dealer options are now some of the most sought-after games on the web. Many developers have started hosting such games, so there is a lot of variety in terms of the number of games iDeal players can pick from.
Infinite Blackjack by Evolution Gaming


Evolution Gaming is responsible for the creation of numerous excellent live dealer games, and Infinite Blackjack is one such solution. The game has standard blackjack bets, and it also allows players to place side wagers such as 21+, Hot 3, and others.
As expected of an Evolution Gaming title, the quality is exceptional through and through, both in terms of the gameplay and the video. In addition, the Six Card Charlie rule enhances the game even more, and it leads to even more fun and lucrative gaming sessions.
Mega Roulette by Pragmatic Play


This game is based on the European variant of roulette, and wagers such as corners, splits, straights, and odd/even bets are examples of the bets that can be placed. The user interface makes doing so very easy, and you can play on your computer or your smartphone seeing as the experience is perfect in either case. There is a twist to this game in the form of multipliers, which can range from 50x to 500x.
Gold Bar Roulette by Evolution Gaming


Gold Bar Roulette is a fascinating spin on traditional roulette gameplay. The hosts are professional dealers, and during gameplay, players receive Gold Bars whenever they win a straight bet, which they can later use the bars in order to enhance their winnings. Each Gold Bar has a multiplier value of 88x, and you are free to use your multipliers whenever you wish. This innovative feature makes Gold Bar Roulette a pretty tempting and appealing option for roulette lovers.
Blackjack with iDeal
If you are new to casino gaming and wish to start out with a card game, blackjack is often the first recommendation experienced players will give you. The game has very straightforward rules, and it is not difficult to get the hang of, which is what has contributed to its popularity. As we found out above, it is possible to play live blackjack online if you wish, but there are plenty of virtual options as well if you prefer this type of gameplay.
Blackjack Multihand by Play'n GO


If you are looking for the classic blackjack experience in video form, Play'n Go's Blackjack Multihand is the perfect option. Its backdrop looks like the tables you can find at brick-and-mortar casinos, and the animations are quite convincing. Ordinary wins have a payout of 1:1 while lucking out on a blackjack means that you will win with a ratio of 3:2.
Atlantic City Blackjack by Switch Studios


Atlantic City Blackjack is a game courtesy of Switch Studio that boasts an RTP of 99.65%. Blackjack wins have a payout of 3:2, and you can choose to make the classic blackjack moves such as hit, stand, double, and split. In addition, you will also have the option to make the Late Surrenderer move whenever possible, and insurance bets are also available.
Roulette with iDeal
Roulette is one of the most famous casino games out there, and it is often one of the very first games aspiring casino aficionados will try out. Although there is not any skill involved when it comes to the gameplay, the luck factor is what makes roulette tables some of the liveliest gaming hotspots at casinos. Virtual roulette games can also provide exciting gaming sessions.
American Roulette High Stakes


This charming slot variant courtesy of PariPlay is a variation of American roulette. It features bright visuals, and you can wager on bets such as splits, street bets, corners, line bets, and low/high bets, among others. The stake size can vary between $1 and $20, which makes this game suitable for recreational gaming enthusiasts. Additionally, there is an autoplay button, and you can also favorite the bets you fancy the most.
Frankie Dettori's Jackpot Roulette


If you happen to be a roulette enthusiast who is also fond of horse racing, you might really enjoy what Frankie Dettori's Jackpot Roulette has to offer. This game is appropriate for cautious players seeing as the smallest bet size is $1, but bolder and more risk-loving gambling enthusiasts will also enjoy the game thanks to the largest stake size being $100. The game has classic bets that can be placed, but it also has a bonus mode that is triggered whenever the ball falls in the yellow pocket, during which you will rake in extra wins. The game also boasts a progressive jackpot with generous payouts.
Pinball Roulette


Pinball Roulette is a title that is considered to be pretty innovative when it comes to online roulette. Its RTP is 97.30%, and what is unique about this title is the fact that the interface has a pinball layout that further influences the ball and where it will land. There are plenty of bets to pick from, such as corners, stress, red/black bets, and more. There is also a bonus pinball mode which will also provide players with additional rewards.

Ask a Question. Get an Answer.
Have a question about this topic? Ask an expert at info@supercasinosites.com
Find the answers of questions people asked so far:
Dan
Vera
What is an iDEAL QR Code and how can I confirm the transaction via my phone?
It is possible that when you initiate an iDEAL payment at your chosen online casino a QR code gets generated on the Cashier page of the website. Many mobile banking apps allow the option to scan iDEAL QR codes to verify the payment but if you cannot find this option, you can simply open the camera app on your smartphone and scan the QR code. Once you do that, you will be redirected to a page asking you to choose your bank and you will be asked to log into your mobile banking account to verify the payment. Once you do that, the money will appear in your casino account in no time.
Dan
Claudine
Are there any plans for iDEAL payments to become available to online casino players outside the Netherlands?
In April 2023, the European Payment Initiative (EPI) announced its plans to acquire Belgian-based Payconiq and the Dutch banking app iDEAL. The goal of this acquisition is to launch a new payment solution, which will be based on the online banking services these two solutions offer. That means that iDEAL's payment system will be incorporated into a service that will be available across other European markets. This could potentially mean convenient online banking payments for virtual players outside The Netherlands.
Dan
Todd
What should I do if my bank does not support payments via the payment system of iDEAL?
While all major Dutch consumer banks support iDEAL payments, it is possible that your bank does not offer this payment solution. In that case, you will need to look for an alternative payment solution that will allow you to handle your online casino transactions. If you are unsure which method to try, you can take a look at the alternative payment solutions the review suggests.
The aforementioned methods are safe, fast, and budget-friendly, allowing a convenient substitution for iDEAL payments. What is more, some of the solutions can be used for both deposits and withdrawals, which is not something that is available to iDEAL users who can use the service exclusively for casino deposits.