Released in 2013, Cash App is a mobile payment service catering to the needs of users based in the United States and the United Kingdom. As of 2023, the app-based product has been embraced by more than 44 million monthly active users.
Cash App is highly praised for its multifunctionality, as it enables customers to do more with their funds. Other than sending money, paying online merchants, and banking, users have the option to buy stocks or Bitcoin. The latter is a particularly important feature for online casino players willing to transact with digital currencies.
Cash App Summary
Available in
The United States and the United Kingdom
Website
cash.app
Connecting bank card/account to Cash App
Bank accounts – free
Credit card transfers – a 3% fee
Withdrawal balance from Cash App to your bank card/account
Standard transfers – free
Instant transfers – A fee of 0.5%-1.75%
Pay to online merchants
Free
Available for deposit
Yes
Available for withdrawal
Yes
Usual deposit time in online casino
Instant
Usual withdrawal time from online casino
Varies across casinos
Live chat
Yes
Telephone support
1-800-969-1940 (Monday through Friday, 9:00 am to 7:00 pm EST)
E-mail support
Cash App verified e-mails come from @cash. app, @square.com, or @squareup.com address.
To get started, users should download the app from Google Play or the Apple App Store. Ordering a free Cash App VISA Debit Card is among the various perks that customers of the company are entitled to.
The current publication concentrates on the best casino operators supporting Cash App deposits and withdrawals. We will also examine some of the most popular casino games available to Cash App depositors. Furthermore, we will go into detail regarding the payment method's fees, processing times, and security, among other important features.
Cash App Registration Process
Ever since its release in 2013, Cash App has been geared toward users in the United States and the United Kingdom. However, most of the payment platform's users are based in the US. As per officially released information, Cash App has more than 44 million verified monthly users.
The mobile app's ease of use, convenience, and security are among the most significant factors contributing to its popularity. Cash App enables customers to send, spend, save, and invest. Furthermore, the payment platform's crypto functionality has been embraced by thousands of gamblers, considering the ever-increasing popularity of digital currencies in iGaming.
The process of Cash App account setup is exceptionally straightforward. Users can create their accounts for free in a matter of minutes. Let us now look into the registration procedure in a few simple steps below.
Cash App Registration Steps
1

Step 1

As a mobile payment service, Cash App needs to be downloaded from the Apple App Store or Google Play. Once the download is completed, users should tap on the app and launch it.
2

Step 2

The process of account setup begins with entering a valid phone number or email address. Then, you should tap 'Next'.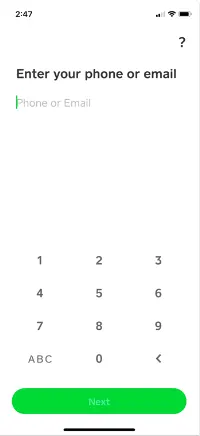 3

Step 3

Users will have to type the confirmation code, which they have received by email or as a text message. They can also invite friends to create an account with Cash App and earn cash, but this step is optional.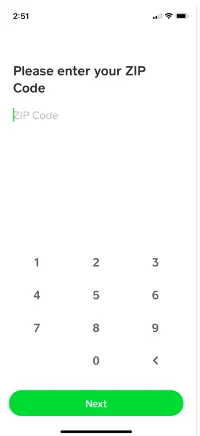 4

Step 4

The next step requires future Cash App account holders to enter their ZIP Code.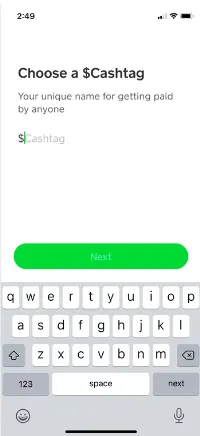 5

Step 5

What follows next is choosing a $Cashtag. Basically, this is a unique identifier, which customers use for getting paid by anyone. They can either accept the $Cashtag name suggested by the system or come up with a new one.
6

Step 6

Customers are prompted to add a debit card number or link a bank account. This step is optional and can be performed later.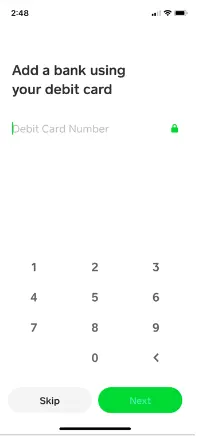 7

Step 7

This is how the home screen of Cash App looks like, with a simple, clutter-free user interface and a total of five icons located at the bottom of the screen.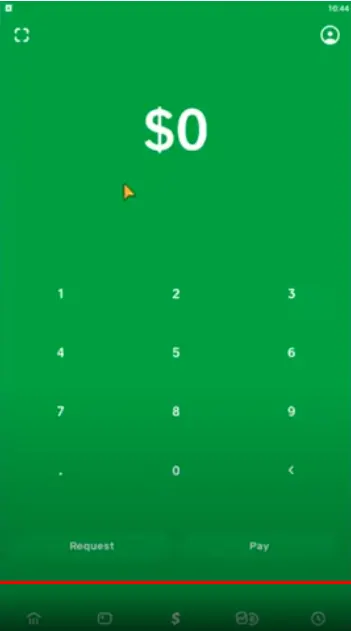 How Cash App Works
Cash App Registration Process FAQ
Using Cash App for Gambling Transactions
Cash App is a mobile payment platform facilitating sending and receiving money, banking, and investments. As already mentioned, it is available to customers based in the US and the UK. To use Cash App for gambling transactions, casino players should follow several simple steps.
For starters, they should download the app from Google Play or Apple's App Store depending on the operating system of their mobile devices. Setting up a Cash App account is free of charge and can be completed in a matter of minutes.
As soon as users download and open the app, they will be prompted to enter their phone or email, followed by a confirmation code. Filling in one's ZIP Code is the next thing to do. Afterward, users should choose a $Cashtag, which functions as a unique identifier for getting paid by anyone. Next, they can link a source of funds such as a debit card, a credit card, or a bank account.
As far as transaction limits are concerned, holders of unverified accounts can send up to $250 within 7 days and receive up to $1,000 within 30 days. To be entitled to higher transaction limits, they should verify their accounts. The verification process requires sending in full name, date of birth, and a Social Security Number. Holders of verified Cash App accounts are allowed to send up to $2,500 within 7 days and receive unlimited payments.
Using Cash App for Gambling Transactions Additional TipsBesides linking a credit card, a debit card, or a bank account to their Cash App account, customers may take advantage of the service's Bitcoin investment functionality. The app will function like a cryptocurrency wallet, where users can buy and transfer Bitcoin to online gambling operators.
To buy Bitcoin on Cash App, customers should navigate to the investment tab on their home screen, tap 'Bitcoin', and then 'Buy'. Next, they need to fill in the amount of money they want to invest and enter their PIN. Of course, users must have already linked a source of funds to their Cash App account. Finally, they will see a summary of the transaction and will have to confirm it.
Customers who have activated the Cash App Bitcoin wallet will be able to play at crypto-friendly online casinos offering lucrative Welcome Bonuses. Once they set up their casino accounts, they should navigate to the cashier and select 'Bitcoin' among the other possible funding options. Then, they should type in the amount of Bitcoin they are willing to deposit. The process works both ways and Cash App can be used for withdrawals equally easily. When players request a withdrawal, they need to fill in the respective amount of money and then enter their Cash App wallet address.
Overall, Cash App facilitates both deposits and withdrawals to online casinos. While deposits are instantly processed, withdrawals' pending time varies across gambling operators.
Cash App Gambling Transactions
Supported transactions
Deposits, withdrawals
Deposit pending time
Instant
Withdrawal pending time
Varies across gambling operators (up to 72 hours)
Additional security
2-FA Authentication
Security Lock
Advantages and Disadvantages of Cash App
Considering Cash App occupies the top positions both on Google Play and Apple's App Store in terms of the total number of downloads, the company clearly does things properly. To give players an unbiased idea of the app's strong and weak points, we will quickly go through them.
First and foremost, the payment platform does not charge customers for many of its services including account setup, maintenance, sending, and receiving funds. Standard transfers to bank accounts do not involve a fee and are completed within one to three business days. If users wish to take advantage of instant transfers, however, they will have to pay a fee ranging from 0.50% to 1.75% of the transfer amount, or a minimum of $0.25. Sending money via a linked credit card entails a 3% fee and Cash App Debit Card ATM withdrawals are charged between $2 and $2.50 per transaction.
Secondly, Cash App's convenience and ease of use are not to be underestimated either. With the advance of technology, users are able to manage their transactions with just a smartphone and an app in a fast, simple, and secure manner. It is no surprise more and more casino players are willing to deposit and withdraw through their mobile phones. For that purpose, Cash App performs excellently and compares favorably with most of its competitors.
More Advantages and Disadvantages of Cash AppThirdly, the fact that Cash App works both ways, for deposits and withdrawals at online casinos, makes it exceptionally convenient for avid gambling fans.
Furthermore, Cash App's Bitcoin wallet enables customers to play at crypto-friendly gambling venues and take advantage of lucrative Welcome offers and reload incentives. At the time of writing, Bitcoin is the only currency supported by Cash App. Users should be aware that sending unsupported cryptocurrencies will result in a loss of funds.
Besides the Bitcoin wallet functionality, customers of the company can order a free Cash App VISA Debit card. It is connected to the user's Cash App balance and can be used everywhere VISA is accepted.
As far as Cash App's disadvantages are concerned, probably, the main one is its territorial restriction. From the very beginning, the company's services have been geared toward users based in the United States and the United Kingdom.
Additionally, the method's weekly limits are set to $250 within 7 days, which makes it particularly unattractive to high rollers. However, once they verify their accounts, they can take advantage of higher weekly limits reaching $2,500. As for the amount of money that users can receive within a month, it is capped at $1,000 for holders of unverified accounts.
Cash App depositors should double-check the details of their transactions since they cannot cancel them once authorized.
| Cash App Pros | Cash App Cons |
| --- | --- |
| Cost-effectiveness | Available only in the US and the UK |
| Convenience and ease of use | Low weekly limits |
| Supports deposits and withdrawals | Transactions cannot be canceled once authorized |
| Supports Bitcoin | |
| Free Cash App Debit Card | |
Cash App Fees for Gambling Transactions
Cash App is a cost-efficient payment method at the disposal of customers based in the US and the UK. As such, it is widely preferred by iGaming enthusiasts to manage their deposits and withdrawals from interactive casinos.
Setting up a Cash App account comes at no cost. There are no maintenance and inactivity fees. Transferring funds to people and paying online merchants is free of charge as well. This includes depositing and withdrawing from online casinos.
Sending money using one's cash balance or debit card is without any charges as well. There is no fee to transfer funds from one's Cash App account to a linked bank account with the standard option. Standard transfers are usually completed within 1 to 3 business days. However, instant deposits entail a fee ranging from 0.5% to 1.75% (or $0.25 minimum). Sending money from a linked credit card involves a 3% fee.
Holders of Cash App VISA Debit Cards should note there is a $2.00 – $2.50 ATM withdrawal fee. Those interested in buying Bitcoin through Cash App can expect fees ranging between 2% and 3%. They will be clearly displayed before users confirm their transaction details.
Cash App Fees
Gambling deposit fee
Free
Gambling withdrawal fee
Free
Bank account deposit fee
Standard deposits – free
Instant deposits – A fee of 0.5%-1.75%
Bank account withdrawal fee
Standard bank transfers – free
Credit/debit card deposit fee
A 3% fee to send money from a credit card
Credit/debit card withdrawal fee
Instant transfers to linked cards – 0.5%-1.75%
Maintenance fee
None
Processing Times with Cash App
Cash App is a premier brand, widely preferred over other competitors not only because of its cost-effectiveness but also because of the swift processing of transactions. Cash App depositors to online casinos typically enjoy instant payments. Therefore, once they complete their transfers, they can start playing their favorite games right away.
As far as withdrawal timeframes are concerned, they vary across the different gambling operators and should be checked. Additionally, the account verification procedures can further prolong the withdrawal process.
Transferring funds to one's Cash App balance via a linked bank account may take from three to five business days. The other way around, i.e. transferring from one's bank account to the Cash App balance typically requires from one to three business days. However, if the transfer needs to be completed urgently, there is the option for instant transactions that are handled within 30 minutes.
Cash App Processing Time
Gambling deposit time
Instant
Gambling withdrawal time
Varies across casinos
Bank account deposit time
3-5 business days
Bank account withdrawal time
1-3 business days
Instant transfers – 30 minutes
Credit/debit card deposit time
Instant for holders of Cash App debit cards
Credit/debit card withdrawal time
Instant for holders of Cash App debit cards
Mobile Payments with Cash App
Cash App can be downloaded both from Google Play Store and Apple's App Store. With a total of 50 million downloads from Google Play at the time of writing, and 2.43 million reviews giving the app an average score of 4.6 stars (out of 5 stars), the company clearly gives its best to cater to the needs of its customers and improve the quality of its services. As for Apple's App Store, Cash App ranks first in terms of the top free financial apps and has a rating of 4.8 stars (out of 5 stars).
Cash App is supported in two languages – English and French. While scanning the reviews on both app stores, we were pleasantly impressed with the fact that the company's employees appreciate their customers' feedback and always work to improve and provide the best possible user experience.
Customers can add their Cash App card to their Google Pay account. To do so from their Cash App, they should tap the Cash Card tab on their home screen, select 'Add to Google Pay', and follow the prompts. Similarly to Google Pay, users can follow the same steps to add their Cash App card to their Apple Pay account.
Cash App Mobile Payments
Apple pay
Yes
Google pay
Yes
Security at Cash App Online Casinos
Securing sensitive customer information is of essential importance for any digital payment method. Fortunately, Cash App utilizes the latest encryption and fraud detection measures to ensure the personal and financial data of its customers is protected. Any information transmitted between the customers and the company is encrypted and sent to its servers safely.
The Payment Card Industry Data Security Standard (PCI-DSS) delivers businesses with a comprehensive suite of measures they can take to strengthen the protection of their customers' credit card details. Cash App conforms to PCI-DSS Level 1 standards.
Furthermore, Cash App requires signing in and customers receive a one-off code. To further enhance the security of their accounts, they can enable two-factor authentication. Additionally, they can activate the Security Lock feature, requiring their passcode, TouchID, or FaceID for every payment.
Cash App depositors should also note that the company may prompt them to verify their identity by providing their Social Security Number within the app. As far as the Cash App Debit Card is concerned, users may turn it off temporarily and block fraudulent purchases.
Cash App Security
Passcode
Yes
Fingerprint
Yes
FaceID
Yes
Two-factor authentication
Yes
Trusted devices
Yes
IP Restrictions
n/a
Cash App Alternatives
Launched in 2013, Cash App is a mobile payment platform that succeeded in gaining popularity very quickly. However, it was designed to serve the financial needs of customers based in the United States and the United Kingdom. The company has not expanded its services beyond the boundaries of those two markets.
As a result, players from other jurisdictions may be willing to find out more about any viable alternatives. Below, we provide information on five payment methods, aiming to provide avid casino fans with a broader perspective on their options.
Casino Games with Cash App
Online casinos supporting Cash App deposits and withdrawals offer avid gambling aficionados a wide variety of gaming genres. Whether it is slots, live dealer games, blackjack, or roulette that players are looking for, they can indulge in their favorite form of recreation. Below, we will bring to the attention of players the said gaming genres available at Cash App casinos, plus several top titles worthy of exploring.
Slots with Cash App
Slots provide the widest variety of themes, features, and bonus mechanics. It is no surprise they garner the greatest portion of attention from casino fans. From classic fruit-themed slots, adventure stories, and culinary exploits to magic, supernatural beings, and ancient civilizations, players will relish in a captivating and rewarding casino experience.
Aloha King Elvis


Aloha King Elvis is undoubtedly one of BGaming's massive hits. Released in 2021, the game is a sequel to the Elvis Frog in Vegas slot. After his thrilling Las Vegas adventure, the charismatic Elvis Frog heads to a relaxing tropical atmosphere amid Hawaii. With 25 paylines, an RTP of 94.92%, and maximum multipliers of x2,000, the title features a great winning potential. The slot's fantastic features include Respins, Buy Bonus, Buy Chance, an In-Game Jackpot (Mini, Major, and Mega Jackpot), and a Bonus Game – everything an avid reel spinner would look forward to.
Lucky Foxglove


Lucky Foxglove is Mancala Gaming's masterful interpretation of the widely popular Irish Luck theme. Released in 2022, this game will take slot fans to a lush sun-lit meadow, where a leprechaun guards a pot of gold. The slot uses a standard 5×3 grid, set amidst trees swiveling in the tender breeze. Players can align identical symbols across 20 fixed paylines. The regular symbols from the paytable include playing cards (Jacks, Queens, Kings, and Aces), the symbolic four-leaf clover, a pipe, a harp, and a pot of gold. There are also Wild symbols and Scatter symbols triggering the Respin feature. The base game offers players the chance to unlock three mystery boxes and get their mystery reward.
Pirate Spirit


Zillion Games is an up-and-coming gaming studio offering engaging casino content and top-performing gaming mechanics. Pirate Spirit is among its most recent slot titles released in the spring of 2023. With engaging animations and adventurous audio background, slot fans will embark on a breathtaking adventure across the sea. The 5×3 grid contains 25 paylines. Landing three Scatter symbols triggers the Free Spin Mode with an expanding Wild, whereas five identical symbols (except for the Scatter symbol) unlock the Jackpot feature. There is also a Buy Bonus feature.
Live Dealer Games with Cash App
If live dealer games are what triggers your interest the most, Cash App casinos have a lot to offer in that respect. Interacting with a real human being instead of a computer delivers casino aficionados with an authentic gambling experience without even having to leave the comfort of their homes. Below, we will look into three different live dealer games in high demand among casino players.
Dream Catcher


Evolution Gaming's Dream Catcher is the studio's original Money Wheel game that garners a lot of interest from avid reel spinners. Players are guaranteed a huge amount of fun and straightforward game rules. They should simply wager on the number they believe the wheel will stop at. The wheel itself is precisely divided into 54 segments including numbers, a silver, and a gold multiplier. If the wheel stops on a number segment, say 10, players win a corresponding payout (10 to 1). The two multipliers trigger a second spin of the wheel and the result is multiplied by the respective value (2x for a silver multiplier and 7x for a gold multiplier).
Boom City


Boom City is a live dealer game show that is a wonderful addition to Pragmatic Play's multi-product portfolio. Launched in 2022, it offers players a great opportunity to diversify their live dealer online gambling experience. Unlike the traditional wheel games, this one features a 6×6 grid, where players place their wagers across the 36 squares. Two dice located in front of the grid determine the outcome of game rounds. Besides the thrilling bonus games, players will be delighted by the Power Up feature bringing rewards of up to 20,000x the stake.
Blackjack VIP


Founded in 2014, Lucky Streak is a gambling software provider that has been widely recognized for the quality of its live dealer games streamed from studios in Latvia. Blackjack VIP is among the developer's top games, featuring high betting limits and an RTP of 99.39%. Minimum bets start from $50 and maximums reach $2,500. The game can be enjoyed both on desktop and mobile devices. High-rollers will appreciate key highlights such as two classic side bets as well as the option to Bet Behind. Furthermore, the game features high-quality video and audio.
Blackjack with Cash App
Players topping up their casino balance through Cash App will enjoy a great variety of blackjack titles. Thanks to the easy rules and the low house advantage, the game is particularly sought-after by fans of table games.
Infinite Blackjack


Just like standard blackjack games, Infinite Blackjack by Evolution Gaming, offers engaging gameplay but with one added advantage – players do not have to wait for a seat. Unlike other blackjack tables, which offer the standard 7-seat experience, this variation offers only one, shared by all players simultaneously. The low betting limits are suitable for all budgets. Players start the game with a 2-card initial hand. They can choose between four side bets and the 'Six Card Charlie' rule, which makes the game stand out. As per this rule, if players manage to collect six cards, whose total does not exceed 21, they emerge victorious, even if the dealer has got 21.
Blackjack 27 – Azure


Blackjack Azure is part of Pragmatic Play's live casino portfolio, featuring immersive gameplay and lots of exciting features. There are several Blackjack Azure tables delivering players with a broader array of betting limits. Each variation features 7 seats. With an RTP standing at 99.28%, minimum bets starting from $5, and maximums reaching $1,000, Blackjack 27 – Azure is perfect for all budgets. Players will most certainly appreciate the visually beautiful setting and the excellent streaming quality. There are two side bets – 21+3 and Perfect Pairs. A Bet Behind option is also available.
Single Deck Blackjack


Released in 2023, Betsoft's multi-hand Single Deck Blackjack is an engaging variation, boasting an RTP of 99.55%, and played with a single deck of 52 cards. Each player plays only against the dealer. Single Deck Blackjack offers straightforward gameplay, with the betting options being hit, stand, split, and double-down. The betting range starts from $1 and reaches $100. In case the dealer's up card is an Ace, players are offered Insurance.
Roulette with Cash App
Cash App depositors have at their disposal a varied list of roulette games, with the three main variations being European, French, and American Roulette. Furthermore, software developers come up with a bunch of additional features that offer engaging and rewarding gameplay.
European Football Roulette


European Football Roulette is a great variation developed by Playtech. The game was released in 2021 and comes with an RTP of 97.30%. It would definitely appeal to football fans, as the roulette wheel is set against a background of a grand stadium. Minimum bets start from $0.1 and maximums reach $100, thus easily fitting into all budget ranges. Players can either bet on an outcome using the traditional table or the neighbor's table with options for Voisins du Zero, Tiers du Cylindre, and Orphelins.
Turbo Roulette


Turbo Roulette is a fast-paced variation of European roulette developed by G Gaming. With an RTP of 97.0% and substantial winning potential, this game is equally suitable for both novice and experienced players. As it is optimized to run smoothly on mobile devices, players on the go will certainly appreciate it. Supported in 13 languages, it is a popular variation loved by gamblers from different jurisdictions. They have the opportunity to place the usual Inside bets (straight, split, street, corner, and six line) and Outside bets (column, dozen, red/black, even/old, and 1-18/19-36).
French Roulette Classic


Released in 2020 by Evoplay, French Roulette Classic is yet another variation at the disposal of Cash App depositors. The game features the 'Prison' rule, which differentiates it from other variations and increases the RTP (97.3-98.65%). As per this rule, if the ball lands on zero, players are given a chance to either pick up half of the bet or spin the wheel again. With quick history displayed, they have the opportunity to keep an eye on the latest results. As the game is built using HTML5 technology, it is perfectly optimized for mobile play.
Cash App Casinos FAQs
Below, we have addressed some of the most common questions related to Cash App Casinos. The payment method is ideally suited to players who are new to crypto gambling. Thanks to its user-intuitive interface, the app makes the transition to crypto gambling as easy as pie. Should you have any further questions about any aspect of the service, you can contact the support staff via the convenient Live Chat functionality.
Ask a Question. Get an Answer.
Have a question about this topic? Ask an expert at info@supercasinosites.com
Find the answers of questions people asked so far:
Dan
Anthony
How long does the account verification process at Cash App take?
The ID verification is required to be allowed to increase your payment limits via your Cash App account, purchase a Cash Card, invest in stocks, or buy and sell Bitcoin. Depending on your country of residence, the verification process may require different steps. To verify your identity, you need to be at least 18 years of age and you will need to provide your date of birth. US-based users will also be required to provide their Social Security number. To confirm your identity, you may be asked to upload a selfie with your driver's license or state identification card. The verification process is typically very fast and you will be over with the ID verification within a couple of minutes.
Dan
Betty
Am I required to link my bank account if I wish to use Cash App for my online casino payments?
No. While Cash App allows its users to link their bank accounts to their Cash App profiles, the service does not work exclusively with bank cards or bank accounts. The great thing is that one can create their Cash App account by simply providing information such as their phone number/email address and zip code.
Once they have created their Cash App, customers are allowed to choose from different methods to upload funds to their app balance. One option that allows users to avoid using any bank cards or bank accounts is depositing via cash at any participating retailer. All payment solutions that are available to Cash App users can be seen once you log into your Cash App account and head to the Deposit section.
Dan
Mark
Can others see my Cash App transactions, which have been processed to online casino platforms?
Yes. Cash App has integrated a social media-like feature into its design, allowing other people connected to your account to see your transaction history. That means if you have made a deposit to an online casino via your Cash App account, others will most likely see that you have made such a payment. While some do not mind this feature of the app, others prefer to be more private with their Cash App payments.
Luckily for you, there is a way to make your Cash App history private. To do that, you need to log into your Cash App, head to the settings section and select Account. Once you have reached your Account settings, you can either select Hide or Delete Transactions to hide the history of your Cash App payments from other Cash App users who can see your account.