As the world around us is constantly evolving and newer technologies make everything faster and more convenient, it is natural that payments are also changing. When you are looking at the payment options available at reputable virtual casinos, you will notice that sometimes there is the option to use Apple Pay. Despite being a rather new payment solution for casino fans, it does offer some perks that cannot be found anywhere else.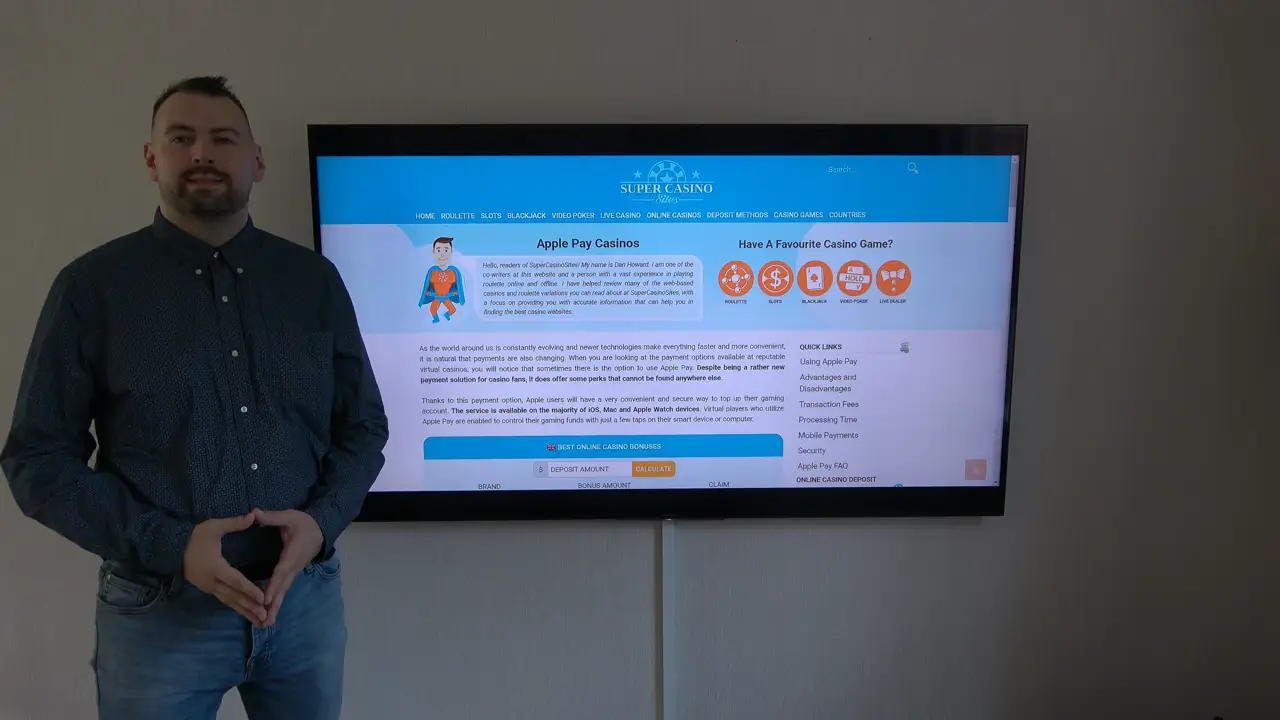 Apple Pay Summary
Available in
Worldwide
Website
www.apple.com/apple-pay/
Connecting bank card/account to Apple Pay
Free
Withdrawal balance from Apple Pay to your bank card/account
N/A
Pay to online merchants
N/A
Available for deposit
Yes
Available for withdrawal
No
Usual deposit time in online casino
Instant
Usual withdrawal time from online casino
N/A
Live chat
Yes
Telephone support
United States – 1-800-275-2273 Canada – 1-800-263-3394
E-mail support
N/A
Thanks to this payment option, Apple users will have a very convenient and secure way to top up their gaming account. The service is available on the majority of iOS, Mac and Apple Watch devices. Virtual players who utilize Apple Pay are enabled to control their gaming funds with just a few taps on their smart device or computer.
The whole process of using Apple Pay for deposits at online casinos is extremely easy and it offers security that cannot be seen with other payment solutions. Before you start topping your gaming account via this method, however, there are several things about the service that you need to be well aware of. This will guarantee you that you can make proper use of the perks that Apple Pay is offering.
Best Apple Pay Online Casinos
Apple Pay Registration Process
Casino enthusiasts who own iOS-based touchscreen gadgets and reside in a country where Apple Pay is available can install the payment app on their handheld devices. Apple Pay is a cashless payment method that allows casino enthusiasts to top up their casino accounts instantly. Many reputable web-based casinos employ Apple Pay, allowing casino fans to fund their accounts without disclosing their banking details. The process of depositing funds via Apple Pay is a breeze. Players must first set up Apple Pay and add a debit/credit card to it before being able to use this payment method. Here is a detailed explanation of how to do that.
The first step is to set up Apple Pay. For that purpose, you need a device that has a Wallet app and uses an updated version of iOS. If your device has a built-in Touch ID or Face ID option, you will be able to use Apple Pay in Safari and within iOS apps. Make sure that you sign in to iCloud using your Apple ID.
Players must register their credit/debit cards with Apple Pay. Keep in mind that the card you register must be issued by a participating bank. You can store from 8 to 12 cards depending on the iOS-based device you use.
Open the Wallet app and tap the Plus sign located in the upper right corner to add a debit/credit card. Tap Debit or Credit card to add a new card. If you want to add a card that you have previously used, tap the Previous Cards button.

Use your camera to scan your card. It is also possible to enter your banking details manually.

Verify your information with your bank. For that purpose, you may be required to provide more details or download a bank app. You will be notified by the bank issuer if you can use your card with Apple Pay.
Using Apple Pay on Mac, iPad, and Apple Watch

Players can use Apple Pay on paired devices such as Apple Watch. If you want to add a debit/credit card to your Apple Watch, open the Apple Watch app and select the My Watch tab. Tap Wallet and select Apple Pay. Choose Add Card and follow the on-screen steps. You may be required to verify your information with the card issuer.
Players can use Apple Pay in Safari on their Mac or iPad devices with Touch ID/Face ID, too. Just navigate to the System Preferences and open Wallet & Apple Pay. Enable the Allow Payments on Mac function and tap Add Card.
If your Mac device does not support the Touch ID feature, you can still use it to make online payments via Apple Pay. However, you will have to use your compatible iPhone or Apple Watch to finalize the transaction. For that purpose, you will have to turn on the Allow Payments on Mac functionality.
What is Apple Cash?
Apple Cash is a digital card that allows users to send, request, and receive money easily in the Wallet app or Messages app. It can be used to make online and in-person payments. Setting up your Apple Cash card is a hassle-free process. You just need to open the Wallet app, tap the Apple Cash Card button, and select Set Up Now. After that, navigate to the settings and go to Wallet & Apple Pay. Turn on your Apple Cash card, and voila – you can use your Apple Cash card. Keep in mind that if you use Apple Cash to make purchases in stores, you may be required to enter a PIN to finalize the transaction. You can find your PIN in the Card Details menu.
You can use the debit or prepaid cards saved in your Wallet app to add funds to your Apple Cash card. If you use the Wallet app on your iOS device, you can fund your Apple Cash card by opening the Wallet app, selecting your Apple Cash card, tapping the More button, and choosing Add Money. After that, enter the amount you wish to deposit to your Apple Cash card and select the card you prefer to use. Keep in mind that the minimum amount you can add to your Apple Cash card is $10. You will be required to approve the payment with Face ID, Touch ID, or passcode. If you have an account with a US bank, you can also transfer funds from the Apple Cash card to your bank account. The maximum amount one can transfer is $10,000 per transaction or $20,000 per week.
How to Use Apple Pay?
Apple Pay Registration Process FAQ
Using Apple Pay for Gambling Transactions
We can compare Apple Pay in a way to the service that e-wallets are offering. This is a mediatory service which allows you to pay with your credit or debit cards but without exposing any of your card details. This instantly makes Apple Pay a very secure option when it comes to boosting your casino balance.
Prior to using this payment solution, you will have to save your credit and/or debit cards at the Wallet app of your device. This will help you to set your Apple Pay account and will give you the opportunity to boost your casino balance instantly. Before saving your card on your Apple device, you must make sure that your card issuer supports the service of Apple Pay. You should also be utilizing a device that runs on the latest version of iOS, watchOS or macOS. You will also need your Apple ID so that you can set your Apple Pay.
For those who are using iPhones and iPads, there is also the option to scan your card, instead of manually entering its details when saving it to your Wallet app. After typing the details of the card you wish to add, you will be connected to your banks which will have to approve your request. Once this is done, you are ready to use Apple Pay at online casinos.
In addition to using credit/debit cards, US citizens also have the option to set up an Apple Pay Cash card. They can upload funds to this card and also use it for purchases online and offline. Thanks to this option, Apple users can also request and receive payments via the message app. The money that they get is transferred to their Apple Pay Cash card and they can easily use their available funds to pay for various services and purchases.
Whenever you are ready to make deposits at an interactive casino, just head to the Cashier and select Apple Pay from the listed payment options. Then you should enter the amount you want to deposit and select the button "Apple Pay". After this step, you will be asked to confirm the transaction either via the Touch ID or the Face ID feature of your device.
The Touch ID feature requires you to press the Home button of your device with your finger which will quickly authenticate the payment. If you are using iPhone X or a newer version, you will be able to use the Face ID feature which scans your face whenever you want to verify a payment via Apple Pay.
Once you have confirmed the deposit you initiated, your money will instantly appear in your gaming account. This is great news for players who do not like to wait and are eager to start wagering real money online.
The fact that you are not asked to provide your card details or any other sensitive information while making casino deposits, makes Apple Pay a very secure payment solution. Unfortunately, this service can only be used for topping up your gaming balance. This means you have to look for an alternative method when it comes to your casino withdrawals.
Apple Pay Gambling Transactions
Supported transactions
Deposits
Deposit pending time
Instant
Withdrawal pending time
N/A
Additional security
Players need to enter the passcode they have chosen
Advantages and Disadvantages of Using Apple Pay as a Casino Payment Method
When we are comparing the positive and negative qualities of Apple Pay, there are definitely many perks that virtual players may enjoy. By comparing the advantages and disadvantages of Apple Pay, you will be able to decide whether this payment option is suitable for you.
When we are taking a look at the perks that this deposit method provides, its simplicity is definitely on the top of the list. Whether you are playing on your Macbook, iPhone or iPad, you will be able to complete your casino deposit in just a few taps on the screen of your Apple device. The payment itself does not require many steps and the authentication process is just as easy.
The speed of transaction is yet another benefit of using Apple Pay for funding your casino balance. Whenever you initiate a deposit via Apple Pay, you will simply have to confirm the transaction via the Touch ID or Face ID function. Since this takes only a few seconds and you do not need to take any other steps, you can see your money in your casino account instantly. This allows you to fund your gaming balance and start making bets right away.
Since we are on the topic of Apple Pay's strong points, we cannot miss mentioning the security it provides. The way this payment system is designed is to protect its users. Even though, in a way, you are still using your credit or debit card to make payments online, you do not expose your card details to anyone. This gives you additional protection when you do not feel comfortable sharing any sensitive information with online casinos. Since your credit/debit card details are not saved on your Apple device, you can also be sure that there is no need to worry about someone taking advantage of your cards.
One of the main things that players are taking into considerations is whether there will be additional charges for utilizing a certain type of payment. For those who have resorted to casino deposits via Apple Pay, the good news is that there will be no surcharges imposed by the virtual casino.
When it comes to the disadvantages of the service, there are certainly not that many downfalls of using Apple Pay at interactive casinos. This being said, you might have a difficult time finding virtual casinos that accept payments via Apple Pay. This is because it is a fairly new payment service, especially when it comes to handling deposits at online casinos. Despite that, more gaming websites start accepting payments via Apple Pay.
The one thing that may be considered as a pretty big disadvantage is the fact that players can only make deposits via Apple Pay. Since the service does not support withdrawals, you will have to resort to a different payment method when you are eager to cash out your casino winnings.
Lastly, we can list the obvious disadvantage of the service's accessibility. If you are not an Apple user, you will not be able to use this payment service. This means that not many casino members will be able to top up their gaming balances via Apple Pay. What is more, the service is not available worldwide which may force some players to seek other payment methods.
| Apple Pay Pros | Apple Pay Cons |
| --- | --- |
| Easy to use | Not available for cashouts |
| Apple pay does not charge any extra fees | It is accepted by a limited range of virtual casinos |
| Deposits are handled right away | It can be used exclusively by players who have an iOS-run device |
| Better privacy | |
| Ensures high levels of security | |
Fees for Gambling Transactions
As it was mentioned earlier, one of the best things about Apple Pay is that it does not impose any additional charges when you are depositing money to an online casino. This is great news for virtual players as often casinos charge some extra processing fees, depending on the payment method that is utilized. This, however, will not be the case when you use Apple Pay. If you, however, have the opportunity to utilize an Apple Pay Cash card, you might have to pay some fees for funding this virtual debit card.
You can use the cards you have already saved in your Wallet app to upload money to the Apple Pay Cash card. If you decide to use a debit card to transfer money to your virtual card, you will be charged no fees. Whenever you decide to upload funds to your Apple Pay Cash card via a credit card, however, you will have to pay a fee of 3%. Despite this small fee, sending and receiving money via Apple Pay is free of charge.
Processing Time for Transactions via Apple Pay
Whenever you are looking for a payment method that will allow you to play for real money right away, you can definitely trust Apple Pay. This is an extremely fast way to boost your gaming balance and experience no risk while doing so.
The reason for the deposits via Apple Pay being so time-efficient is the simplicity of the payment method. You will not have to waste your time filling out of transactions forms, providing your card details or use passwords and user IDs in order to log into your online banking account.
Apple Pay Processing times
Gambling deposit time
Instant
Gambling withdrawal time
N/A
Bank account deposit time
N/A
Bank account withdrawal time
N/A
Credit/debit card deposit time
Instant
Credit/debit card withdrawal time
N/A
Mobile Payments
Not only can you use Apple Pay while playing on a mobile device, but you can also use it directly in apps. This means that whether you are using the Safari browser app of your device or you have installed the application of your favorite casino, you will be able to make Apple Pay deposits with just a few taps on the screen.
The payment process is the same as when you are making deposits on the web-based version of the casino. Whenever you are initiating an upload of funds at a mobile casino, you will yet again be able to use the credit/debit cards you have saved in your Wallet. Not only is Apple Pay suitable for mobile payments, it is in fact, designed with exactly this idea in mind.
Thanks to the Touch ID and Face ID features, you will be able to finish any transaction on your iPhone or iPad in a few seconds. What is more, the payment process will be properly secured and you will not have to worry even when playing on the go.
The best thing about this service is that you will not need to download any app on your iOS device in order to be able to use Apple Pay. It is available on the majority of Apple devices and allows users quick and easy payments without any hassle.
If you are playing at a mobile casino app, you can simply go to the cashier section and select Apple Pay as your preferred deposit method. After entering the amount you would like to deposit, you might be asked to double tap the side button if you are using a newer version of iPhone. This will automatically activate the Face ID authentication and your money will be transferred to your gaming account instantly via Apple Pay. For users with the Touch ID feature on their devices, all they will need to do in order to confirm the transaction via Apple Pay is to rest their finger on the Home button.
The simplicity of the method only proves that Apple Pay is excellent not only for in-store payments but also for making quick transactions in mobile apps and at various websites. This is great news for gambling fans who enjoy playing on the go.
Apple Pay Mobile Payments
Apple pay
Yes
Google pay
No
Security at Online Casinos
One of the main reasons why many players find Apple Pay very convenient is the security it provides. Simply using your credit or debit card at a virtual casino for deposits will require you enter your card details which are then saved by the website so that you can use them again in the future. Meanwhile, if you resort to uploading funds via Apple Pay, you will still use your credit/debit card but you will not expose any sensitive information while doing so. This will allow you to remain anonymous while making deposits at the online casino of your choice.
Whenever you are verifying your transactions via Apple Pay, you have to use a passcode you have set before using the service. However, you will most likely be using either the Touch ID or Face ID feature of your device to authenticate the deposit you are making at an online casino. If you set up a more complicated passcode, it will be hard to crack and you will increase the safety of your payments. Alternatively, the Touch ID and Face ID features allow you to be the only person who will be able to authenticate your payments via your Apple device.
Even though you are saving your credit/debit cards to your Wallet app in order to be able to use Apple Pay, you do not have to worry about someone taking advantage of your card details. This is due to the fact that this type of sensitive information will not be stored on your device and even when you pay via Apple Pay, your details will not be shared with a third party.
To further improve the security levels of Apple Pay, the company is using encryption technology to protect the data that is shared during transactions. This gives you peace of mind whenever you are using Apple Pay for your casino fundings.
Apple Pay Security
Passcode
Yes
Fingerprint
Yes
FaceID
Yes
Two-factor authentication
Yes
Trusted devices
Yes
IP Restrictions
Yes
Apple Pay Alternatives
Apple Pay is a convenient payment method available in various jurisdictions. It is not only safe but also allows casino fans to top up their casino accounts in a flash. Unfortunately, Apple Pay-friendly casinos are not too many. However, there is nothing to cry about if the web-based casino you intend to join does not support Apple Pay as there are other payment methods that players can use instead of Apple Pay and still enjoy the same advantages.
Google Pay

Google Pay is an innovative payment method that many web-based casinos employ. If you have a touchscreen device that runs on Android 5.0 or later, you can download Google Pay from the Google Play Store. Owners of iOS-based devices can find the Google Pay app in the App Store.

This payment method is very similar to Apple Pay. Players who want to fund their casino accounts via Google Pay have to set up a Google account. For that purpose, they need to visit the Google account sign-in page and click Create Account. Casino fans must have a Gmail account to set up a Google Account. If you already have a Google Account, setting up your Google Pay profile is a piece of cake. Open the Google Pay app to add credit/debit cards to it. You can use your camera to scan the card you wish to add to Google Pay or enter the required details manually.

Depositing via Google Pay is extremely easy. The first step is to find a reputable gambling site that accepts this payment method. Select Google Pay as a preferred deposit method, enter the amount you wish to deposit and approve the payment via your touchscreen device. An advantage of using Google Pay to top up your gaming balance is that you do not have to reveal your banking details. However, if you want to retrieve your winnings, you will have to look for an alternative payment method as Google Pay is a deposit-only payment solution.

Siru Mobile

Siru Mobile is a safe point-of-sale payment method available to casino fans from Finland, Sweden, and the United Kingdom. The payment method is quite convenient as it allows users to pay immediately. As long as you have a smartphone and a subscription with a local telecommunication service provider, you can use Siru Mobile.

Players do not need to set up an account to use Siru Mobile. If you want to use this payment method, visit the official website of Siru Mobile, select your country of residence, and click Get Started Now. Enter your phone number, and soon you will receive an SMS with your PIN. Whenever you pay via Siru Mobile, the costs for the purchase will be added to your subsequent phone bill.

Many online casinos accept payments via Siru Mobile. If you select Siru Mobile as a preferred payment method, you must enter your phone number. You may be required to make a call to confirm the transaction. Deposits via Siru Mobile are processed on the spot. However, the payment service does not support withdrawals. What is more, players from the UK can deposit up to £500. The monthly spending limit in Finland and Sweden is €300, and 4,500 SEK, accordingly.

Zelle

Zelle is a payment method geared toward the needs of US players. Therefore, the only currency this payment method supports is USD. Zelle is an online banking service supported by reputable US-based financial institutions. You can download the Zelle app from Google Play and the App Store. Keep in mind that the Zelle app is compatible with devices that run on Android 6.0 or later and iOS 11.0 or later. If Zelle is supported by your financial institution, there should be a designated Zelle tab in the online banking app.

Players who use the dedicated Zelle app will have to provide their email, phone number, and card information. Once you set up your Zelle profile, you can send and request money from other Zelle users. Casino fans can use Zelle to fund their casino accounts instantly and cash out their profits.

There are three ways to deposit via Zelle. The first allows casino enthusiasts to purchase Bitcoin via Zelle and use Bitcoin to fund their accounts. It is also known as Zelle-To-Bitcoin. The second way, also known as Zelle MatchPay Banking, allows casino fans to initiate account-to-account financial transfers easily. An advantage of Zelle MatchPay Banking is that it automatically pairs you with a member looking to buy a balance. The least spread way to use Zelle is called Zelle Voucher Banking. It allows players to buy account balances from other players and sell their account balances.

Venmo

Venmo is a relatively new payment method. However, there is no doubt that it is safe as it is a subsidiary of one of the most popular eWallets – PayPal. Venmo is a US-friendly payment solution that facilitates safe and secure transactions. Unfortunately, finding a gambling site that supports Venmo is no picnic. However, several web-based casinos geared toward the US market accept payments via Venmo.

Using Venmo is a five-finger exercise. You first have to download and install the Venmo app on your smartphone or tablet. Create a Venmo account and verify your identity. Link your bank card to your Venmo account and add funds to it. Register with a Venmo-friendly casino and visit the cashier. Select Venmo from the list of supported payment methods and enter the sum you want to deposit into your casino account. Follow the onscreen instructions and the funds will appear in your casino balance within up to 30 minutes.

Players can also withdraw their profits via Venmo. Withdrawals take 1 to 3 days to clear. Another crucial thing to mention is that Venmo is not a fee-free service. What makes Venmo unique is that the payment method features an activity feed, making your payments visible to others who use the Venmo app.

Boku

Boku is a reliable payment method available in over 60 countries, including but not limited to Australia, Canada, Denmark, Ireland, Sweden, and the United Kingdom. Boku is a mobile carrier billing that allows users to pay online using their mobile phones. The costs are billed to the consumer's phone bill.

If you do not have a bank account but want to play at an online casino, Boku is the perfect payment solution to use. You do not have to set up a Boku account to use this payment service. You only need a mobile phone and a subscription with a mobile network carrier that works with Boku. Assuming that you have a prepaid or pay-as-you-go phone, you can still use Boku as long as you have sufficient credits on your phone balance.

An advantage of Boku is that the payment service does not charge fees. However, players who intend to deposit via Boku should be informed that some operators impose fees on deposits via Boku. Unfortunately, players can deposit up to £30 daily, making this payment method unsuitable for high rollers. Another drawback of Boku is that it does not process withdrawals.
Casino Games with Apple Pay
Apple Pay is not the most popular payment method under the sun. However, a good-enough number of web-based have added this payment method to their lists of supported banking solutions in a bid to correspond to the banking needs of their players. Apple Pay is a payment app that casino fans can use to fund their casino accounts and play their favorite games for real money. Usually, Apple Pay casinos feature bulky gaming portfolios to ensure that the preferences of their registrants are covered.
Slots with Apple Pay
Slot games are extremely popular among casino enthusiasts due to their unique themes, easy-to-understand rules, and decent payouts. Additionally, every online casino offers a plethora of slots, so players can effortlessly find the title that suits their taste. Most online slots feature top-quality graphics and authentic sound effects. Besides, most slot games offer tempting bonus rounds.
Players can find a decent range of web-based casinos that support Apple Pay. Usually, such gambling sites are full to the brim with top-shelf slot titles powered by reputable software companies such as Yggdrasil, NetEnt, Play'n GO, Microgaming, and others. While some online casinos host games from a single software company, others have joined forces with a whole slew of game developers.
Reactoonz


Reactoonz was launched in 2017 and has quickly become one of the most played slots. The software company we have to thank for this fantastic slot is Play'n GO. The game uses a 7×7 grid, but instead of traditional paylines, Reactoonz is based on the Cluster Pays engine. The game has an eye-catching theme and a decent RTP of 96.51%. Players can take advantage of some exciting bonus features, and central to this slot are the cascading reels. Reel spinners have to charge the 5 Quantum Leap meters to unlock various bonus features, including the Gargantoon feature that will drop 4 to 8 wild symbols on the grid. Reactoonz offers a maximum payout of 4,570x the stake.
Thunderstruck II


One of Microgaming's most sought-after slot games is Thunderstruck II. The game is inspired by Norse mythology, with the main characters being Thor, Odin, Loki, and Valkyrie. This slot features an RTP of 96.65% and 243 ways to win. The minimum amount required to set the reels in motion is $0.30, while the maximum bet limit is $15. Slot fans can unlock 8 bonus features and win up to 8,100 the stake. The Wildstorm is the most intriguing feature as it turns up to 5 reels wild. The slot features vivid graphics and runs smoothly on desktop and portable devices.
Vikings Go Berzerk


Powered by Yggdrasil, Vikings Go Berzerk is a medium variance slot inspired by the bold Vikings. The slot uses a 5×4 grid and offers 25 paylines. Players collect a payout if 3 or more matching symbols land on a payline. The minimum bet limit is $0.25, and the maximum you can wager per spin is $125. Vikings Go Berzerk is a fun-filled slot that comes with various bonus features, including bonus games, free spins, sticky wilds, and others. Vikings Go Berzerk has a maximum winning potential of 4,000x the stake.
Live Dealer Games with Apple Pay
Many Apple Pay casinos offer an abundance of live dealer games to correspond to the preferences of players looking for a more immersive gambling experience. Live dealer games are managed by flesh-and-blood croupiers and take place in real time. Additionally, casino fans can communicate with the dealer and other fellow players via live chat functionality. Another feature of live dealer games is that they offer wide betting limits to fit the budget of every casino enthusiast.
Caribbean Stud Poker


Caribbean Stud Poker by Evolution Gaming is a popular poker variation in which casino fans pit their wits against the dealer. The objective of the game is to beat the dealer's hand. Caribbean Stud Poker is played with one deck of cards. There is no limit on the number of players who can join the table at a time. The payout depends on whether the dealer has qualified or not. At the start of each game round, players have the chance to place a 5+1 Bonus bet. Players can join the action for just $1. High rollers can wager up to $1,000 per round.
Immersive Roulette


Evolution Gaming released Immersive Roulette in 2013 to create an unmatched gambling experience. The game follows the standard rules of European Roulette, meaning that it uses a single-zero wheel. The house edge is just 2.70%, and roulette enthusiasts can place inside and outside bets. Immersive Roulette also features a racetrack designed for neighbor bets. Players can observe the action from different angles. The slow-motion replays of the ball dropping in one of the pockets add extra excitement to the game.
Blackjack Party


Blackjack Party is another interesting live dealer game courtesy of Evolution Gaming. What makes this live blackjack variation even more exciting is the presence of two dealers at the table The game is played with 8 standard decks of cards, which does not work to the benefit of players. On a more positive note, the dealer always stands on 17. Up to 7 players can join the action simultaneously. If there are no vacant seats, you can benefit from the Bet Behind option. Blackjack Party also features two side bets, including Perfect Pair and 21+3.
Blackjack with Apple Pay
If you are looking for a game that is not entirely based on luck, blackjack will correspond to your preferences. Blackjack has a low house edge that you can reduce even more if you use the basic strategy. Besides, this exciting card game has easy-to-understand rules. Moreover, you can enjoy plenty of blackjack variations at any Apple Pay casino. When selecting a blackjack game, be advised to check the playing rules to determine which blackjack variation is more advantageous for you.
Back Blackjack


Back Blackjack is a classic variation of the game powered by Golden Rock Studios. But what makes this blackjack variation so exciting is the unique Back Blackjack side bet that provides casino fans with the opportunity to win up to 264x their stake. The game uses 6 standard decks of cards shuffled at the beginning of every new round. A rule that works to players' benefit is that they are allowed to double down on any first two cards. In addition, the dealer always stands on all 17s. A slight letdown is that the game does not offer surrender and insurance. However, Back Blackjack has a pretty decent house edge of 0.57% in the base game and 2.86% if you take the side bet.
Atlantic City Blackjack Gold Series


Atlantic City Blackjack Gold is a fantastic addition to Microgaming's portfolio. With its slick graphics and elegant design, this game will suit the taste of the most demanding casino fan. The minimum bet limit is just $1, while the maximum is $200. The game is played with 8 decks of cards shuffled after each round. To the delight of blackjack fans, late surrender is allowed. The game also offers an insurance bet. Blackjack pays 3:2 and the dealer must stand on all 17s. Players can split up to 3 times. However, if you are dealt a pair of Aces, you can split only once. The game features an RTP of 99.65% and abides by the common rules of American Blackjack.
Super 7 Blackjack

Powered by Betsoft, Super 7 Blackjack is a classic variation of the game that follows the rules of Vegas Strip Blackjack. It is played with 6 decks of cards. The dealer stands on all 17s and peeks for Blackjack when the face-up card is an Ace or a 10-valued card. Players can place an insurance bet and split cards of the same value. Blackjack pays 3:1, while all other hands pay 1:1. The payout associated with the insurance bet is 2:1. The game is named after the side bet it offers. Super 7 is a side bet based on the first three cards of the player. If the first card you are dealt is 7, you win the bet. Assuming you get more 7s, you can collect a payout of up to 5,000:1.
Roulette with Apple Pay
Roulette is an iconic casino game offered at nearly any Apple Pay casino. We can outline three main roulette variations, including American Roulette, European Roulette, and French Roulette. American-style roulette games have a house edge of 5.26%, while European Roulette features a house edge of just 2.7%. French Roulette offers two special rules ("la partage" and "en prison") that reduce the house edge from 2.70% to 1.35% when placing an outside even-money bet.
Multifire Roulette


Microgaming's Multifire Roulette is an exciting variation of European Roulette that has a house edge of just 2.70%. The game offers all standard bet types, including inside, outside, and neighbor bets. A unique feature of Multifire Roulette is that one to five numbers are randomly selected, multiplying the possible payouts of straight bets by up to 500x. The game features a unique design and smooth animations, providing casino enthusiasts with an authentic gambling experience. Players can join the action for just $0.25, while high rollers can wager up to $1,000.
Gem Roulette


Gem Roulette has an appealing design that will attract the attention of every casino fan. The software company behind this remarkable game is iSoftBet.When you load the game, the first thing you will notice is that the zero position is missing. It is replaced by the golden chip and golden diamond positions. There are 36 numbered pockets on the wheel and two additional pockets for the golden chip and the diamond. The Gem Bet can produce a whopping payout of up to 200:1 depending on where the ball will come to rest – on the chip or diamond pocket. Gem Roulette is a classic table game with a modern twist.
100/1 Roulette


100/1 Roulette will certainly appeal to casino enthusiasts looking to diversify their gambling experience. This roulette variation is powered by Inspired Gaming. Its RTP ranges from 92.86% to 96.19%, depending on the bet you place. 100/1 Roulette does not use the traditional wheel with 37 or 38 pockets. Instead, players can wager on a total of 105 outcomes. On the betting grid, you will see five green spaces, depicting the shapes of a circle, triangle, diamond, star, and square as well as the numbers from 1 to 100. Betting limits range from $0.10 to $100, and the maximum payout is 100:1.
Ask a Question. Get an Answer.
Have a question about this topic? Ask an expert at info@supercasinosites.com
Find the answers of questions people asked so far:
Dan
Brenda
I have seen Apple Pay listed as a withdrawal option in some online casinos. Can I really use it for my withdrawals?
Yes. While initially the e-wallet app was available only for depositing at online casinos, many gaming brands have started accepting withdrawals via Apple Pay as well. The way you use the service to cash out your casino winnings is like any other e-wallet. Keep in mind that if you wish to request a withdrawal via Apple Pay, however, you must have made at least one deposit using your Apple Pay account. Once the casino approves your withdrawal request, your money should be in your Apple Pay wallet instantly. While many brands support the service for both deposits and withdrawals, there are still online casinos that recognize Apple Pay only as a deposit option. That is why we recommend checking your banking options before you start using Apple Pay for your casino transactions.
Dan
Erin
I have been using Apple Pay for my casino transactions but I have upgraded to a new iPhone. Will I be able to use Apple Pay for my casino payments again?
Yes. Thanks to your AppleID, you will be able to access your Apple Pay wallet on your new iPhone device. That means that you will still be able to use the service for the next online casino payments. The payment process will be just as fast and secure as with your previous device and you will still be able to verify each payment via a PIN code or fingerprint scan. One of the newest updates of Apple Pay includes merchant tokens. If you use your new device for an Apple Pay online deposit at a casino, the payment information will remain on a merchant token. That way, you can continue using the same device for your future Apple Pay payments even as the payment information will be saved on your new device even if you remove a card from your old iPhone.
Dan
Dennis
Can I choose to make my online casino deposit via another card and not with my default Apple Pay card?
Yes. You can head to your Apple Pay wallet and open the list of cards. If you wish to select another card as your default one, you simply tap and hold the card. Drag it on top of the rest of the cards you have saved into your Apple Pay account and it will be selected as your new default card for payments via the mobile wallet app. Alternatively, when you initiate a payment via Apple Pay, you can double-click the side button. When the default card appears on the screen, tap on it to unselect it and tap on the card you would like to choose as your new default card. That way, you can quickly switch between the cards when you wish to make your online casino payments via a different card you have linked to your Apple Pay account.
Dan
Francisco
I tried to add my credit card to my Apple Pay wallet but I was not able to scan it with the camera on my iPhone.
While the Apple Pay app allows its users an easy saving of card details via the camera app of the iPhone device, it is possible that this feature does not operate properly or there is an issue with the camera that prevents the app from correctly reading the card details. Even if that prevents you from saving your card to your Apple Wallet, you can easily save your card manually.
To add any new card to the wallet app, you will be asked to provide its number, the names of the cardholder, and the CVV number on the back of the card. Be careful when entering these details as any mistake will prevent you from saving the card and using it for your future online casino payments and any other Apple Pay purchases.