While high rollers might receive all the attention at a land-based casino, there is a type of player that often goes unnoticed as they spin the reels of their game. These gamblers do not wager large amounts of funds nor do they hope on making off with millions at the end of their session. The often unspoken hero of the gambling industry, the casual player is something you rarely think about when imagining a gaming hall. Yet these players exist and are more numerous than all other player types combined. Their unassuming nature often leaves them being ignored, yet they are the backbone of the gambling industry.
Unlike high rollers who wager hundreds or more at once, the casual player will only bet small sums and will play for the sheer enjoyment of the game. Luckily for them, there are plenty of games out there that allow for smaller bets to be placed on a consistent basis. In this article, we will take a look at some of the best penny slots on the market and also provide you with some brief, but detailed information about the games specifically.
Penny Slots in the Online Gambling Industry
While there are thousands of game in the online casino world, finding something you like often proves more difficult than initially thought. The sheer scope of the slots scene is not something most players think about when jumping head in. With so many games at their disposal, many find themselves overwhelmed and unsure as to which titles they should choose. To avoid this,
we have prepared a list of the best penny slots currently out there
that you can play across a
wide range of online casinos
. These come from the best software providers in the industry that have a proven track record of delivering excellent experiences. Moreover, we have tested each of the five games personally to ensure that you will have a good time playing them. With this in mind, please read on as we cover each title individually, placing our attention on the special symbols and features found in it.
Buffalo Blitz
The first game to start our list comes to us courtesy of Playtech and it is also the most recently released. Buffalo Blitz will take to the plains of North America and have you spinning the reels of this excellent game. As with all new Playtech titles, the graphics are designed with care and attention, bringing the game life. The animations are smooth and the background music will immerse you into the experience. There are six reels in this game and 4096 ways to win, a departure from the typical video slot formula. Despite that, this is still a great game and worthy of your attention. The betting limits are also acceptable, allowing you to bet up to 5 coins per spin, with a minimum value of $0.01.
The symbols in Buffalo Blitz take the shape of various animals and high cards. The Buffalo is the symbol you should hope to get, as it pays x300 for a x6 combination and also has the ability to appear stacked on all reels. The Racoon and the Mountain Lion are close seconds, with a x250 payout ratio for 6 of each symbol. The special symbols in Buffalo Blitz include the Wild and the Scatter, neither of which pay anything by themselves. However, the Wild will substitute for all basic symbols and the Scatter will give you the opportunity to trigger free spins.
Buffalo Blitz
Software
Playtech
Release Date
2016
RTP
95.96%
Bet Limits
$0.40 – $80
Reel Grid
6×4
Paylines
4,096
Wilds
Yes
Scatters
Yes
Bonus Games
N/A
Free Spins
Up to 100 free spins with up to 5x multipliers, infinite retriggers
Progressive Jackpot
N/A
Max Payout
10,000x the bet
Gamble Feature
N/A
Buffalo Blitz Additional TipsWhenever you spin 3 or more Scatter symbols anywhere on the reels, the game will reward you with free spins. Depending on the number of Scatters involved, you will earn between 8 and 100 free spins. During this round, the Wild symbol will fulfil its usual function, but it will also apply a multiplier of x2, x3, or x5 on your winnings when substituting. This can lead to some major wins and its one of the best features of Buffalo Blitz. Additionally, spinning more Scatters will reward additional free spins up to a maximum of 100. There is no limit to how many times you can retrigger this feature and theoretically, you can do it infinitely.
Divine Fortune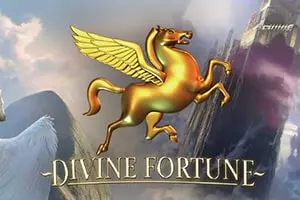 Divine Fortune is one of those great progressive titles that often gets overshadowed by the likes of Mega Moolah and Mega Fortune, despite offering a solid gambling experience. Developed by NetEnt, Divine Fortune has all the makings of a modern slot game. The theme of the game is based on Ancient Greek culture and if Antiquity is your thing, then you will immediately fall in love with it. As is the case with many modern-day video slots, Divine Fortune comes with 5 reels covered by 20 paylines. As for betting limits, players are only required to bet a single penny on each line, which makes for a minimum bet of $0.20 per spin. Divine Fortune is able to strike the right balance between the number of paylines and the amount that you need to bet in order to play.
Gameplaywise, Divine Fortune includes a variety of symbols that will appear on the reels every time you spin them. Of the basic category, the Medusa symbol is the best paying one, rewarding you with x600 for a x5 combination. After it, comes the Lion, paying x400 if you manage to line up five of that symbol on the same line. There are also a bunch of special symbols in Divine Fortune. The Horse is the Wild, the Thunderbolt acts as the Scatter, while the Coin is the Bonus symbol. Neither of these has a payout, but they do serve an important function in the general gameplay.
Divine Fortune
Software
NetEnt
Release Date
2017
RTP
96.59%
Bet Limits
$0.20 – $100
Reel Grid
5×3
Paylines
20 fixed paylines
Wilds
Yes
Scatters
Yes
Bonus Games
Yes
Free Spins
Up to 12 free spins
Progressive Jackpot
Yes
Max Payout
600x the bet
Gamble Feature
N/A
Divine Fortune Additional TipsDuring the base game, the Wild has several interactions that will certainly interest you. To begin with, the Falling Wilds Respins will have a great impact. Whenever a Wild lands on the reels and all pays are awarded from that spin, the Wilds will shift down one position on the reels and a respin will ensue, with the Wild sticking in place. This will continue until there are no more Wilds on the reels. If during a respin a Wild symbol falls on top of a Falling Wild, it will cause the Wild to expand and cover the whole reel. The respins will continue with the Wild stack moving down one position.
You can trigger a round of free spins by spinning 3 or more Scatters at the same time. The number of spins will be determined by how many Scatters are involved. During this round, all Wild symbols that appear on the reels will automatically expand and you can retrigger the feature by spinning 3 or more Scatters.
Guns N Roses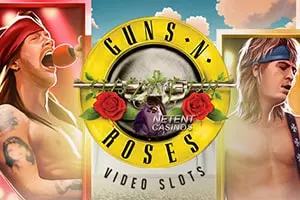 Are you into classic rock? If so, then maybe Guns N Roses is the right game for you. As you can already imagine, it portrays the old-school band from its golden years. The theme lends itself very well to the slot format, with flashy visuals showcasing a concert. Moreover, the background music includes some of the best tracks from the band and if you are a Guns N Roses fan, you will feel right at home. As for the slot aspect of the game, it comes with 5 reels and 20 different fixed paylines. Players can bet only a single penny on each line, thereby allowing them to play the game for as little as $0.20 per spin. This will not break the bank and you can have plenty of play time, possibly even scoring a nice win at the end of your session.
As for the symbols, they come in the form of high cards and Guns N Roses iconography. The best paying basic symbol is Axl, with a x750 reward for a x5 combination. Following in second place is Slash, paying x500 for lining up five of that symbol on a payline. The Wild symbol is the Guns N Roses logo and although it does not pay anything by itself, it does have special features that will influence your gameplay. Finally, we come to the Bonus symbol, represented by the Record. Spinning a certain number of it will initiate one of three bonus rounds, chosen randomly for you.
Guns N Roses
Software
NetEnt
Release Date
2016
RTP
96.98%
Bet Limits
$0.20 – $200
Reel Grid
5×3
Paylines
20 fixed paylines
Wilds
Yes
Scatters
Yes
Bonus Games
Yes
Free Spins
10 free spins
Progressive Jackpot
N/A
Max Payout
750x the stake
Gamble Feature
N/A
Guns N Roses Additional TipsThe bonus round is triggered whenever you spin 3 Bonus symbols, one on the first, third and fifth reel each. This will bring up the Bonus Wheel and you get to spin it. When it stops, it will reveal which bonus round is awarded to you.
The Crowd-Pleaser Bonus Game is a pick-and-choose mini-game with 3 different levels. It will have you revealing prizes in three different stages, awarding you free spins, cash prizes and additional picks. Each different stage will provide you with different rewards and you can reach the next one once certain conditions are met.
The Encore Free Spins feature will award you 10 free spins with an extra twist. During these free spins, a band member symbol can appear stacked on the second, third and fourth reels and serve as a Wild for the purposes of that single spin. It is mostly straightforward and you should have no problem wrapping your mind around it.
The Appetite for Destruction Wild is an overlay Wild, shaped like a cross. It includes 5 positions on the reels and will substitute for all basic symbols. Moreover, it will be applied to the triggering spin and payout any winning combination. When the overlay is applied, no other features can be triggered.
Thunderstruck II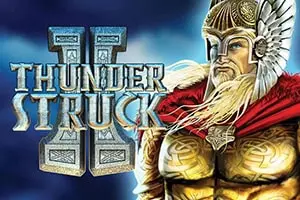 Thunderstruck II is one of the most played Microgaming titles in the online gambling industry. Featured in every casino powered by this software provider, this game has risen to prominence over the years and still remains a popular pick among veterans and new players. Released almost a decade ago in 2011, Thunderstruck II has aged gracefully and still has the potential to be a great way to pass the time. With 5 reels and 243 ways to win, it has every important aspect of an online slot. The betting limits are also quite permissive, allowing for a minimum wager of $0.30 per spin and you can increase that after every spin if you wish to bet more.
The theme of the game is Scandinavian mythology and you will see several Norse figures on the symbols. The Thor symbol is the best paying from the basic variety, providing you with a x500 payout. It is followed by the Odin and Loki symbols, which pay x450 and x400, respectively. All of these payouts are for x5 combinations. The Wild symbol is the Thunderstruck II logo and it will not only substitute for basic symbols, but it will also double the winnings of any winning combination. Moreover, it also has its own paytable, with a x1,000 reward for those who line up x5 of this symbol. The Scatter symbol comes in the form of the Hammer and it offers the opportunity to trigger a bonus round, in addition to the ability to multiply your bet by x200 when you spin x5.
Thunderstuck II
Software
Microgaming
Release Date
2010
RTP
96.65%
Bet Limits
$0.30 – $60
Reel Grid
5×3
Paylines
243 paylines
Wilds
Yes
Scatters
Yes
Bonus Games
N/A
Free Spins
Between 10 and 25 free spins with random multipliers
Progressive Jackpot
N/A
Max Payout
Up to 8,000x the stake
Gamble Feature
N/A
Thunderstruck II Additional TipsYou trigger the Great Hall of Spins whenever you hit 3 or more Scatter symbols in one go. The Great Hall of Spins has several parts to it, with further rooms unlocked by subsequent triggerings of the feature. You start off with 10 free spins and a x5 multiplier, with additional entries awarding you even better conditions. The final room rewards you with 25 free spins with Rolling Reels and a multiplier of up to x5. Some luck is required to get to this stage but it is certainly worth it.
Where the base gameplay is concerned, you will be able to benefit from the Wildstorm feature. It is triggered on a random basis after placing your bet and it can turn one or up to five reels into Wild reels. As you can imagine, this can lead to some massive wins. Although, you should keep in mind that you cannot trigger free spins on a Wildstorm spin.
Jungle Spirit: Call of the Wild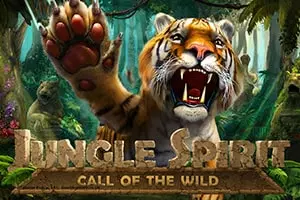 Jungle Spirit: Call of the Wild is one of the more popular titles to come of NetEnt's development studios and this game is featured at hundreds of online gambling websites. With an interesting jungle theme, Jungle Spirit is certainly pleasant to look at. The graphics are colorful and will fully immerse you into the game's aesthetic. Jungle Spirit: Call of the Wild comes with 5 reels and 20 unique paylines, allowing you to form winning combinations in a variety of ways. The betting limits of this game are quite permissive, with the minimum bet being $0.20 which should fit everyone's budget.
When it comes to the symbols in this game, there are about or dozen or so to be had. The two categories of symbols include animals and high cards. The animals are the ones that will pose interest to you. The Lion pays the best, x150 for a x5 combination, followed by the Elephant with a x100 payout. After them, the Bear will reward you with x80 if you line up 5 of that symbol, while the Crocodile offers a x70 payout. The Water Lily is the Scatter symbol in this game and while it does not have a pay table of its own, it does offer the opportunity to trigger free spins. Surprisingly, there is no Wild symbol in Call of the Wild.
Jungle Spirit: Call of the Wild
Software
NetEnt
Release Date
2017
RTP
96.47%
Bet Limits
$0.20 – $100
Reel Grid
5×3
Paylines
243 paylines
Wilds
N/A
Scatters
Yes
Bonus Games
N/A
Free Spins
Up to 20 free spins
Progressive Jackpot
N/A
Max Payout
Up to 7,678x the bet
Gamble Feature
N/A
Jungle Spirit: Call of the Wild Additional TipsYou can trigger free spins by spinning 3 or more Scatters anywhere on the reels. When this happens, the game will add one more row to the reels and thus, increasing the number of ways to win from 243 to 1024. Moreover, if you start the free spins with 4 or 5 Scatters, you will receive a coin win of x15 or x50, respectively. When the round starts, you will get to select one of five statues. Each statue offers a different number of spins and you can see it clearly. The catch is that the lower the number of spins you play at a higher risk, but also the reward potential is greater. The opposite is true for a higher number of spins.
The Symbol Expansion feature will make your gameplay much more memorable. During the base game and free spins, all symbols with the exception of the Scatter can be marked by butterflies. If that symbol takes part in a winning combination, it will expand to cover the entire reel. The Butterfly Boost further expands on this feature but is only available in the main game. Basically, butterflies may randomly hoover around the reels and can make certain symbols cover the whole reel. The maximum affected symbols by this feature can go up to three.