The online gambling industry is absolutely packed with a slew of slots from dozens of software providers. The number of video slots currently available is estimated to be around 10,000 and new ones are being released on a weekly basis. Choice is abundant and players are having the time of their lives. But what do you do when you become overwhelmed with the sheer scope of the slots scene? Many gamblers simply fall back on tried and true games that have withstood the test of time. There are many of these out there, but some have risen in dominance over others and also earned a place in the hearts and minds of gamblers everywhere. These are the type of games that online casinos would proudly display in their lobby and operators would advertise as a selling point for their website.
If you have ever wondered what games other gamblers like to play or are simply looking for something good, then you have come to the right place. In this article, we will look over the most played slots in the online casino industry, paying special attention to each game and taking a look at the specific features they offer. Each title has been tested by us to verify its entertainment value so that you can be certain of its quality.
Most Played Slots in the Online Gambling World
There are more than enough games in the online gambling industry and narrowing down the most played is not an easy task. Even by the most stringent metrics, there are too many games for us to list all at once. This is why we have reduced our list to 14 incredibly popular titles that you are bound to love and can easily access at almost any major online gambling website. They come from trusted software providers and we can guarantee that you will have a great time playing them.
Starburst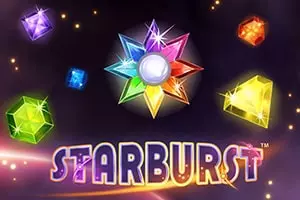 When it comes to popular slot games there is nothing that comes to close to the prominence of Starburst in the online gambling industry. This slot is considered by many to be the face of online casino game and it is the
favorite game of millions of players all over the world
. Brought to us by NetEnt, Starburst is the most recognizable title of the online gambling scene and you will have a great time playing it. Visually, the game is quite appealing, with bright colors and
high-definition graphics
on full display. The animations also lend themselves quite well to the overall aesthetic to complete the experience. This game comes with five reels and 10 unique paylines, upon which you can form winning combinations. As for betting limits, Starburst allows for bets of up to $100 per spin, more than enough to satisfy the majority of gamblers out there.
Starburst comes with only eight symbols, somewhat lower than the industry average, and it certainly plays in the gambler's favor. The BAR symbol offers the best rewards, paying x250 for a x5 combination. It is followed by the Seven, which will pay x120 the line bet if you manage to score x5 of that symbol on a single payline. The rest of the symbols take the form of crystals and have payouts varying between x25 and x60 for a x5 combination, nothing to write home about. There is also a Wild symbol in the game, though it does not have its own pay table. However, it will still substitute for other symbols on the reels to help you complete combinations.
Watch Starburst Gameplay
Starburst Additional TipsThe Wilds in Starburst serve as special function and are responsible for the main features in the game. More specifically, they will only appear on the second, third and fourth reels and have the chance to expand to cover all 3 positions of a reel. When this happens, a respin will be triggered, with the Wild reel remaining in place. This can happen up to a maximum of 3 times and you can receive a payout after every respin.
Overall, Starburst is a simplistic yet highly entertaining game that has won the love of the gambling community and remains as the most popular title in the industry. Its sheer simplicity is what makes it so great and the entertainment value it offers is almost unrivaled.
Book of Dead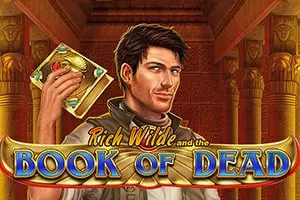 Book of Dead is another excellent slot game with great popularity in the online gambling industry. Developed by Play'n GO, Book of Dead has been very successful in the saturated market and has established itself as one of the best titles out there. The main attraction of many gambling websites, this game is certainly worth your time and you should seriously consider playing it. Book of Dead comes with an intriguing Ancient Egypt theme and it works very well in immersing you into the experience. The graphics are nothing if not beautiful and you certainly appreciate the attention to detail that the software provider has put in. In terms of gameplay, Book of Dead comes with 5 reels and 10 different paylines, giving you multiple ways of forming winning combinations. As far as the betting limits are concerned, you can bet up to 5 coins on each line, with a value between $0.01 and $1.00 per coin. This makes for a maximum bet of $50 per spin and that should be good enough for all gamblers.
Watch Book of Dead Gameplay
Book of Dead Additional TipsGameplay-wise, Book of Dead does not go overboard with complicated features and relies on tried and tested game mechanics. There are several symbols in the game that you should pay attention to. The Explorer has the highest payout ratio, rewarding you with an amazing x5,000 the line bet for a combination of x5. Directly behind it is the Pharoah symbol which pays x2,000 whenever you line up 5 of it on a payline. The two Gods symbols both pay x750, which is not bad by any metric. Unlike some other games, Book of Dead combines the function of the Wild and Scatter into a single symbol – the Book. It has its own paytable, where if you hit x5 you will receive x200 the total bet.
The Book symbol is also key to unlocking the special features in the game. Whenever you spin 3 or more Book symbols, you will trigger a round of 10 free spins. While that might sound good enough on its own, it doesn't end there. During the free spins, a random symbol can be chosen and it will expand to cover the whole reel. If your luck is good enough, you can have the whole symbol covering the entire grid.
There is not much else to talk about in Book of Dead. It uses basic concepts for its gameplay but does an excellent job at delivering a great experience. Moreover, the payouts it offers are some of the best that you will find and certainly worth the time and money. While the number of online casinos powered by Play'n GO might not be as large as those that feature Microgaming or NetEnt software, there are still plenty of gambling websites that feature this game, many of which can be found in our review section.
Gonzo's Quest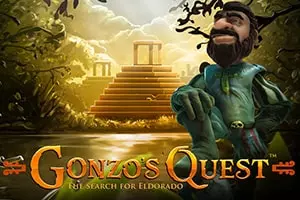 Another NetEnt all-time classic, Gonzo's Quest has been on the market for a few years at this point and its popularity is reaching ever greater heights. Centered on exploring South America, Gonzo's Quest stands out from most other games in the same genre and delivers a great gambling experience. The visuals are bright and colorful, while the graphics style is beautifully designed and you will no doubt be mesmerized. Gonzo's Quest includes 5 reels and 20 unique paylines. Up to 5 coins can be wagered on each line, with a value between $0.01 and $0.50.
Gonzo's Quest features some interesting symbols on its reels. The best paying symbol in this game will reward you with x2,500 the line bet, while the second-best pays x1,000. Outside of the basic symbols, Gonzo's Quest also includes two special ones – the Wild and the Scatter. The Wild will substitute for basic symbols on the reels, while the Scatter can trigger a round of free spins. Neither of them has its own pay tables, though there are other features to counterbalance this.
Watch Gonzo's Quest Gameplay
Gonzo's Quest Additional TipsFor one, spinning 3 Scatter symbols will trigger a round of 10 free spins. Keep in mind, that you need to spin them in succession starting from the leftmost reel. During the round, you can receive additional spins by hitting more Scatter symbols. Moreover, the free spins also come with higher Avalanche multipliers, starting from x3. What is an Avalanche multiplier? After every winning spin in the base gameplay and during free spins, the game will remove the winning symbols, causing the rest of them to fall down to fill the empty spots and new symbols fall down on the reels. This goes on until you hit a dead spin. Moreover, with each winning combination, a multiplier is applied for the next one. During the base gameplay, this ranges between x1 and x5, while in free spins, it starts at x3 and can go up to x15.
All in all, that is all that Gonzo's Quest has to offer and while it might not sound like much, you will change your mind. The gameplay of this title is certainly worthwhile and it will keep you coming back for more.
Immortal Romance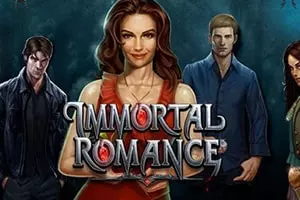 Immortal Romance is the first Microgaming title to appear on this list and also stands among the most played games in the online casino world. Released all the way back in 2011, it has consistently remained among the most popular slots on the market. It has done this via excellent gameplay and worthwhile payouts, both of which contribute greatly to a great gambling experience. Immortal Romance includes 5 reels and 243 ways to win, in place of a traditional payline system. You can bet up to $6.00 per spin, which is quite low, especially when compared with the industry average. As a result, this game might not be suitable for high rollers, though casual players and mid rollers should be satisfied.
Where symbols are concerned, there are more than a dozen of them in this game. The high paying symbols come in the form of characters, while the low paying variety is represented by high cards. From the basic symbols, Sarah is the best paying, rewarding x500 for a x5 combinations. It is followed up by the Michael and Troy symbols, which pay x450 and x400 respectively. The Wild symbol is the game's logo and it will substitute for basic symbols on the reels. Moreover, it also offers the best payout, more specifically, x1,500 and will double the wins from combinations it participates in. There is also a Scatter symbol and it has its own paytable, paying x200 for five symbols. Moreover, it also initiates a bonus round called the Chamber of Spins.
Watch Immortal Romance Gameplay
Immortal Romance Additional TipsAs for features, Immortal Romance has plenty of them. The Wild Desire is triggered randomly during the base game and it will cause a random reel to turn into Wilds. There is no limit as to how many reels can be transformed and you can have up to five Wild reels at once.
Whenever you spin 3 or more Scatter symbols you will trigger the Chamber of Spins. This bonus round comes with four different stages and subsequent triggers of the feature will grant you entry into other rooms. On the first initiation, you will be given access to the Amber story, which grants you 10 free spins with a x5 multiplier, which can be retriggered. After that comes the Troy story, where you play 15 free spins with the Vampire Bats feature, turning random symbols into Wilds, and a maximum multiplier up to x5. The penultimate story is that of Michael and you receive 20 free spins with Rolling Reels and a progressive multiplier up to x5. The last story is Sarah's and you are granted 25 free spins, with additional Wild Vine symbol and the ability to gain more free spins.
Mega Moolah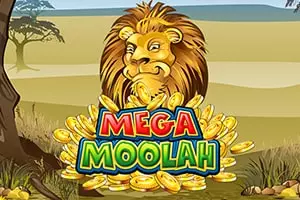 Mega Moolah is arguably the most popular progressive slot in the market and also offers, at times, the largest jackpots in the online gambling industry. This is also the oldest title on this list, released more than 10 years ago back in 2006. Yet despite its age, Mega Moolah is consistently able to bring in players due to its entertaining gameplay and the enticing jackpot. There are five reels in this game, covered by 25 unique paylines. Users are able to bet 5 coins on each line, with a maximum value of $0.05. This brings the maximum bet per spin to $6.25, which is quite low and will likely not be enough for the high-roller crowd.
The are plenty of symbols in Mega Moolah about a dozen or so. The high paying symbols take the form of various animals, while the low paying variety includes the high cards. The Elephant pays the most from the basic symbols with a x750 reward for a x5 combination. It is followed by the Byzon and Giraffe, which pay x600 and x500, respectively. The Wild symbol is the Lion and it has the largest payout in the whole game, an amazing x15,000 for a x5 combination. Moreover, this symbol will also double the winnings from any combination it participates in. Finally, we come to the Scatter, represented by the Monkey. It will trigger free spins and also offer its own pay table. If you manage to spin five of this symbol, your total bet will be multiplied by x100.
Watch Mega Moolah Gameplay
Mega Moolah Additional TipsThe free spins round is triggered whenever you spin 3 or more Scatters at the same time. During this round, all winnings will be tripled and the feature can retrigger itself when you spin 3 or more Scatters again.
As for the progressive jackpot, it is won by playing the bonus mini-game. It is triggered on a random basis after a spin and you are taken to a different screen where you get to spin the wheel. Depending on the outcome, you can win one of four jackpots, including the Mega Progressive, which starts at $1,000,000. Something that you should note is that the triggering of the mini-game is absolutely random and the only way to increase your chances of starting it is to play at the maximum bet. Basically, the more you bet, the better the odds of triggering it.
Granted, Mega Moolah might not have the most features or the prettiest graphics, but there is some alluring about this game. Probably, it is the 8-figure jackpot, though that is only a hypothesis. Even without the jackpot, Mega Moolah is still an entertaining and rewarding game, worthy of your time and attention. It is the crown jewel of Microgaming's games selection and you will find it at any online casino powered by this software provider.
Bonanza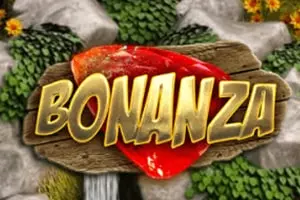 Bonanza ranks among the top 5 most played games in the online gambling industry and with good reason. It has immense entertaining value and delivers an unusual gambling experience. Unlike most other titles out there, Bonanza has 7 reels, each with 7 or 8 positions. There are not many games like this and Bonanza certainly stands out from the pack. As far as betting limits are concerned, you can wager as little as $0.20 per spin, though this can go as high as $200 or more in some cases.
Bonanza is not without any elegance, despite its mining theme. There are plenty of features in the game to keep you hooked, each more interesting than the last. Above certain reels, there are carts holding certain symbols. Once you score a winning combination, the participating symbols are removed and the ones above fall in their place. If any new combinations take place, you get the payout for them for free.
Watch Bonanza Gameplay
Bonanza Additional TipsIf free spins rounds are to your liking, then all you have to do is hit 4 GOLD symbols to receive 12 free spins. During this round, every additional Scatter will increase the number of spins by 5. Furthermore, you can also benefit from a winnings multiplier for the duration of the free spins. It starts at x1 and it increases by one with every winning combination. There is no limit to how large the multiplier can get and you should take full advantage of that.
Twin Spin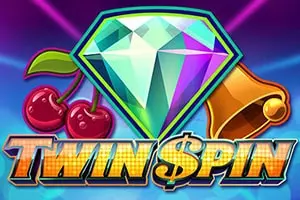 Yet another of NetEnt's greatest, Twin Spin is one of most played games in the online gambling world. Featured at hundreds of gambling websites, Twin Spin has consistently ranked among the top slot games and you should certainly consider it the next time you visit a NetEnt casino. With 5 reels and 243 ways to win, Twin Spin has all of the characteristics of a modern video slot. Its betting limits are also perfectly acceptable, with the minimum bet starting at $0.25 and going up to $125 per spin.
Where the symbols in Twin Spin are concerned, they come in the form of classic fruit slot symbols and high cards. The former are the ones that will bring you the best rewards. The Diamond is the best paying in the game, providing you with x1,000 once you manage to spin x5. It is followed up by the Seven and the BAR symbol, which pay x500 and x400, respectively. On the lower end of the spectrum, we see the Bell and the Cherry both of which pay x250. The Wild symbol in Twin Spin does not have a pay table of its own, but it will substitute for other symbols on the reels. Moreover, it is the only special symbol in Twin Spin due to the lack of Scatter and Bonus symbols.
Watch Twin Spin Gameplay
Twin Spin Additional TipsThe game is named after the Twin Reel Feature which is also the main way for you to score large winning combinations. Basically, every time you spin the reels, two neighbouring ones will become identical, spinning the same symbols in the same positions. This is powerful by itself, but there is also the chance that the feature will expand to cover other neighbouring reels. Potentially, the Twin Reel Feature will include all five reels, which will lead to a massive payout for you.
Golden Grimoire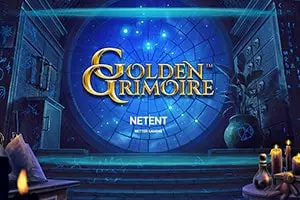 Golden Grimoire is one of NetEnt's latest releases, coming out in late February 2019. The theme of this game is witchcraft and it is certainly intriguing if nothing else. The visuals do an excellent job of immersing you in the atmosphere intended by the developer, making you feel like there is some mystery behind everything. There are five reels in Golden Grimoire and 40 paylines are spread out over them. The betting limits range between $0.20 and $400 and while this may be somewhat excessive, it is by no means bad.
There are plenty of symbols in Golden Grimoire, portraying some aspect of witchcraft. The high paying symbols resemble potion ingredients, while the low paying come in the form of card suits. The Spider symbol pays the best, rewarding you with x100 for a x5 combination. As for special symbols, Golden Grimoire comes with a Mystery symbol, a Wild and a Scatter.
Watch Golden Grimoire Gameplay
Golden Grimoire Additional TipsThe Mystery symbol will only appear on the last three reels and whenever one or more of this symbol lands on the reels, a random symbol will be chosen – either Wild or basic – and all Mystery symbols will turn into the selected one. If the leftmost symbol on the same row matches the transformed Mystery symbol, all other between them will also be transformed. If the Mystery turns into a Wild, all symbols between the Mystery and the leftmost symbol on the same row will become Wilds.
You can also earn some free spins in Golden Grimoire simply by spinning 3 or more Scatter symbols. Keep in mind that Scatters only appear on the first, third and fifth reel. If you spin the needed number of Scatters, the game will reward you with 8 free spins which also includes the Sticky Mystery Symbol feature.
Wolf Gold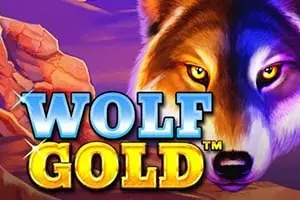 One of the few Pragmatic Play slots on this list, Wolf Gold ranks among the most popular slots in the online gambling industry. Alluring and entertaining, this slot is definitely worth your time and attention. Featuring 5 reels and 25 different paylines, Wolf Gold stacks up well against other video slots. The betting limits range between $0.25 and $125, allowing players with every budget to take part in the fun.
The symbols in this game take the form of various animals and high cards. The Buffalo pays the most with x500 coins for a x5 combination. That is also the same payout as the Wild symbol, portrayed as a Wolf. The Scatter pays x1 the total bet when you hit 3 or more, but the small payout is counterbalanced by the round of free spins you receive. During the free spins, the Wolf symbol may appear in 3×3 blocks, leading you to score massive wins. Moreover, the feature may retrigger itself and there is no limit to how many times you can do this.
Watch Wolf Gold Gameplay
Wolf Gold Additional TipsThe Money symbol is of great importance in Wolf Gold and it takes the form of the Moon. On each spin, this symbol is assigned a random value, depending on the bet size. If you manage to spin 6 or more Moons, then the Money Respin feature will begin, granting you 3 respins. All Moon symbols will stick in place and the rest of the symbols will be respun. Every time you spin a new Moon, the number of respins is reset back to 3. The round end when there are no more respins or until the whole grid is covered by Moons. When this happens, the game will add up all the values of the Moon symbols and issue your payout. If you manage to get all 15 Moon symbols, you will win the Mega Jackpot.
Vikings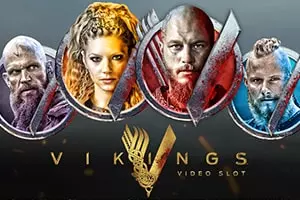 Based on the hit History Channel show, Vikings is currently one of the most popular slots on the market. Released only in late November 2018, it has taken the industry by storm and has remained in a dominating position months later. With 5 reels, 243 ways to win and a maximum bet value of $100 per spin, Vikings is the epitome of a modern slot game and players seem more than pleased with it.
The symbols in the game take the form of the important characters from the show and various high cards. The character symbols can appear stacked on all reels, but if they do so on the middle one, all other Viking symbols will be transformed to the one that landed in the Hotspot. The Shield symbol serves as the Scatter and once you spin 3 or more of it, the game will activate Raid Spins or in other words, a round of seven free spins. In Raid Spins, the game will transform to a 7-reel, 5-row and 78,125 ways to win grid and there will be three Hotspots on the third, fourth and fifth reels.
Watch Vikings Gameplay
Vikings Additional TipsDuring the base game and Raid Spins, there is a chance for the Shield Wall feature to be activated. A Shield Wall will appear on random positions on the reels as a cluster of mystery symbols. Once this happens, your winnings will be evaluated, based on the outcome.
Aloha! Cluster Pays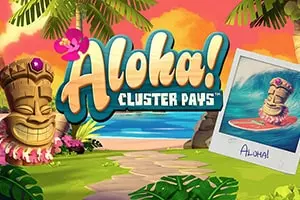 Aloha! Cluster Pays is one of the more lighthearted NetEnt titles on this list and it features a fun and relaxing Hawaiian theme. It does not follow the traditional video slots formula and instead, implements six reels with five positions on each. Where betting limits are concerned, no one should have issues with playing at their desired bet level, since the minimum and maximum range between $0.10 and $200.
This game also does not hold onto traditional paylines as one might expect. Instead, it uses the Cluster Pays system, where any cluster of symbols is considered a winning combination. It does not matter where they are located on the reels, as long as all of them are positioned together. Due to this, the minimum winning cluster in Aloha is made up of 9 or more symbols. Moreover, whenever you spin a winning combination there is a chance for the Sitcky Win ReSpin feature to come into effect. It will make your winning cluster remain in place and respin all other symbols. If the size of the cluster increases, the process will repeat until you can score no more winning combinations.
Watch Aloha! Cluster Pays Gameplay
Aloha! Cluster Pays Additional TipsAloha! Cluster Pays also features Wild and Scatter symbols. They serve their usual function with the Wild substituting for basic symbols while spinning 3 or more Scatters will grant you a round of free spins. The specific number depends on how many Scatters you spun and spinning more Scatters during the round, will increase the number of free spins.
Dead or Alive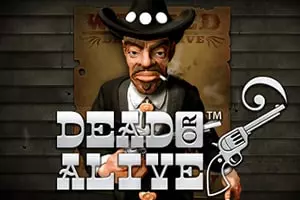 Dead or Alive is commonly featured in the lobby of many NetEnt-powered online casinos and is an all-around fan favorite. Its Wild West theme is certainly attractive and if you appreciate this setting, then you will not find a better game than this. The betting limits may not be as loose as in other slots, only going up to $18 per spin, but most players should be satisfied.
The symbols spun on the reels come in the form of various WIld West iconography and high cards. Of the basic symbols, the Sheriff's badge is the best paying, rewarding x1,000 the line bet if you manage to spin x5. The WIld manages to one-up it by offering a x1,500 payout and also substituting for basic symbols on the reels. However, the absolute most rewarding symbol in the whole game is the Scatter with its x2,500 payout ratio.
Watch Dead or Alive Gameplay
Dead or Alive Additional TipsWhen you spin 3 or more Scatters, you will be treated to a round of 12 free spins. During the free spins, Wilds will be sticky, remaining in place for the duration of the round, and all winnings will be doubled. You can retrigger the round only once by spinning 3 more Scatter symbols.
Overall, Dead or Alive is quite simplistic and therein lies the strength of the game. It doesn't rely on overly complicated features to deliver an amazing gambling experience and the special features it does have are more than good enough.
Thunderstruck II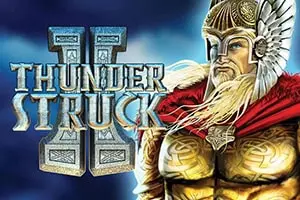 One of Microgaming's all-time favorite comes to us in the form of Thunderstruck II. Building upon the previous game in the series, Thunderstruck II takes the Norse theme and adapts it into the slots format. There are five reels in this game and players have 243 ways to win. The betting limits are somewhat conservative, only allowing for wagers up to $15 per spin.
When it comes to symbol payouts, Thunderstruck II does not disappoint. When it comes to the basic symbols, Loki and Odin will pay x400 and x450 for a x5 combination, respectively. Though, if you manage to hit x5 of the Thor symbol, your bet will be multiplied by x500. If you are lucky enough, you may even score a x5 combination of Wilds, which will see your bet increased by x1,000. Not only does the WIld pay for itself, but it will also double all wins from combinations it takes part in. The Bonus symbol does have a payout of its own, but it only amounts to x200 for x5.
Watch Thunderstruck II Gameplay
Thunderstruck II Additional TipsWhen you spin 3 or more Bonus symbols, the game will start the Great Hall of Spins feature. There are four different segments to this feature and you can progress to the next ones by activating the feature again and again. The Valkyrie round will provide you with 10 free spins and a multiplier of x5. The final Thor round, on the other hand, offers 25 free spins, with Rolling Reels and a progressive multiplier that goes up to x5.
Golden Colts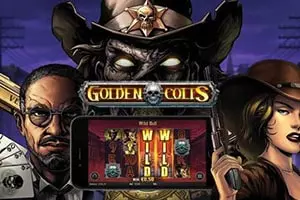 We will conclude our list with a Play'n GO entry taking the form of the Golden Colts slot game. Yet another Wild West theme, Play'n GO has done an excellent job in capturing the aesthetic of this setting. With 5 reels and 40 paylines, this game seeks to rival the Dead or Alive slot by NetEnt. When playing this title, you can place bets for as little as $0.20 per spin, which can go up to a massive $100 per spin, should you choose to do so.
There are a bunch of symbols in Golden Colts that you should look out for. From the basic category, the Undead Gunman is the symbol that will provide you with the largest payout, set at x625 for a x5 combination. If, however, luck is on your side, you may end up spinning 5 Wild symbols and receiving the x1,250 payout. Scatters do not pay anything, but rather they find their use in triggering the Golden Colts Bonus Game.
Watch Golden Colts Gameplay
Golden Colts Additional TipsThe Golden Colts Bonus Game is made up of seven different mini-games. When you spin 3 or more Scatters, you will trigger the Bonus Game and a Colt Barrel will appear on the screen. It will spin and eventually reveal which mini-game you will get to play. Your reward may be in the form of free spins with different modifiers or the Most Wanted pick-and-choose game. Either is a worthwhile option and you will doubtlessly get your money's worth when you play Golden Colts.
Ask a Question. Get an Answer.
Have a question about this topic? Ask an expert at info@supercasinosites.com
Find the answers of questions people asked so far:
Dan
Hilda
What makes the listed slots the best options to bet on when playing online?
All of the slots listed above have made the list and are often among the favorite titles of online casino players from all over the world. Typically, the one thing that players appreciate the most is the chance to land bigger wins in the long run. That is why popular slots are often casino games with good potential returns, with high RTPs being extremely important when players choose their top slots. Another important factor is the volatility of a game. High rollers prefer high-volatility slots as they promise bigger returns in the long run. Meanwhile, players with smaller budgets opt for low-volatility games as they offer smaller but more frequent wins. Last but definitely not least is the fun factor of a slot. Many players choose their favorite titles based on the theme of the game, its bonus features, and overall design. Action-packed slots are often popular among slot fans as they offer a thrilling experience.
Dan
Thomas
I've seen some online casinos listing some slots under categories like Favorites, Featured, or Popular. Does that mean these are the best slot options to currently play at the respective casino?
Not necessarily. With most online casinos offering thousands of slot variations, choosing which option to play can be extremely difficult. This is the reason why many casino operators have decided to highlight some of their slot offerings by placing them under categories like Favorites, Popular, etc. However, the slots that are typically listed in such sections are not necessarily the best ones you can play for real money. These slots usually represent the titles that have been played the most in the last few weeks or months.
Favorite games may include some of the best slots to play, which have also been covered in this review. After all, many players flock to the slots they know are worth their time and money. That said, make sure that you have done your research and you know which are the current best slot options available online.