When it comes to playing online slots nothing is ever certain. However, one way to increase your odds of scoring wins is to play with as many paylines as possible. While there are plenty of 40- or 50-payline slots out there, some players feel that this is not enough. If you are among them, then you would do well to pay attention to this list as we cover some of the best games with 100 paylines. All of the titles listed below come from reputable software providers and have been tried and tested by the online gambling community. Moreover, you can find many of them at most online casinos and you need not look too deep for them. We will cover each game in relative detail, providing information about payouts, special features and symbols.
Polterheist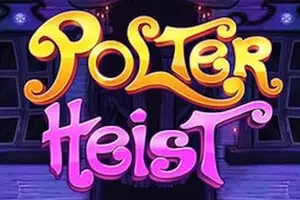 The first game to make our list is NextGen Gaming's Polterheist slot.
Released in late 2018, Polterheist has only been on the market for a few months
and has not yet received the recognition it deserves. This title stands out with its high
number of paylines
, more than most other slots in the online gambling industry. Polterheist comes with 5 reels and 100 unique paylines, allowing you to form winning combinations every which way you can imagine. The betting limits of this slot are also quite permissive, allowing for wagers between $0.50 and $50 per spin.
The presentation of Polterheist is not bad by any means. The theme, as you can imagine, is a heist conducted by ghosts and the visuals are do a good job of portraying it. Half of the symbols take the form of bandit ghosts and all of them are in 3D. The color palette mostly includes dark blues making it very easy on the eyes and the graphics style lends the game character.
As far as the symbols in Polterheist are concerned, there are low paying and high paying. The low paying symbols are high cards, while the high paying are ghosts. The highest paying ghost symbol will reward you with x500 if you line up x5 on a single payline. Other symbols from the same category will reward x250 and x200, depending on the symbol in question. There are, of course, special symbols in Polterheist – the Wild and the Scatter. Neither of them comes with a pay table, but both have a specific function in the game.
Polterheist
Software
NextGen
Release Date
2018
RTP
96.19%
Bet Limits
$0.50 – $50
Reel Grid
5×4
Paylines
100 fixed lines
Wilds
Yes
Scatters
Yes
Bonus Games
N/A
Free Spins
8 free spins with 2x, 3x, or 5x multipliers
Progressive Jackpot
N/A
Max Payout
250,000 coins
Gamble Feature
N/A
Watch Polterheist Gameplay
Polterheist Additional TipsThe Ghost Break-in feature is one of the more impactful that you will experience playing Polterheist. At the beginning of each spin, there is a chance for the ghost symbols to appear and to apply stacks of that symbol to the reels. All ghost symbols will then transform into that symbol and with a little luck, you can score a great win. When this feature is triggered, you cannot win free spins on that spin or initiate the Haunted Wilds feature.
Speaking of the Haunted Wilds feature, it can be activated on random at the beginning of each spin. When it happens, additional Wilds will be added to the second, third and fourth reel, significantly increasing your odds of scoring winning combinations. When this feature is triggered, you cannot activate free spins or the Ghost Break-In.
Whenever you spin 3 or more Scatter symbols, you will trigger a round of 8 free spins. During the free spins, you will enjoy a multiplier of up to x5 on each spin. Moreover, when you spin additional Scatters, you will be awarded additional spins. Finally, other important features will trigger during the round, such as the Haunted Wilds and the Ghost Break-in.
Overall, Polterheist is a fun and lighthearted game that we are sure that you will appreciate. Moreover, it has a relatively low house edge of around 4% which ranks among the fairest slots in the industry.
100 Super Hot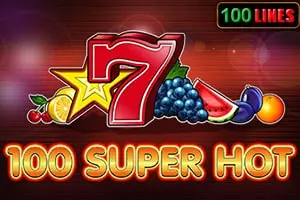 Super Hot is one of the most well-known games in the gambling industry, both in the online and land-based scenes. It is a fruit-themed 5-reel slot title that has become quite popular with the gambling community and is a common go-to game when players want something good and familiar. Super Hot comes in multiple variations, available with 20 and 40 paylines, but for the purposes of this article, we will take a look at the 100 payline version.
Super Hot is not the most complex titles out there. In fact, it is rather simplistic and that is where the game draws its strength. What Super Hot has over many other slots on the market is that the core gameplay loop is enjoyable and sufficiently entertaining on its own. This means that it does not rely on special features to attract players to compensate for its shortcomings.
As we mentioned previously, Super Hot takes after the classic fruit machines and adapts the experience into the modern video slot format. As a result, the symbols all take the form of classic slot fruits and others. Forming winning combinations in Super Hot is the same as in any other slot. Combinations start on the leftmost reel and continue along one of the paylines. In terms of payout, the Grape is the best basic symbol. If you manage to line up 5 of them on a single payline, you will be rewarded with x400 the line bet. Other worthwhile basic symbols include the Watermelon and the Plum, which pay x200 for a x5 combination.
100 Super Hot
Software
EGT
Release Date
2015
RTP
95.53%
Bet Limits
100 to 500 coins
Reel Grid
5×4
Paylines
100 fixed lines
Wilds
Yes, Lucky 7s
Scatters
Yes
Bonus Games
Yes, Mystery Bonus
Free Spins
N/A
Progressive Jackpot
N/A
Max Payout
250,000 coins
Gamble Feature
Yes
Watch 100 Super Hot Gameplay
100 Super Hot Additional TipsThe Wild and Scatter are the special symbols in Super Hot and both have their own pay tables. The Wild is the Seven and it pays x1,000 for x5 on the same payline. Furthermore, the Wild will also substitute for basic symbols on the reels and help you form winning combinations. The Scatter is represented by the Star and it is the highest paying symbol in the whole game. A x4 combination rewards x2,000, which is not bad by itself, but a x5 formation will net you an amazing x50,000.
As far as features are concerned, Super Hot does not come with free spins or bonus rounds, but it does have something in store for you if you are interested. The Gamble feature is available after every winning spin, allowing you to risk your winnings for a chance to double or quadruple them. Both are viable options and your chances of success are 50% or 25%, respectively.
There is also the mystery jackpot to take into account. It is triggered randomly after a spin and you will be taken to the mini-game. You will have to reveal face-down cards and as soon as you reveal three with the same suit you will earn the jackpot associated with that suit. The Spades have the highest sum, followed by Hearts and Diamonds. The Clubs are in last place with the lowest sum.
Playboy Gold
Playboy Gold is one of Microgaming's more interesting slot games, the type that you do not encounter often in the online gambling industry. As the title reveals, the theme of the slot is the infamous magazine and while it does not feature the same content one would expect, the Playboy Bunnies do make an appearance next to the reels.
Unlike most other slots on the market, Playboy Gold does not utilize the typical 5×3 or 5×4 reel grid that we hold as the standard. Instead, Microgaming has built the game completely differently from players' expectations. There are 6 reels in Playboy Gold and each can accommodate 10 different symbols. This, in turn, allows the game to form many more winning combinations and the 100 paylines are easily justified. The betting limits are also indicative of the scope of the game. The maximum bet can reach a whopping $500 per spin for gamblers with deep enough pockets.
There are plenty of symbols in this game and they are certainly necessary to cover all available positions. The low paying take the form of card suits and Playboy chips, though the payouts are not really worth discussing. The high paying symbols, on the other hand, are more than worthwhile. There are four of them in total, each representing a different Playboy Bunny. The Stephanie symbol is the most profitable one, paying x100 for a x6 combination. While this might sound low at face value, there are other aspects that factor into this and we will discuss them further on. Special symbols are available in the form of the Wild and Scatter, but they have no pay tables of their own.
Playboy Gold
Software
Microgaming/Triple Edge Studios
Release Date
2018
RTP
96.00%
Bet Limits
$0.50 – $500
Reel Grid
6×10
Paylines
100 fixed lines
Wilds
Yes, Playboy logo
Scatters
Yes
Bonus Games
Yes, Wheel Bonus
Free Spins
10 free spins, up to 4 respins
Progressive Jackpot
N/A
Max Payout
50,000 coins
Gamble Feature
N/A
Watch Playboy Gold Gameplay
Playboy Gold Additional TipsIn terms of features, the one that stands out first are the Jumbo Blocks. Basically, the four Playboy Bunny symbols have the ability to appear as 4×6 blocks on the reels and this gives you the opportunity to form decent winning combinations. Additionally, if a Jumbo Block appears in its entirety you will receive the benefit of either a multiplier up to x5, a cash prize of up to x30 the bet value or up to 4 respins. During respins, the Jumbo Block will expand to 4×10 or in other words, to cover the whole 4 reels. Then, the remaining two reels will respin a number of times and if any Wilds land, they will be stuck in place.
The Wheel Bonus is triggered whenever you spin 3 or more Scatters at the same time. When you play this mini-game, you have the chance to win either a cash prize, a match bonus or free spins. The match bonus game will have you revealing cards, with each pair rewarding you with cash. After the second pair, a multiplier up to x10 can be applied and the game comes to an end, paying out your prizes in the process. As for the free spins, you will be granted 10 and a Jumbo Block will land on every spin.
Archangels: Salvation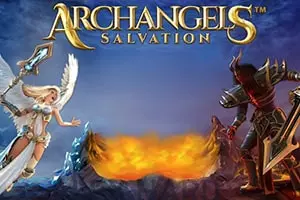 Not one to be outdone, NetEnt has plenty of great offerings to rival those of Microgaming or any other software provider for that matter. Archangels: Salvation is an interesting slot game that hit the scene in April 2018 and it has received some attention since then. After so many months on the market, it is a good idea to see how this title has held up.
Archangels: Salvation is much different than most slot games, in the same way as the example above. The typical slots grid is nowhere to be found, instead, we are greeted by a 6×12 setup, which is almost unheard of in the online gambling industry. Moreover, Archangels: Salvation comes with 100 unique paylines and is the first NetEnt title to feature so many. The betting limits are also wide enough to accommodate for all kinds of gamblers out there. The minimum wager starts at $0.40 and it goes as high as $200 per spin.
As far as the theme of the game is concerned, anyone can enjoy a good fantasy heaven and hell setting. Moreover, the graphics do a good job of portraying the overall feel, with 3D animations of an angel and a demon featured on each side. The background music is also quite immersive and will only enhance the experience.
Archangels: Salvation
Software
NetEnt
Release Date
2018
RTP
96.08%
Bet Limits
$0.40 – $200
Reel Grid
6×12
Paylines
100 fixed lines
Wilds
Yes, 2×2 wilds
Scatters
Yes, stacked 2×2 scatters
Bonus Games
N/A
Free Spins
10, 15, 20, or 25 free spins
Progressive Jackpot
N/A
Max Payout
1,500 coins default win
Gamble Feature
N/A
Watch Archangels: Salvation Gameplay
Archangels: Salvation Additional TipsThere are about a dozen symbols in Archangels: Salvation, most of them of basic variety. They are separated into three categories: low win, medium win and high win. The medium win symbols all have the same payout ratios, with a x6 combination paying x50 the line bet. The high paying symbols are the Angel and the Demon, which also have identical payout ratios. For a x5 combination, you will receive x40 the line bet, while a full x6 pattern will net you x150. We would like to emphasize, that while these ratios may seem low, you have to take into account the reel layout and the special features that we will get to soon. Aside from the basic symbols, you will also find Wilds and Scatters every now and then, but unfortunately, these have no payouts of their own.
When playing Archangels: Salvation you notice several features on a semi-regular basis. The Hot Spot Areas can be seen from the get-go. There are two areas on the top and bottom of the grid that are highlighted and whenever 2×2 Wild lands in either of them, the Heaven or Hell feature will trigger, depending on the which area it is.
The Heaven feature will generate two stacks of Wild symbols on the reels if the 2×2 Wild lands partially. If it lands fully, however, four stacks of Wilds will appear on the reels. Similarly, the Hell feature will produce 8 or 16 Wild symbols, depending on how the 2×2 Wild landed. If any of the Wilds land in the Hot Spot Area again, the game will generate even more Wilds for you to enjoy.
Finally, we come to the free spins feature, initiated whenever 3 or more Scatters land anywhere on the reels. Depending on the number of Scatters involved, you can receive up to 25 free spins.
Cashapillar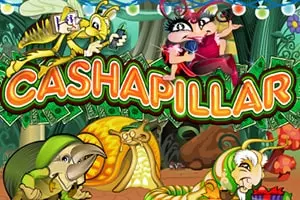 Cashapillar is the final game that will appear on our list. Developed by Microgaming, this alone speaks volumes about its quality. Unlike the previous two titles, this one is in line with the present slot standards and you will be immediately familiar with the layout. Cashapillar comes with 5 reels as any other video slot game and has the 100 paylines that we expect from it. As for betting limits, the game has a minimum bet of $1.00 per spin which go up to $20. While not as extensive as other titles, we believe that this should be satisfactory to the vast majority of players.
Where symbols are concerned, Cashapillar includes about a dozen of them. There are two categories of basic symbols in this game – low paying and high paying. The low paying are presented as high cards, while the high paying take the form of various small animals and bugs. The Caterpillar is the one that will bring in the highest amount of cash, with a x5 combination paying x1,000 the line bet. The Ladybug stands in seconds place with its x400 payout for a x5 combination. Other important symbols include the Wild and the Scatter, of which only the latter pays. More specifically, you can receive x100 for a x5 combination. As for the Wild, it will substitute for any basic symbol on the reels and also double the winnings from any combination that it participates in. Moreover, it can appear stacked on any of the five reels.
If you manage to spin 3 or more Scatters, the game will reward you with a round of 15 free spins. During the free spins, all winnings are tripled and this stacks with the Wild multiplier, effectively granting you x6 winnings. Moreover, spinning 3 or more Scatters during the round will cause the feature to retrigger and grant you 15 additional free spin.
Overall, Cashapillar is a very simplistic game that does not go too far out of the established norms. Despite that, it is still a very enjoyable game and we recommend that you give it a try.
Cashapillar
Software
Microgaming
Release Date
2008
RTP
95.13%
Bet Limits
$1 – $20 (may vary)
Reel Grid
5×5
Paylines
100 fixed lines
Wilds
Yes, stacked wilds with 2x multipliers
Scatters
Yes
Bonus Games
N/A
Free Spins
15 free spins with up to 6x multipliers
Progressive Jackpot
N/A
Max Payout
600,000 credits
Gamble Feature
Yes
Watch Cashapillar Gameplay