When it comes to comes to picking slot games, many gamblers would rather play with the highest number of paylines possible. But with the sheer number of titles out there, one would need to spend quite a lot of time sorting through all the different ones. To save you this trouble, we have prepared a list of ten 50-payline slot games, along with brief descriptions of their special features.
Halloween
There are plenty of Halloween-themed games out there in the online gambling industry but this is the only one based on the 1978 horror movie of the same name. As per the norm of this list,
Halloween comes with 5 reels and 50 individual paylines
, giving you the opportunity to form winning combinations in 50 different ways. The betting limits are also quite wide, allowing for bets of up to $200 per spin, which is pretty standard for Microgaming titles.
There are plenty of symbols featured in Halloween and some are better than others. The Laurie symbol offers the highest payouts, more specifically, up to x500 the line bet. The Loomis symbol follows in second place, paying out x200 the line bet. There are also Wilds and Bonus symbols in Halloween, however, they do not have paytables of their own.
One of the more iconic features in this game are the Wandering Reels. During the base gameplay and free spins, a group of three reels will be stuck together. These reels are indicated by a frame that moves after every spin. The frame adds an extra row to the reels and this also affects the lines and your odds of winning. This is also important for the Jumbo Blocks feature. When you spin the reels, you have a chance of spinning a Jumbo Block, which is a 3×4 super stacked symbol of one of the characters and it will appear within the Wandering Reels frame.
Of course, the special features of the game do not end there and you can also receive the benefit of free spins and a bonus mini-game, where you earn cash prizes. Overall, Halloween holds up pretty well for an older game and we recommend that you give it a shot.
Superman
Superman is one of NextGen Gaming's more interesting titles and it follows the Man of Steel. As per the rules of this list, the Superman slot has 5 reels and 50 fixed paylines, upon which you can form winning combinations. You can only bet a single coin on each payline, which can have a value between $0.01 and $2.00. This results in a maximum bet of $100 per spin and that should be enough for everyone.
As for symbols, you will find plenty of them in the game. Lex Luthor is the best basic symbol, with a payout of x500 for a x5 combination. Superman is the Wild and pays a massive x10,000 the line bet. Moreover, the Wild will also double any winnings from combinations in which it participates, with the multiplier increase to x5 during free spins. There are Scatter and Bonus symbols, as well. Both will provide you with a x5,000 reward for a x5 combination and their respective features.
You can trigger 10 free spins by spinning a Superman symbol on the second, third and fourth reel. During this round, the Superman symbol will expand to cover the whole reel and the x5 multiplier comes into effect. If you are more interested in the mini-game, you can trigger it with 3 or more Bonus symbols. This will take you on an adventure where you save people from meteor showers and more. In the end, you will cash prizes and make it all worth it.
King Kong Fury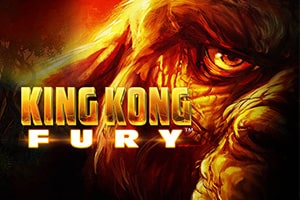 Another NextGen Gaming title to grace our list, King Kong Fury is perfect for those who like the original franchise. Giant monsters are always fun and it does not get better than this. The game has the obligatory 5 reels and 50 paylines, as well as loose betting limits. The maximum bet in this game goes up to $500 per spin, which is more than enough even for the most serious of high rollers.
When it comes to the symbols in King Kong Fury, you will find that half of them take the form of high cards, with the rest portraying various dinosaurs. The highest paying basic symbol rewards x250 to those who manage to form a x5 combination. The Wild is King Kong and it only appears on the second, third and fourth reel. To compensate for this, the Bonus symbol will only fall on the first and fifth reel.
When the Bonus symbol lands on both the first and fifth reel, it will trigger the King of Skull Island Bonus. You will to spin a wheel and based on the outcome, receive up to 100 free spins. During the free spins, the Raging Respins feature will active. Once you spin a full stacked Wild reel, the game will award you any winnings and spin the reels once again, keeping the Wild stack.
During the base game, you will also have the benefit of the Kong's Call and Lighting Reel features. These are triggered randomly and will add additional Wild symbols to the reels.
Crystal Clans
Crystal Clans is a relatively unknown slot game, brought to use by iSoftBet. It is a fantasy game with 5 reels and 50 paylines, with wide betting limits. Up to 10 coins can be bet on every line, while the value of each coin can be as high as $1.00. After doing complicated math, we can conclude that the maximum wager in Crystal Clans is $500 per spin. Some might call this excessive but having options are always nice.
Crystal Clans does not go easy on the symbols and there are a bunch of them in this game. The low paying include high cards, while their high paying opposites portray various characters. The King is the highest paying symbol in the game, with an amazing x20,000 reward for a x5 combination. The Queen comes in second place, with a x10,000 pay for the same number of symbols. A Wild symbol is also available and it comes with its own paytable, the same as that of the King. Wild multiplier symbols are one of the crowning features of this game, serving both as Wilds and also multiplying any wins they participate in. Finally, the Scatter does not pay anything, but you can unlock free spins with it.
Depending on the number of Scatters involved, you can receive between 10 and 50 free spins. A free spins round is triggered when you spin 2 or more Scatters on consecutive reels, starting from the first one. If a Wild multiplier symbol is present on the triggering spin, then winnings from the free spins will be multiplied by that much. Moreover, the feature can retrigger itself up to a maximum of 100 free spins.
Happy Halloween
Yet another Halloween game, this one actually takes after the October celebration rather than a film. Happy Halloween is developed by Play'n GO and features a fun and lighthearted theme, with bright colours and lots of a candy shown on the reels. Speaking of reels, there are five of them in this game and 50 paylines positioned upon them. You can have up to 5 coins on every reel, valued between $0.01 and $0.10 each. The maximum bet, as a result, can only go as high as $25 per spin, though that should be satisfactory for most players.
There are about a dozen different symbols in Happy Halloween, the majority of them basic. From this category, the Ghost should interest you the most. It pays x1,000 for x5 combination, followed up by the two vampires that have a payout of x500 each. The Pumpkin is the Wild symbol in this game but unfortunately, it does not have its own pay table. The Scatter is represented by a Witch and if you spin 3 or more, you will receive x4 your total bet. Not only that, but you will also activate the free spins feature.
During free spins, 2 additional Wilds will be added to all reels, except the first one. The feature may retrigger itself, though only once per round. As a result, if your luck is good enough, you can receive up to 20 free spins.
Jackpot Giant
Jackpot Giant is one of Playtech's most memorable games and one that you should certainly consider. The progressive jackpot of this title has often each 8 digits figures and it is enticing for everyone. Much like other games on this list, Jackpot Giant comes with 5 reels and 50 unique paylines. The betting limits of this slot are not particularly great, only allowing for bets of up to $4.00 per spin.
There are several symbols in Jackpot Giant that you should look out for. The Red Crystals symbol is the highest paying from the basic variety and you can receive up to x500 for a x5 combination. The Wild offers the best rewards overall, allowing you to claim x50,000 if you manage to hit 5 of them in a single payline. There are also Bonus and Scatters symbols in the game, of which only the Scatter has a paytable and it rewards up to x500.
As for bonus features, The Giant Bonus is among the main ones. It is trigger by spinning a Bonus symbol on the first and fifth reel. This will prompt the screen to change and the Giant will stand behind six volcanos. You will be able to select 3 of them and once they erupt, you will receive cash prizes. You may also be awarded an extra pick.
The Giant Jackpot can be won by spinning 5 Wild symbols on the first payline. To do so, you have to be playing on the maximum bet value of $4 per spin. If your bet level is lower but you still manage to form that combination, you will be granted the x50,000 payout. You can only receive one of the two possible rewards at a time.
Golden Legend
Golden Legend is an Asian-themed slot game brought to us by Play'n GO. Like any other title from this software provider, Golden Legend features high-quality graphics and smooth animations. This not only makes the experience immersive but also quite enjoyable. There are 5 reels to this slot and 50 paylines to complement them. Up to 5 coins can be wagered on each payline, with a value ranging between $0.01 and $0.40, which results in a maximum bet of $100
The worthwhile symbols in Golden Legend take the form of various golden animals and the Golden Tiger is the highest paying basic symbol. When you spin x5 of that symbol on a single payline your reward will amount to x1,000 the line bet. The Wild symbol does not offer a payout but it will substitute for other symbols on the reels. The Scatter does have a paytable either, but it does activate a special feature.
The free spins are triggered by spinning 3 or more Scatter symbols at the same time. You will be awarded x4 the total bet and 10 free spins. During the free spins, 2 additional Wild symbols will land on the reels. If you spin 3 or more Scatters again, you can reactivate the feature once more but only the one time.
Overall, Golden Legend is quite simple as far as gameplay is concerned and there are no overly complex features to distract you from the experience. If you enjoy simple and straightforward games, then this is the one for you.
Foxin' Wins Again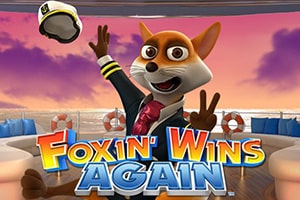 Another entry from NextGen Gaming, Foxin' Wins Again is a fun and lighthearted slot game about a seafaring fox. Like the other games on this list, Foxin' Wins Again comes with 5 reels and 50 paylines. The betting options are perfectly acceptable, allowing for a maximum bet of up to $100 per spin under certain conditions.
When it comes to symbols, the Fox is the highest paying basic symbol with a x1,000 payout for a x5 combination. If you have the good fortune of spinning 5 Wild symbols on the same line, you will get x2,000 of the line bet. The Scatter has the highest overall payout in the whole game, more specifically, x5,000 for five of that symbol.
The SuperBet feature will provide you with the opportunity to bet more and possibly win more. There are three different levels that you can switch after every spin. Every additional level will add 25 coins to your bet up to a maximum of 100 coins per spin at SuperBet 2.
If you wish to gain some free spins, then all you have to do is spin 3 or more Scatter symbols anywhere on the reels. You will receive 10 free spins, during which all winnings will be doubled. The best of all, you can retrigger this feature as much as you want. Simply, spin 3 more Scatters and extra spins will be added. Finally, at the end of the round, you will have two choices. One is to accept the results and claim your winnings or alternatively, to replay the round again, discarding any winnings that you accumulated. You can only do this only once per round and you do not have to worry about the winnings from the triggering bet.
Lucky Rabbits Loot
The penultimate entry on our list comes to us courtesy of Microgaming and it is one of the most intriguing titles that you will find in the online gambling industry. Lucky Rabbits Loot features a hand-drawn theme, with the visuals taken out of a child's drawing book. It is a truly unique approach to graphics and the developer has certainly put in a lot of effort into the presentation. Other aspects of this game include 5 reels and 50 paylines, as per the norm of our list. Betting limits are quite permissive, allowing for maximum wagers of up to $200 per spin.
As for the symbols, they are taken entirely from a deck of playing cards. The low paying symbols are high cards while the high paying ones are suits. The Spade is the most worthwhile symbol in the game and lining up 5 on a single payline will reward you with x1,000. The Heart and Diamond follow closely after, with payouts of x750 for the same combination. The Wild and Scatter are also available, though only the latter offers payouts. Spinning 5 Scatters will result in a reward of x50 the total bet.
When you spin 3 or more Scatters, you also get to activate the Lucky Rabbit's free spins. You will receive 8 free spins, during which, any portion of the stacked Wild will cause it to cover the entire reel. The feature can retrigger itself by spinning 3 or more Scatters and the game makes no mention of a limit to how many time you can do this.
Dolphin Quest
We will top off our list with a mostly overlook game from Microgaming. Dolphin Quest has been around for quite a while, yet it has not reached the same level of popularity as other Microgaming titles. Despite that, it still has a lot to offer us. With an underwater theme, Dolphin Quest does not take itself too seriously and anyone can appreciate this setting. There are 5 reels and 50 paylines laid out across them. You can bet up to 5 coins each line, with a value between $0.01 and $0.50. As a result, the maximum bet in Dolphin Quest amounts to $125 per spin.
As far as the symbols are concerned, the dolphin symbols will pay x400 the line bet for a combination of five. Additionally, the Wild is the game's logo and it will reward you with x2,500 if you line up 5 of them on a single line. The Scatter does not pay anything but it has special interactions within the game. The Scatter symbol also serves a Wild, though it does not substitute for the traditional Wild.
If you manage to spin 3 or more Scatters on the second, third and fourth reels you will trigger the Dolphin Quest Bonus. During this, each reel will have a different prize associated with it and you need to stop them individually to reveal the prizes.
All in all, Dolphin Quest is a simplistic yet entertaining game with a lot of potential. It also comes with a relatively low house edge of ~4%, which is not as high as many other slot games. If you ever come across this title at your online casino we recommend that you give it a shot.