High rollers are the stars of the gambling industry, attracting everyone's attention by constantly betting large sums of money. The prestige and status associated with high rollers is something that few can enjoy but those that do are certainly treated like royalty. While high rollers are mostly found at table games, there are those who enjoy the excitement and immersion that modern video slots can offer. Of course, present-day slots are perfectly capable of accommodating high rollers and the betting limits of most titles are loose enough so that this type of player can comfortably place bets to their heart's extent. In this article, we will take a look at some of the slot games, best suited for high rollers, paying special attention to the specific features and the symbol payout ratios.
High Roller Slots in the Online Gambling Industry
While most games are made with the intention of attracting as many players as possible, that does not mean that they are unsuitable for high rollers. Quite the opposite, considering that many of them come with sufficient betting limits for any type of player. Most titles on the market accept bets up to around $100, with some variation. That being said, there are certain titles that are more worthwhile to play than others, especially when wagering large amounts quickly. These include games with good payout ratios and features that benefit you as much as possible. Below, we have formed a list of the some of the best games we consider to be suitable for high rollers. All of the games mentioned below are from reputable software providers and have a great history in the online gambling industry, liked by both critics and players. Moreover, we have personally tested each to ensure that they meet the standards we hold them to.
White King
White King is easily one of the best Playtech games on the market currently and one that certainly deserves your attention if you are a high roller. With a relaxing animal theme, this title is nothing if not beautiful. The graphics are colorful and bright, while the animations complement the overall aesthetic. White King comes with 5 reels and
40 individual paylines
, allowing you to form winning combinations in a plethora of ways. Moreover,
the betting limits are also quite nice, allowing for maximum wagers of up to $50 per spin
. While this may not be as high as other slots out there, it will certainly get the job done.
The symbols in the game are either animals or high cards, of which the former will be of interest to you. The Crown is the best from the basic symbols, paying x400 for a x5 combination, while all other high paying symbols offer rewards of x250 for 5 of the same symbol on a payline. The White King is the Wild symbol in the game, substituting for all basic symbols when the occasion calls for it. Moreover, it also forms its own winning combination, paying x1,000 for a x5 pattern. The Scatter is represented by game's logo and it will trigger the free spins round, though it has no pay table of its own.
White King
Software
Playtech
Release Date
2014
RTP
90.05%
Bet Limits
$0.40 – $200 (may vary)
Reel Grid
5×4
Paylines
40 adjustable lines
Wilds
Yes, stacked wilds
Scatters
Yes, with 3x multipliers
Bonus Games
N/A
Free Spins
5 free spins
Progressive Jackpot
N/A
Max Payout
1,000 x the line stake
Gamble Feature
N/A
White King Additional TipsTriggering free spins is as easy as spinning 3 Scatters on the second, third and fourth reels. You will be awarded 5 free spins and for the duration of the round, the game will spin more Wild symbols than average. Furthermore, you can retrigger the feature by hitting 3 Scatters again to receive 5 more free spins. This process can be repeated over and over again, potentially providing you with infinite free spins.
Overall, White King is a mostly simplistic game that sticks to tried and tested formulas. By using well-liked and reliable features, this title is able to deliver a stellar gambling experience and also provide high rollers with the opportunity to make good use of their money. Aesthetically, it is also quite pleasing and that is always a nice bonus to have. Gameplaywise, you will not come across something you have never seen before and if you are already familiar with the standard online slots format, you will immediately be able to jump in and play.
Fire Joker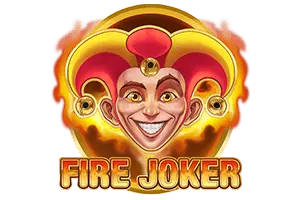 Fire Joker is one of the more notable Play'n GO titles and it has a spot in the lobby of every online casino working with this software provider. While only a 3-reel game, it is certainly worth your time if you are a fan of this sub-genre. Visually, Fire Joker is very pleasant to look at. The bright red and yellow color scheme adds a lot of character to the game and the aesthetic is quite interesting. It also does not utilize too many resources and is able to run smoothly on just about any computer or mobile device. There are 5 paylines spread over the 3 reels and the betting limits are not stringent either. Fire Joker accepts bets as high as $100 per spin, which is as good as any high roller can hope for.
Gameplaywise, Fire Joker does not go overboard with excessive features and relies more on the base game to deliver a great gambling experience. The symbols in this game are inspired by the fruit machines of the early 20th century and the fit quite well with the 3-reel setup. The Joker acts as the Wild symbol and also offers the best payout – x80 for a x3 combination. After that, we have the Seven with a x25 payout and the Star which pays x20. While this might not sound too profitable, remember that this is a 3-reel slot and the odds of forming a x3 combination is much higher than lining up 5 symbols on a single payline.
Fire Joker
Software
Play'n GO
Release Date
2016
RTP
96.15%
Bet Limits
$0.05 – $100
Reel Grid
3×3
Paylines
5 fixed lines
Wilds
Yes
Scatters
N/A
Bonus Games
N/A
Free Spins
N/A, Fire Respins only
Progressive Jackpot
N/A
Max Payout
4,000 coins
Gamble Feature
N/A
Fire Joker Additional TipsThere are also several interesting features that spice up the base gameplay. The Respin feature will help you score winning combinations in losing situations. Basically, when there are two reels with the same symbol, but it is missing on the third, the game will give you a hand and respin that reel. This is especially useful when you are close to scoring large wins, such as with a Joker combination.
Additionally, the Wheel of Fortune is another exciting feature that will get your heart pumping. When you fill the reels with the same symbol, the game will deem that you deserve even more prizes and will bring up a wheel with multipliers. You can spin the wheel and the position it stops on will determine your multiplier. Depending on your luck, it can go up to x10, allowing you to win up to x800 of the triggering bet.
7 Sins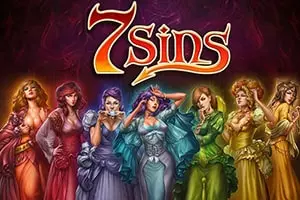 Yet another Play'n GO creation, 7 Sins is a game that should be on your radar. Released in late 2016, it bears all the important features of a modern video slot and has the ability to provide you with a lot of hours of fun and excitement. Inspired by the seven deadly sins, the game takes a provocative approach, portraying the sins as attractive women. The color palette of gold, red and purple adds an air of mystery to the aesthetic, which anyone can appreciate. On a different note, 7 Sins comes with 5 reels and the 243 ways to win system. The betting limits will allow you to easily bet up to $100 per spin, thereby making good use of your bankroll.
The symbols in this game are quite remarkable and memorable, portraying the different sins. Unlike many other slots, 7 Sins allows players to form x7 combination, despite the fact that there are only 5 reels. Before we get to the specific symbols, we will first take a look at how this is accomplished. There are two Wild symbols in 7 Sins, one standard Wild and a Double Wild. The Double Wild is counted as two symbols, instead of one. Therefore, when you have two Double Wilds in a combination, that essentially adds two more symbols to the pattern. With this in mind, the most profitable basic symbol in the game is the Greed symbol, paying x250 for a x7 combination, followed up by Lust with its x225 payout. As for the Wilds' payout ratios, spinning a x7 combination will net you x1,400, which is the absolute maximum you can get from a single win.
7 Sins
Software
Play'n GO
Release Date
2016
RTP
96.28%
Bet Limits
$0.10 – $100
Reel Grid
5×3
Paylines
243 ways to win
Wilds
Yes, single wilds & double wilds
Scatters
Yes, with 2x multipliers
Bonus Games
Yes, Second Chance Bonus Game
Free Spins
7 free spins with 1x to 7x multipliers
Progressive Jackpot
N/A
Max Payout
700 x the bet
Gamble Feature
N/A
7 Sins Additional TipsThe Scatter symbols are the key to unlocking free spins and you can do so by spinning 3 or more of them at the same time. This will grant you x2 the total bet and start the round of 7 free spins. During this round, only one of the Sins will appear per spin and it will expand to cover the whole reel. Moreover, a multiplier will be applied with each consecutive spin up to a maximum of x7.
The Second Chance feature comes in handy whenever you are one Scatter symbol shy from triggering free spins. The game will bring up all seven Sins and you search for the third Scatter by picking one of them. The end result is that you find the Scatter and receive your free spins, or you are granted a cash prize of up to x15 the total bet.
Hall of Gods
Hall of Gods is one of the many Norse-themed games in the online gambling industry, developed by none other than NetEnt. Featuring a cartoonish graphics style, Hall of Gods presents many of the popular gods from the Scandinavian mythology and it does not take itself too seriously while doing so. There are five reels in this game and 20 unique paylines are laid out across them. As for betting limits, Hall of Gods allows players to bet up to $100 per spin, but you can wager as little as $0.20 if you wish so. Either way, it is suitable for any high rollers out there.
Many of the symbols in Hall of Gods showcase various Gods from the mythology, while others portray some form of Viking iconography. The basic symbols include about 10 different ones and Odin is the best paying of the bunch. If you line up x5 of that symbol on a single payline, the game will reward you with x4,000. After that, Thor and Freya will pay x2,000 and x1,500 respectively. Loki is the last worthwhile basic symbol with a reward of x1,000 for a x5 combination. As for the special symbols, Hall of Gods comes with Wilds, Bonus symbols and Scatters. None of them have pay tables of their own, but the interactions they have with the base gameplay more than make up for that.
Hall of Gods
Software
NetEnt
Release Date
2010
RTP
95.30%
Bet Limits
$0.20 – $50 (may vary)
Reel Grid
5×3
Paylines
20 fixed lines
Wilds
Yes, expanding wilds
Scatters
Yes, triggers free spins
Bonus Games
Yes, Jackpot Bonus Game
Free Spins
10, 15, or 20 free spins with a 3x multiplier
Progressive Jackpot
Yes, 3 tiers
Max Payout
Progressive Mega Jackpot
Gamble Feature
N/A
Hall of Gods Additional TipsTo being with, spinning 3 or more Scatter symbols will award you a round of free spins. The number of spins you receive will depend on how many Scatters are involved, with x5 Scatters rewarding 20 spins. During this round, all winnings will be tripled, giving you the opportunity to walk away with quite a lot of money. Moreover, this feature can be retriggered if you spin 3 or more Scatters.
As for the Bonus symbol, spinning 3 or more of it at once will initiate the Bonus Game and you will have the chance to win one of three jackpots or cash prizes. It is a pick-and-choose mini-game, where you reveal symbols. Some are jackpot symbols, while others carry cash prizes. The odds of winning jackpots and their value is determined by the size of your bet, but since you will likely be wagering larger amounts of money, this works directly in your favor.
Wolf Gold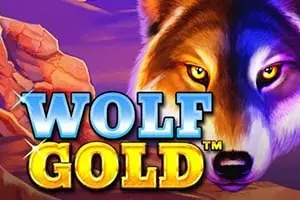 Wolf Gold is one of the more interesting slot games developed by Pragmatic Play. With a lighthearted animal theme, Wolf Gold is the perfect game to relax with after a long day. The color palette includes all manner of yellows and blues, really showing the game's character. The graphics are also complemented by the smooth animations, which really bring the game to life. Wolf comes includes 5 reels and 25 paylines, allowing you to bet up to 10 coins on each payline. The value of the coins can range between $0.01 and $0.50, which means that you can wager up to $125 per spin. That should be quite enough for any high roller and then some.
As for the symbols in Wolf Gold, there are eight basic symbols in the game. Half of those are animals and the other half are high cards. The animals are the category that pays the best, with the Buffalo offering the best rewards, a x500 payout for a x5 combination. It is followed by the Eagle and the Mountain Lion, which pay x400 and x300 respectively. The Wolf is the Wild symbol in the game and it has the same payout as the Buffalo symbol – x500 for x5 on the same line. Additionally, there is a Scatter symbol which will help you unlock some free spins and a Money symbol, both of which we will cover in-depth.
Wolf Gold
Software
Pragmatic Play
Release Date
2017
RTP
96.01%
Bet Limits
$0.25 – $125
Reel Grid
5×3
Paylines
25 fixed lines
Wilds
Yes, stacked wilds
Scatters
Yes, on reels 1, 3 & 5
Bonus Games
N/A
Free Spins
5 free spins, respins
Progressive Jackpot
N/A
Max Payout
5,000 credits
Gamble Feature
N/A
Wolf Gold Additional TipsThe Scatter symbol only appears on the first, third and fifth reels and whenever you spin 3 of them you will receive 5 free spins. During free spins, the second, third and fourth reels can spin together as a giant 3×3 Wolf symbol, which is the Wild. As you can imagine, this could lead to some incredible wins. If during the free spins you hit 3 or more Scatters, the game will reward you with 5 more free spins and there is no limit as to how much the feature can retrigger itself.
Finally, we come to the Money symbol. It is represented by the Moon and it can spin on all reels. This symbol comes with a random predefined value and when 6 or more Moon symbols hit, the Money Respin feature will be triggered. When this happens, all non-Moon symbols will fade and only the Moons will remain. The reels will only spin Moon symbols and empty positions. In the beginning, you will have 3 respins and all Moon symbols you spin will remain on their positions for the duration of the round. When you spin a Moon symbol, the number of respins is reset back to three and this will continue until all positions are filled with Moon symbols or until no more respins are left. In the end, the game will add up all the values attached to the Moon symbols and you will be paid that amount. If you manage to fill all 15 positions with Moons then you win the Mega Jackpot.