Every gambling enthusiast knows that one of the most important things to look at when choosing a game is its house edge. Simply said, the house edge is the casino's advantage and it expresses the potential return that the gambling website or land-based facility will enjoy over time. The bigger the house advantage is, the bigger your chances of experiencing losses are. This is why one of the biggest factors that can positively affect your gambling is a low house edge.
While the different casino games have a distinctive house edge, blackjack and video poker rank on the top of the list of options that will give players a bigger advantage. With the array of video poker variants that gambling devotees can play, the percentage of the house edge for each game is different. Generally speaking, however, with video poker, the casino advantage can even drop below 1%.
What is more, players often have the opportunity to further turn the tables and tilt the scales in their favor. Since video poker allows the use of optimal strategy, there are even cases when the house edge can be a negative number. In order to gain a better advantage, players should make sure that they are using the right strategy and they are playing on a game that offers the best possible payout.
By combining the aforementioned factors, video poker enthusiasts have the opportunity to enjoy a very lucrative and exciting gambling experience. Since casino advantage is a key element of video poker gambling, we will further discuss everything you should know about house edge.
Is the House Edge on Video Poker Really Low?
The reason why many casino aficionados prefer to play video poker is the fact that the game gives them an advantage that is way better than the one given by other games. In fact, video poker is known to have one of the lowest house edge percentages. Having a lower house edge means that the expected return for players (RTP) is higher which gives them a better opportunity for a lucrative game.
The great thing about video poker is that players can easily check the possible return they can expect by taking a look at the paytable of the exact game they intend playing. This will reveal you the payout for the different winning hands and will help you deduct whether the game is worth playing. It is easy to calculate the probability of a certain hand forming on video poker since you are simply using the cards of a standard 52-card deck.
The only way that a casino can affect the odds and give itself a better advantage is by lowering the payouts for certain hands. Once you know the highest amount that certain hand can pay, you should avoid variants that offer a smaller profit.
As it was mentioned earlier, some video poker versions can have a negative house edge. This, however, applies to players who know how to use the perfect basic strategy, have selected to play a full-pay video poker game and are staking the maximum amount of coins. These factors, combined together, give players an advantage exceeding 100%.
House Edge Additional TipsWhile it is true that video poker does offer the player a rather big advantage, that does not mean that the house edge on every variation is below 1% or even a negative percentage. This is due to the fact that many gaming developers make some changes to the payouts for various hands. Sometimes even the slightest change can give the casino a much better advantage. This is why it is important to check the paytable before making bets on certain video poker games.
Since a bigger advantage is achieved by using a perfect strategy and not every player knows how to make the optimal decisions, many casinos offer high payouts and still enjoy a good advantage. As it was said earlier, games that offer a full payout can lower the house edge which is why they are not that easy to be found. This being said, video poker still remains one of the casino games that gives the casino a rather low advantage which is great news for players.
Full-Pay Variants and Their Effect on the House Edge
For those who are on the lookout for video poker experience that gives a higher advantage, full-pay games are the right way to go. The games which offer the highest possible pay for the winning hands, actually present players with the best odds, compared to the other variations. It should be noted, however, that simply choosing a full-pay video poker game does not give players an edge over the casino. In order to gain that extra advantage, players should also use the optimal strategy for the exact variation of video poker.
Since many players have become aware of the advantage they can get over the casino by playing full-pay video poker, such variants have become harder to be found. If you want to know how to recognize which game offers the best payouts, you should take a look at several hands on the paytable.
For instance, if you intend on playing Jacks or Better, you should look for a 9/6 variant. This means that the payout for Full House should be 9 to 1, while Flush should pay 6 to 1. If these payouts are lower, you have come across what is known as a short-paying game. Such versions of Jacks or Better may offer 8/5, 7/5 or sometimes even 6/5. It is pretty easy to see that the short-pay machines will not give you the best possible odds and even if you use an optimal strategy, you will not be able to achieve the advantage that you would gain on 9/6 Jacks or Better.
Full-Pay Variants Additional TipsThe full-pay version of Joker Poker offers players odds of 100.65% and it awards a payout of 7 to 1 for Full House, 5 to 1 for Flush and 20 to 1 for Four of a Kind. These payouts are lower with other variations of Joker Poker which definitely gives the house a bigger advantage. This being said, it is very difficult to find Joker Poker game that offers the full payout for these hands.
Another video poker version that may give players an advantage over the casino is 10/7 Double Bonus with an RTP of 100.17%. The 10/7 indicates the payout of 10 to 1 for Full House and 7 to 1 for Flush.
The 10/6 Double Double Bonus variant of video poker also surpasses the advantage of 100% by offering players an RTP of 100.07%. Here, having Full House pays 10 to 1 and for Flush players are paid 6 times their wager.
Other Factors That Might Affect the Odds
While it is advised to always opt for the highest-paying video poker games, it is also important to use the right type of strategy. This is very important as there might be one variation where the ultimate strategy is to hold certain cards, while other versions may require you to discard them. You can lower the house edge to a negative number only if you combine the right type of strategy with a full-pay variation of video poker.
If you resort to playing with wild cards, then you will notice that forming certain hands will be easier. This is why the payouts for certain combinations will be lower and you will have to make better hands in order to enjoy a more lucrative outcome. What is more, according to the video poker variation you are playing, there will be a difference in the hands that will assure you a payout. Take for example Jacks or Better where you have to have at least a pair of Jacks to get paid and Joker Poker where the lowest hand you will be paid for is a pair of Kings or a higher denomination.
Other Factors That Might Affect the OddsWhile we have been talking about an advantage for players above 100%, it should be noted that this applies only in cases when players make a maximum bet. One of the mistakes that many video poker players tend to make is to wager less than the maximum coins. This will lower their chances of sweeping a good payout and will even cost them the bonus payout if they have Royal Flush. Speaking of which, playing on video poker games that offer a progressive jackpot will also improve your chances of fruitful gambling. The one rule when you play progressive video poker, yet again, is to bet the maximum amount of coins.
Do not miss the opportunity to join the loyalty programmes that many virtual casinos are offering their members. While you are making real-money wagers, you can win comp points which can improve your casino experience in the long run. Such clubs allow you to win different bonuses, claim various promotions and even convert points into cash. Joining the casino's player's club will help you further lower the house edge and gain a bigger advantage.
Video Poker Games With the Best Odds
While players will need a lot of practice and the right type of strategy, they will still have to know which games to look for at the casino. All of the games that we will list down below can ensure a very lucrative experience to video poker fans. Once you learn which are the best video poker options for a rewarding outcome, you can learn the right strategy and apply it the next time you play for real money.
Progressive Video Poker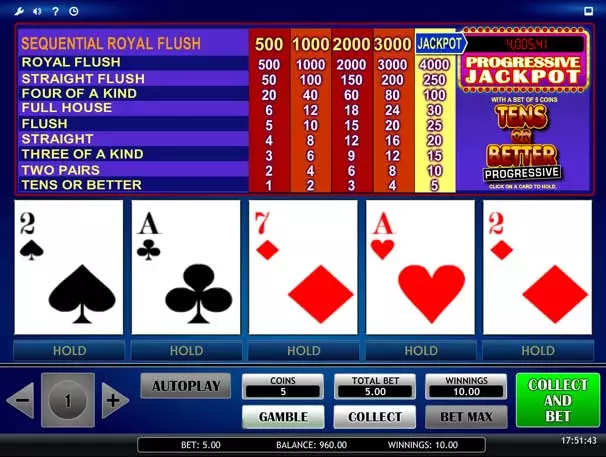 There is no doubt that players who are on the lookout for a fruitful experience should opt for playing video poker with a progressive jackpot. If you have paid enough attention to this article, you already know that making a maximum bet is the best way to increase your chances of a massive payout. After all, if you are making the highest bet, why not taking advantage of the opportunity to win a huge progressive jackpot.
This is a wonderful offer for players who gamble online since different progressive video poker games are connected in a huge network which includes various virtual casinos. This means that numerous players who lose, contribute to the accumulation of funds and the increase of the progressive jackpot.
Deuces Wild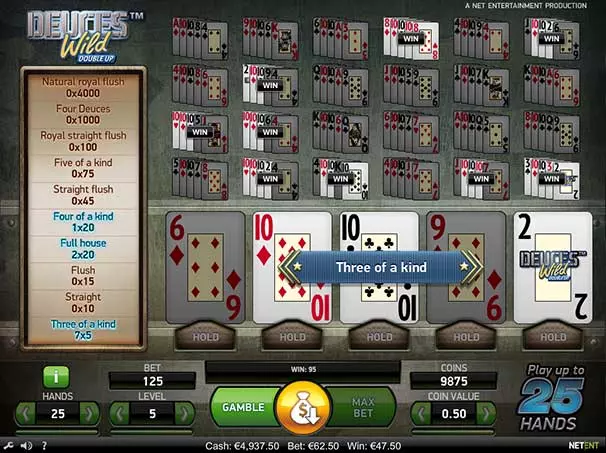 This is a video poker variation that many players prefer due to the fact that incorporates wild cards that can help you form a winning hand easier. The game is still played with the typical 52-card deck but the deuces act as wilds that can substitute any rank or suit. However, this game does exclude some hands from the paytable and the lowest hand that will qualify for a payout is Three of a Kind.
If you are looking for a full-pay variant of Deuces Wild, you should make sure that the payout for Four of a Kind is 5 to 1. Meanwhile, if you stumble upon a short-pay version, the payout for the same hand will be 4 to 1. Deuces Wild is a great option for players who make the maximum bet and use the optimal strategy. When playing the right way, casino fans can enjoy an advantage of 100.76%.
Deuces Wild is definitely one of the video poker variations that offer the best payouts and with the introduction of wilds, it is definitely a great source of entertainment. If you are using the right type of strategy and play the right way, you can definitely accumulate wonderful payouts without even drawing Royal Flush once.
Joker Poker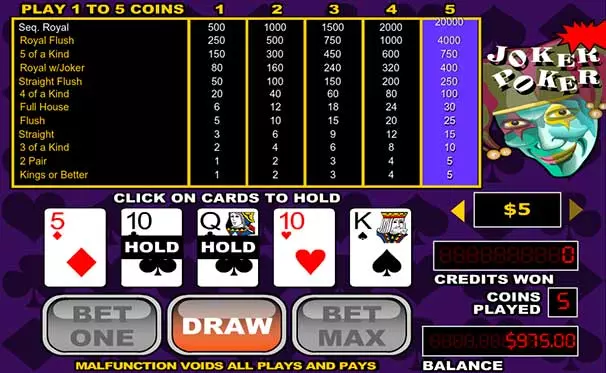 Another quite volatile variation of video poker is Joker Poker which adds another card to the deck and acts as a wild. The joker which is the 53rd card in the deck can help you form a winning hand easier and introduces more variants to sweep a better payout. There is also a change in the lowest-paying hand as you have to have at least a pair of Kings to get paid.
There is also a hand that is typical only for this variant of video poker and that is Five of a Kind. It even pays more than Royal Flush with a joker and the only hand that will give a higher payout in Joker Poker is Natural Royal Flush which is formed without a joker.
Whenever you are searching for the best paying variant of Joker Poker, you should take a look at the paytable. Search for an option that offers a payout of 7 to 1 for Full House, 5 to 1 for Flush and Four of a Kind paying 20 times your single credit. If you have found a full-pay variant and you are using the right strategy, you gain an advantage of 100.65%.
If you come across a game with the title Joker Wild, you will be playing with the same rules and the full-pay version is exactly the same. The fact that it gives you the chance to form a unique winning hand, makes Joker Poker favorite of many video poker fans. On top of that, the casino's advantage drops below 0% when players are sticking to the perfect strategy for playing.
Jacks or Better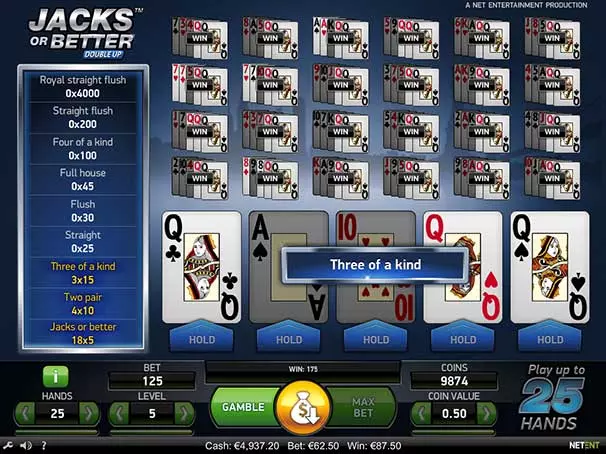 Being the most popular variations of video poker, Jacks or Better is not only a fun game but it can also reward amazing payouts. The full-pay version is easier to find, especially if you are playing online. If you are looking for the highest possible payout, you should opt for Jacks or Better which will pay 9 to 1 for forming Full House and 6 to 1 for Flush. If you come across a version which offers lower payouts, it is just not worth it playing the game.
It is a more simple variation of video poker as it utilizes the standard deck with 52 cards and there are no wilds. Often Jacks or Better is given as an example why one should always bet the maximum amount on video poker as staking five coins on this game will reward 4,000 credits for forming Royal Flush. If you use perfect strategy on a 9/6 variant of Jacks or Better, the RTP is estimated to be 99.54%. If you compare this percentage with 97.30% of the 8/5 variant and 96.15% of the 7/5 one, you will easily see that the full-pay version is the best option for you.
Double Double Bonus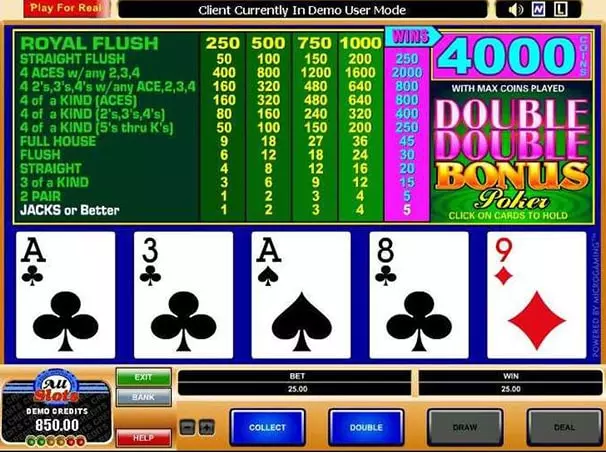 You may have gotten that from the name of this variation that it is very similar to Double Bonus Poker. The only addition is that this video poker game will award players a bonus payout for forming Four of a Kind with Aces and a kicker (the fifth card of the hand) valued either 2, 3 or 4. Unlike, some of the other video poker variations, there are no wilds and the deck contains the standard 52 cards.
Since the additional winning hands which will bring you payout at Double Double Bonus are lowering the house advantage, many casinos opt for lowering the payouts for certain hands. This is why you have to be very careful when choosing the option you would like to play. When picking the Double Double Bonus game, you should resort to a variant that pays 10 to 1 for Full House and 6 to 1 for Flush. When using the optimal strategy, you can enjoy an RTP of 100.07%. In comparison, the short-pay versions of Double Double Bonus will offer an expected return of 98.98% which is very disadvantageous for video poker enthusiasts.
Conclusion
If you are searching for the best video poker variations that will bring you a lucrative outcome, one of the main things you should consider is the casino advantage. This will show you what return you should expect and which game is truly providing the best odds. One thing that will always lower the house edge is playing a full-pay version. Although they are rather difficult to find, it is worth "shopping" for the machine or virtual game that gives the best possible payouts. Using the right strategy will also give players a bigger advantage and will make their video poker experience more exciting and rewarding.
Ask a Question. Get an Answer.
Have a question about this topic? Ask an expert at info@supercasinosites.com
Find the answers of questions people asked so far:
Dan
Dionna
Which video poker game gives the house the biggest advantage?
Although it is one of the most popular video poker games, Jacks or Better can be the variation that gives the casino the biggest advantage over players. Of course, it is worth mentioning that the game gives the house a bigger edge only if the player does not use the optimal strategy for Jacks or Better. It is true that if you come across a full-pay version of Jacks or Better, an optimal play would offer a favorable player return of approximately 99.54%, which means the house edge is around 0.46%. This is one of the best returns among casino games you can find online and it makes Jacks or Better an attractive option for video poker players who use the correct strategy.
However, the key factor that will boost the house advantage in video poker is when players deviate from the optimal Jacks or Better strategy. By making less favorable decisions, such as holding the wrong cards or not using the proper video poker strategy charts, players turn Jacks or Better into one of the most favorable games for the casino.