When choosing a real-money game at a land-based or online casino, less experienced gamblers tend to turn their attention to slots and blackjack, while actually passing by the best bet. Video poker is easy to learn, does not involve betting against others, and can be played with lower stakes. But its biggest advantage over many other casino games is that with the right preparation and skill set, the player can gain an advantage over the house. However, before starting to play video poker for real money, gambling enthusiasts need to learn the differences of the many video poker variations, so they can make informed decisions and choose wisely.
All video poker games derive from the classic 5-card draw poker, which despite not being played in casinos, is still popular as a casual, home entertainment. But every variation has slightly different rules and pay tables. For this reason, it is extremely important for players to choose a game and play it correctly, as there is a different strategy for every variation. Playing video poker with a few or with zero mistakes ensures better odds of winning. Some versions of the classic game, for instance, offer an advantage to the player, but it can be achieved only through understanding of the rules and by employing a perfect strategy.
Most casinos host at least several video poker games players can choose from. There are classics such as Jacks or Better and Deuces Wild, but often, you will also find 9/6 games, multi-hand versions, and even variations with progressive jackpots. Casinos and game developers sometimes refer to full-pay video poker games as 9/6 games, while multi-hand or multi-play variations are games where the player can place bets not on a single hand, but on multiple hands simultaneously. The rules and the payouts for the different winning hands are usually the same as in single-play video poker, but it is very important to pay attention to the size of the bet. It will be multiplied by the number of hands you bet on each round.
Classic Video Poker
Also known as "draw poker", Jacks or Better is the classic video poker game all other variations are based on. Its name is simply a reference to the lowest hand that gets you a winning. It is a pair of Jacks or higher cards. The game is played with 52 cards and it starts when the player places a bet. The computer then deals 5 cards which can be kept or discarded in order to achieve the goal – to collect a winning hand. There is a second draw and if the player has a winning combination, the game pays out the corresponding amount of money.
The game allows you to adjust your bet – you can bet from 1 to 5 coins per hand and pick a denomination from a few cents to $5 or more. It is very important for less experienced players to start with lower bets because there is a single betting interval and once placed, the bet cannot be canceled or increased. Learning how to play Jacks or Better is rather easy, even for those who have never played poker before. The lowest winning hand pays out evenly while getting Two Pair earns you winnings that are twice as big as your bet. A Three of a Kind hand pays out 3 to 1 and a Straight hand (5 consecutive cards of any suit) pays out 4 to 1.
Classic Video Poker Additional TipsThese payouts increase gradually, while the stronger combinations are associated with much higher payouts. The next hand is called Flush and it is formed by 5 suited cards in no particular order. Its payout is typically 6 times the size of the bet. A Full House is a combination of a Three of Kind and a Pair and it pays out 9 to 1. A hand of Four of a Kind pays out in most classic video poker games 25 times the size of the bet and the next hand in the ranking, Straight Flush, pays out 50 to 1. This is a combination of 5 consecutive cards of the same suit. The highest paying hand is called Royal Flush and it is the highest Straight Flush or suited cards from Ten to Ace which pays out 250 to 1.
The interesting thing is the payout for Royal Flush when you bet the maximum amount of coins (usually 5). It increases to 800 times the size of the bet. For this reason, many experienced players recommend that even novices should always play with 5 coins. Of course, the Royal Flush is the rarest hand in video poker, as it appears once in 40,000 rounds on average. However, the huge payout it offers actually makes up for almost any losses.
Another thing novices should know about classic video poker is that it offers returns of 99.54% if played correctly. This percentage represents the average returns players can expect to get from a game after a long period of playing. Of course, this is an average representation of the probability of each hand appearing on the screen compared to its payout. And it is calculated for all players and for thousands of rounds. Still, the return percentage or RTP (Return to Player) is indicative of the "generosity" of the game and helps players decide which game is good and which is more likely to "eat up" their money.
Full-Pay Games
There are literally hundreds of video poker games found in online casinos but not all of them are equally good when it comes to the returns. One simple way to distinguish between good and bad video poker variations is to see the payouts for Full House and Flush they offer. Usually, games that pay 9 and 6 times the size of the bet for these two hands, respectively, are known as "full-pay" games. Some of them also have "9/6" in their titles – this is also a reference to these two payouts and if you see a 9/6 Jacks or Better in a casino, it means that this is a full-pay game and you can expect returns of 99.54%.
However, most casinos offer games with lower payouts for Full House and Flush and thus, lower average returns. There are many lower-pay or short-pay versions of Jacks or Better and it is important to distinguish between them if you want to collect some winnings. A game where the player receives payouts 8 and 6 times the size of the bet for these who hands will have an expected return of 98.39%. There is also a 9/5 version which returns on average 98.45% of the bets, while the 8/5 Jacks or Better pays back 97.30%.
Full-Pay Games Additional TipsThe full-pay version of Deuces Wild, another popular video poker game, is even harder to find at casinos. Usually, gambling operators offer a lower paying version, known among video poker experts as "pseudo Full-Pay Deuces Wild" (pFPDW). The difference in pay tables of the two games is almost unnoticeable – the full pay game pays out 15 to 1 for Five of a Kind, while for the same hand in pFPDW, players receive a payout that is 12 times the size of their bet. The result of this seemingly slight decrease in the payout is quite surprising. The full-pay game has an average return of 100.76%, which means that the odds are in favor of the player. The other version returns 98.94%, which indicates that the house still has the advantage in this game, however low it may be (1.06%).
Video poker games with progressive jackpots often have lower return percentages when compared to games with fixed jackpots. Still, they are a good bet for those players who are chasing really big winnings and are prepared to play (and lose) many rounds. In all other cases, players are advised to stick to full-pay variations with high return percentages.
Video Poker Variations
Along with the many video poker variations, there are also different versions of most of them as each gaming studio releases its own take on the classics. This has resulted in a greater diversity and at some casinos right now, players can choose from over 50 titles. However, these video poker games usually belong to less than ten variations and once players become familiar with the basic games, they should not have trouble playing any version, single or multi-hand. When you open each game, you will notice slight modifications in the pay tables, which will directly influence the average return.
Jacks or Better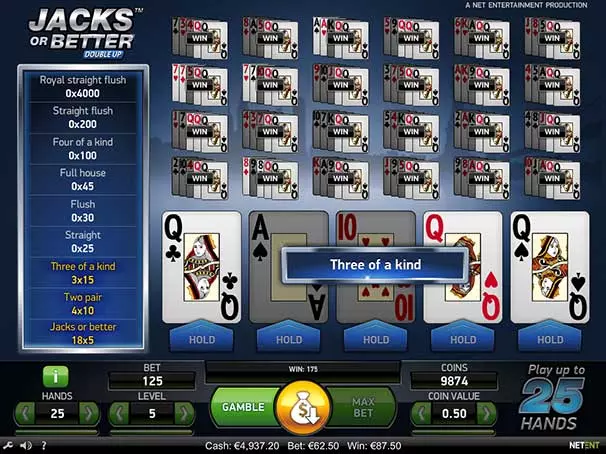 As mentioned earlier, Jacks or Better is the classic variant of video poker and it can be found in almost every land-based or online casino. The full-pay version is not always available and common games are 9/5, 8/6, and 8/5. The expected returns of these versions are lower than what you could expect to get back from a 9/6 Jacks or Better game, but they are still quite popular because they are simpler and easy to play compared to Deuces Wild or Aces and Faces, for instance.
Jacks or Better Additional TipsAlong with them, there are also various multi-play Jacks or Better games, which are widely spread in online and brick-and-mortar casinos alike. You will often find Triple-Play, Five-Play or Ten-Play Jacks or Better, as well as 50-hand and even 100-hand versions of the games. In them, you bet on many hands all at once. The game play is quite simple – you place a bet, see what cards you are dealt, and decide which ones to hold and which to discard. After pushing the Deal/Draw button once again, the game shows how multiple hands are being dealt, three, five, or more. In this type of games, however, you should always pay extra attention to the amount you are betting. For example, if you bet $2 per hand on a 50-hand Jacks or Better, you will be actually betting $100 each round.
Tens or Better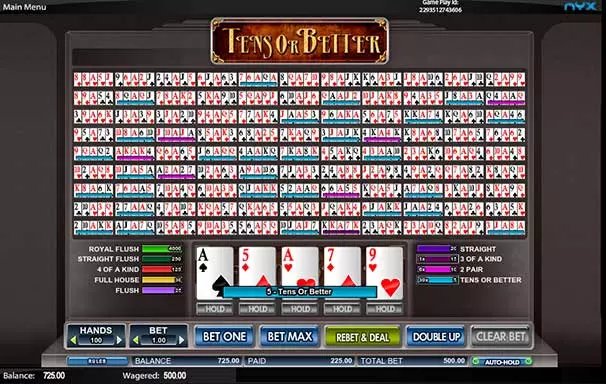 Tens or Better is a popular video poker variation which is based on Jacks or Better. There is one major difference and it is the fact that players need to get at least a pair of Tens in order to collect a winning. This slight modification in the rules of the game improves the odds as there are 4 more cards that may form a winning combination (the four Tens). As a consequence, the payouts are significantly lower than in a typical Jacks or Better – the payouts for Full House and Flush, in particular. When hitting a Full House, the player receives a winning only 6 times the size of the bet, while a Flush pays off 5 to 1.
Tens or Better Additional TipsAlthough the 6/5 Tens or Better offers more regular winnings, its payouts are not particularly attractive. In some games, even the payouts for the higher hands, including for Royal Flush are lower. As a result of the pay table, the average return is cut down to less than 99% and it can reach as low as 98%. Of course, compared to many other casino games, the Tens or Better variation of video poker is still very rewarding. For example, online slots have RTP percentages ranging from 90% to 97%, while the house edge in American Roulette is 5.26%, meaning the RTP is 94.74%.
Aces and Faces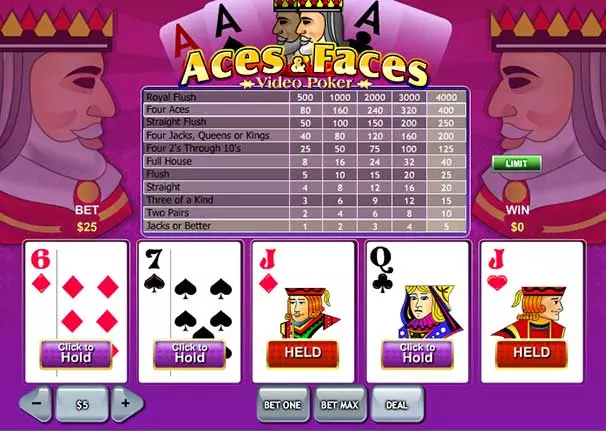 This variation of video poker is also based on Jacks or Better but there are several changes in the pay table that lead to great modifications in the strategy and the RTP percentage of the game, as well. The title Aces and Faces refers to the higher payouts for Four of a Kind hands which are formed by sets of Aces or face cards (Kings, Queens, and Jacks). Once again, the game uses a standard deck of 52 cards and the lowest winning hand is a pair of Jacks.
Aces and Faces Additional TipsThe standard Aces and Faces variation is an 8/5 game, which means that the Full House and the Flush hands pay off 8 and 5 times the size of the bet, respectively. The more specific payouts, however, are those for a Four of a Kind hand. Getting four cards from Twos to Tens earns you a winning equal to 25 times the bet while hitting four Kings, Queens, or Jacks pays off 40 to 1. The payout for four Aces is 80 times the size of the bet, which is higher than what is paid for Straight Flush (50 times the bet). Meanwhile, at 500 to 1, the payout for Royal Flush is also higher than the typical Jacks or Better game, where it is 250 to 1. Still, if you hit a Royal Flush playing with 5 coins, you will receive the usual payout of 800 times the size of your bet.
These payouts may vary from one casino to the other, but in general, the game has a very appealing average return. For this particular pay table, the RTP is 99.2555%.
Deuces Wild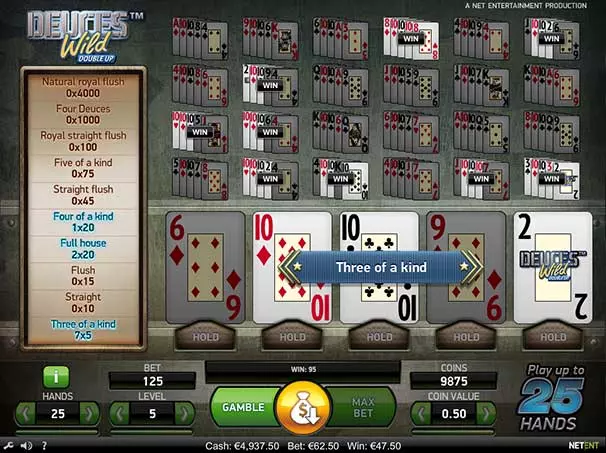 Deuces Wild is one of the most popular variations of video poker and it comes in several versions, including a full-pay game. It is recommended for players who have some prior experience with simpler games, however, because it is a bit complex when compared to Jacks or Better. It is played with 52 cards, but all Twos in the deck referred to as Deuces, act as wild cards. This means that the player can use the Deuces to replace any other card and to form winning combinations much easier. Indeed, winning hands appear much more often in Deuces Wild and to balance that, the game eliminates the Jacks or Better as a winning hand.
Deuces Wild Additional TipsPlayers cannot win in Deuces Wild unless they hit Three of a Kind, which pays off evenly. The payouts for most of the other hands are lower than in classic video poker – they are 3 to 1 and 2 to 1 for Full House and Flush, for instance. However, the presence of wild cards makes possible the forming of new hands such as Five of a Kind, Four Deuces and Wild Royal Flush. The payouts for these combinations are very different depending on the particular version of the game. Still, most Deuces Wild variations are quite popular among players. They have not just attractive average returns (100.76% for the full-pay variant to 98.91% for a short-pay version), but also a more exciting game play.
Joker Poker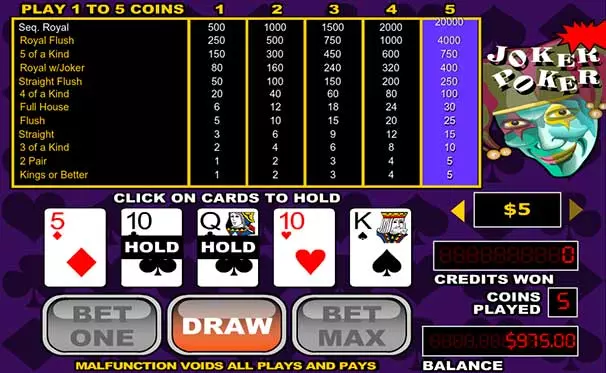 Joker Poker is another player advantage video poker game if it is played with near-perfect strategy. This variation is played with 53 cards and the extra card is the Joker, which is wild and helps you form winning combinations more easily. For a payout, a pair of Kings or Better is required. Also, as typically for video poker games with wild cards, the payouts for natural hands are higher than the payouts for hands formed with the help of a Joker.
Joker Poker Additional TipsIn many of the Joker Poker games, both Kings or Better and Two Pair pay off evenly, while the payouts for Full House and Flush are 7 and 5 times the size of the bet, respectively. The particular rules vary across casinos and game developers, as do the return percentages. You can find games with an expected return of 100.64%, which give players a slight advantage over the house. But lower-pay games are more common and the RTP is often around 97%-99%. The lowest payback percentage you can find is 91.12%. It is given in a 7/5 Joker Poker which offers reduced payouts for Four of a Kind.
Bonus Poker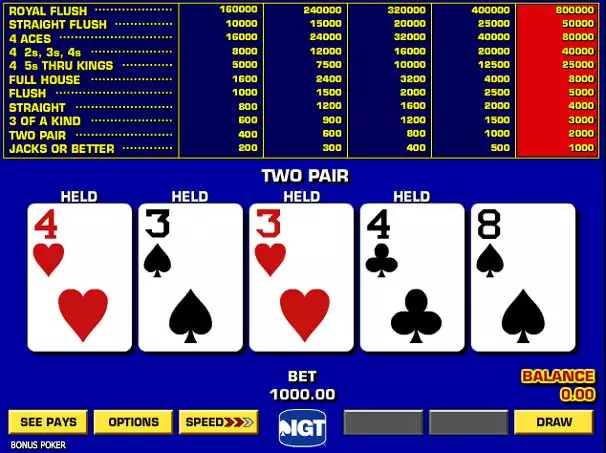 This version is one of the most common and most profitable video poker options offered by online casinos. It comes in a full-pay and a short-pay variation, as well as in various "Double" forms. The full-pay, 9/6 Bonus Poker provides players with the best opportunities for winning over the long term. The game is played much like Jacks or Better – it uses a standard deck of 52 cards and the lowest paying hand is Jacks or Better. However, the payout for Two Pair is the same as the one given for Jacks or Better.
Bonus Poker Additional TipsOther specific features of Bonus Poker are that although the payouts for all Four of a Kind hands are the same, they are equal to 80 times the size of the bet, instead of just 25 times as it is in classic Jacks or Better. The expected return of the 9/6 variation is 99.64%, but there are other versions of the game, too. For instance, one of the most widely spread variants is the 8/6 Bonus Poker which offers an RTP of 98.49%.
Interestingly, there are also two versions of the game, an 8/6 and a 7/5 variant, where the payouts for a Four of a Kind hand depend on the value of the card. When holding four Aces, the player receives winnings equal to 80 times the size of the initial bet, while four Twos, Threes or Fours pay off 40 to 1. All other Four of a Kind hands (from Fives to Kings) pay 25 times the bet. The higher paying variation returns on average 99.17%, while the other one – 98.01%.
Pick'em Poker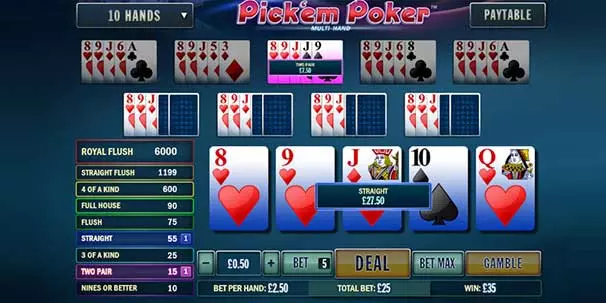 Pick'em Poker is a little different version of video poker. It is a simplified variation and can be played by even novices as its strategy is quite easy to learn. Once the player places a bet, he or she is dealt two cards face up on the left side of the screen. On the right side of the screen, the computer deals two stacks of 3 cards each but only the top cards in these two piles are face up. The player chooses which stack of cards to hold and then, a hand of 5 cards is formed by the two groups.
Pick'em Poker Additional TipsOf course, the goal is to get a winning hand and in this version of video poker, the lowest hand that pays off is a Pair of Nines, which gives winnings twice the size of the bet. The payouts for all hands in Pick'em Poker are higher than in classic video poker, but it is slightly harder to get strong hands such as Royal Flush, Straight Flush, or Four of a Kind. If played perfectly, the game returns 99.95%, which is a very attractive payback percentage, especially for a relatively simple and an easy to play game. Betting 5 coins is recommended because the payout for Royal Flush is 6,000 coins, or 1,200 to 1, which is much higher than you could get for this hand in any other video poker game.
Choosing a Video Poker Variation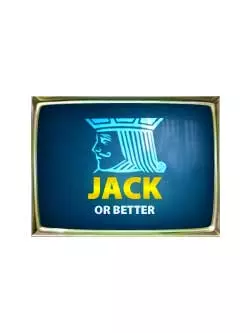 Choosing a video poker game can be a daunting task for less experienced players, especially if they are playing at online casinos where there is an immense variety of titles. Each particular version has its specific rules and slightly modified pay tables, so it should be played with a corresponding strategy. However, there are several principles players should follow when searching for a good video poker game where they can make decent profits.
The first one is to determine one's levels of skill and expertise. Logically, novice players should stick to simpler video poker variations such as Jacks or Better and Pick'em Poker and play at least several hands for free to learn the basics. Strategy charts can be found in numerous video poker guides or even online, so using them is also recommended. It is also wise to pick a game which offers more regular winnings over a version with higher payouts. In other words, players with little or no experience should choose low-stakes games where lower-paying hands occur more often such as Tens or Better, for instance. This way, they will be able to manage their bankroll more easily and prevent big losses.
Choosing a Video Poker Variation Additional TipsIt is also essential to pick the best value video poker games. Often, the video poker variations with higher expected returns are complex games which require a deep understanding of their rules and odds. They have specific features such as higher payouts for certain hands or wild cards, and their pay tables reflect these changes in the rules. However, there are also good value games which are not difficult to play at all. A great way to distinguish between profitable games and low-value versions is to see whether they are full-pay video poker variations.
Full-pay Jacks or Better, for example, offers great returns when it is played correctly and with perfect strategy. Most full-pay forms of video pokers pay out 9 to 1 and 6 to 1 for Full House and Flush. Others such as the full-pay Deuces Wild have lower payouts for these two hands (3/2), yet the expected return is 100.76%. Players should remember that although a high-return game does not guarantee winnings, the higher RTP percentage is an indication that you are more likely to collect winnings while playing.
Another important factor when picking a good video poker variation is whether the player finds it exciting or not. Generating decent returns usually requires playing for longer periods of time, which means that a dull, unappealing game can turn your betting session into a boring routine. And one of the first rules everyone should learn before playing for real money is that gambling should be entertaining. Routinely placing bets can easily lead to making mistakes and as a result, losing money.
There is another interesting twist – playing multi-hand video poker games. They are not recommended for novices and for those with tighter budgets. If you can afford to bet on a multi-hand version, however, you have the opportunity to win large amounts of money. Progressive jackpot video poker games are somewhat similar in this regard. They typically offer lower expected returns but once you hit the Royal Flush, you receive a much greater winning than you could get while playing a regular video poker game. These are also harder to find and one important note for all video poker fans – if you play a video poker version with a progressive jackpot, you should always bet the maximum amount of coins. Otherwise, you will not qualify for getting the jackpot.
Ask a Question. Get an Answer.
Have a question about this topic? Ask an expert at info@supercasinosites.com
Find the answers of questions people asked so far:
Dan
James
Is there a big difference in the rules of different video poker variations?
It depends on the video poker variations that you compare. Some video poker variants share almost the same rules and hand ranks, with slight changes in the least-paying hands. For instance, if you compare Jacks or Better and Tens or Better, you will only get a different least-paying hand, with the first variation typically paying even money for a pair of Jacks or higher while the latter offers the same payout for a pair of 10s or higher. That said, due to reduced payouts for Full House and Flush in Tens or Better, you will get an RTP of 99.1% for a full-pay variation of the game. Compared to a full-pay version of Jacks or Better, you will play with quite the reduced RTP since the 9/6 version of Jacks or Better offers an average return of 99.54%.