The cryptocurrency market has come a long way since Satoshi Nakamoto launched Bitcoin, the world's first digital currency, in early 2009. Thousands of digital coins have emerged since then, competing for a share of the global crypto market that is expected to reach an impressive $64.9 billion in revenue by 2027 for a compound annual growth rate of 14.4%, according to Statista Market Insights.
It is perhaps unsurprising that crypto usage is also on the rise as nearly 430 million people owned and used decentralized currencies in 2022, a number projected to increase to almost a billion users four years from now. Online gambling and betting rank as the tenth most popular goods and services consumers worldwide purchased using cryptocurrencies in 2022.
An increasing number of online gamblers resort to cryptocurrencies to fund their interactive betting activities. This rising popularity can be attributed to the flexibility, speed, anonymity, and cost-efficiency cryptocurrencies offer to online gamblers. In this report, we turn our gaze to the online crypto gambling market delivering all key statistics and facts in one spot. We cover it all, from the number of gamblers using cryptos to the number of bets they place annually and how it compares to fiat currencies.
Quick Cryptocurrency and Crypto Gambling Facts
The global crypto market is expected to grow to $37.9 billion by the end of 2023, ultimately reaching $64.9 billion four years from now. (Source: Statista Market Insights)
As many as 429.9 million people used cryptocurrencies in 2022, with forecasts suggesting this number will increase by 56.8% to 673.9 million users at the end of 2023. (Source: Statista Market Insights)
The number of digital coins has risen from 66 in 2013 to 9,321 in 2023 but the top 20 cryptocurrencies account for approximately 90% of the global market. (Sources: Motley Fool, GP Bullhound)
Gambling and betting are the tenth most common goods and services purchased with cryptocurrencies as of 2022, ranking behind mobile apps, in-game items, mobile data, software, and electronics, among others. (Source: Cryptorefills Consumer Survey)
More males (12.7%) than females (11.1%) used crypto for gambling purposes in 2022, with 16.9% of all consumers who did so having an income within the $5,000 to $9,999 range. (Source: Cryptorefills Consumer Survey)
As many as 167 initial coin offering (ICO) projects were launched globally by the casino and gambling industry as of March 2020. (Source: Statista)
The United States, the United Kingdom, Germany, Canada, and Japan are global leaders in terms of cryptocurrency market size. (Source: Statista Market Insights)
Bitcoin is the most used cryptocurrency among online gamblers as of the first half of 2023, followed by Ethereum, Litecoin, Tether, and Dogecoin. (Source: Softswiss)
The number of cryptocurrency wagers increased by 135.2% in 2021, reflecting the growing adoption of digital coins by the online gambling industry. This positive trend continues as cryptocurrency bets showcased an impressive 83.6% surge in the first half of 2023 compared to the second half of 2022. (Source: Softswiss)
Online Gambling Is in Top 10 of Most Popular Services among Crypto Users
Perhaps you will find it surprising but online gambling and betting is as popular as fashion among cryptocurrency users, according to a 2022 consumer survey conducted by the Dutch fintech company Cryptorefills. Among those surveyed, 12.2% confirmed to have used cryptocurrencies for transactions related to iGaming and betting last year.
Survey results indicate crypto usage for gambling purchases is more common among males (12.7%) than females (11.1%). Interestingly, mobile data was the most popular product among crypto users in 2022, followed by in-game items, streaming services, paid mobile applications, and software.
Products and Services Ranked by Popularity Among Cryptocurrency Users
Goods and Services
Total Crypto Users
Male Crypto Users
Female Crypto Users
Mobile Data
45.40%
46.20%
44.40%
In-Game Items and Credits
43.70%
45.10%
29.60%
Video and Music Streaming
32.90%
34.60%
14.80%
Mobile Applications
32.70%
33.80%
22.20%
Software and Cloud Services
21.20%
21.40%
18.50%
Hardware and Electronics
20.00%
19.20%
29.60%
Food and Beverages
18.00%
17.30%
22.20%
Travel and Hospitality
14.10%
13.80%
22.20%
Clothing
12.20%
11.60%
25.90%
Gambling and Sports Betting
12.20%
12.70%
11.10%
Source: Cryptorefills Consumer Survey
Online gambling notably enjoys the highest popularity among cryptocurrency users earning between $5,000 and $9,999 (16.9%), followed by those belonging to the $50,000 or higher income group. Low-income crypto users ranked third as 14.7% of the survey respondents earning $5,000 or less used cryptocurrencies for gambling-related purchases in 2022. Only 15.4% of the surveyed individuals with an income of $50,000 or more resorted to cryptocurrencies to fund their gambling activities last year.
Most Popular Products and Services among Crypto Users Ranked by Income Level
Product/Service
$5,000 or Below
$5,000-$9,999
$10,000-$49,999
$50,000 or Higher
Mobile Data
54.70%
55.90%
38.00%
30.80%
In-Game Items and Credits
44.70%
35.60%
46.00%
44.20%
Video and Music Streaming
30.00%
35.60%
32.80%
36.50%
Mobile Apps
38.70%
37.30%
26.30%
30.80%
Software
18.70%
15.30%
19.00%
42.30%
Hardware and Electronics
15.30%
8.50%
24.80%
28.80%
Food and Beverages
17.30%
11.90%
21.90%
13.50%
Travel and Hospitality
15.30%
11.90%
12.40%
15.40%
Clothing
10.00%
11.90%
10.90%
19.20%
Gambling and Sports Betting
14.70%
16.90%
7.30%
15.40%
Source: Cryptorefills Consumer Survey
Most Popular Cryptocurrencies among Online Gamblers
An annual report released by the casino game aggregator Softwiss in 2021 gives us valuable insights into the most popular cryptocurrencies used for online gambling transactions. Softswiss pioneered crypto gambling by introducing the first Bitcoin online casino solution in 2013. For the purposes of its annual report, the software development company collected monthly data from more than 500 iGaming brands that run on its innovative platform.
After assessing the information, Softswiss unsurprisingly established that Bitcoin is the most commonly used cryptocurrency among online gamblers. The first digital coin ever created accounted for around 80% of all crypto bets accepted by partnering casinos in 2021, followed by Ethereum 9.88% and Litecoin (4.52%). Dogecoin placed fourth with a 2.48% share, while Tether and Bitcoin Cash lagged behind with 1.64% and 1.45% shares, respectively.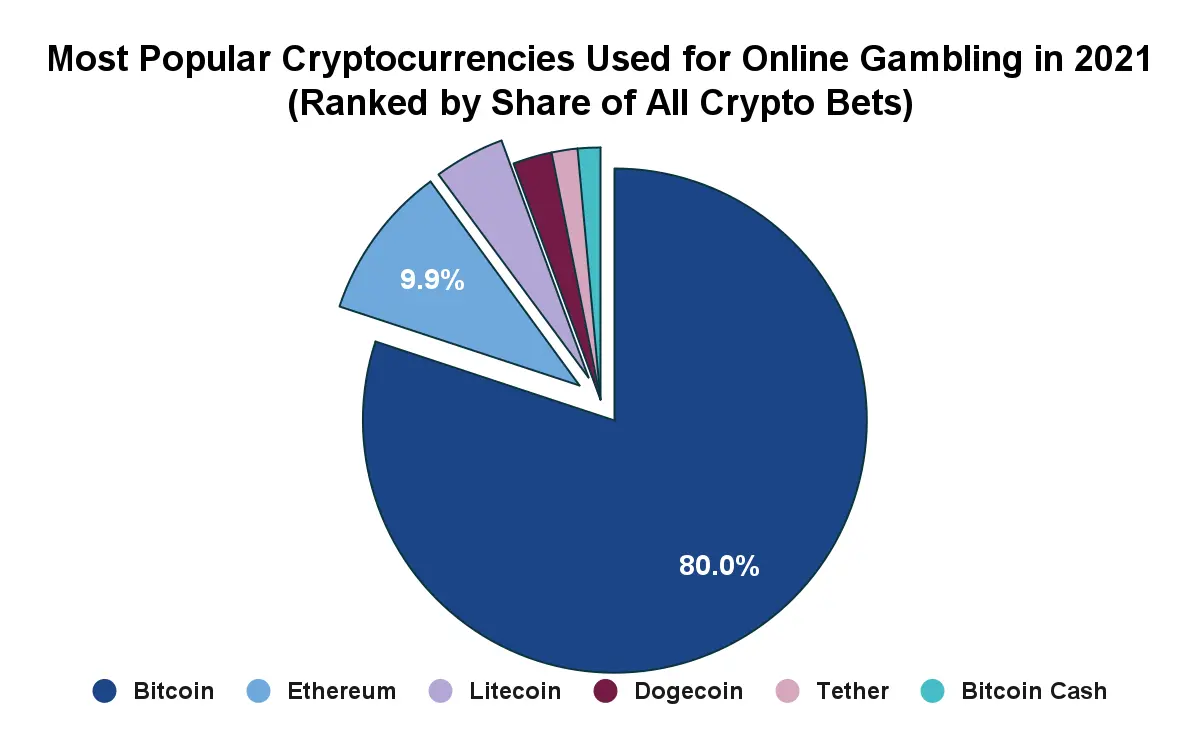 Source: Softswiss Annual State of Crypto Report
Bitcoin continued to dominate the crypto-gambling universe in 2022 as data collected from Softswiss partnering casinos suggests. It remained the most broadly used cryptocurrency in the first half of last year despite losing approximately 9.5 percentage points of its bet share compared to the same six-month period in 2021.
Ethereum reinforced its second position in H1 of 2022 with 14.7% of all crypto bets, which makes for an increase of 5.2 percentage points. Litecoin once again ranked third with 6.15% but Dogecoin conceded the fourth place to Tether whose share of all bets increased to 3.2% during the first six months of 2022.
The ranking remained the same in the first half of 2023 when Bitcoin secured the first spot with a share of 76.2% of all bets and Dogecoin remained on the fifth spot with a 2.6% share. Less popular cryptocurrencies like Ripple, Tron, Cardano, and Binance Coin accounted for a negligible portion of the bets, which is why we have not included them in the chart below.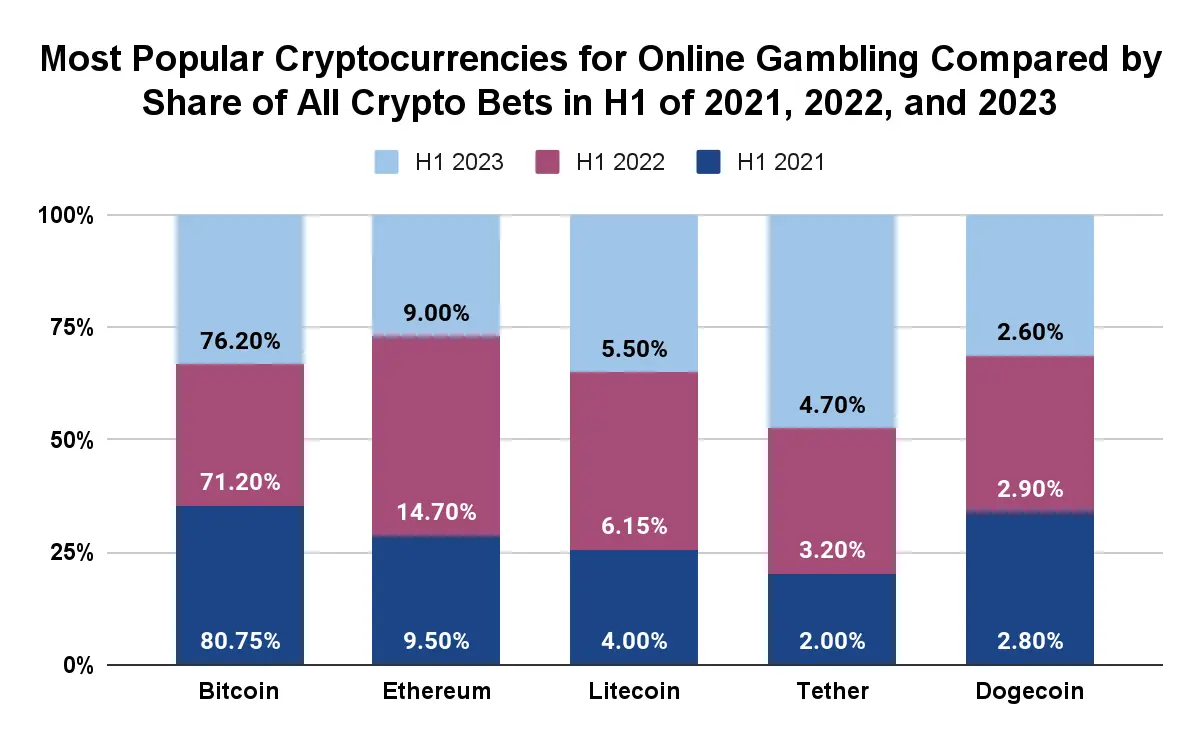 Source: Softswiss State of Crypto Half-Year Reports
Share and Number of Cryptocurrency Bets
According to Softswiss, cryptocurrencies account for approximately one-third of all wagers accepted by its partnering online casinos. During the first half of this year, crypto bets comprised nearly 29.5% of the total amount wagered, which corresponds to a decrease of 5.3 percentage points from the first half of 2022.
Contrasting this with data from the first half of 2021, we see the share of cryptocurrency wagers has remained relatively stable, dropping by a nominal 0.2 percentage points in the first six months of 2023. It appears the interest of online gamblers in using digital coins as a payment option has remained consistent despite the fluctuations in crypto rates. As for fiat currencies, they again came out on top in the first six months of 2023, securing the lion's share of the total amount wagered with 70.5%.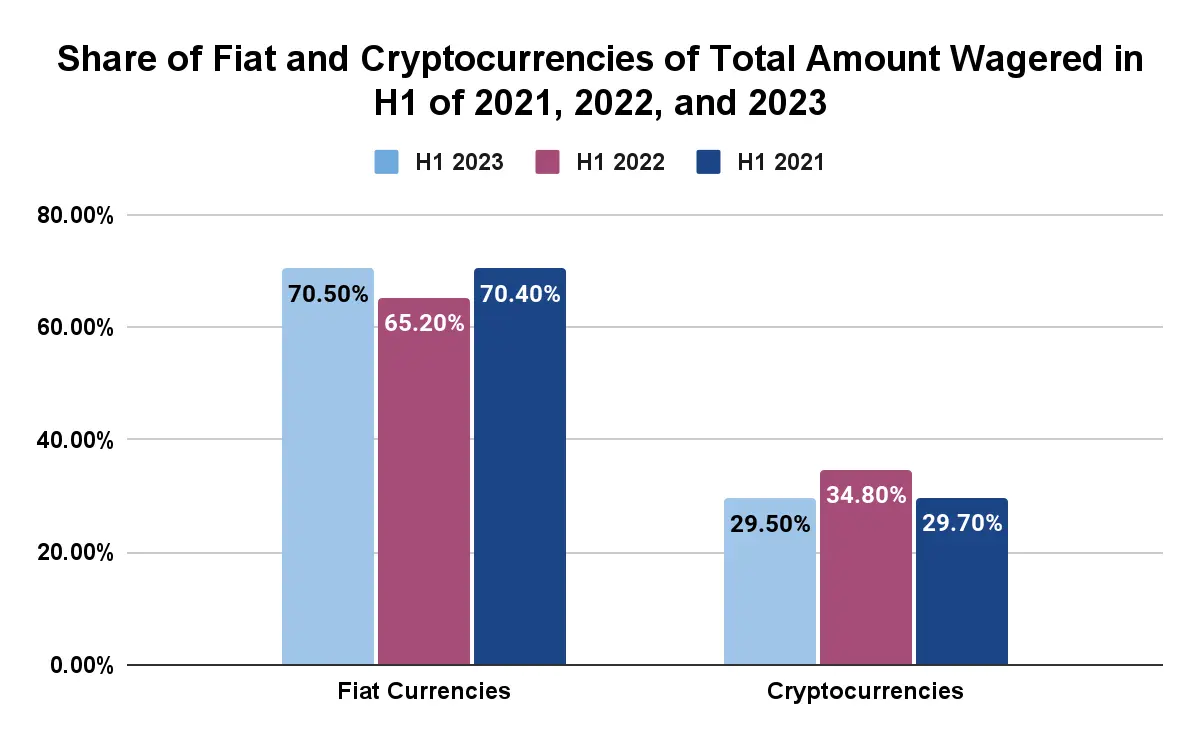 Source: Softswiss State of Crypto Half-Year Reports
Another notable increase occurred during the first half of this year, as the number of digital coin wagers spiked by a remarkable 83.6% compared to the second half of 2022. Considerable fluctuations were observed in the average size of cryptocurrency wagers, which declined by approximately 40.5%, dropping from €2.84 in the first six months of 2022 to €1.69 during the second half of last year. The first six months of 2023 ushered in an increase as the size of the crypto wagers rose slightly to reach €1.80 on average.
Turning our attention to the first three quarters of 2022, we notice a decline in the quarter-on-quarter cryptocurrency amount wagered across Softswiss-powered online casinos. The first quarter of last year saw €6.342 billion in digital coin wagers. Quarter two of 2022 witnessed an increase of 6.3% as the total amount of crypto bets placed grew to €6.741 billion.
The following three-month period was marked by a 5.9% dip, with crypto wagers dropping by around €398 million to €6.343 billion. All in all, the overall value of cryptocurrency wagers sunk by approximately 23.5% year-on-year, declining from €8.294 billion at the end of Q3 2021 to €6.343 in Q3 2022.
Source: Softswiss State of Crypto Quarterly Reports
Cryptocurrencies Boast Highest Acceptance Rates at Online Casinos
Initiating a deposit only to have it declined is a situation no online gambler wants to find themselves in. Players depositing with digital coins rarely go through this ordeal as cryptocurrencies boast the highest acceptance rates at online casinos, according to data captured by Softswiss. On a side note, acceptance rates are an important metric because they directly affect the overall player experience at a given online casino.
Cryptocurrencies achieved nearly perfect acceptance rates in 2021 as 99.94% of all transactions at partnering online casinos went through. Softswiss explains cryptos would have reached 100% acceptance rates had it not been for pending and canceled transactions. Credit and debit cards placed second with 73.46%, followed by bank transfers (71.97%) and digital wallets (66.17%). Players depositing with vouchers had it the worst as only around half of their deposits were successful.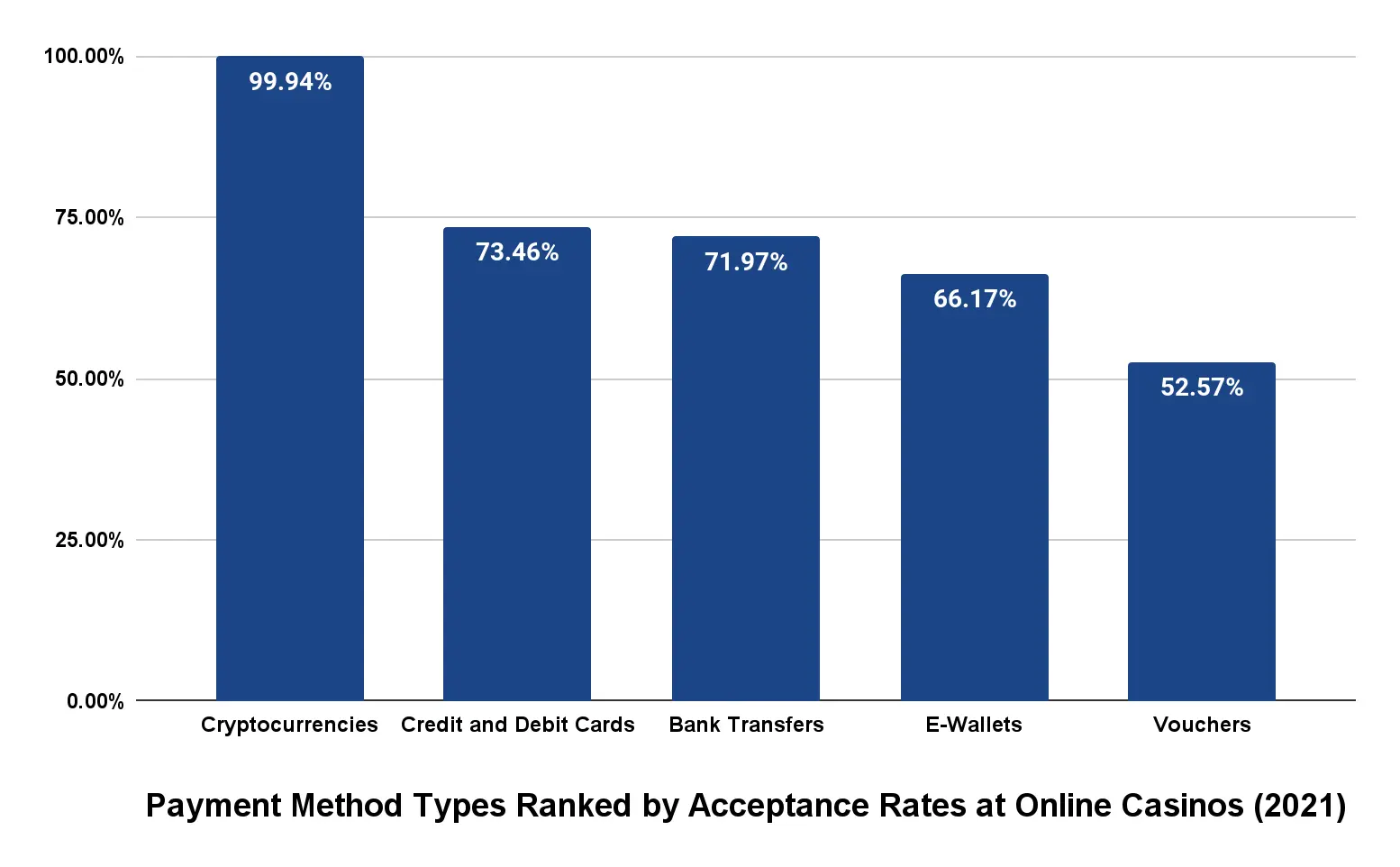 Source: Softswiss Annual State of Crypto Report
Cryptocurrencies Are Associated with Lower Transaction Costs
Further data collected from Softswiss reveals how cryptocurrencies measure against conventional payment methods in terms of transaction costs. Online gambling businesses typically cover the additional processing charges on customer deposits. With that in mind, it appears credit and debit cards are the most expensive from the operators' perspective.
According to Softswiss, interactive gambling businesses can sometimes pay up to 40.25% of the deposit amount for every €10 players transfer via credit or debit cards. Cryptocurrency transactions are much cheaper by comparison as the operators pay approximately 7% for every €10 players transfer with Bitcoin. The processing fees associated with some of the other popular cryptocurrencies are even lower as they can drop to as little as 0.5% of the deposited amount.
Average Deposit Fees of Common Payment Method Types at Online Casinos
Cryptocurrencies
0.5% to 7%
Credit and Debit Cards
1.7% to 40.25% at the highest rate
Bank Transfers
1.7% to 16%
E-Wallets
1.3% to 11%
Prepaid Vouchers
4.00%
Source: Softswiss Annual State of Crypto Report (2021)
Most Popular Casino Games among Cryptocurrency Players
While video slots generally dominate the portfolios of online casinos in terms of sheer numbers, it is live dealer games that consistently come on top of the rankings where popularity among cryptocurrency users is concerned. These results are anything but surprising considering live dealer games closely replicate the landbased casino experience while retaining all the benefits associated with playing from the comfort of your home.
Data captured by the Softswiss game aggregator reveals Live Blackjack VIP by Evolution Gaming was the most played crypto-friendly game in the first two quarters of 2022. On the whole, quarterly engagement data shows one to four live games ranked among the eight most popular games among digital coin players. Check the table below for the other crypto-friendly releases that made the cut in the first three quarters of 2022. The live games are marked in gray color.
Most Played Online Casino Games by Cryptocurrency Players
1st Quarter of 2022
2nd Quarter of 2022
3rd Quarter of 2022
#1
Blackjack VIP by Evolution Gaming
Blackjack VIP by Evolution Gaming
Blackjack by Evolution Gaming
#2
Auto-Roulette by Evolution Gaming
Wild Spin by Platipus Gaming
Blackjack VIP by Evolution Gaming
#3
Wild Spin by Platipus Gaming
Elvis Frog in Vegas by BGaming
Book of Cats by BGaming
#4
Elvis Frog in Vegas by BGaming
Blackjack by Evolution Gaming
Wild Spin by Platipus Gaming
#5
First Person Mega Ball by Evolution Gaming
Book of Cats by BGaming
Booming Bananas by Booming Games
#6
Rocket Dice by BGaming
Plinko by BGaming
Elvis Frog in Vegas by BGaming
#7
Aztec Magic Deluxe by BGaming
American Blackjack by Evolution Gaming
Dragon's Element by Platipus
#8
Bonanza Billion by BGaming
European Roulette by Evolution Gaming
American Blackjack by Evolution Gaming
Source: Softswiss Game Aggregator
Most Popular Software Providers among Cryptocurrency Players
BGaming dubs itself a pioneer in crypto gambling and this apparently is no overstatement. The Malta-based provider came on top of the list of the top 5 cryptocurrency-friendly game studios for the first half of 2022 based on total number of wagers. The supplier's leading position definitely makes sense, considering BGaming has four releases on the list of most popular crypto games for Q1 2022.
Two of BGaming's titles also made the cut during last year's second quarter, ranking third and fifth based on all crypto bets made across Softswiss-powered online casinos. In the follow up, we have placements from Platipus Gaming and Evolution Gaming, which secured the second and third spot, respectively. Booming Games placed second, whereas veteran software studio Betsoft came in fifth.
Most Popular Game Studios among Cryptocurrency Players (H1 2022)
Based on Share of Cryptocurrency Bets
Based on Total Share of Bets
#1
BGaming (est. 2018)
Evolution Gaming
#2
Platipus Gaming (est. 2014)
Pragmatic Play (est. 2005)
#3
Evolution Gaming (est. 2006)
Play'n GO (est. 2005)
#4
Booming Games (est. 2014)
Push Gaming (est. 2010)
#5
Betsoft (est. 1999)
Nolimit City (est. 2014)
Source: Softswiss State of Crypto Reports
Cryptocurrency Use by Age Group and Other Trends
Delving deeper into crypto-gambling trends, we shall examine the usage of digital coins among players from different genders and age groups. Softswiss data collected during the first quarter of 2023 indicates that cryptocurrency gambling is more common among men than women. Approximately 65% of all players who fund their gameplay with digital coins are male, while the remaining 35% are female.
Player-profile statistics also provide valuable insights into the average age of crypto gamblers. It appears the core audience of cryptocurrencies consists of players aged 31 to 40 years old, who account for nearly 45% of all crypto users. Online gamblers aged 41 to 50 years old comprise the second-largest age group as they make up almost 26% of all crypto users.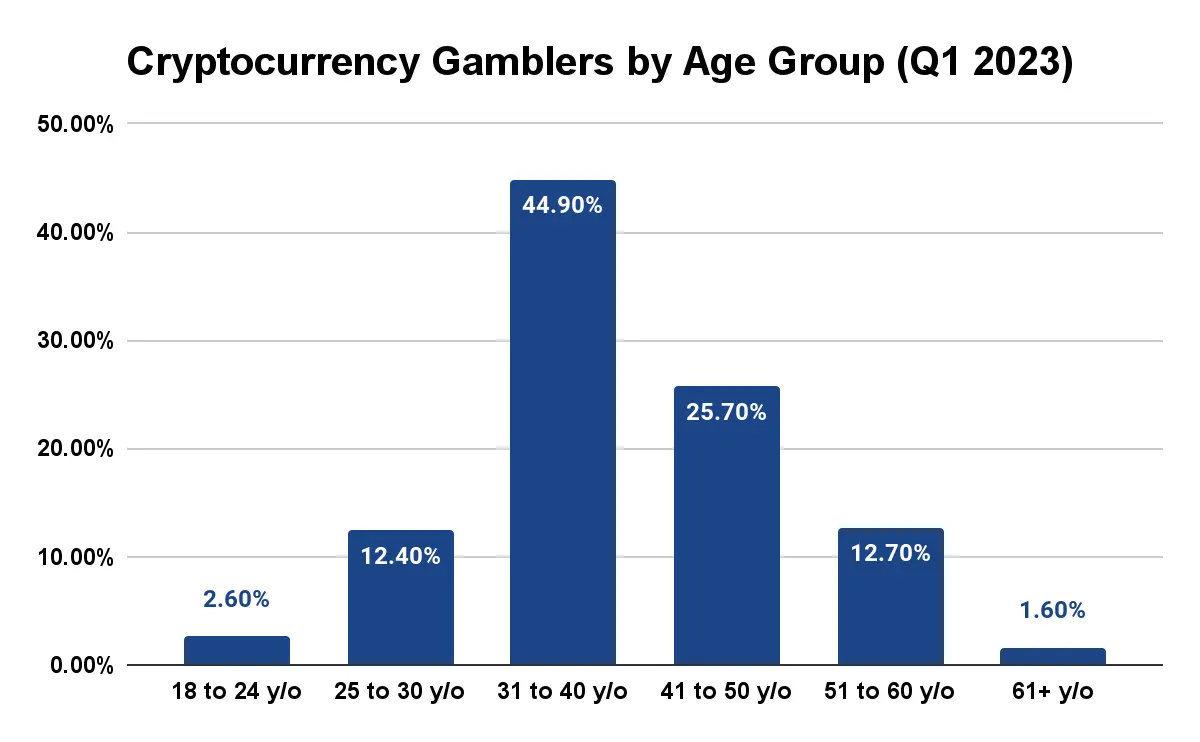 Source: Softswiss State of Crypto Quarterly Report
Decentralized digital currencies like Ethereum and Bitcoin are least popular among players aged 61 and above as only 1.6% of all people from this age group implement digital coins for gambling purposes. When it comes to modes of access, over half (64%) of the cryptocurrency GGR came from wagers placed on mobile devices, compared to 32% made on desktop devices.
Cryptocurrency Statistics by Region
The United States and Great Britain have two of the largest online gambling markets in the world, as the numbers blatantly show. The commercial gaming industry in the US generated a record $60.46 billion in gross revenue last year, witnessing a 14% increase year-on-year. The UK posted a rise of 10.9% between April 2021 and March 2022, reporting over £14 billion in gross gambling revenue for this period. Given this, we decided it would be interesting to check where these countries stand when it comes to cryptocurrency market share, ownership, and adoption rates.
Global Leaders in Terms of Cryptocurrency Market Share
The United States has secured the largest share of the global cryptocurrency market with $17.96 billion in revenue, which we attribute to its progressive regulatory environment and high levels of investor confidence in the market. The United Kingdom ranks second with $1.89 billion as of April 2023. Germany ($1.62 billion), Canada ($1.42 billion), and Japan ($1.38 billion) also made the cut among the top five, as you can see below. Japan is the only country on the list that lacks legal and regulated online gambling.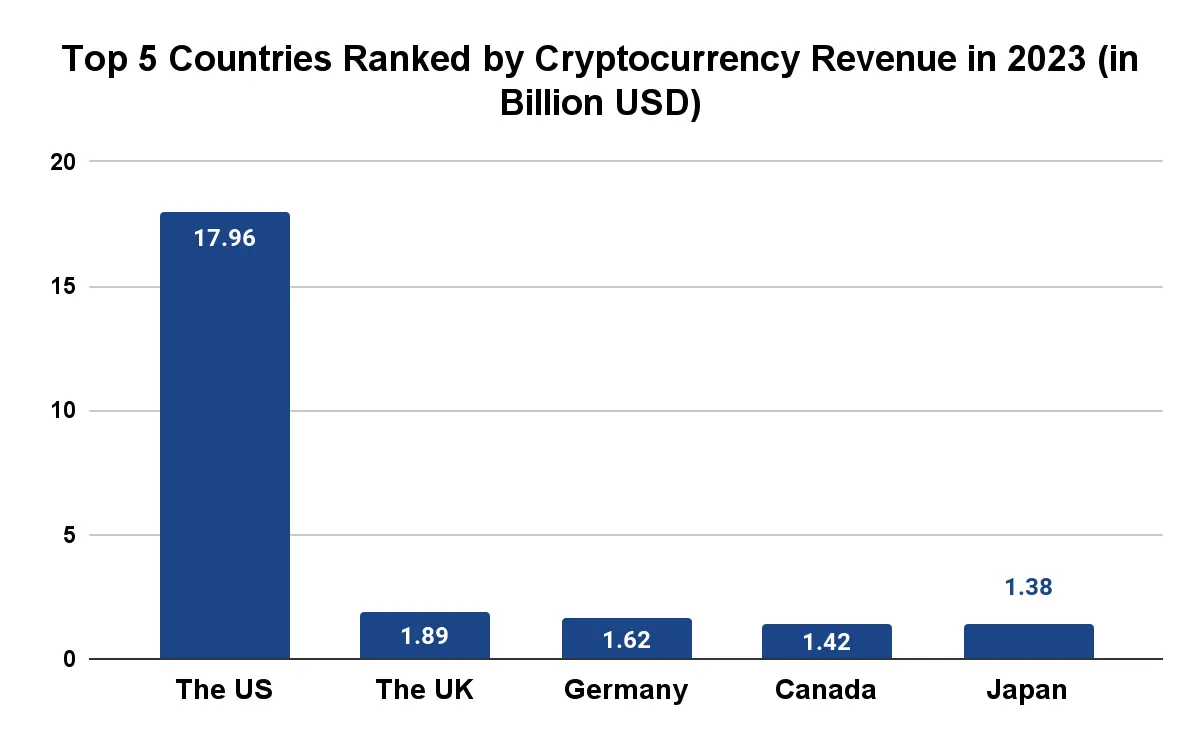 Source: Statista Market Insights
Countries Ranked by Number of Cryptocurrency Owners
The number of cryptocurrency owners has skyrocketed in recent years, with an estimated 420 million people worldwide using digital coins as of this year, data from crypto-payments platform TripleA reveals. The majority of cryptocurrency owners on a global scale are male (65%), which aligns with the percentages quoted by Softswiss. As many as 71% of the crypto owners worldwide have a Bachelor's or a higher degree.
In terms of age demographics, younger people are more likely to purchase and own cryptocurrencies since 72% of all digital coin owners are aged 34 years old or below. As far as country distribution goes, the US has the third-highest number of cryptocurrency owners with nearly 45 million, a figure that corresponds to approximately 13.2% of the country's population. India tops the list with 103 million crypto owners. Vietnam and Pakistan place fourth and fifth, respectively.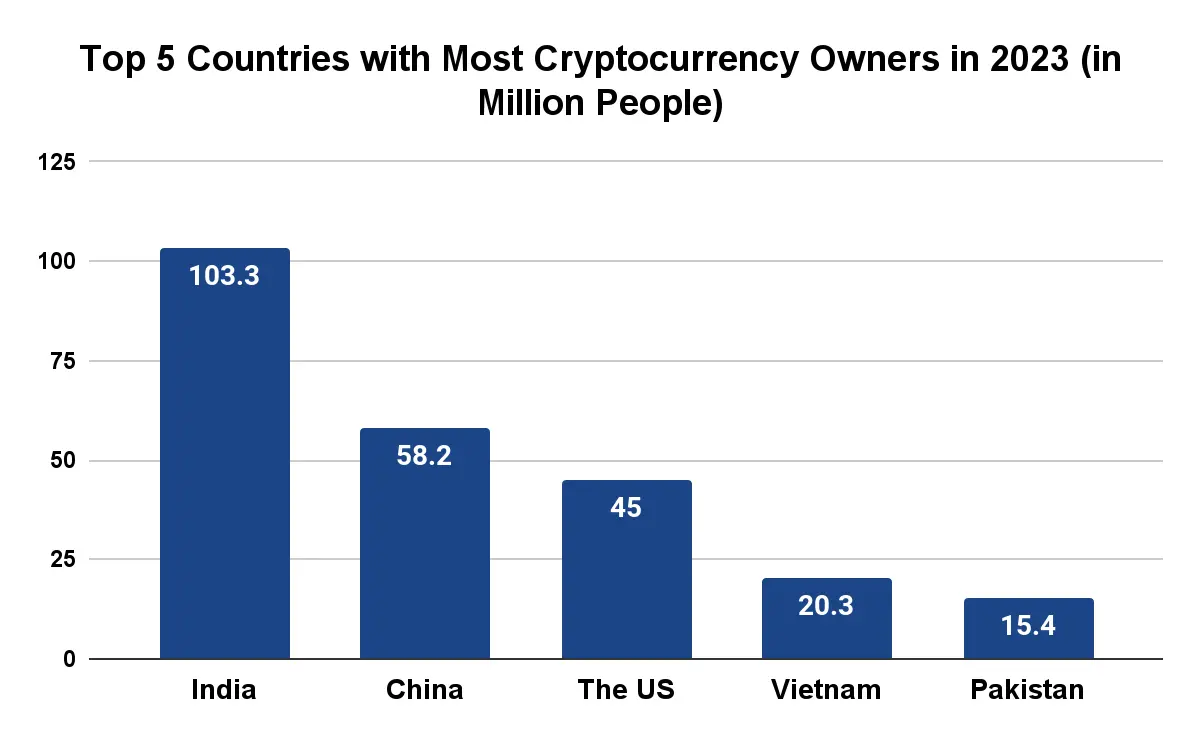 Source: TripleA Crypto Payment Gateway
Cryptocurrencies and Gambling in the United States
Given that the United States is among the countries with the highest concentration of digital coin owners, we decided it would be instructive for readers to learn about the attitudes of the population toward cryptocurrency gambling. A recent survey conducted by market research and data analytics company YouGov in 2023 provides some insights into this subject.
Survey results indicate that almost half of all Americans who have registered online gambling accounts (49%) are interested in using cryptocurrencies for betting purposes. Out of this group, approximately 26% describe themselves as "very interested" in trying crypto gambling. On a national level, as much as 15% of all adults residing in the country are either strongly or moderately interested in using digital coins for gambling purposes.
Mostly Young Americans Are Interested in Cryptocurrency Gambling
Considering that blockchains are still a relatively young technology, it is unsurprising that the bulk of potential cryptocurrency gamblers (62%) in the US are aged 18 to 34 years old. By means of comparison, only 46% of all online gamblers in the country belong to this age group. Furthermore, there is a pronounced gender disparity within this group as roughly 62% of all potential cryptocurrency gamblers are male compared to 38% who are female.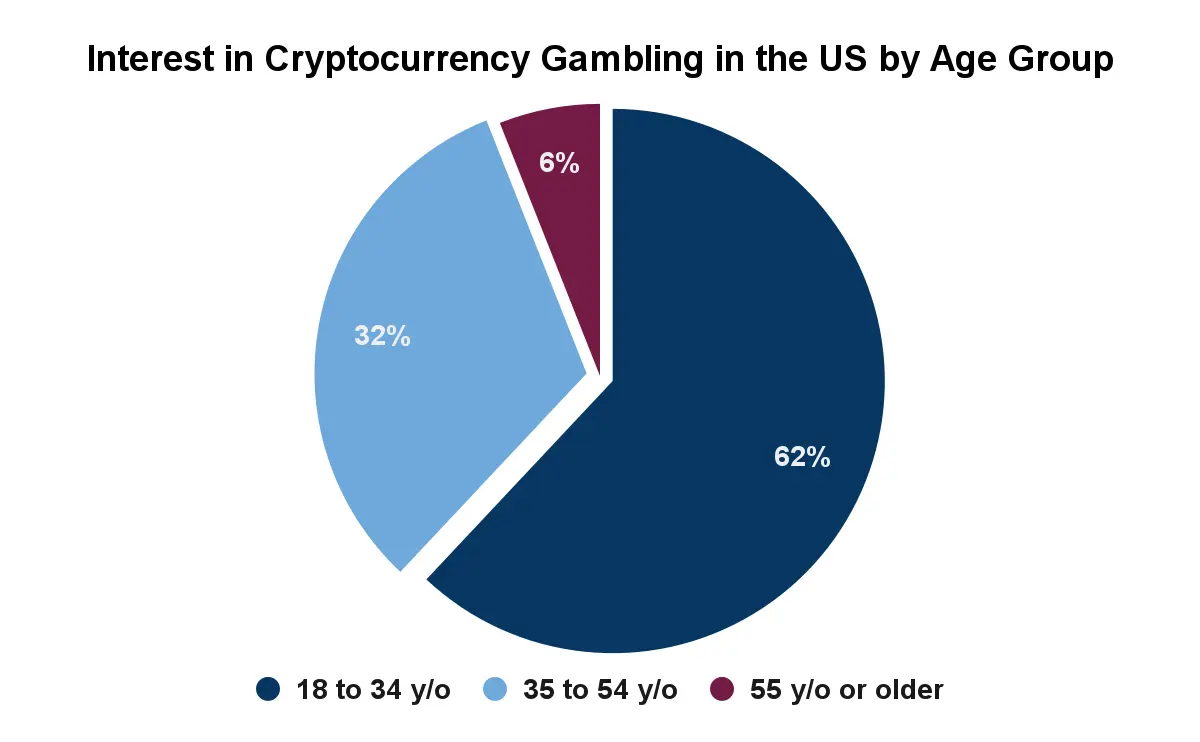 Source: YouGov Survey
For clarification, the term "potential cryptocurrency gamblers" refers to adult residents interested in cryptocurrency wagering. YouGov points out that almost 1/4 of the people from this group had not yet registered online gambling accounts when the survey took place.
Over One-Third of All Potential Crypto Gamblers Insist on Fast Withdrawals
Potential cryptocurrency bettors were then presented with several statements and were asked to pick which ones apply to them to help determine their overall attitudes toward online gambling. It turns out the vast majority of potential crypto bettors (42%) have the tendency to cash out from their online gambling accounts after winning larger amounts of money. By means of comparison, only 27% of all online gamblers in the US said they tend to do this.
Around 34% of potential crypto gamblers describe fast withdrawals from online gambling accounts as "important", while 40% say they prefer to move funds to and from their gambling accounts via mobile payment applications. Roughly 23% have voluntarily imposed betting limits on their accounts, while 22% have had their gambling accounts closed in the past.
This underscores the importance of responsible gambling among people interested in placing digital coin bets. As much as 19% complained about experiencing issues with withdrawing from their gambling balance compared to 14% of all online gamblers participating in the YouGov survey.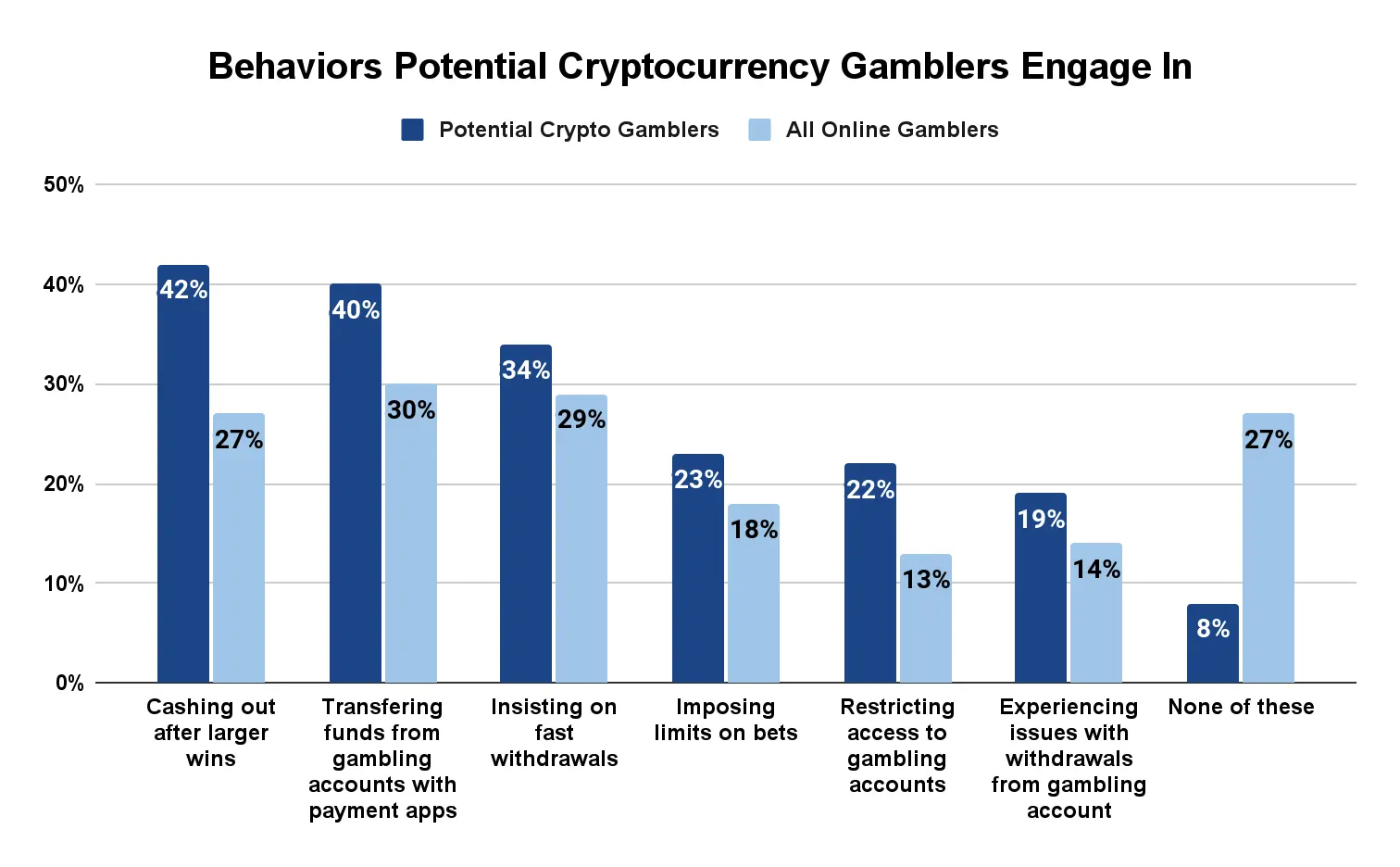 Source: YouGov Survey
States with Highest Interest Levels in Cryptocurrency Casinos
Cryptocurrency betting remains largely unregulated on a state and federal level, with Wyoming being the sole exception to this rule. Most cryptocurrency gambling in the country takes place via offshore casinos and sportsbooks licensed outside the US. Nonetheless, we decided to check in which states does crypto gambling attract the most attention by examining search data from Google Trends.
To this end, we looked up the term "crypto casino" in English for the entire country and selected a broader period range covering the past twelve months (October 10, 2022 to October 10, 2023). Then we checked the "interest by subregion" metric to identify the states with the highest popularity for this search phrase. It is important to point out that the numerical values below do not reflect the absolute search volume for the term but rather the relative volume.
The data is normalized and expressed on a scale from 0 to 100 to reveal the states with the highest interest as a fraction of the overall searches. A number close to 100 indicates the term has a larger proportion relative to all searches in the respective location or state. Thus, a smaller state where 60% of all searches are for "crypto casino" will receive a higher score than a larger state where only 30% of the searches are for this term.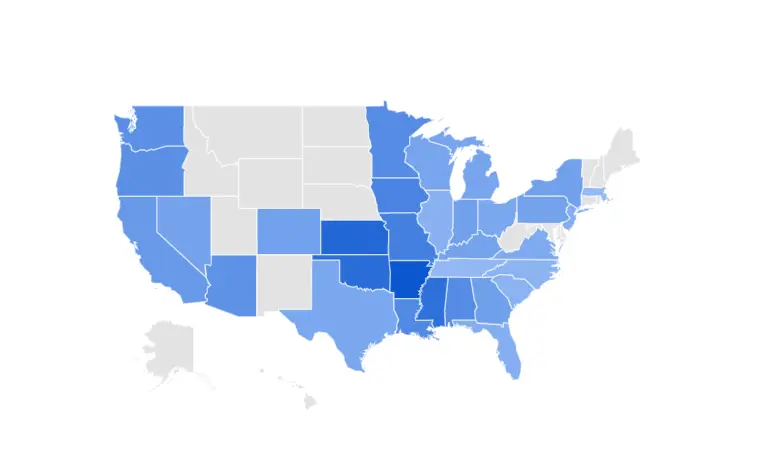 The term "crypto casino" has a higher probability of being searched in the states painted in darker blue shades. Lighter blue areas have lower interest in this term and are less likely to search for it.
We found it very intriguing that Arkansas is the state exhibiting the highest levels of interest for the search phrase "crypto casino" in the entire country. The Natural State ranks first with a maximum interest score of 100 for the past twelve months despite lacking legal online casinos at the time of writing.
Neighboring Oklahoma places second with an interest score of 85, followed by Kansas (82), Mississippi (74), and Missouri (64). Residents of the Carolinas, Massachusetts, and Tennessee are the least likely to search for crypto casinos on Google as they all achieved scores below 20.
Interestingly enough, Wyoming, among other states, did not make the cut despite passing legislation to regulate crypto sports betting two years ago. Here is the full ranking of all 35 states whose residents have taken an interest in searching for "crypto casinos" between October 10, 2022 and October 10, 2023. Some states were altogether omitted because the data for this search phrase was insufficient, according to Google Trends.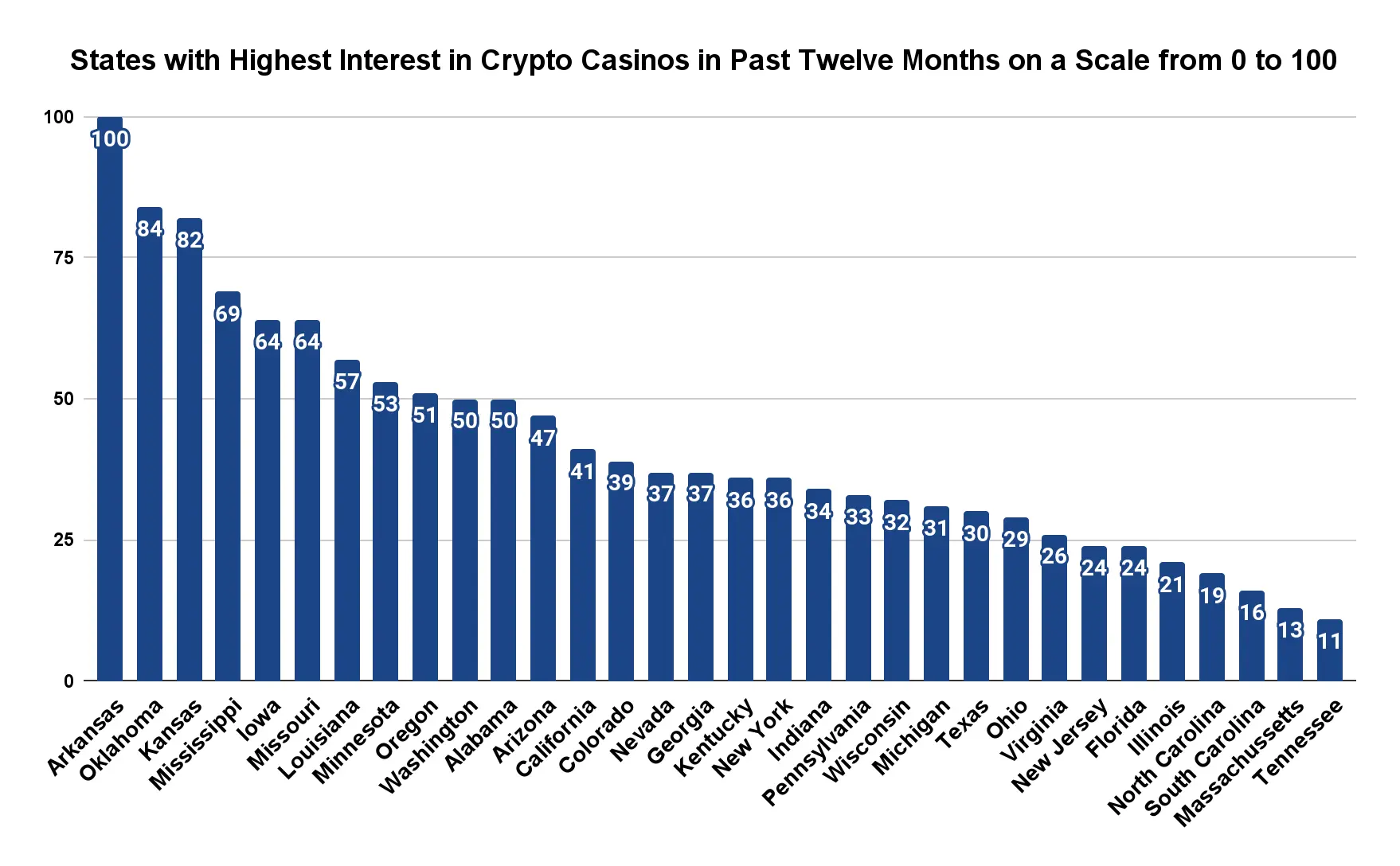 Source: Google Trends, Retrieved October 10, 2023
Cryptocurrencies and Gambling in the United Kingdom
The UK places second in terms of cryptocurrency revenue and market share with $1.89 billion, according to Statista Market Insights. The country with the largest online gambling industry in the world (£14.1 billion in GGR) has an estimated 4.2 million cryptocurrency owners data from the TripleA shows, which corresponds to approximately 6.2% of its overall population.
According to the payment gateway, cryptocurrency ownership is most common among wealthier Britons since approximately 40% of the people earning £200,000 or more per year own digital coins. Most crypto owners in the UK fall within the 25-34 year-old age bracket, followed by those aged 35 to 44. Around 31% of all people who hold digital coins in the country have a university degree.
Gambling Not among Most Popular Services Brits Would Pay for with Crypto
In line with Softswiss data, Bitcoin is the most popular choice for British cryptocurrency owners as 62% of them have opted to purchase it. Ethereum ranks second (36.67%), followed by Ripple (24.21%) and Tether (20.54%). Considering the massive size of the British iGaming industry, we found it surprising that online gambling did not make it to the top 5 of the most popular goods and services among cryptocurrency users in the country. Entertainment secured the first spot in this metric with 42%, followed by consumer electronics (37.41%), luxury and fashion (34.96%), and travel and tourism (34.72%).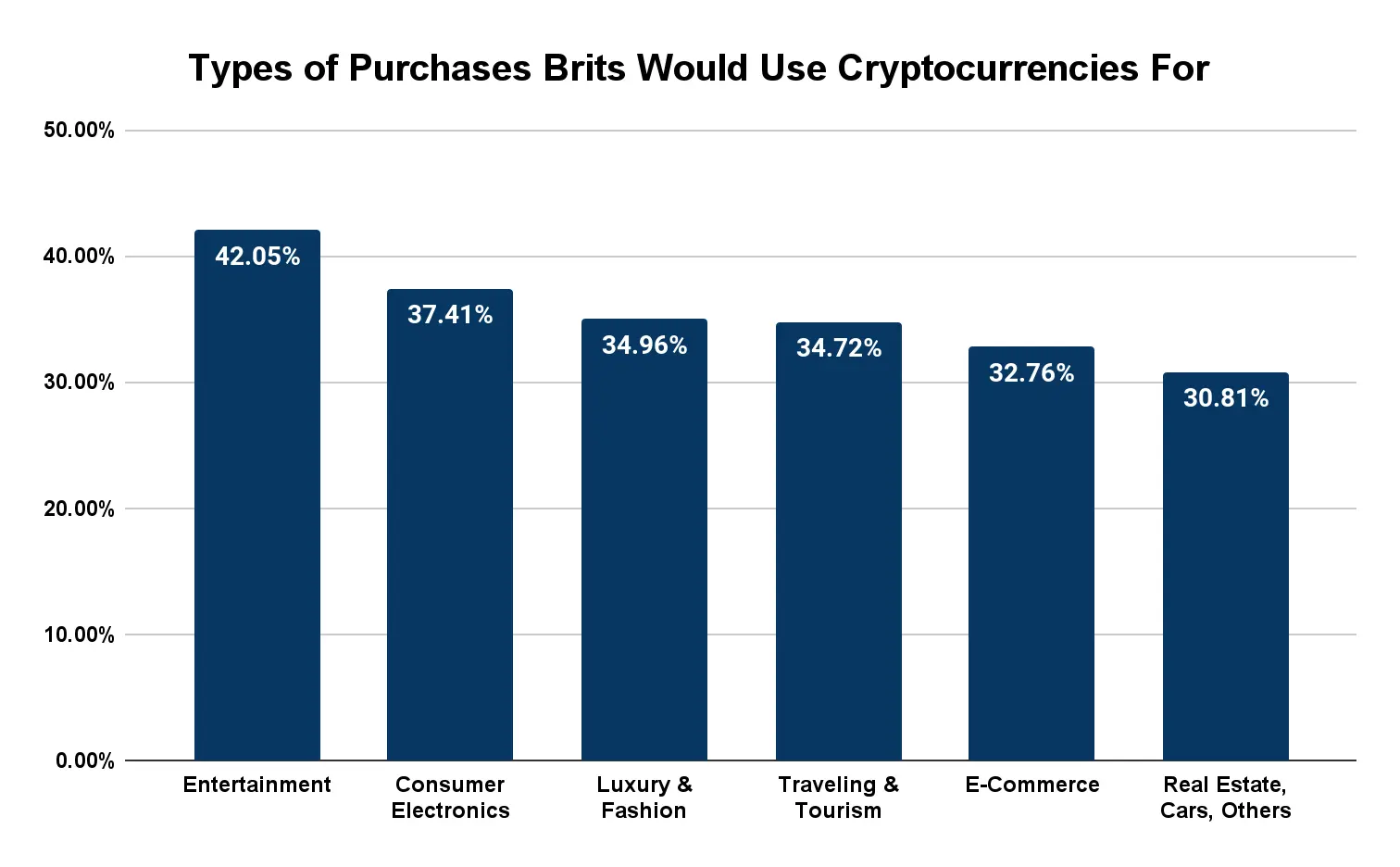 Source: TripleA Crypto Payment Gateway
Attitudes of British Gamblers toward Cryptocurrency Betting
Another 2023 survey carried out by market research and analytics firm YouGov sheds some light on the attitudes of British gamblers toward cryptocurrencies. The results indicate that 15% of all adult residents who have registered online gambling accounts are interested in betting with digital coins. Around 5% of this group described themselves as "very interested". As for the overall adult population of the country, 7% claim to be very or fairly interested in cryptocurrency betting. We shall refer to this group as potential crypto gamblers henceforth.
In terms of demographic makeup, more than half of those interested (54%) fall within the 18 to 34-years-old age bracket. Another interesting fact is that most potential cryptocurrency bettors, or 29%, are based in the capital London. Similarly to the United States, the majority of potential crypto gamblers in the UK are males, with only 28% of respondents showing interest in crypto betting being female.
The survey additionally looked into the online gambling behaviors and preferences of the crypto-interested respondents. Roughly 18% or so of the potential crypto gamblers are likely to move funds to or from their online betting accounts via payment apps instead of using standard bank transfers. As much as 10% of the group confirmed to have experienced problems with gambling-related withdrawals. The same percentage said they had voluntarily restricted their access to their betting accounts in the past. Around one-fifth (20%) of all potential crypto gamblers say they have resorted to imposing betting limits on their gambling accounts.
As for the importance of fast withdrawals, around a third (32%) of all potential crypto bettors in the UK pinpointed this as an important feature. Every fourth person (25%) showing interest in crypto gambling withdraws from their gambling balance after landing larger wins.
Cryptocurrencies and Problem Gambling in the UK
In 2022, GamCare, which operates the National Gambling Helpline in the UK, commissioned YouGov to carry out a survey among 4,000 Britons and evaluate their attitudes toward key issues related to online gambling. Survey results suggest that people who have experienced gambling-related harm are more likely to dabble in high-volatility investments such as cryptocurrency trading. This concerning trend is backed by the fact that approximately 43% of the problem gamblers in the UK say they own digital coins.
Survey data also indicates that more than half of all people experiencing low-level gambling harm (66%) cite making money as their primary motivation for purchasing cryptocurrencies. Additionally, Britons who classify as problem gamblers are far more likely to suffer any negative consequences from buying digital coins compared to the general public.
Roughly a quarter of all problem gamblers, or 25%, say they are motivated to invest more money to recover their losses compared to only 7% of the country's general population. Another 22% reported not being able to cover their essential expenses, while 21% complained of feeling overwhelmed by this situation.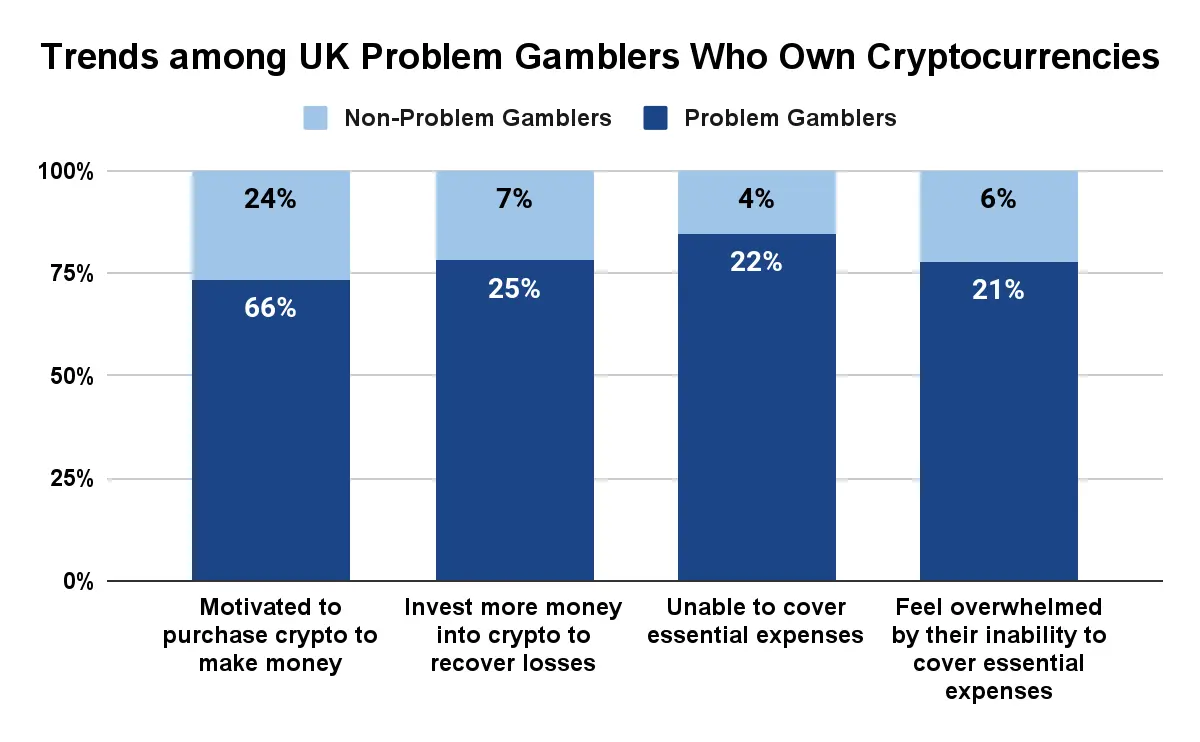 Source: YouGov 2022 Survey Commissioned by GamCare
Cryptocurrency Trends among the British Youth
The GamCare-commissioned survey also provides valuable insights into the levels of cryptocurrency adoption among the younger population of the country. According to survey data, 17% of the Brits aged 16 to 24 years old own digital coins. Buying cryptocurrencies appears to be more common among males belonging to the 16-to-34 age group as 33% of them confirmed to have purchased digital coins at one point or another.
Another concerning trend is that British parents generally have low levels of understanding and confidence when it comes to discussing cryptocurrencies with their children. Over half of all parents of children below 18 years old report feeling unconfident explaining what digital coins are. As much as 42% of the parents feel unconfident discussing loot boxes with their underage children, with the rates being higher among females (50%) than males (33%).
Furthermore, British parents are largely clueless about new gaming trends like skin gambling, which is the practice of using in-game items to wager on the outcome of esports contests. A whopping 79% of all parents participating in the GamCare-commissioned survey had no idea what skin gambling is and said they had never heard of this practice.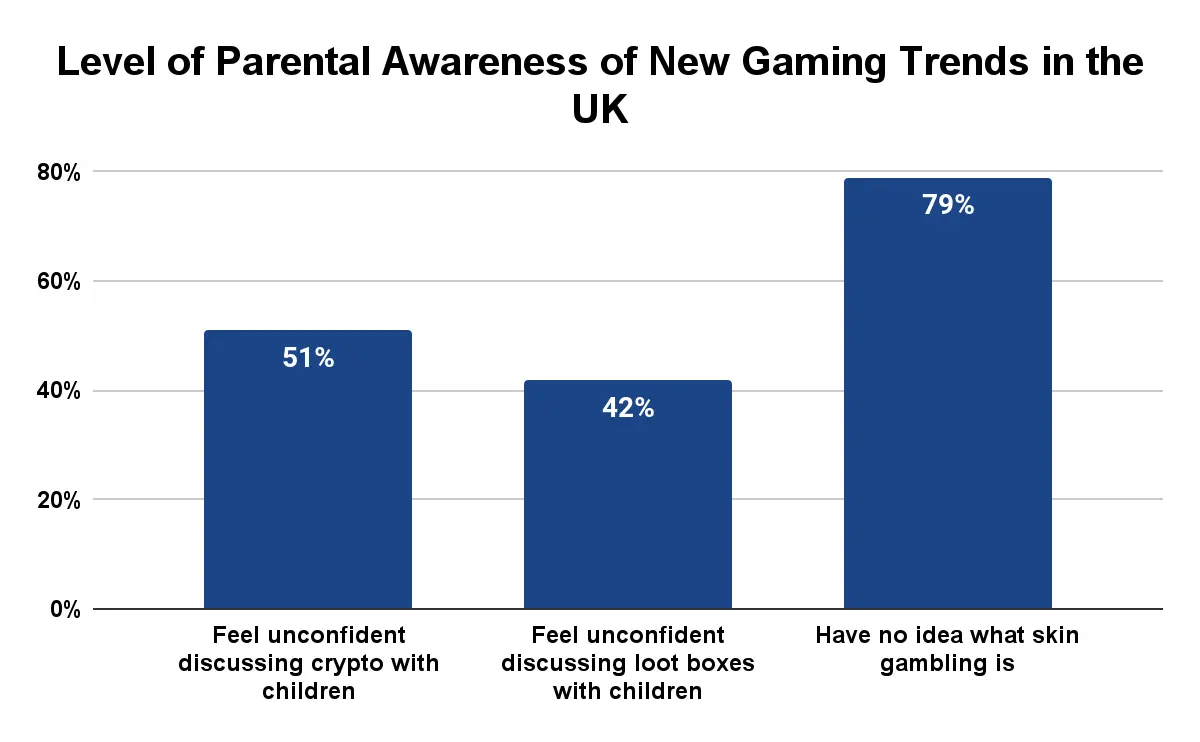 Source: YouGov 2022 Survey Commissioned by GamCare
Levels of Interest in Crypto Casinos in the UK
Using our methodology from earlier, we decided to examine the levels of interest in cryptocurrency gambling among Britons. We again entered "crypto casino" as our chosen search phrase in Google Trends and adjusted our preferred time frame to the twelve-month period ending on October 10, 2023.
It was impossible to create an exhaustive ranking based on cities or counties since data was insufficient for this search phrase but we did notice that people from England are more likely to look up the term "crypto casino" on Google. This phrase has a higher probability of being searched by Englishmen whose score is a solid 100 compared to Scots who only achieved a score of 57 on a scale from 0 to 100.
The darker blue color indicates high-interest levels for crypto casinos among Englishmen.
Delving deeper, we observed that interest levels spiked between April 30 and May 6, 2023, when the highest score of 100 was recorded for "crypto casino". The level of interest in this topic was at its lowest in the week ending on June 3, 2023 when the term "crypto casino" represented a minuscule portion of all Google searches in the country for a score of 0.

Source: Google Trends, Retrieved on October 10, 2023
Gambling Cryptocurrencies and Tokens Ranked by Market Capitalization
Data from Statista shows casino and gambling secured the 30th place based on the number of initial coin offerings by industry, with 167 ICO projects as of March 2020. Initial coin offerings are similar to initial public offerings on stock exchanges, only the former enable companies looking to launch new coins, apps, or services to raise money for this purpose.
Considering this, we decided it would be interesting to look into the most popular crypto gambling tokens and coins, ranked by market capitalization. Using information from the independent crypto data aggregator CoinGecko, we arranged the gambling tokens in descending order, starting with the projects with the largest market cap. Rollbit Coin landed on the first spot with a $42.5 million market cap, followed by SX Network ($63.8 million), FunToken ($46.3 million), Decentral Games ($10.2 million), and WINR Protocol ($6.8 million).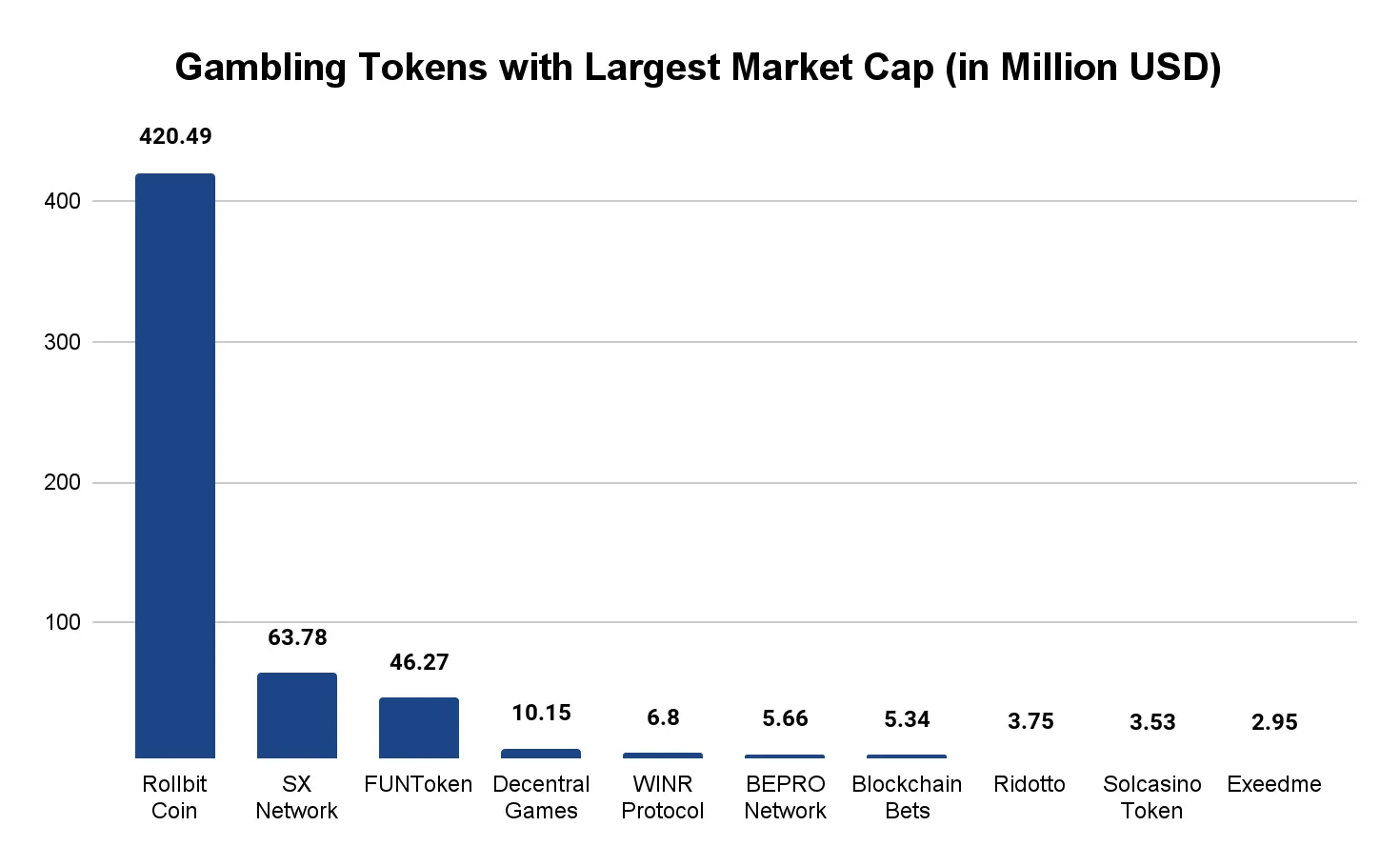 Source: CoinGecko Cryptocurrency Data Aggregator (October 10, 2023)
#1. Rollbit Coin (RLB) – $420,490,237 Market Cap
Launch Date: February 2020
Maximum Supply: 5,000,000,000 RLB
Circulating Supply: 3,296,951,621 RLB (65.94% of maximum supply)
Where to Gamble with RLB: www.rollbit.com
Launched in 2020, the native token of the Curacao-licensed Rollbit Casino is the gambling cryptocurrency with the highest market cap at the time of publication, according to data aggregator CoinGecko. Rather than using an initial coin offering, Rollbit rolled out the token as an integral part of its casino's lottery.
The tokens basically act as entry tickets for the casino's lottery, giving customers the chance to snag a share of the casino's profits. Players stake the tokens to enter the lottery, with half of the staking fee being immediately removed from the supply, which in turn drives growth in value. Today, the Rollbit platform has more than one million registered members who collectively place $40 million in bets per day.
#2. SportX Network (SX) – $63,783,105 Market Cap
Launch Date: March 2019
Maximum Supply: 1,000,000,000 SX
Circulating Supply: 343,939,001 SX (34.39% of maximum supply)
Where to Gamble with SX: www.sx.bet
Introduced in 2019, SX is the native token of SX Bet, an innovative platform that facilitates peer-to-peer exchange betting on various political and sports events. It was created by a group of passionate punters from Canada for the sole purpose of making sports betting fairer for all. The exchange platform achieves this by enabling users to bet against one another, creating a more dynamic and competitive market in the process. Rather than building the vigorish into the odds as is the case with traditional sportsbooks, the SportX platform collects a nominal percentage of the winnings of SX token holders.
#3. FUNToken (FUN) – $46,269,559 Market Cap
Launch Date: June 2017
Maximum Supply: 10,999,873,621 FUN
Circulating Supply: 10,598,879,189 FUN (96.35% of maximum supply)
Where to Gamble with FUNToken: www.xfun.casino
Previously known as FunFair, FunToken was specifically designed with the needs of online gamblers and gambling operators in mind. The coin is close to reaching its maximum supply cap and is tradable on all major cryptocurrency exchanges, including Binance, Uniswap, and Bitfinex. Players can swap their tokens against Ethereum, Bitcoin, Dai, and Tether, among others, or use them for betting purposes at supported sites like XFun Bet, DPlay Casino, and XFUN Arcade. At the time of publication, as many as 350,000 people worldwide hold Fun tokens.
#4. Decentral Games (DG) – $10,152,891 Market Cap
Launch Date: December 2021
Maximum Supply: 1,000,000,000 DG
Circulating Supply: 736,422,789 DG (73.64% of maximum supply)
Where to Gamble with Decentral Games Tokens: www.decentral.games/casino
Boasting a market cap of $10.15 million at the time of writing, Decentral Games is the native token of the world's first play-to-earn Metaverse peer-to-peer poker platform. Metaverse casino games are also playable. Purchasing and staking DG tokens is simple and can be done straight through the official Decentral Games site. The platform is relatively young but it has already gained a good deal of traction in the online gaming community. Over 65,000 Metaverse users visit the platform each month, while the number of people holding DG tokens in their crypto wallets now reaches 111,000.
#5. WINR Protocol (WINR) – $6,800,195 Market Cap
Launch Date: March 2023
Maximum Supply: 1,000,000,000 WINR
Circulating Supply: 196,525,514 WINR (19.65% of maximum supply)
Where to Gamble with WINR: app.just.bet
WINR Protocol secures the fifth place on our list with a market cap that currently stands at $6.8 million. It provides a completely autonomous liquidity infrastructure that was specifically created for on-chain games that require counterparty asset vaults. Developers can design on-chain games, plug them directly into the protocol, and incentivize players by offering them native WINR tokens. At the moment of writing, WINR Protocol is used by 1,567 people worldwide and has facilitated over 4.44 million wagers whose overall betting volume exceeds $64.39 million.
#6. BEPRO Network (BEPRO) – $5,664,356 Market Cap
Launch Date: December 2019
Maximum Supply: 10,000,000,000 BEPRO
Circulating Supply: 10,000,000,000 BEPRO
Where to Gamble with BEPRO: www.22bet.com
Launched in 2019, Bepro Network bridges the gap between developers and operators by offering a robust ecosystem of resources and tools for creating decentralized applications quickly and securely. Participating developers are rewarded with tokens for curating the network and providing development resources. Commonly used for building decentralized betting markets and gaming apps, Bepro has a daily trading volume of $340,266 and a market cap of $5,664,356 at the time of publication.
#7. Blockchain Bets (BCB) – $5,342,322 Market Cap
Launch Date: January 2023
Maximum Supply: 1,000,000,000 BCB
Circulating Supply: 877,672,966 BCB (87.77% of maximum supply)
Where to Gamble with BCB: blockchainbets.club/casino
Blockchain Bets is among the newest entries on this list as it launched at the beginning of 2023. The developers of this platform were inspired by the success of the World Cup Inu digital coin. The platform uses BCB as its native token and enables users to engage in decentralized sports wagering and online casino gaming without having to undergo any cumbersome KYC checks or share any sensitive personal information. Being a relatively new platform, it has around 3,000 active users at the moment and a betting volume that exceeds $5 million.
#8. Ridotto (RDT) – $3,754,674 Market Cap
Launch Date: September 2021
Maximum Supply: 500,000,000 RDT
Circulating Supply: 269,199,353 RDT (53.84% of maximum supply)
Where to Gamble with Ridotto: ridotto.io/lottery
Created in 2021, Ridotto acts as a cross-chain lottery and gambling protocol that allows users to develop, play, and bankroll decentralized casino games, earning generous rewards in the process. Praised for the high levels of anonymity, fairness, and transparency it offers, Ridotto uses the RDT as its native token which currently has a market cap of around $3.75 million and a circulating supply of 269.2 million tokens.
#9. Solcasino Token (SCS) – $3,532,649 Market Cap
Launch Date: December 2021
Maximum Supply: 10,000,000,000
Circulating Supply: 9,883,746,031 (98.84% of maximum supply)
Where to Gamble with SCS: solcasino.io
Based on the well-known Solana blockchain platform, SCS is the native token of Solcasino where players can fund their gameplay directly through their web3 Solana wallets. The token is tradable on popular decentralized exchanges like Raydium, Orca, and Jupiter, and has a market capitalization of $3,532,649 at the time of publication. Total supply is capped at 10 billion tokens, with 9.88 billion tokens currently in circulation.
#10. Exeedme (XED) – $2,951,760 Market Cap
Launch Date: December 2020
Maximum Supply: 100,000,000 XED
Circulating Supply: 90,000,000 XED (90% of maximum supply)
Where to Gamble with XED: exeedme.com
Exeedme is a blockchain-based platform for esports contests that enables players to participate in tournaments and earn generous rewards in the process. The platform has organized thousands of competitive contests in popular esports disciplines like Dota 2, Call of Duty: Warzone, League of Legends, and Counter-Strike: Global Offensive since it first launched in December 2020. There are various ways for players to monetize their skills, including betting, earning NFTs for their victories, and collecting native XED tokens for engagement.