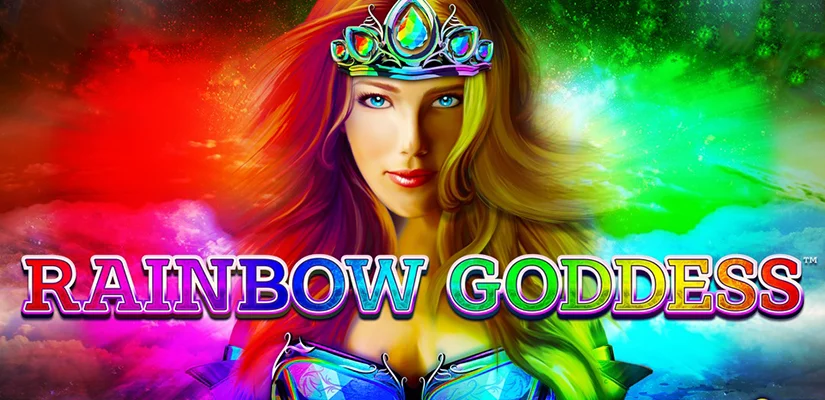 Rainbow Goddess is one of the several titles provided by Crazy Tooth Studio that are focused around powerful women characters. When you run this slot game it's like opening a treasure chest – the symbols are an abundance of gems, tiaras, and fairy tale characters. As you might guess from the title, the game's layout is extremely colorful and glamorous, having eye-catching special effects.
Rainbow Goddess features 5 reels and 4 paylines whose number may temporarily increase during any of the bonus games. Depending on the game mode, some symbols can be transformed or temporarily locked in a certain position.
Rainbow Goddess Slot Summary
Provider
Crazy Tooth Studio
Payline number
4
RTP
96%
Minimum Bet (coins)
0.01
Maximum Bet (coins)
1.00
Wild Symbols
N/A
Scatter Symbols
Tiara
Bonus Features
Free spins; Rift Zone
Jackpot
4,409 credits x bet multiplier
Symbols and Winning Combinations in Rainbow Goddess
The minimum number of matches of identical regular symbols in the game, which leads to a win is 3 (payouts applicable to all adjacent combinations). If you have not activated any of the bonus features of the game, the maximum number of matching symbols per payline is 5. Let's take a look at the respective payouts.
The most lucrative symbol is the goddess of course. If you place a bet of 60 coins and land on a 3-symbol combination, you will get 24 credits. Four or five identical symbols result in 30 and respectively 45 credits in your balance. A unicorn, a dolphin, and a pigeon are mid-level symbols, and the fivefold combination for each of them leads to a profit of 30 credits.
Gemstones, which can be in several different colors, are the lowest payable symbols. A winning combination of three identical gems will bring to your account balance 9 credits, the fourfold combination gives you 12 credits, and for a maximum of 5 identical symbols, you get 15 credits. We emphasize that the above-mentioned payouts are calculated with a bet of 60 coins.
Although the game paytable also lists possible winnings for more than 5 symbols per line, players should keep in mind that they only apply to certain special game modes.
Within the Rainbow Goddess slot game the Tiara is the scatter symbol that can appear in reels 1, 3, and 5 only when the base game is played.
Bonus Features of Rainbow Goddess
If luck is on their side, players can take advantage of the free spins feature provided within the Rainbow Goddess slot game. The use of five free spins can be activated if you happen to land on 3 or more Rainbow Bonus symbols. What is specific here is that at the beginning of each free spin, the tiara symbol may lock over between 1 and 4 positions. Thus, a vertical or horizontal rift is created which leads to additional reels or rows that consist of the same number of positions as the regular ones.
The newly entered symbol positions are immediately transformed into gems or goddesses. The symbol positions within the rifts are subject to different substitutions and the winnings for each free spin are calculated after the respective transformations have been completed.
Rainbow Goddess also provides the Rift Zone feature where reels or rows can be temporarily added, which increases the chance of winning. The initiating symbol is again the tiara – 1 symbol starts the rift credits or rift symbols version of this bonus mode, while more than 1 tiara initiates the rift symbols feature.
Each tiara symbol in the rift credits feature leads to two additional vertical rifts or one horizontal rift. The payouts from a vertical rift vary between 134 and 1,794 credits x the bet multiplier of the initiating game, while the range with respect to horizontal rifts is between 100 and 4,409 credits x the bet multiplier of the initiating game.
The principle of the rift symbols feature is similar whereas reels can be expanded to a maximum of 6 symbol positions and the highest number of reels within one rift is 7. Мany different substitutions and symbol transformations are again possible. After all transformations for one spin have come to an end, a multiway win can be calculated and the rift closes for the next spin.
Verdict
The Rainbow Goddess slot game has been on the market for over 3 years now, which is a kind of proof that players find it relatively attractive. We admit that it takes a little more time than usual to learn all its bonus features rules. Once we have done that, we advise you to try it several times and assess whether it meets your preferences.