Some gamblers grow bored when playing single-hand blackjack for prolonged periods of time. When at a landbased casino, they can spread their action to several betting spots unless they are playing at a crowded table where there are no more vacant seats. Those who prefer to take their betting action to the web will never experience one such issue.
Renowned casino software suppliers like Microgaming, Playtech, Pragmatic Play, and NetEnt cater to the preferences of such players, offering them a choice from various multi-hand blackjack variations with great graphics and intuitive interface that perfectly replicate the feel of playing in a landbased venue. This way you can spread your action to multiple betting circles without ever having to bet behind fellow players until you wait for a vacant spot to open at a table.
Multi-Hand Blackjack and Volatility
Multi-hand blackjack comes with an extra dose of excitement but it is still worth keeping in mind betting on several hands simultaneously increases the game's volatility. In other words, this is not a very smart choice for the faint of heart or for those who have limited bankrolls at their disposal.
Some people would argue playing multiple hands at the same time is equal to increasing your potential profits, giving you a better chance to beat the virtual dealer. And yes, there will be occasions when you crush the dealer with several hands in a single round. But the opposite is also true – you will lose several hands instead of one when the dealer hits a blackjack or outdraws you with higher totals of 19, 20, and 21.
Multi-Hand Blackjack and Volatility Additional TipsThe thing about multi-hand online blackjack is that it runs on random number generators. This technology preserves the integrity of the game and ensures unbiased results. What it also does is reshuffle the cards after every round which renders multi-hand online blackjack games insusceptible to advantage play techniques like card counting.
In turn, this means you are still playing at a disadvantage, albeit very small, even when you incorporate perfect basic strategy during your betting sessions. There is still a small house edge working against you and the more hands you play per hour, the closer you inch to this house edge, ultimately losing money in the long run. So this is something to keep in mind. Now, let's see how multi-hand online blackjack is played.
How to Play Multi-Hand Online Blackjack
If you have ever played single-hand blackjack at an online casino, you will soon find the multi-hand variations operate on precisely the same principle. The only difference is that you play several hands instead one (although playing a single hand at a time is also an option). The first thing you do after the game loads in the browser of your smartphone or desktop computer is post your bets. You can practice for free or make a deposit into your online casino account to bet and win real money.
The multi-hand online blackjack variants give you a choice from different chip denominations although the precise chip values differ depending on the casino operator and the software supplier providing the games. Be sure to check the table limits before you post your bets.
Some online games with multiple hands offer low limits starting at $1. This is great for underbankrolled players because the minimums at most landbased blackjack tables start at $5, at best. The upper limits also vary. Some online casinos allow you to bet up to $100 per hand while others support wagers of up to $500 although it is possible to find multi-hand tables where you can wager as much as $1,000 per hand. Either way, you should never overbet your bankroll no matter whether you are playing a single hand or five hands per round.
Common Rules for Multi-Hand Blackjack Variations
Hands
Typically, players can bet on up to 3 or 5 hands simultaniously
Dealer Stands
Dealer stands either on soft 17 or all 17s
Blackjack Payout
3 to 2
Dealer Peeks
Yes
Splitting
Allowed on any pair; some variations do not allow splitting different-valued 10s
Resplitiing
Some versions do not allow resplitting
Double Down
Typically allowed only on totals of 9, 10 or 11
Double Down After a Split
Yes
Hit on Split Aces
No
Insurance
Yes
Insurance Payout
2 to 1
Surrender
Some versions do not allow surrender
How to Play Multi-Hand Online Blackjack Additional TipsYou adjust the chip denomination either by clicking the plus/minus button or by clicking on the desired chip value. If you accidentally happen to post the wrong amount, you clear your bets and make another bet. Then you click on one or more betting boxes depending on how many hands you want to play at a time. After you post your bets, you hit the Deal button to have your starting hands dealt.
You are now facing the same playing decisions you have at the blackjack tables in landbased casinos – you can surrender (if the blackjack variation allows it, of course), split pairs, double down, hit, stand, and take insurance against the virtual dealer's aces.
By the way, the latter can be very annoying in some multiple-hand games. The virtual dealer will ask you for insurance one hand at a time and as a basic-strategy player, you will decline it five times one hand after another (i.e. if you are playing five hands simultaneously). Sometimes you end up losing five hands in a split second when the dealer indeed flips over a ten-value card next to their ace.
You play your hands as you normally would, one after the other. After you have acted on all of your hands, the dealer completes their hand, settles the bets, the round ends, and the winnings are added to your real-money balance.
Blackjack Multi-Hand Gameplay
Features of Multi-Hand Online Blackjack
Multi-hand blackjack variants are equipped with numerous great customization features that aim at making your playing experience more enjoyable. These are software-specific so what is available in one game may be unavailable in another. In most cases, the players can control the pace of the game and have their cards dealt slower or faster, depending on their personal preferences. This is known as Turbo Mode or Fast Play.
Flat bettors are catered to with a special Rebet and Deal button which enables them to rebet and have their cards dealt with a single click. There are various options for sound adjustments. You can increase or decrease the volume, turn it off completely, and even choose from male and female dealer voices in some variations. If you find the ambient background music distracting or annoying, you can always turn it off.
In some multiple-hand variants, like those provided by Microgaming and Pragmatic Play, novice players are catered to with strategy charts where they can check the correct playing decisions for each of their hands.
Additional Features of Multi-Hand Online BlackjackThere are also hit/stand remainders to prevent you from misplaying your hands. For example, if you take a hit on hard totals greater than 17, the software would ask you whether or not you are sure about this decision because of the higher chances of busting with the next card. And vice versa, if you misclick the Stand button, the software would remind to re-evaluate your decision on hand totals of 11 or below.
Some multi-hand blackjack variants support the Autoplay feature where the software would play your hands for you while you take a break to answer the door or grab something to eat, for example. The decisions the software makes are based on basic strategy so there is no need for you to worry your hands will be misplayed. You get to choose the number of hands you go through in Autoplay and can tackle the settings so that the feature is turned off after you win or lose a specific amount of money.
One thing we noticed in one of Microgaming's multiple-hand blackjack variations is the feature that enables you to automatically accept insurance when the dealer's upcard is an Ace. We strongly advise against ever using this feature because insurance is always a bad bet for basic strategy players. The weird thing about this particular variation is that it follows perfect basic strategy to the tee during Autoplay but still gives you the option to automatically accept insurance which is in stark violation with said strategy.
Players can also keep track of the hands they have gone through as most multi-hand blackjack games have a History feature. Here it is important to note that you can use this feature only when you play for real money. It gets automatically deactivated in practice mode.
Last but not least, there are various options that allow you to customize your experience. You can choose from different felt colors in some Microgaming and Playtech multi-hand blackjack variations. Microgaming's variation, in particular, also allows you to modify the design of the cards giving a choice from three distinct styles.
Popular Online Blackjack Variations That Support Multi-Hand Play
Playing multi-hand blackjack online can be tons of fun when you are properly bankrolled. Best of all, you have a choice from a decent range of options. All established software suppliers have released authentic multi-hand variants of the classic casino game. We have hand-picked four of the best multi-hand online blackjack variants that impress with a realistic design, replicating the environment of the glamorous casino floors.
Multi-Hand Blackjack by Pragmatic Play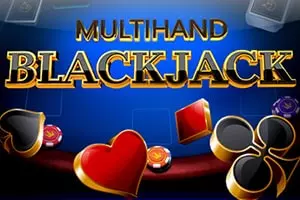 Pragmatic Play may be best known for its innovative slots but this has not prevented the Malta-based company from crafting a superb blackjack variant available for multiple-hand play.
The game allows you to play up to three hands at a time
and supports wagers ranging from $1 to $100, although these limits may vary depending on where you play.
The rules are pretty standard as you have a virtual dealer standing on soft 17 and blackjacks returning the regular 3-to-2 payouts. This is a hole-card game that plays with eight full decks. The dealer peeks for blackjacks when showing an ace or a ten-value card. Players can split any pair they like but resplitting is not an option. Doubling on any two-card hand is allowed and so is doubling after splitting. Split Aces cannot be hit.
Your playing experience is further improved by the slick graphics, ambient casino sounds, and easy-to-use interface. There are a couple of cool customization options including speeding up the game's pace and choosing from male or female dealer voices. Those who are new to blackjack will benefit from a strategy chart and hit/stand remainders. Pragmatic Play's multi-hand blackjack variant yields a house edge of around 0.38% with perfect basic strategy.
Multi-Hand Premier Blackjack by Microgaming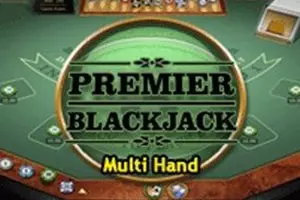 Microgaming is easily the software supplier with the highest number of casino blackjack variants which makes sense considering the company's history dates back to 1994. The developers' skill and attention to detail are clearly visible in Microgaming's Premier Blackjack Multi-Hand Gold, an exciting game which allows for a huge number of customization options. You have a choice from an enormous range of table and card designs but the variation also supports several side bets that can earn you additional profits.
The game uses two standard decks, with the virtual dealer reshuffling the cards after each round of play. The dealer stands on all totals of 17 and players have the option to split once but resplitting is not allowed. Splitting unlike ten-value cards is also prohibited but on the positive side of things, you can hit split aces. Doubling down is limited to two-card totals of 9, 10, and 11 only.
Multi-Hand Premier Blackjack by Microgaming Additional TipsDoubling down following a split is not possible, either. Keep in mind this is a European no-hole card game where the dealer receives only one upcard on the initial deal and draws a second one only after you play all of your hands. The game supports playing one to five hands at a time. Blackjacks pay 3 to 2, there is no peeking and no surrender. One thing we particularly liked was that you can decline insurance on all five hands with a single click of a button.
The version with the side bets is an H17 game which again plays with two decks. The side bets are paid only on winning starting two-card hands. If your first two cards are an Ace and a Jack of spades, the side bet earns you a 50-to-1 payout. Any other suited Aces and Jacks pay out 25 to 1 whereas the smallest payout of 5 to 2 is awarded for any two suited cards.
This Microgaming creation boasts a wide range of cool features, including auto rebet, turbo mode, strategy display, and hit/stand warnings to the benefit of players who are new to the game. You can also tackle the sound settings to turn off the dealer's voice, the music, and the background sounds.
Blackjack Surrender by Playtech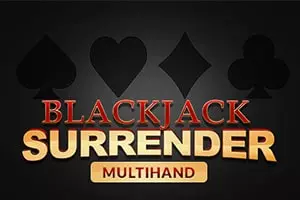 Blackjack Surrender has been an absolute hit across Playtech-powered casinos thanks to its spectacular visuals, a user-friendly gaming interface, and great rules. Here you can play between one and five hands simultaneously and have the option to surrender your starting hand against any dealer upcard.
Six decks are in play, with a virtual dealer who stands on soft 17 and peeks for blackjacks under ten-value cards and aces. Blackjacks return the standard payouts of 3 to 2. The other rules are quite decent for an online game. You can split any pair you like and double down on any two cards, with the option to double after you split.
Non-busted hands consisting of seven cards are automatic winners and earn you even-money payouts. You can also choose from several colors of the felt, view your previous hands' history, enable hit/stand messages, and pick from three different ambient tracks for your background music.
Blackjack Pro by NetEnt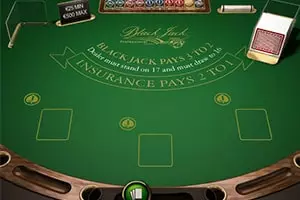 Swedish software supplier NetEnt caters to blackjack fans worldwide with a fast-paced multiple-hand variation of the classic game, called Blackjack Pro. Players can bet on up to three hands at once. The game is played with four standard decks of cards and the virtual dealer is required to stand on all totals of 17.
You get the usual 3-to-2 payout on blackjacks but surrender is unavailable. You can split only a single time and cannot take hits on split aces. Doubling on any two cards is permitted and so is doubling after a split.
The game also boasts some useful features, giving you the option to control its pace. You have nine different speed levels to choose from. There is also the option to turn off the dealer's voice and the background music if you find them particularly distracting.