Blackjack is one of the most widely played casino games of all times and as such, is available across a mind-blowing number of interactive casinos. Long gone are the days when players were required to drive for hours until they reach a landbased gambling venue to play blackjack at – today, the game of Twenty-One is only a few clicks away since the only requirement is to have a desktop computer and a reliable Internet connection.
In recent years, however, we have gradually become a mobile society where each individual tackles trivial tasks like paying bills and making purchases while on the go. Not surprisingly, many have swapped traditional gambling for mobile gaming as hundreds of interactive casinos support widespread tablets and smartphones.
Countless mobile apps have been developed over the past few years, allowing gambling enthusiasts to conveniently partake in a range of classic casino games on the move. Being the popular game that it is, blackjack is also readily available for mobile play across a wide number of reputable mobile casinos. Have you ever tried to beat the dealer on the go? If not, read on to learn all you need to know about mobile blackjack casinos.
Why Play on the Go
One can hardly deny the perks of the mobile explosion we have been witnessing as of late. You have forgotten to pay your electricity bill? No worries, you can do it with a few taps of your touch screen. And how about playing a blackjack hand or two as a means to pass the time? This has never been easier, not to mention enjoying the game on the go has a number of positives to offer.
The first benefit of playing Twenty-One on the move is speed. You will no longer be required to wait for fellow players to decide how to act on a hard 16 against the dealer's 10 showing. Playing blackjack on your hand-held device offers a more dynamic, fast-paced gameplay – something landbased casino visitors can only dream of. It almost appears as if touch screens and blackjack were meant to be as the latest mobile technology further enhances the speed of the game and allows for a more interactive betting session.
Flexibility is undoubtedly one of the biggest pros mobile blackjack has to offer. Players are no longer confined to their desktop computers. They can take their favorite card game with them when they are out and about, potentially scooping a substantial payout from any location. You can fit in a short blackjack session whenever you have a few minutes to spare. Imagine how great it would be to kill some time while waiting for a friend or traveling on the bus by actually doing something you enjoy, like playing blackjack on the go for instance.
Playing on the Go Additional TipsAnother strong point of mobile blackjack is the flexibility in terms of betting ranges. Sometimes the table limits in your local casino simply do not agree with the budget you have set aside for blackjack play. What do you do? Finding a landbased blackjack table where bets below $1 are accepted often poses as a challenge – either, the table minimum would be higher or the rules would be unfavorable to players. In the majority of landbased casinos lower blackjack table limits are within the $3-$5 range but not everyone is comfortable with betting $5 a hand.
The solution is simple – you log into your mobile casino account and pick a mobile variation of the game whose table limits correspond to your bankroll size. Many mobile gambling operators group their most popular blackjack variations into categories, depending on their betting ranges – one and the same blackjack game is available in both low and high-stakes formats.
There is usually the choice to bet as little as $0.20 or $0.50, which is the perfect option for players on a shoestring budget. Then again, there are high-rollers who prefer to play it big and splurge as much as $2,000 per hand. The great thing about playing blackjack on the go is that it enables you to cut your coat according to your cloth, so to speak. It matters not whether you are looking to stake $0.50 or $2,000 per bet – either way, you are guaranteed to find a mobile blackjack variation that fits into your budget.
The ability of being able to switch from one variation of the game to another can be rather refreshing. This is precisely the reason why so many fans of the game have switched to playing blackjack on the move. This is where versatility kicks in. When you register a real-money account at a mobile casino, you have a much broader selection of blackjack varieties to pick from.
There are the standard variants like Classic Blackjack, of course, but players can always bring diversity into their gaming sessions by opting in for a game of Blackjack Switch, Duel Blackjack or Double Attack Blackjack. These games will not only spice up your on-the-go playing experience but will also give you an opportunity to collect higher profits as they feature various side bets with imposing payouts. One can even come across multi-player variations of the game and it is also possible to partake in blackjack tournaments, which allows for a greater interaction between players.
Last but not least, playing blackjack at a mobile casino is a viable option for those looking to build up a starting bankroll because the majority of gambling operators normally treat their players to a range of appealing promotions and bonuses. You can give your bankroll a good boost by opting in for a welcome bonus or by collecting comp points to exchange for more casino credits. As mobile gaming continues to grow in popularity, gambling providers are in a heavy competition to attract new customers and maintain the interest of old ones.
Because of this, many operators have tailored custom bonuses to target mobile blackjack players in particular. The bonus amounts vary wildly between mobile casinos, with some websites offering as little as $10 while others tempt players with huge $1,000 welcome bonuses for play on the go.
Live Dealer Blackjack VIP Platinum High Roller Gameplay
Mobile Blackjack Technology
The progress in technology in recent years has provided blackjack fans with a broad choice of options as far as mobile play is concerned. Nowadays, it is possible to come across mobile casinos offering downloadable applications for commonly used smartphones and tablets running on iOS and Android, but more and more gambling websites are starting to rely on the HTML5 technology where downloading additional software is not a requirement. Which option you go for is a matter of purely personal choice but both have their pros and cons.
If you have extra storage space to spare on your smartphone, you can easily register an account at a mobile casino offering iOS or Android applications. These are normally available at no charge and rarely exceed 100MB in size. Some mobile apps even support a range of different languages, making it easier for non-English speakers to play. Once your download and installation are complete, you can either open a real-money account straight from the app or put in your credentials to access your existing account from the mobile device. An iOS or Android app will provide you with access to the mobile casino's full range of games, blackjack included.
Mobile Blackjack Technology Additional TipsPresently, an interesting trend can be observed – the number of mobile casinos developing in-browser apps is on the increase as of late. This is great news for people, who are reluctant to install gambling apps on their smartphones or tablets. Several years ago, iPhone owners struggled with accessing instant-play mobile casinos running on the Adobe Flash technology but many operators have already switched to the HTML5 interface.
This means that blackjack players can load their preferred mobile variations directly in their hand-held devices' browsers regardless of their operating system. In-browser mobile casinos run on all sorts of smartphones and tablets, including some of the widespread ones that are based on Android, Windows OS, and Blackberry OS. You simply input the mobile casino's URL in your phone's browser to be redirected to the mobile version of the website.
Screen Fit
Some of the biggest casino software providers have already adapted their most popular blackjack varieties for mobile play. What this means is the graphics have been tailored specifically to fit the smaller screens of hand-held devices.
Differences with Desktop Blackjack
If you have ever played blackjack on your desktop computer, you will notice the gameplay on mobile devices allows for a greater interaction. It almost seems blackjack is a game meant to be played on a smartphone or a tablet.
Gaming Experience
Once you get a taste of what playing mobile blackjack feels like, you most certainly would never return to betting on your desktop computer. The gaming experience on the go offers greater dynamics and better interaction with the game itself as it would be much easier to act on your hands.
Screen Fit Additional TipsThe higher resolution of touch screens makes the visuals of online blackjack games clearer and brighter than usual, which renders it easier for players to keep track of the cards as they are being dealt. Also, the cards themselves would appear larger on the screen in order for their ranks to be easily distinguished. With some mobile variants the cards even cover one-third of the game screen.
Once you tap on your preferred blackjack game, you will be prompted to swipe up your phone's touch screen to access full-screen mode. The chips and the main buttons are located at the bottom of the screen so you simply need to tap on those to adjust your bet sizing and get dealt a hand. Once you receive your hand, you act on it by tapping on the respective buttons if you want to hit, split, stand or double down. If you win, the winnings are credited to your current balance immediately.
More Differences with Desktop BlackjackMobile play furthers gameplay, rendering it smoother and more dynamic. The higher pixel density of the mobile screens ensures gorgeous graphics quality which is precisely what causes so many players to transition from desktop to mobile play. On the downside, higher screen resolution can be a massive drain on the phone's battery and can significantly shorten the duration of your gaming sessions on the go – something which would not be a problem if you are betting from home, of course.
Other than that, we doubt you will notice any substantial differences when playing the game on the go. The chief differentiation between desktop and mobile play is based on the fact you will have to tap the buttons to act on your hand instead of clicking on them with your mouse. That being said, blackjack players are recommended to first ensure that the buttons of their mobile variation of choice have been properly resized to fit the smaller screens of hand-held devices. Way too small buttons will be harder to tap, which logically would result in a greater number of playing mistakes. And the worse part is that these will be caused by sheer clumsiness and not by poor strategy moves.
Gaming Experience Additional TipsThis alone would result in a faster-paced game which on its own translates into playing a greater number of hands per hour. This can dramatically improve your hourly win rate, provided that you follow perfect basic strategy.
Reliable Internet connection is a key factor to consider if you are looking for an enjoyable blackjack experience on the go. The reason why we mention this is because a poor connection can practically ruin your entire gaming session for you. Some fun-play applications can be loaded and used in offline mode and then are synchronized whenever you get connected again.
The same cannot be said for real-money blackjack games, however, so players are recommended to ensure their connection is reliable enough to prevent putting their funds on the line. Even more so, if one plays at a mobile live dealer casino, in which case it would be better to connect using Wi-Fi. The 3G, or if possible, 4G connection is a suitable solution when playing mobile blackjack games against a virtual dealer. It is worth mentioning that blackjack is not as demanding as far as Internet connectivity is concerned. Especially, when compared to mobile video slots – these can be rather graphically intense and would require a much better connection to run seamlessly.
Top 5 Blackjack Apps
Playing blackjack on the go can be very exciting even if you do not play for real money. Both Android and iOS users will have numerous blackjack app options to choose from, install the games on their mobile devices and play at any time and any place. While most games use basic blackjack rules and offer a similar gaming experience, several apps have ranked as top blackjack options as they offer the best mobile blackjack gameplay.
1

Blackjack by Tripledot Studios Limited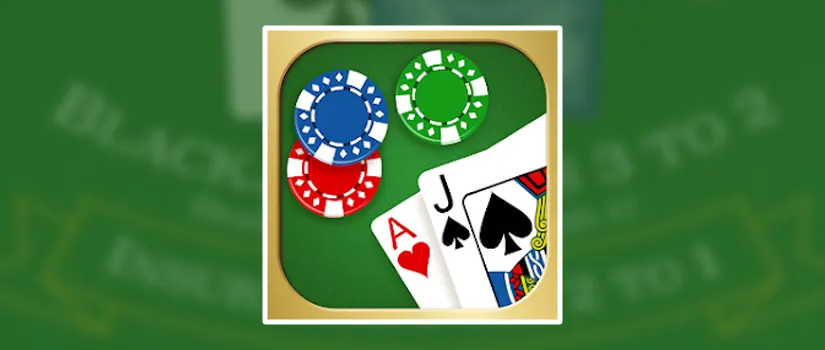 Blackjack App Table
App developer
Tripledot Studios Limited
Number of downloads
1M+
Number of reviews
262600
Rating
4.6 Google Play/ 4.7 App Store
OS requirements
Android – 4.4 and up
iOS – 11.0 or later
This blackjack app is offered in both the Google Play and the Apple app stores, allowing both Android and iOS users to enjoy the same wonderful casino experience. The reason we are placing this app at the top of our list is that it has the highest rank in both Google Play and Apple's app store, scoring 4.6 and 4.7 out of 5 stars respectively.
The design of the game is rather simple and classy, with the gameplay being reminiscent of the experience you can enjoy at most classy brick-and-mortar casinos. The rules of the game are rather simple, with the dealer required to hit on soft 17, while the payout for blackjack will be the standard 3 to 2.
A split is allowed on any pair, even on different cards, carrying the same value of 10. When players get their initial two cards, they will also have action buttons like stand, hit, and double displayed below their cards, allowing them to take actions they find most suitable for their hands.
When the dealer shows an Ace, players can make use of an insurance bet. Under the proviso that the dealer shows blackjack, players will win the insurance wager and will be paid 2 to 1.
While this is a blackjack app that will simply allow you to play with in-game money, there are in-app purchases that would require players to spend real money.
2

Blackjack 21: Blackjackist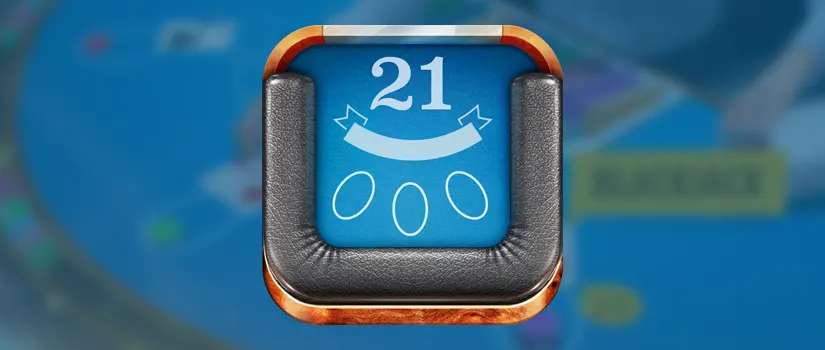 Blackjack 21: Blackjackist App Table
App developer
KamaGames
Number of downloads
10M+
Number of reviews
228,300
Rating
4.5 Google Play/ 4.7 App Store
OS requirements
Android – 5.1 and up
iOS – 12.0 or later
The next blackjack app on our list is Blackjack 21: Blackjackist by KamaGames. The game is available to both Android and iOS users, scoring a rank of 4.5 stars on Google Play and 4.7 stars on Apple's App Store. While the game incorporates all standard rules of the game, it has added immersive 3D graphics to the mix, making the whole mobile gaming experience more realistic and enticing.
Since Blackjack 21: Blackjackist is RNG certified, players are guaranteed fair results on each gaming round. If both the dealer and the player have blackjack, this is considered a push and the player gets their bet back. Otherwise, the payout for blackjack is the standard 3 to 2. When the dealer's face-up card has a value of 10, they check for blackjack.
Players have the standard options to make when they get a hand different from blackjack. They can split any pair of cards of the same value as well as hit, stand, or double down on their cards. Meanwhile, the dealer is required to hit on a total of 16 or lower and stand on 17. When the dealer's face-up card is an Ace, players are offered insurance. If they make use of this bet and the dealer reveals blackjack, players are paid 2 to 1.
While the game offers free chips for completing daily quests or playing Blackjack 21: Blackjackist every day, it is also possible to buy more chips thanks to the in-app purchases feature of the game. While you will be playing for game money, keep in mind that in-app purchases will cost you real money.
3

Blackjack! by Super Lucky Games LLC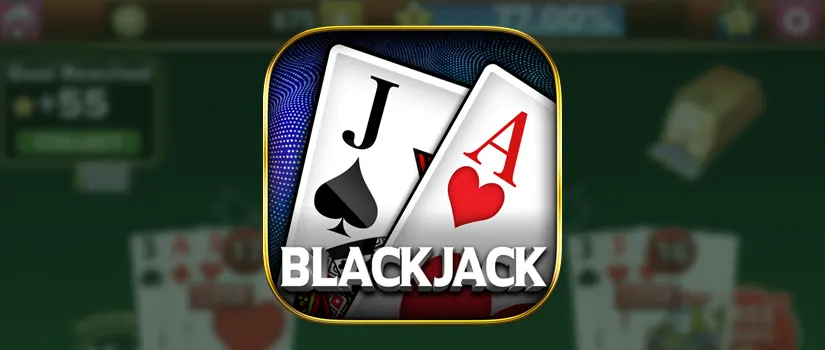 Blackjack! App Table
App developer
Super Lucky Games LLC
Number of downloads
10M+
Number of reviews
549,000
Rating
4.5 Google Play/ 4.7 App Store
OS requirements
Android – 4.1 and up
iOS – 8.1 or later
Another blackjack app we believe fans of the card game would appreciate is the Vegas-style Blackjack! by Super Free Games, also known as Super Lucky Games LLC. Based on user ratings, the app scored 4.7 stars on the App Store and 4.5 stars on Google Play. The game combines a classic blackjack experience with an extra exciting betting option that can significantly boost one's return.
You will have no issue playing this blackjack game on your smart device as it utilizes standard blackjack rules that are commonly used on blackjack tables across Vegas casinos. If you get blackjack on your first two cards and the dealer is holding anything other than blackjack, you will beat the dealer and will be paid a standard payout of 3 to 2.
When the dealer's face-up card is an Ace, you will have the chance to take insurance. If the dealer ends up holding blackjack, you will be paid 2 to 1. The dealer is required to hit on a total of 16 or lower and stand on 17. If the player is not holding blackjack, players are allowed to make typical blackjack decisions such as stand, hit, split, and double.
In addition to the standard blackjack base game, this app will also allow fans of the game to make a side bet on blackjack that promises a payout of 15 to 1. While you will not be playing for real money, the game can be quite encaptivating. Bonus chips and tournaments are also available on the app, making the whole experience extra thrilling. Since Blackjack! also offers in-app purchases, you may be able to buy extra chips to play, however, keep in mind that you will need to spend real money to buy some of the items offered in the app.
4

Blackjack Championship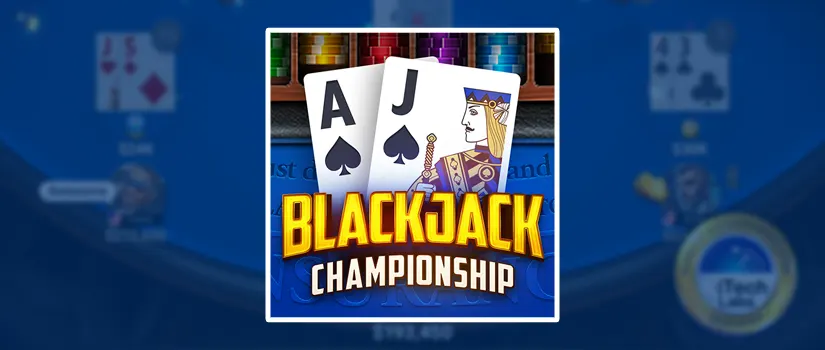 Blackjack Championship App Table
App developer
BBstudio Inc.
Number of downloads
100K+
Number of reviews
2,537
Rating
4.5 Google Play/ 4.7 App Store
OS requirements
Android – 5.0 and up
iOS – 10.0 or later
The next blackjack app we are offering to fans of the game of 21 is Blackjack Championship by BBstudio Inc., which is available both on Google Play and Apple's App Store. Additionally, the app can be downloaded from the platforms Steam and Amazon Store. The app's score on the app stores for Android and iOS users is 4.5 stars and 4.7 stars respectively. While there is nothing unusual about the rules of this blackjack game, it allows a different experience than the one other apps offer. You can participate in blackjack tournaments and face opponents from across the globe. The last one standing can win a generous prize, making the whole experience extra fun.
The base game of blackjack is played following standard Vegas rules. That means that the dealer draws to 16 and stands on all 17's. Blackjack pays 3 to 2, while insurance, which is offered when the dealer shows an Ace, will pay 2 to 1 if the dealer holds blackjack. If you do not get blackjack on your first two cards, you can continue playing, making basic decisions such as hitting, standing, doubling down, or splitting pairs.
Players who happen to get a hand with 7 or 8 cards without going over the total of 21 will also win a generous jackpot prize. Just like any tournament you would play for real money, this mobile blackjack app will offer an extra win for the player who ends up winning the championship.
Since Blackjack Championship is just a mobile app game, you should keep in mind that none of your in-app wagers will earn you real money. Whenever you wish to buy more chips and enjoy other perks offered in the app's store, however, you will need to spend real money for your in-app purchases.
5

Blackjack 21 by Massive Gaming PTY.LTD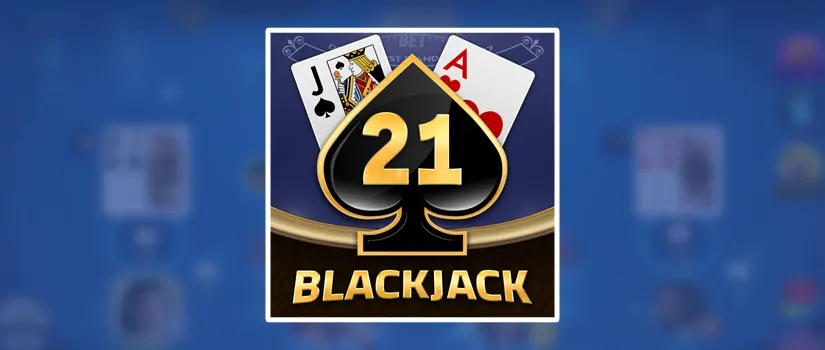 Blackjack 21 App Table
App developer
Massive Gaming PTY.LTD
Number of downloads
1M+
Number of reviews
29,900
Rating
4.2 Google Play/ 4.6 App Store
OS requirements
Android – 5.1 and up
iOS – 11.0 or later
Another variation we have added to our list of top blackjack apps is Blackjack 21, developed by Massive Gaming PTY.LTD. This is yet another mobile application, which will allow players to enjoy a classic experience of the game of 21, bringing extra excitement no matter where they are. The app has been highly evaluated by Android and iOS users, having a rating of 4.2 stars and 4.6 stars in Google Play and Apple's App Store respectively.
The app will allow you to chat with different players who have also joined in on the fun. The rules of the game are easy to understand as you will be playing a standard Vegas-style blackjack. That means that blackjack pays 3 to 2, while the insurance, if you happen to opt for this bet, will pay 2 to 1 when the dealer holds blackjack. The dealer must draw to a total of 16 and stand on soft 17.
Standard blackjack decisions like hit, stand, double, and split will be available to players. To make the whole experience even more thrilling, the app will also allow players to make a side bet that can be very rewarding. If you are certain that the dealer will bust in the next round, you can place extra chips on the side bet section of the table. That will allow you to enjoy a payout of up to 250 to 1 when the dealer busts with eight or more cards.
Just like other blackjack apps, Blackjack 21 also allows in-app purchases, which may include extra chips for longer betting sessions. Keep in mind that all of your wagers in the game are made with play money and you will not win any real cash whenever you beat the dealer. That said, you will need to spend real money on in-app purchases.
Popular Blackjack Mobile Casinos
Hundreds of gambling operators are already offering blackjack variants for play on the go, making it possible for players to access their favorite card game from any place, at any time they choose. We have narrowed down the list to ten of the top interactive casinos where blackjack is available for mobile play. Check them out to make an informed choice when playing the game of Twenty-One while on the move.
Ask a Question. Get an Answer.
Have a question about this topic? Ask an expert at info@supercasinosites.com
Find the answers of questions people asked so far:
Dan
William
If I play the Blackjack Championship app, am I competing against real blackjack players?
The great thing about social casino games is that they allow you to share the excitement with other fellow players. That is why, if you participate in the championships in the blackjack apps we have covered, you will be competing against other players who are also using the same app. This is a great opportunity to practice your skills and see if you can compare to other seasoned blackjack players. Even though you will be playing on your smartphone or tablet's screen, you will get really close to the real-life blackjack tournament experience. The only difference, in this case, is that you will not win real money if you end up the big winner of the tournament. Nevertheless, the whole experience is guaranteed to be extremely thrilling.
Dan
Sandra
Is there a way to win real money by participating in tournaments on blackjack apps?
No. None of the blackjack apps that are covered here can offer you real-money wins. Even if you participate in tournaments and play against other players, you will all participate with in-game betting chips, which cannot be converted into real money. One thing to keep in mind, however, is that these apps often include in-game purchases. That means players who wish to get more chips to play may end up spending real money on the app. By doing that, blackjack enthusiasts may spend quite a few of their own funds but enjoy no real-money winnings. That is why it is suggested to be careful with spending too much on these apps as they cannot win you real money.