Game developers are constantly looking for new ways to attract and maintain the attention of gamblers. This ceaseless strive toward originality has led to the reinvention of many classic casino-banked games, including the ever-popular 21. Ante Up 21 is easily one of the most original variants of the classic game launched in recent years.
Patented by LA-based manufacturer FYI Gaming, the game was originally invented by Michael Forster, who also happens to be president of this gaming company. Ante Up 21 Poker Bonus Edition received the seal of approval of the Nevada Gaming Commission back in 2008. The game is available for play at some gaming venues in the Silver State, including the Fremont Hotel and Casino in Sin City.
Ante Up 21 combines elements from conventional blackjack and poker. It offers multiple betting options and extra payouts, allowing for a highly stimulating, dynamic, and challenging gaming experience. If interested in giving this exciting blackjack variant a go, continue reading for an in-depth explanation of Ante Up 21's rules and its house edge.
Breakdown of the Rules in Ante Up Blackjack
Players new to this variation should not feel intimidated since it follows a relatively simple set of rules. When you approach the table, you will notice there are three betting boxes in front of each seat. One box is for the standard blackjack hand while the other one is for the poker ante bet.
The third box is where the players post the chips for the optional Poker Bonus side bets. The ante bet is equal to the table minimum or higher but cannot exceed the blackjack bet. Once all players seated at the table post their bets, each of them receives two cards face-down while the dealer gets one upcard and one hole card. The round begins with the poker aspect of Ante Up 21. Each participant checks their hole cards and evaluates the strength of their poker hand in relation to the dealer's face-up card.
The players make an extra side wager equal to their ante bets if they determine they have a strong enough poker hand. If not, they can pass without posting the extra bet but at the expense of losing their antes. The blackjack part of the round starts once everyone has passed or posted the additional poker bet.
Blackjack Rule Set
Poker Rule Set
The Bonus Side Bet in Ante Up 21
FYI Gaming has decided to add yet another twist to the game. It comes in the form of several optional poker side bets that enable players to earn extra-large payouts. As we said earlier, the chips for these side bets are posted in the designated Poker Bonus betting box on the layout.
FYI Gaming states on its official website that side bets in Ante Up 21 will cost players the nominal amount $1. Only the first two cards players receive count toward the Poker Bonus hand although you can also use the upcard of the dealer to form a set, i.e. three of a kind. Forming a pair with the dealer's upcard and one of your initial two cards is impossible under the game's rules.
Also important is to point out that you become eligible for posting the Poker Bonus side bet only on condition you play the poker hand in Ante Up 21. The exact payouts for winning side bets vary from one landbased casino to the next. FYI Gaming shows four different payout structures on its website. Check them out in the table below. These payouts result from winning $1 side bets.
Ante Up 21 Side Bet Payouts

| Winning Hand | Paytable 1 | Paytable 2 | Paytable 3 | Paytable 4 |
| --- | --- | --- | --- | --- |
| Offsuit Pairs | $5 | $3 | $3 | $3 |
| Suited Pairs | $15 | $10 | $5 | $5 |
| Pairs of Offsuit Aces | $10 | $15 | $10 | $10 |
| Pairs of Suited Aces | $30 | $30 | $25 | $25 |
| Offsuit Sets | $40 | $50 | $50 | $50 |
| Offsuit Sets with Aces | $100 | $150 | $150 | $200 |
| Suited Sets | $250 | $500 | $500 | $750 |
| Sets of 3 Suited Aces (Diamonds, Hearts, and Clubs) | $1,000 | $2,500 | $5,000 | $2,500 |
| Sets of 3 Aces of Spades | $5,000 | $5,000 | $10,000 | $5,000 |
The House Edge in Ante Up Blackjack
House Edge
Blackjack with Forced Bets
One problem that arises from the rules and structure of this game is that the dealer will often end up with three or four cards to pick from for their poker hand. The trouble is if the dealer breaks their blackjack hand by drawing additional cards, they can still use them to beat your poker hand.
The bust would actually increase their chances of outplaying you with their poker hand because they will have more cards to choose from. From this perspective, the poker hand is more valuable than the blackjack hand.
These peculiarities increase the house edge of Ante Up 21 to nearly 0.80%. By means of comparison, the house edge in a standard game of blackjack that plays with six decks, with doubling on any two cards including after a split, and a peeking dealer who hits soft 17 is 0.66% with perfect basic strategy.
An S17 game where the rules are the same as those we just outlined has a house edge of 0.44%. The point is you should stick to conventional blackjack if you are disinterested in the poker aspect of Ante Up 21 since standard variations of 21 yield a lower house edge with basic strategy, causing you to lose less money per hour.
View more...
Online Blackjack Variations with Poker Elements
As we previously stated, Ante Up 21 blackjack is available in some landbased Nevada casinos only. If you are still interested in playing unique blackjack variations that pose as a meld of 21 and poker, you can do so online from the comfort of your surroundings. Below, we cover four interesting online blackjack variations where elements of poker are incorporated.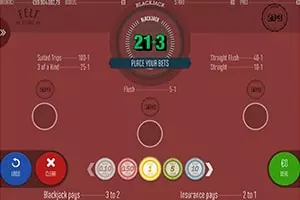 21+3 Blackjack by Felt Gaming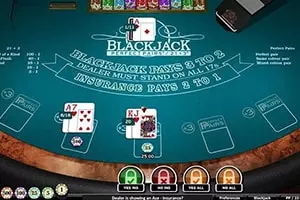 Perfect Pairs/21+3 Blackjack by Realistic Games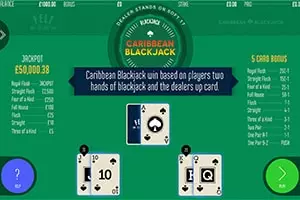 Caribbean Blackjack by Felt Gaming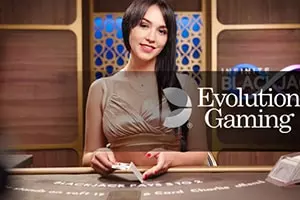 Evolution Gaming Live Blackjack with 21+3 Side Bets