Gambling has changed significantly over the past two decades with the advent of online casinos. Players can now enjoy their favorite casino games from the comfort of their surroundings on any device they wish, be it desktop or mobile.
Leading software providers are constantly incorporating newer and better features into their releases in an effort to improve the gameplay and make it more interactive. Online casino games are bursting at the seams with great functionalities that enable gamblers to tailor the gameplay to their individual preferences and closely monitor their betting sessions.
One feature you can find in all online casino games without exception is the statistics panel. As the name indicates, it displays detailed information about the results of past game rounds, showing players prior winning outcomes. The question we shall tackle in today's article is do statistics panels offer any value to players and if not, what are the reasons for their uselessness?
Statistic Panels in Different Casino Games
Statistics panels and result billboards are built into the interface of online casino games, showing players the previous outcomes for a given virtual table. There is usually the option to deactivate and hide the panel if you find it distracting. The information displayed inside is game-specific as you shall see shortly.
Statistics panels are not to be mistaken for the game history feature incorporated in most online casino games. Unlike statistics panels, game history is available only when you play for real money and is absent from the games' demo versions. It shows your session results in terms of profits, losses, and the overall amount wagered.
Online Roulette Statistics Panels and Billboards
1

Overview

Online roulette players have access to tons of information, including wheel stats, past results, bar charts with outcome distribution, hot and cold numbers, and how many times they have hit.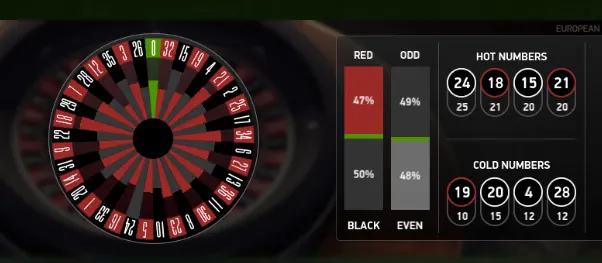 2

Results Billboard

The Results Billboard section typically shows you the winning numbers for the past 10 to 15 rounds.
3

Hot Numbers

The Hot Numbers section contains information about the four most commonly drawn numbers over the past five hundred rounds. The row below displays how many times each hot number was spun, respectively.
4

Cold Numbers

The Cold Numbers section displays the four least frequently drawn numbers over the past five hundred rounds. The second row indicates the number of times each cold number has hit within the past five hundred rounds.
5

Wheel Statistics

The Wheel Statistics section gives players information about the distribution of the numbers that were drawn over the course of the past five hundred rounds.
6

Bar Chart

The Bar Chart section contains information about even-money wagers like red/black and odd/even. It shows you the percentage of spins that have produced these outcomes. The green section of the bar chart represents the results for the single-zero or double-zero.
Online Baccarat Statistics and Roadmaps
Statistics panels for online baccarat games display the number of Ties and the hand totals for the Player and the Banker sides in the last eight to ten rounds of play. Variants of the game that support side bets also show how many Player and Banker pairs have been dealt in past rounds.
Baccarat variations developed by some software studios like Red Tiger feature additional roadmaps (also known as scoreboards) that provide graphical representations of the Player/Banker outcomes for the previous rounds.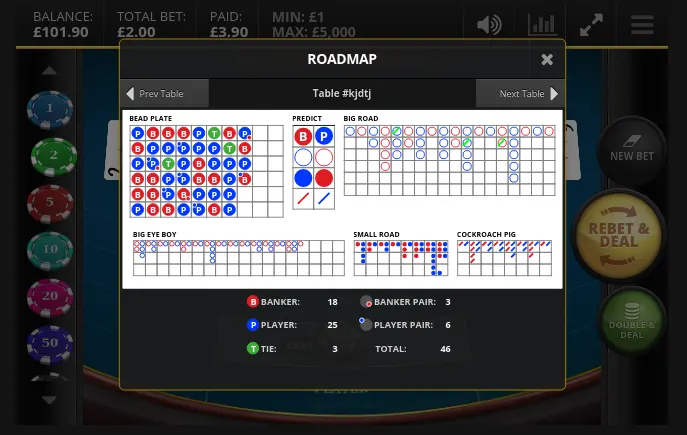 The purpose of said roadmaps is to help players easily identify trends and potentially use them to predict future results. The most common types of roadmaps you will find in online baccarat include:
Statistics on Dealer Totals in Online Blackjack
While they are not as superstitious as baccarat players, some blackjack fans favor online variations of 21 that give them access to dealer-related statistics.
Certain online versions of the game feature stats on the totals the virtual dealer has obtained in the previous rounds. Information on the dealer's bust and blackjack rates is also available in some cases.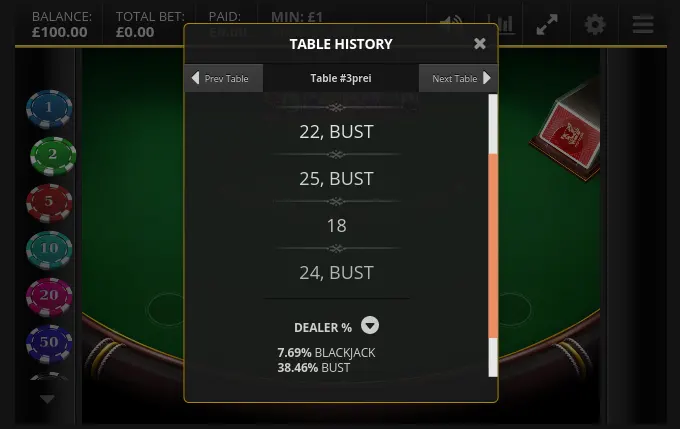 Online Craps Statistics
Craps is rarely on offer at online casinos because it does not translate all that well to the virtual format. The classic dice game recently made its way to live dealer casinos powered by Evolution Gaming, whose version allows players to take advantage of the so-called dynamic statistics feature.
Statistic panels hang on the studio walls behind the craps dealer, keeping you up to date with the bets fellow players are placing in real time. Additionally, the live craps interface features a roll history in the lower left section of the screen where you can see what numbers have come up in prior rounds.
Statistics Panels Are Useless in Casino Gaming, Here Is Why
Many online casino players gravitate toward games that share their recent winning outcomes because they believe this information can help them make better-informed decisions about future results.
Some would go as far as sizing their wagers based on previous results of dice rolls or roulette spins. This approach is beyond faulty and only ends up costing players more money over the long haul.
Independent Trials in Roulette and Craps
The Odds Reset after Each Round in Roulette and Craps
Gambler's Fallacy
Past Dealer Totals Are Irrelevant in RNG Blackjack
Roadmaps Are a Waste of Time
How to Effectively Improve Your Winning Chances
By now it is hopefully clear that statistics panels in online casino games are in no way beneficial to players since they do not influence the odds in any way.
This is not to say online gamblers cannot improve their winning chances, however. Here are some viable ideas to effectively boost your odds in each of the games we discussed so far.
Steps to Effectively Boost Your Odds
1

Bet on Banker and Player in Baccarat

Bet on Banker and Player in baccarat as they yield the lowest house edges in this card game. The casino advantage with these bets is 1.06% and 1.24%, respectively. Avoid betting on ties as they carry a house edge of over 14%.
2

Take Free Odds

Take free odds on Pass, Don't Pass, Come, and Don't Come bets in craps. These are some of the very few statistically fair wagers you can find in online casinos.
3

Always Stick to Basic Strategy

Always stick to basic strategy when you play online blackjack to improve your winning chances on good hands and minimize the damage to your bankroll from bad hands. Free strategy charts are broadly available on the internet, not to mention the software in some online blackjack variants can give you hints on the correct plays. An example is Classic Blackjack by Red Tiger.
4

Go For Single-Zero Roulette Variations

Go for single-zero roulette variations with the La Partage rule in place. It decreases the house edge on even-money propositions like red/black, high/low, and odd/even from 2.70% to 1.35%.