The global social gambling market witnessed tremendous growth over the past decade, with gross gaming revenue of $6.2 billion for 2020. Projections foresee this figure would increase even further in the following years.
This form of gaming is steadily gaining traction as it provides a social and highly enjoyable experience while eliminating many of the risks associated with conventional online casinos. Some people choose social over real-money online gambling because it stimulates them mentally and helps them destress without the possibility of suffering huge losses.
Today we shall examine the differences between these two forms of gambling and tackle the reasons for their popularity. Hopefully by the end of this article, you will be able to decide which type of online casino is the best fit for you.
How Social Casinos Work
The term 'social gaming' typically refers to online games that enable players to socially interact with each other. The category comprises multiplayer board games, card games, interactive video games, and of course, casino games. Players can usually access them directly in a browser or via downloadable mobile applications.
Another option is to launch them on social network platforms like Facebook. Either way, getting started with social casinos is beyond simple. Here are the steps we went through to launch the popular social gambling app Slotomania developed by Playtika.
How to Play Slotomania?
1
We navigated to the Google Play Store but there is also an iOS-compatible version you can download from Apple's App Store.
2
Then we typed "social casino" in the search bar and Slotomania was among the first results we came across.
3
After we installed and launched Slotomania, the app prompted us to sign in with Facebook but playing as a guest is also possible.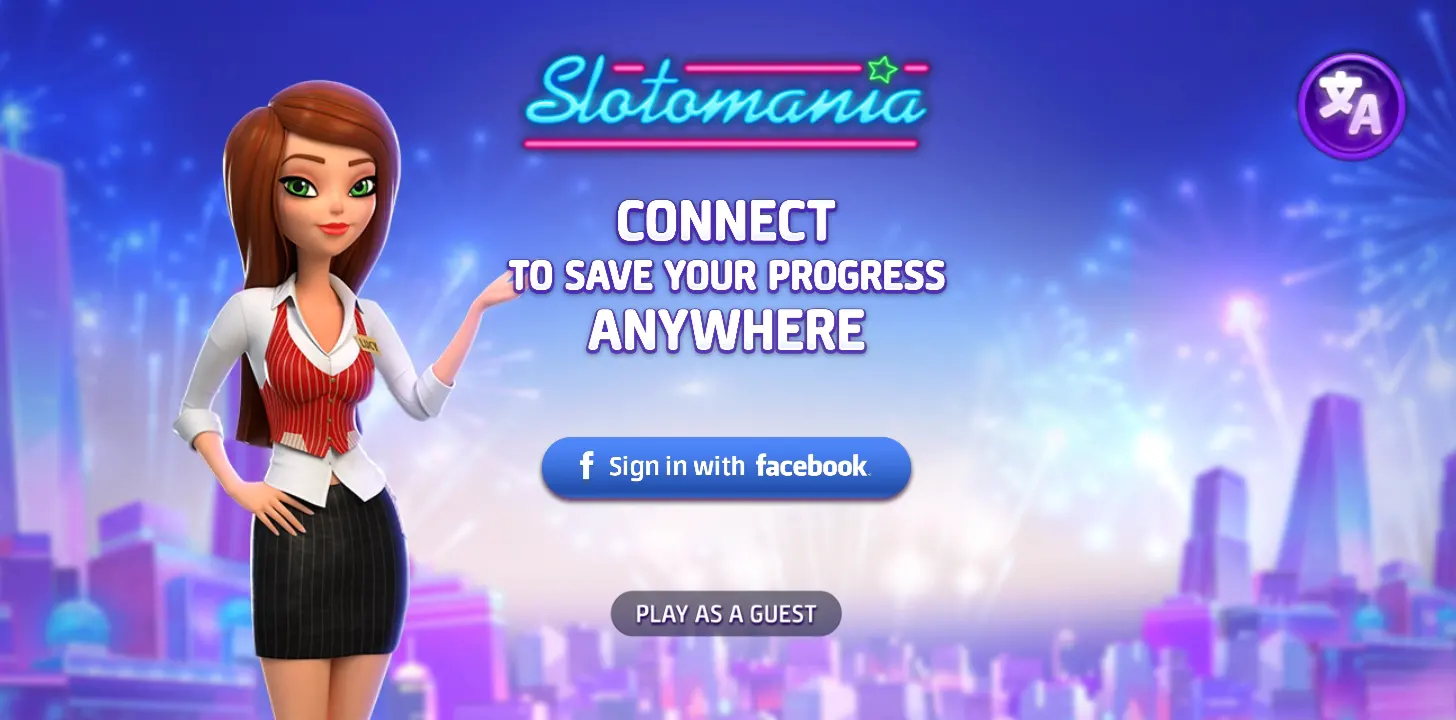 4
If you connect the app to Facebook, you can share your results with friends, invite them to join the gameplay, or send them gifts. You also receive gifts for each friend you invite to Slotomania.
5
Then we claimed the daily bonus which consisted of the app's hard currency, free coins to play with. There is no need to deposit real money at social casinos like Slotomania.
You play with virtual coins and your winnings or losses immediately reflect in your balance. Players can also collect the app's soft currency in the form of gems they can use to unlock various exclusive features.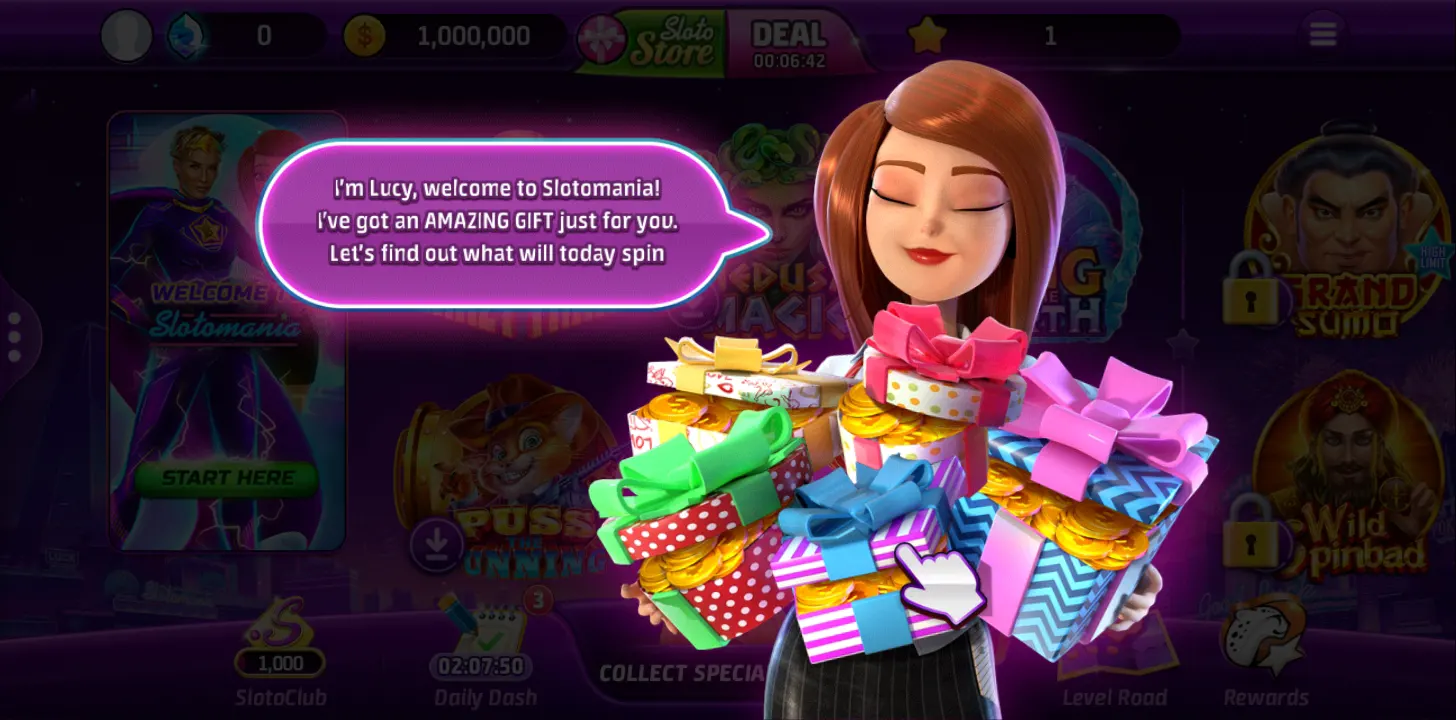 6
Finally, we navigated to the main lobby where we picked the Crazy Train slot. As you can see, it plays exactly like a regular slot at a real-money online casino, the only difference being you cannot withdraw any winnings from your balance.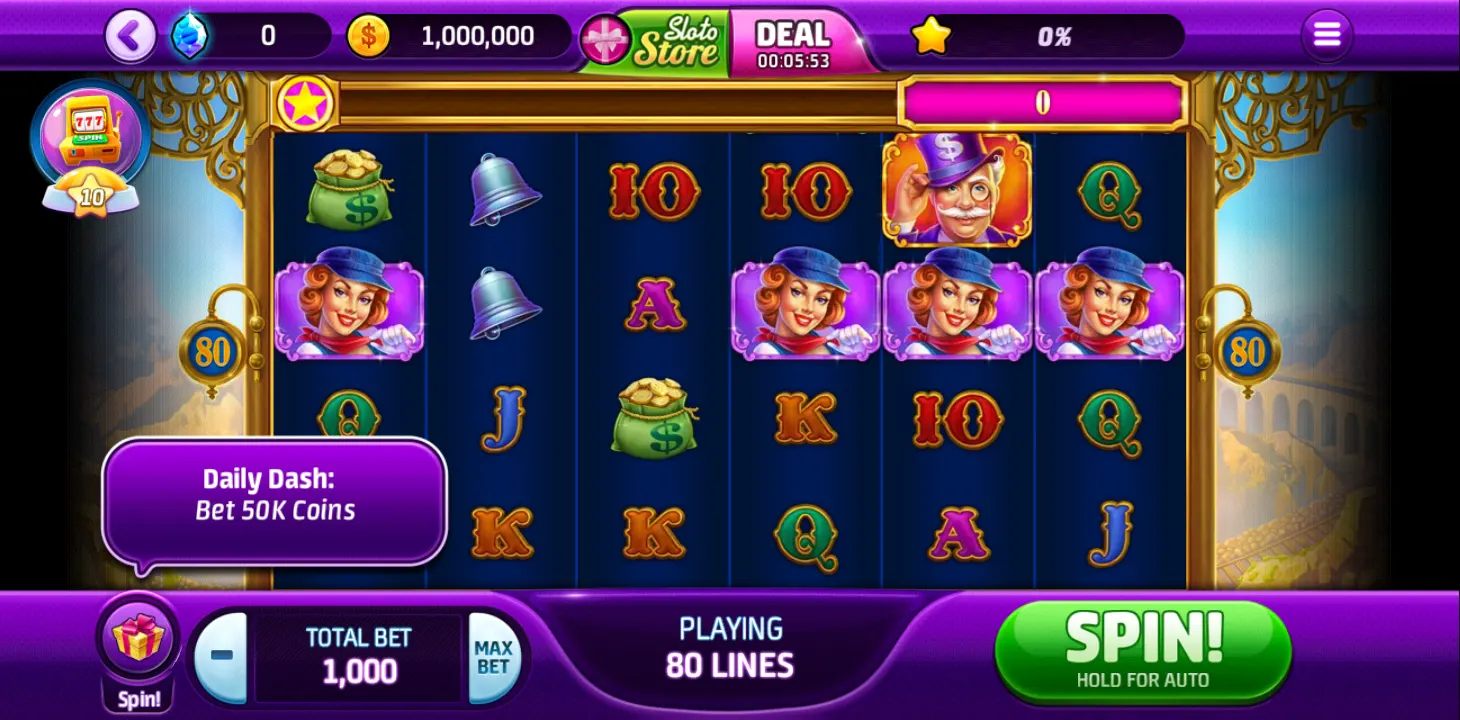 7
Slotomania obviously features slots only but other social gambling apps offer more casino games, including blackjack, baccarat, roulette, and video poker.
For clarification, you can spend real money at social casinos like Slotomania when making various in-app purchases. If you wish, you can purchase more credits to play with, buy gifts for your friends, or spend money on upgrades. With that said, you will never get anything of tangible value at social casinos.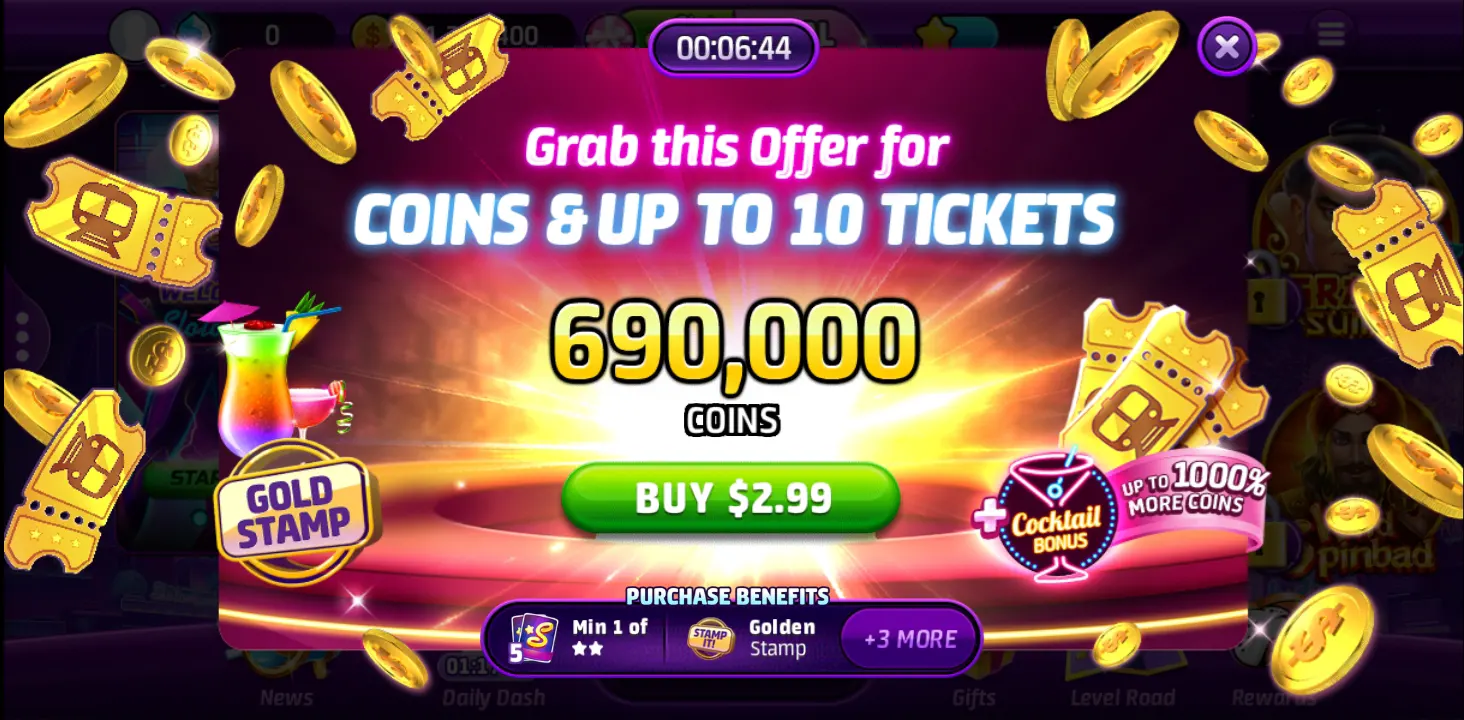 Forms of Social Interaction at Social Casinos
As you can see, most social casino games involve greater player interaction which is not always the case with their real-money counterparts, live dealer tables being the only exception. Said player interaction comes in various forms, including the following:
1
Multiple players can engage in the same casino game.
2
Participants can share their results with their followers or friends.
3
Players can invite others to join the gaming action.
4
Participants can send gifts and credits to fellow players.
5
Players can post in-game badges and achievements to their profiles.
How Social Casino Game Publishers Generate Revenue
Social casino games are free to install and play, which raises the question of how their publishers generate profits. As far as real-money casino games are concerned, gambling operators hold a statistical advantage over players that ensures they always collect a given percentage from the overall amount of money wagered. This is not the case with social casino games whose publishers usually maintain profitability in the following ways.
In-App Purchases (IAP)
In-Game Advertising
Product Placement
White Label Solutions
Popular Social Gambling Platforms
Players looking to enjoy some quality social casino gaming can hardly complain of lacking enough options. Hundreds of social casino games are available for desktop and mobile play, including slots, video poker, and table classics like roulette and blackjack.
Let's have a look at the most popular platforms for social gambling where you can play with virtual credits rather than risk real money.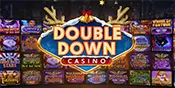 DoubleDown Casino Vegas Slots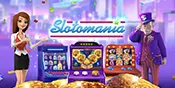 Slotomania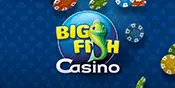 Big Fish Casino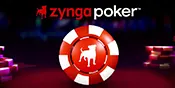 Zynga Poker Texas Hold'em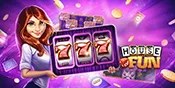 House of Fun
Social vs. Real-Money Casinos – the Pros and Cons of Both
Both social and real-money casinos have their fair share of pros and cons. You should carefully weigh out the advantages and disadvantages to determine which form of gambling is the better fit for you. Let's start with social casinos.
The Pros and Cons of Social Casinos
Social casinos allow you to engage in gambling without incurring any monetary risk. They give you the opportunity to master different casino games, learn their rules, and practice before you start playing for real money. Socialization is the main drawing attraction here as you get to compete against your friends, send them gifts, and share your achievements with them. Despite their benefits, social casino games have their fair share of disadvantages. You should carefully consider all drawbacks before you jump on the bandwagon and join the social gaming craze that has taken hold of the internet.
The Pros of Social Casinos
The Cons of Social Casinos
The Social Element Is a Great Plus
Players are part of a larger community and enjoy higher levels of interaction
with each other. It is difficult, if not impossible, for real-money casinos to replicate this sense of community as you mostly play against random number generators and cannot interact with fellow gamblers. At social casinos, your friends can cheer you on when you are winning or sympathize with you during losing streaks. You can compete against them, exchange gifts, compare results, and brag about your achievements.
It Is Impossible to Win Real Money
Unlike conventional online gambling sites, social casinos completely deprive players of the opportunity to win cash prizes.
You can never withdraw anything from your balance no matter how many credits you have raked in
while playing social games. This can be particularly disappointing if you land a huge progressive jackpot. The best you can do is use the credits to play some more.
There Is No Risk of Losing Real Money
With social casinos, there is no risk of losing real money unless you overspend on in-app purchases. Spending real cash is not a prerequisite to play, though. This is not the case with real-money casino games where you are bound to suffer losses in the long run due to the mathematical advantage the house holds against players.
Risk of Overspending on In-App Purchases
While free to play, social casino games still carry some risk of overspending. Players have the option to spend real cash on coin refills rather than waiting for a specific period of time to have their in-game credits replenished.
Refilling with real money spares them the frustration of waiting and often facilitates steadier and faster progress through the levels. Furthermore, the difficulty of earning sufficient credits to continue playing and level up increases with time. Some players cannot resist the temptation and purchase more coins instead.
No Need to Worry about the Legalities
Unlike real-money gambling, social casinos are not so heavily regulated and are largely legal in most territories and jurisdictions. Players from all around the world can enjoy some quality casino gaming even if they live in countries where online gambling is otherwise illegal or subject to heavy regulatory restrictions.
Social Casinos as a Gateway to Real Gambling
Some researchers suggest social casino games can act as a gateway to real-money gambling. British psychologist Dr. Jonathan Parke and his team were the first to establish a potential connection between social and real-money gambling in a 2013 study commissioned by the UKGC.
According to the study, more than half of gamblers who sought treatment (58.3%) reported they first came into contact with gambling by playing social casino games. Another study from 2014 led by the Australian scholar Dr. Sally Gainsbury recorded similar findings. The study established social casino players are more likely to participate in real-money gambling and to do so problematically.
The Pros and Cons of Real-Money Casinos
The US consulting company Grand View Research reported the value of the global interactive gambling market stood at $57.54 billion in 2021 and projected further growth of 11.7% by 2030. The increase in internet penetration and mobile device usage are the main drivers of this growth.
Online casinos are now more popular and widespread than ever, with real-money gamblers having a broad choice of options at their disposal. Let's move on to conventional gambling sites and see how they compare to social casinos in terms of advantages and disadvantages.
The Pros of Real-Money Online Casinos
The Cons of Real-Money Online Casinos
Online casinos have entirely transformed the way people gamble these days, offering greater flexibility, diversity, and convenience to players worldwide. Undoubtedly the biggest perk here is that you get to cash out your winnings if you experience an unexpected windfall.
One obvious drawback of gambling for real money is that you run the risk of sustaining substantial losses if you are not careful. Real-money players can mitigate this risk by setting up individual deposit, wagering, and session duration limits on their accounts. All licensed and regulated gambling operators offer this feature as part of their responsible gambling policies.
Players Can Win Actual Cash
The biggest difference between social and real-money casinos is that the latter provide players with the opportunity to win real cash and withdraw it from their balance. Furthermore, licensed gambling sites tend to facilitate secure, simple, and speedy withdrawals, with winners typically receiving their money within several business days.
No Community Vibe
Playing at online casinos is often a solitary experience, especially if you engage in randomly generated games where you cannot interact with fellow gamblers in any way. Sharing your achievements and results is impossible and so is competing against friends. In most casino games, you play against the house rather than other gamblers.
Richer Gaming Libraries
Most real-money casinos outperform their social counterparts by a large margin where diversity is concerned. The best gambling sites feature thousands of enticing slots, table games, and live dealer options, catering to a broad audience of players.
This is rarely the case at social casinos where users usually face a couple of hundred slots at best and a limited selection of card games. Playing against live dealers is out of the question on social gaming platforms to the detriment of people who seek a more authentic experience.
Some Jurisdictions Restrict or Prohibit Online Gambling
Unlike social gaming which is subject to very few restrictions, online gambling is heavily regulated or altogether prohibited in some countries. Since real money is involved, strict regulations are in place to minimize gambling-related harm and prevent illegal activities like money laundering or terrorist financing.
Demo Versions Are Available for Free
The overwhelming majority of online casinos give you the option to first test the waters by playing the demo versions of the games with virtual credits instead of real money. If you deplete your virtual balance, you simply reload the game and you are good to go. There is no need to pay for instant refills as is the case with social casinos.
You May Run into Rogue Operators
Players based in jurisdictions that fully outlaw online gambling often resort to using the services of offshore operators licensed in countries with lenient or non-existing regulations. Such people risk running into various issues, including delayed or denied withdrawals, voided bonuses, biased games, and a lack of a secure gaming environment.
So Which Should You Choose?
So should you choose social casinos or should you go for real-money gambling? It is up to you to answer this question as it ultimately depends on what type of person you are. Social gaming is great for players with low risk tolerance who want to socialize and have some fun without spending any money in the process.
On the other hand, if you are looking to win some cash and have the guts (and the budget) to stomach the potential losses, perhaps you should consider giving real-money online casinos a try. Just make sure you choose a reliable operator you can trust with your money and sensitive information.