Online casinos boast dozens of enticing blackjack variations but not all of them are created equal. Some offer less favorable playing conditions than others, significantly reducing players' winning odds in the long run. Their poor rules go hand in hand with higher house edges that can and will drain your blackjack bankroll the longer you play.
Where gambling is concerned, there is one rule of thumb. It stipulates that the greater the house edge is, the more money players stand to lose, and conversely, the more casinos will profit from them.
In the following article, we are going to share with you some of the worst blackjack games you can find at online casinos. You might want to avoid them if you wish to improve your winning chances and lose less over the long run.
Blackjack Rule Variations Players Should Generally Avoid
Blackjack is easily the best game you can play at online casinos because it yields an almost negligible house advantage of approximately half a percent. It is worthwhile noting this percentage can go up depending on one's skill level.
Players who follow their gut instincts rather than using blackjack basic strategy typically face a higher house edge of around 2%, sometimes even more. Basic strategy reduces your disadvantage because it tells you when it is optimal to hit, stand, double down, or split.
If you find it difficult to memorize all correct plays, you can always print out a strategy chart to consult with during your online blackjack sessions. Rookie players will find one such chart in SuperCasinoSites' thorough article on
blackjack strategies
.
Assuming you have already mastered basic strategy, the first thing you should do before you start playing online blackjack for real money is to check the ruleset. This is because rule variations in blackjack have an impact on players' overall expected return in the long term.
Some rules will improve your expected value, while others work in favor of the casino. Below, we list some of the most common rules that boost the statistical advantage of the house and reduce the long-term profitability of basic strategy players. The percentages denote the corresponding increase in house edges.
+0.09% if doubling down is restricted only to hard totals of 9, 10, and 11.
+0.18% if doubling down is possible only on hard totals of 10 and 11.
+0.11 if no hole cards are in play for the dealer. This is often the case in variations that abide by the European set of rules.
+0.10% when hole cards are in play but the dealer never peeks to check for potential blackjacks when showing a ten. This rule is detrimental because players can potentially lose all their wagers, including those from double downs and splits if the dealer ends up having a blackjack.
+0.10% when resplitting is disallowed.
+0.14% when doubling down on split hands is prohibited.
+0.18% if splitting aces is prohibited.
+1.39% if blackjacks pay at reduced odds of 6 to 5.
+2.27% if blackjacks pay even money (1 to 1).
+0.22% when the dealer must draw on soft totals of 17.
+6.91% when the dealer pushes with the player on totals of 22 instead of busting.
Now that you know which rule variations are generally detrimental, let's examine four of the worst blackjack variants that we found at online casinos. All of them produce house edges in excess of half a percent and offer poor rules that decrease players' long-term theoretical returns. These are going to cost you far more money than blackjack games with friendlier rules.
Despite their poorer odds, these blackjack variants still offer better chances of winning compared to other casino games like roulette, online slots, and live game shows.
Free Bet Blackjack by Evolution Gaming - the Worst of the Bunch
This blackjack variation first debuted in Las Vegas casinos a decade or so ago. It also became available at many live dealer casinos after Evolution Gaming adapted it for online play in 2019.
The main peculiarity of this variant is that it enables players to double down or split their hands at no cost. Sounds great, right? Well, we hate to break it to you but there is a catch and it nearly triples the house advantage.
The main pitfall of playing Free Bet Blackjack is that if the dealer draws to 22, they push with the player instead of busting. This is basically the same as someone advertising free burger patties while requiring customers to pay thrice than normal for the bread bun.
Rules of Play in Free Bet Blackjack
Expected Return in Free Bet Blackjack
Double Exposure
1

Overview

Double Exposure is a unique blackjack variation, also known as Face Up 21 or Dealer Disclosure. The variant is available at multiple landbased casinos across gambling hubs like Reno, Atlantic City, and Las Vegas. It has also made it to the virtual realm thanks to software suppliers like Play'n GO and Pragmatic which have adapted the game for online play.
2

Both Dealer Cards Are Exposed but at What Cost?

As the name suggests, both cards of the dealer are dealt face up for players to see before they make any playing decisions. While this sounds amazing, other changes were made to offset the massive advantage this information gives to players. Truth be told, Double Exposure is an amalgamation of some of the worst rules one can possibly find in blackjack.
3

The Dealer Takes All Ties Bar Tied Blackjacks

To begin with, the dealer wins all ties which significantly tips the scales in favor of the house. The only exception to this rule is when both the dealer and the player obtain blackjacks, in which case the player's natural wins.
4

Blackjacks Pay Even Money

What makes things worse, however, is that blackjacks pay at reduced odds of 1 to 1 rather than at the standard ratio of 3 to 2. Most of the other rules also work to the disadvantage of players. Play'n GO's version, in particular, offers the following playing conditions. You will find many of the detrimental rules we discussed earlier on this list.
Six decks are reshuffled after every round.
The dealer must stand on all totals of 17.
Players cannot resplit.
Split aces receive only one additional card.
Doubling down is possible only on hard totals of 9, 10, and 11.
Players cannot double down after splitting.
Two-card totals of 21 after splitting count as regular 21 rather than blackjacks.
Players cannot buy insurance for obvious reasons.
5

Pragmatic Play's Version Is Worse

As difficult as it is to believe, some online variations of Double Exposure offer even poorer rules than those described above. Such is the case in Pragmatic Play's version of the game where you can play up to three betting spots simultaneously. The expected return to player is even lower as you shall see shortly.
Pragmatic's version uses 5 standard decks.
The dealer must draw to soft 17.
Surrendering, resplitting, and hitting split aces are disallowed.
Players cannot split unlike ten-value cards, eg. K/J, 10/Q, J/Q.
Doubling down is allowed only on 9, 10, and 11, including on soft totals.
Players can double down after splitting pairs.
All of the other rules coincide with those in the Play'n GO version, which is to say the dealer wins all ties bar tied blackjacks and naturals pay at lower odds of 1 to 1. The only favorable rule featured in this version is that players are allowed to double down after splits.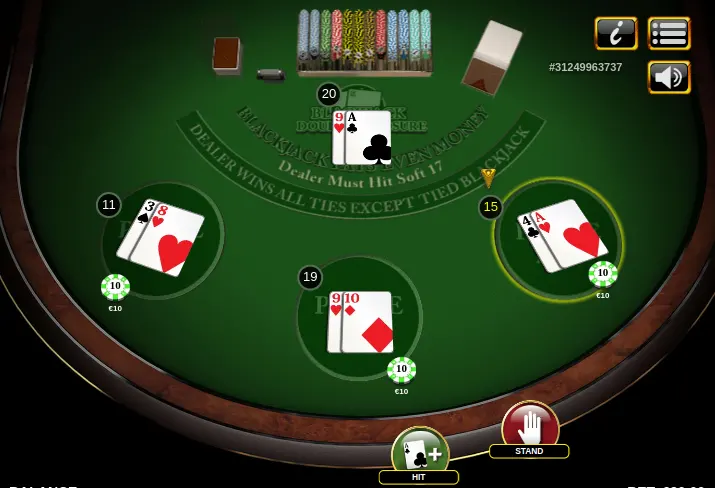 6

BGaming's Version Has the Best Odds

Younger software studio BGaming also released a version of Double Exposure in early 2018 and surprisingly, it comes with the lowest house edge out of all variations we have so far discussed. The majority of the rules coincide with those in the Play'n GO version, the only difference being here you have eight full decks in play rather than six.
7

Expected Return in Double Exposure

The expected return of Double Exposure is subpar compared to that in standard blackjack where you get to see only one of the dealer's cards. The dealer taking ties and the even-money payouts on blackjacks, combined with the rigid doubling and splitting rules, boost the house edge to nearly one percent in Play'n GO's variation.
Theoretical Return and House Edges in Double Exposure
Software Supplier
Theoretical Return
House Edge
BGaming
99.30%
0.70%
Play'n GO
99.04%
0.96%
Pragmatic Play
98.80%
1.20%
If you do insist on playing Double Exposure, we recommend you go for the variation developed by BGaming as it carries the lowest house edge (0.70%) out of the three. This will cost you less money as you will lose ¢0.70 per every hundred dollars wagered on average.
Pragmatic Play has released the most expensive version thus far as players can anticipate long-term theoretical losses of $1.20 per every hundred dollars they risk on average. Play'n GO's version is slightly better as you will lose a little less than a dollar per every hundred dollars wagered.
It is worth stressing that the return percentages listed above are only accurate if you play with perfect basic strategy for Double Exposure. With that said, the strategy is vastly different from that for conventional blackjack where the player's decisions are based only on their card total and the value of the dealer's exposed card.
Super Fun 21
Multiple software suppliers have released variations of this intriguing game over the years, including major names like Playtech, Microgaming, RTG, and OpenBet. One of the latest versions, Super Fun 21 Extreme, comes from Scientific Games.
Despite its attractive name, Super Fun 21 is not the best blackjack variation you can pick where winning odds are concerned. The game is deceptive as it offers many liberal and player-friendly rules but their merits are altogether offset by the reduced payouts on blackjacks.
Super Fun 21 Extreme by Scientific Games
Expected Return in Super Fun 21
Zappit Blackjack - Brought to You by the Creator of Blackjack Switch
1

Overview

Fans of extraordinary blackjack variations are perhaps familiar with the name Geoff Hall. Arguably the most popular game inventor in the gambling industry, Hall came up with a unique variant of 21, known as Zappit Blackjack, which he then sold to Scientific Games.
2

Players Can Swap Hard 15 through Hard 18

Zappit Blackjack's biggest claim to fame is that it enables players to swap their initial two cards for new ones if their original total is hard 15 through 18. "Where's the catch?" you wonder. Well, the house pushes with all unbusted player hands bar blackjacks when the dealer obtains a total of 22. The following rules are also in place:
The variation plays with 6 standard packs of cards.
The dealer hits soft 17 and pushes on 22.
Blackjacks pay at standard house odds of 3 to 2.
Doubling down is available on all two-card totals.
Players can split only once to form two hands.
Hitting split aces is against the rules.
Players cannot zap hard 15 to hard 18 if they have taken any previous action on the hand.
Players can zap before the dealer checks for a blackjack.
If the player obtains a blackjack as a result of zapping, the payout will be even money rather than 3 to 2.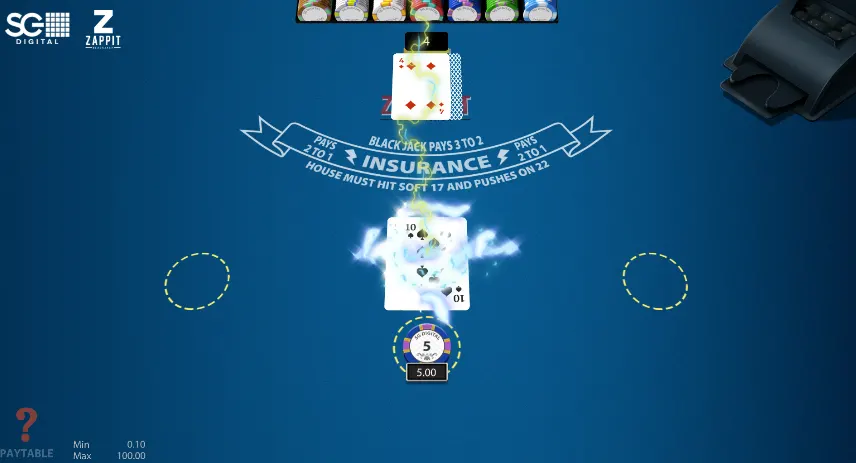 3

Expected Return in Zappit Blackjack

Zappit Blackjack is not as bad as some of the variants we discussed earlier, although it still carries a house edge of over one percent due to the "Dealer push on 22" rule. The casino's long-term advantage in this game amounts to 1.13%. Players can anticipate a theoretical return of 98.87% over the long haul.

With a house edge this high, Zappit Blackjack is not your best bet, although it still offers better winning chances compared to other table games like roulette. Nonetheless, the ability to swap your initial cards when holding certain hard totals comes at far too great a cost. As intriguing as it is, your wallet will not like this blackjack variation.

Hall invented a similar game called Blackjack Switch which you can find at some Playtech online casinos. Here you play two hands per round concurrently, with the option to swap the top cards between the two and potentially improve your totals. We recommend Blackjack Switch over Zappit Blackjack as the former has a very low house edge (0.15%) with perfect strategy.