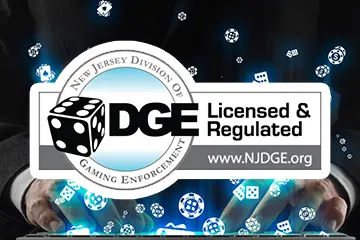 Yesterday, New Jersey's Attorney General Matthew J. Platkin and Division of Gaming Enforcement (DGE) Director David Rebuck announced the launch of two new tools in a bid to curb problem gambling – a dedicated hotline and a virtual option to self-exclude from gaming activities. The new responsible gambling tools come just in time when the National Basketball Association (NBA) and National Hockey League (NHL) finals are in full swing, and betting activity is at its peak.
Players who experience trouble controlling their gambling sessions can now contact the Division of Gaming Enforcement via the toll-free phone number 1-833-788-4DGE and exclude themselves from gambling activities with just one phone call.
Gambles can also set up an in-person appointment with a trained DGE employee, who will give them tips on how to stop gambling. It is also possible to contact one of DGE's personnel via a video conference. The in-person and virtual meetings allow gamblers to exclude themselves from online and in-person gambling.
Casino fans who want to exclude themselves from gambling activities can do so through an online platform available on the DGE website after verifying their identity. New Jersey residents who want to self-exclude from land-based casinos should set up an in-person meeting.
Attorney General Platkin said that his efforts are aimed at making the state a benchmark for responsible gambling. He added that the new tools demonstrate the DGE's commitment to facilitating the process of self-exclusion. David Rebuck, Division of Gaming Enforcement Director, hopes the new tools to reduce the number of people with gambling problems.
DGE is now working on updating its Responsible Gaming landing page, which will provide information regarding the self-exclusion process, the division's best practices, responsible gaming regulations, and annual reports examining the impact of online gambling and analyzing play patterns.
Division of Gaming Enforcement Has Already Implemented Proactive Measures to Combat Problem Gambling
In early 2023, Attorney General Platkin and DGE announced the launch of the Responsible Gaming Initiative. The DGE has already introduced new advertising standards for operators, under which all gambling commercials must display New Jersey's gambler hotline and must not target individuals below the legal gambling age of 21.
Moreover, gambling operators must analyze player data to identify problem gambling signs. Casino fans who demonstrate risky behavior will receive an automated call or email. Gamblers who continue showing signs of potential gambling disorder will be forced to watch a responsible gambling video. Operators are allowed to reach out directly to problem gamblers to address the issues.
In May this year, the DGE appointed Deputy Attorney General Jamie McKelvey as its first Responsible Gaming Coordinator. McKelvey is tasked with overseeing the DGE licensees and ensuring that they abide by state laws. Besides, she will work closely with various problem gambling organizations to establish the best practices for prevention, education, and awareness.