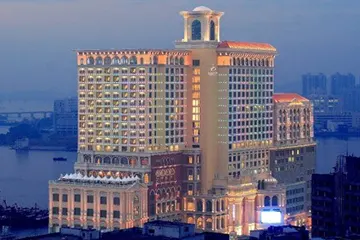 Success Universe, the operator of the Ponte 16 casino resort in Macau, has announced that it plans a massive expansion, which also includes the revitalization of the floating casino Macau Palace. The deputy chairman of Success Universe Group, Hoffman Ma, has revealed in front of media agencies that the massive expansion will cost the company over HKD100 million ($12.8 million). As part of the third phase of the expansion project, the company is to bring the floating casino in Macau to life.
Discussions regarding the massive casino expansion are still underway. Ma said that the company is to discuss financing with banks during the group's annual general meeting. Success Universe Group owns 49% interest in the property development company Pier 16, while the other 51% is held by the owner of Macau Palace – SJM Holdings.
In 2022, SJM explained that it would partner with industry professionals to renovate its floating casino. The floating casino operated between 1995 and 2007, when it was moved to No.14 Pier at the Inner Harbor area close to Fai Chi Kei. According to the company's plans, the former floating casino will host dining and retail offerings and a gaming culture museum. The company has announced that Casino Macau Palace will no longer function as a gambling venue.
Macau Maintains Its Gaming Recovery from the Covid-19 Slump
Analyzing the current situation, Macau is off to a great start this year in terms of reaching the government gross gaming revenue (GGR) target of MOP130 billion ($16.2 billion). According to Hoffman Ma, the city has already achieved half of the target in the period from January to May, and the number of tourists is almost back to 2019 levels. Ma added that there is good news on the labor front as well because the influx of non-resident workers eases the labor shortage.
If the situation stays this way, Ma expects a 10% quarterly increase in gross gaming revenue in the second quarter, which ends on June 30th. Macau's casino GGR for the first five months of the year was MOP65 billion ($8.06 billion), which is an increase of 173% from the same period last year. The GGR for the first four months of 2023 has already exceeded last year's aggregate GGR.
Ma revealed that Ponte 16's hotel occupancy rate and average price have bounced back to 85% of what they were in 2019. In 2022, Success Universe, which is a company listed on the Hong Kong stock exchange, reported a loss of HK$287.1 million ($36.6 million) due to a fair value loss of overseas listed securities as well as losses at the Ponte 16 integrated resort in Macau. Ma also announced that Ponte 16 does not plan to proceed with its VIP operations for now.