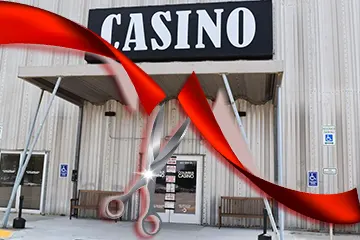 The temporary Harrah's Casino officially opened its doors yesterday at 9 am as scheduled. The gambling venue is located inside the Platte County Agricultural Park, commonly called "Ag Park", and accepts visitors every day from 9 am to 1 am, including weekends and holidays. The temporary gambling establishment will operate until the opening of Caesars Entertainment's permanent $75-million casino resort, located northwest of the city along Highway 81.
Harrah's Casino is the third temporary gambling venue in Nebraska. Players who visit Caesar Entertainment's temporary gambling establishment will find 250 slots and electronic table games. The gambling venue allows its visitors to wager on simulcast pari-mutuel horse racing, too. However, the permanent gambling venue does not offer live dealer games.
In May this year, the Nebraska Racing and Gaming Commission approved Caesars Entertainment for a casino license. The casino operator also received a permit to establish a temporary casino at the Platte County Agricultural Park in Columbus, which will operate while construction work on the permanent Harrah's Casino is underway.
Caesar Entertainment's permanent gambling venue is being built northwest of the downtown area. The casino resort will occupy 40,000 square feet and offer something for everyone. Casino fans can enjoy a luxurious gaming area with approximately 500 slot machines and 14 table games. The casino project also includes an on-site hotel managed by Marriott International and a 1-mile racetrack. If everything goes as planned, Caesar Entertainment's permanent casino will open next spring.
On Saturday, Caesars Entertainment Regional President Todd Connelly told journalists from Columbus Telegram that the temporary casino project took them some time, but the result is worth all the efforts, and thanked the construction teams for their dedication.
What about the Other Two Temporary Casinos in Nebraska?
Nebraska has two other non-permanent casinos – WarHorse Lincoln and Grand Island Casino Resort. This March, the two gambling venues generated a combined revenue of $1.55 million. As of April 30, WarHorse Lincoln, which opened in late September last year, had generated nearly $6.2 million for the state. The Grand Island Casino Resort opened in late December and produced nearly $2.2 million in tax revenues.
Grand Island's temporary gambling establishment at Fonner Park is to expand its operations, while its permanent casino is slated to open by 2025. WarHorse Casino's permanent gambling venue in southwest Lincoln is expected to start operating on September 23. Initially, the permanent gambling venue was planned to open on September 19, but members of the Nebraska Racing and Gaming Commission were concerned about granting the state's first permanent casino license over a Zoom meeting and moved the commission's regular monthly meeting on September 23.