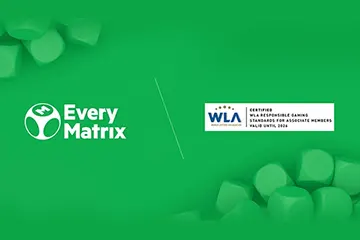 EveryMatrix has become the first B2B iGaming software provider to gain the seal of approval of the World Lottery Association (WLA). The distinguished certificate serves to acknowledge the company's unwavering dedication to upholding the highest safe gambling standards within the industry.
The certification is a major recognition for the leading brand, which is trusted by the industry's leading casino, sports betting, and payment providers. EveryMatrix has a customer network of more than 300 companies, including ones participating in the regulated US market.
The company's full product suite encompasses various products and solutions including a casino integration platform, sports betting solutions, a gaming management platform, a cross-product bonus system, and a jackpot management system, among others.
The World Lottery Association is a reputable global association, whose members include state-controlled lotteries, iGaming industry suppliers, and sports betting operators.
The certification is a landmark moment in the company's fast-paced development. It came as a result of a comprehensive audit of EveryMatrix operations, which evaluated its current and future safer gambling practices. Following the all-inclusive monitoring process, the WLA confirmed that EveryMatrix not only complied with the safer gambling standards but also had the resources and capacity to exceed them.
Gaining the WLA Certification is a Milestone Moment for EveryMatrix
While EveryMatrix is committed to delivering online gaming that is fun, fair, and transparent, it promotes responsible gambling behavior through a broad range of technical solutions. Being aware of gambling's potentially adverse consequences, the company has invested in various responsible gambling tools that have proven their effectiveness.
Melissa Azam, Corporate Social Responsibility Senior Manager at WLA did not hide her excitement of awarding EveryMatrix the significant recognition. She further added that safer gambling practices were at the heart of the company's and its customers' operations.
Naomi Koops, Senior Lawyer and Compliance Specialist at EveryMatrix was equally thrilled by the certification, which, as she said,
"extends beyond EveryMatrix's lottery partners and includes all of its customers".
Ebbe Groes, Founder and Group CEO of EveryMatrix, expressed his contentment with the recognition from an organization that is regarded as a pioneer in safer gambling. He confirmed his willingness to support the common objectives, which EveryMatrix and the WLA share.
Since players' safety is of utmost importance for both the company and its partners, EveryMatrix continually strives to ensure iGaming enthusiasts are properly protected and well-informed of the potential risks of gambling. They have at their disposal all the necessary tools to reduce these hazards to a minimum.
According to Groes, safe and responsible gambling practices not only safeguard players but also contribute to the industry's growth and progress. He concluded his speech by expressing his hopes that more companies would gain the highly-esteemed WLA recognition.