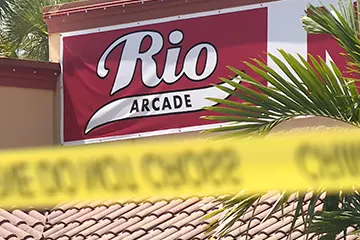 This week, a police raid at Rio Arcade in St. Lucie County, Florida resulted in the arrest of nearly 40 patrons of the illegal establishment. Three of the violators, Diane Sharpe, Nicholas Frick, and Krista Nabeack claimed they were not aware gambling is against the law and shared their detailed view of the situation.
The three of them could not hide their mutual disappointment, commenting they saw the situation as completely unfair. As Frick said, the above-mentioned casino was not the sole illegal gambling establishment within the area. Notices indicating that gambling is against the law were nowhere to be seen, just the glittering signs of the arcades.
Coming back from a trip to New Jersey, the 76-year-old Sharpe added that no one told her gambling at this arcade was illegal.
On the other hand, local officials said that gambling is only legal in certain places, approved under detailed regulations. The Florida Gaming Control Commission was established in 2022 by Governor Ron DeSantis to monitor illegal gambling establishments within the state. The arrested law offenders, in turn, said that this was not sufficiently well communicated to the public.
Officials from St. Lucie County Sheriff's Office joined in the argument noting that they have previously put efforts into educating the public about the current state of gambling regulation in Florida. Ken Mascara, St. Lucie County Sheriff, further added that the law enforcement officials have previously raided other unlawful casino establishments.
In May this year, they uncovered about 50 illegally operating land-based casinos along Route 1, US-1, Fort Pierce. Ever since, nearly half of these establishments ceased their unlawful operations. Furthermore, the Sheriff added that once these cases were fully resolved, they would proceed to close the other half.
Illegal Gambling in Florida is Classified as a Second-Degree Misdemeanor Charge
Illegal gambling in the state of Florida is categorized as a second-degree misdemeanor charge. This means that the penalties for illegal gambling in the state can reach as much as $500 in fines and up to 60 days in jail or a 6-month probation period. The said charges are specifically referred to in Florida State Statute 849.08. The statute enlists the types of unlawful games of chance including keno, roulette, and card games, among others.
Diane Sharpe, Nicholas Frick, and Krista Nabeack said that they felt utterly misled by the gambling establishment, as they had been assured it operated legally. The employees at the arcade confirmed that the establishment complies with all regulatory requirements.
Gambling in Florida is regulated at the state level. As per the current gambling laws, there are specifically designated venues that are approved by the law. Outside of these locations, it is illegal to provide gambling services or participate in gambling.