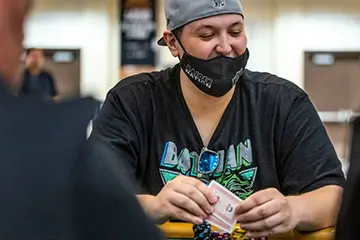 Rob Mercer from the state of California confessed to the Las Vegas Review-Journal on Tuesday, stating that he had faked a colon cancer diagnosis in order to raise funds to enter the World Series of Poker (WSOP) main event.
The amateur poker player opened a GoFundMe page in June with the aim of raising enough funds to afford the $10,000 buy-in payment for the WSOP main event. The campaign was advocated for by poker player Doug Parscal Jr., a prominent figure in the poker community, as well as Nick Vertucci, who produces the Hustler Casino Live Poker Show. Mercer saw great success, raising between $30,000 and $50,000 from supporters. The GoFundMe page earned a total of $12,025, while the rest was provided by private donations.
Although Mercer's actual circumstances have now come to light, he told the Las Vegas Review-Journal that he did not intend to personally refund donors, citing his belief that he was suffering from undiagnosed breast cancer as reasoning. He also emphasized that he felt embarrassed because of this condition and that it is why he lied about his diagnosis. Nonetheless, GoFundMe did notify donors on Wednesday that the company will issue refunds, reported the outlet.
Donors Grew Sceptical of Mercer's Claims
Rob Mercer was publicly accused of faking the terminal illness in August. Suspicions were first raised by Parscal, who got in contact with poker community figures and supporters of Mercer's campaign in order to find out more about the situation.
Among them was Nick Vertucci. Vertucci had initially heard of Mercer's situation on the social media platform X, formerly Twitter, and had assured Mercer that he would intervene and support him financially should he be unsuccessful in raising enough funds. However, Vertucci claimed that Mercer's behavior during the WSOP event was suspicious and that Mercer had visited a casino pit, according to individuals who donated a lot of money to the player. This led to accusations aimed at Mercer for allegedly placing bets with donor money.
Cody Daniels, a professional poker player who suffers from a chronic illness, said that during conversations between the two, Mercer's answers to questions regarding his alleged condition were "very vague."
According to the Las Vegas Review-Journal, numerous other donors voiced their suspicions to Parscal who would later request documented proof of Mercer's illness. After failing to provide Parscal with credible documentation, Mercer closed his Twitter account, and opened up about the fraudulent campaign in the month to follow.
Upon hearing about Mercer's confession, Cody Daniels expressed his disappointment on a social media post. In addition, the aftermath of this situation will not be inconsequential according to Vertucci, who voiced that this case would lead to himself and other members of the poker community being less trusting of future charity campaigns.
As for Mercer himself, he did apologize for what he did, recognizing that he made a mistake. He also told the Las Vegas Review-Journal that he understood the poker community's reaction to the situation.