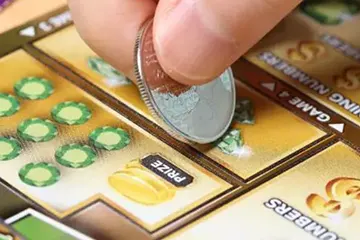 This Tuesday, the University of Minho, based in Braga, Portugal presented a nationwide study called 'Quem paga a Raspadinha?' (Who pays for the scratch cards?). According to it, nearly 100,000 Portuguese citizens are addicted to scratch cards. Approximately 30% of them have manifested compulsive gambling traits, being unable to cut back or stop.
Based on 2,554 respondents, the study has taken into consideration several underlying factors such as social status, education, gender, and frequency of gambling.
Starting with the social status of the interviewees, the study concluded that the most common use of scratch card gambling products occurs among people of lower income. Those who earn between €400 and €660 monthly succumb to their gambling addiction three times more often compared to people whose monthly payroll stands at approximately €1,500.
As far as the respondents' level of education is concerned, the study revealed that those of lower educational status (primary and secondary education) exhibited a greater inclination to try their luck on scratch card products than people with a master's degree, for example.
When it comes to gender, women take the lead, with 53.15% who have gambling-related problems, compared to 46.85% of men.
Last but not least, the study examined the participants' frequency of gambling. Nearly half of 221 respondents answered they gamble every week. Approximately 90 people succumb to their gambling habits every month. And, finally, 18 of them confirmed they gamble every single day.
The Gambling Support Institute is a privately owned entity, which deals with problem and at-risk gamblers, including ones preoccupied with scratch cards. As per information from Pedro Hubert, a therapist in the sphere of problem gambling working at the institute, the findings of the study coincide with reality. The number of problem gamblers who seek professional help from the facility would have been significantly higher if they had sufficient resources to pay for it.
More Resources to be Invested in Gambling Prevention
The problem gambling counselor further added that prevention is among the best possible measures that can be taken against compulsive gambling. According to him, the public should be well aware of the fact that gambling is meant for entertainment and recreation, and not as a source of funds. Problem gambling-related information should be readily available not only in gambling establishments but broadcast on TV as well to reach a possibly larger audience.
He also commented on the fact that scratch cards present a truly tempting gambling product due to their low price, availability, and great winning potential.
The study is the result of a collaboration between psychiatrist Pedro Morgado and economist Luís Aguiar-Conraria. They both insisted on better governmental regulation that would ultimately reduce illegal gambling to a minimum.
This Tuesday, on the exact day the study was presented, Portugal's Minister of Labor, Ana Mendes Godinho confirmed that the government should first evaluate its findings and then take appropriate measures.