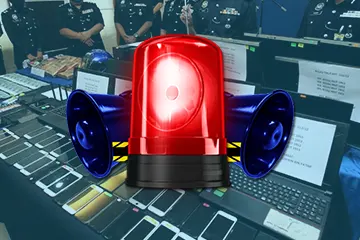 After a bust of an illegal gambling syndicate, which operated from a shopping mall in Penampang, Sabah police detained 39 people. Yesterday, police officers raided the seventh floor of the shopping mall at Jalan Pintas at 12:15 pm after receiving an anonymous tip. During the operation known as "Op Dadu", a team from the state police that fights against gambling and secret societies raided the outlet and busted the illegal gambling syndicate, which reportedly targeted people from various countries.
The syndicate allegedly used three rooms on the floor as their call center. Sabah Police Commissioner Datuk Jauteh Dikun explained that 39 people were arrested after the bust. He added that of the arrested culprits, 20 were women, and residents of China and Indonesia. During a press conference at the Kudat police headquarters in northern Sabah on Wednesday, Dikun explained that the arrested people, aged between 20 and 40, allegedly worked for the syndicate, promoting its online gambling services.
The commissioner said that the detainees were hired by the illegal gambling syndicate, which paid them RM 1,500 per person through their bank accounts. He said that the investigation revealed that the syndicate had been operating for more than six months.
Those Involved in the Busted Gambling Syndicate Found the Job Advertisement on Social Media
Commissioner Jauteh told reporters that the raiding team confiscated the equipment that the syndicate used to run its gambling operations, including 38 PCs and laptops, 74 monitors, and 22 mobile phones. He added that the illegal gambling ring allegedly rented the premise and used it as a call center. Upon interrogating the arrested people, it became clear that they came across the job advertisement on social media. The company was recruiting people to work as customer support representatives.
SuperCasinoSites has recently reported that the Philippines advised locals and foreigners to be vigilant of suspicious offshore gaming-related employment opportunities offered in dating and messaging applications or social apps. In a warning message, the country's gambling regulator explained that unauthorized offshore gaming companies lure job-seekers by promising them high salaries and good working conditions.
The case is being reviewed under Section 4(1)(g) of the Common Gaming House Act of 1953, which states that common gaming houses, public gaming, and public lotteries are illegal. Commissioner Jauteh asserted that the state police would do everything in its power to combat illegal gambling activities. He added that the police would focus on clamping down on illegal gambling by strengthening its intelligence work and operations.
In November 2018, former Police Chief Deputy Supt Haris Ibrahim said that the number of illegal gambling incidents had significantly decreased due to constant crackdowns on such activities. The last more significant case is from February 2021, when the police arrested 15 gambling suspects and cut off the power to 15 premises in Penampang and Putatan, which allegedly operated illegal gambling activities.