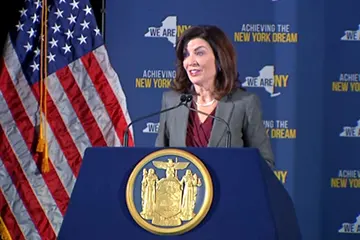 During the official ceremony to celebrate the reopening of the Strong National Museum of Play in Rochester, New York State Governor Kathy Hochul said that she stepped aside from the negotiations on a new gaming compact between the state and the Seneca Nation due to possible conflict of interests involving her husband's job. Hochul explained that discussions with the tribe were ongoing, but she did not know more details.
Gov. Hochul decided to recuse herself from all matters that have to deal with Delaware North, a gambling company in Buffalo where her husband, William Hochul, is senior vice president and general counsel. Delaware North is a major competitor of the Senecas, operating over 2,000 slot machines in New York. Delaware North also owns Finger Lakes Gaming & Racetrack in Farmington just south of Rochester.
In 2021, the governor signed an agreement, under which she would not interfere in matters involving Delaware North. But the Senecas' gaming compact with the state was set to expire in December this year, meaning that Hochul's office had to negotiate with the tribe. The governor assigned aides to deal with the compact negotiations.
Last month, Hochul's office and the tribe reached an agreement, under which the Senecas would be allowed to establish a Las Vegas-style casino resort in Rochester. The tribe has long been eyeing the opportunity to build a gambling venue in Rochester in exchange for paying the state higher gambling revenue.
The Governor Deliberately Did Not Involve Relevant Lawmakers and Officials in the Discussions
The deal, however, stirred up the hornet's nest because local and state officials were not given the opportunity to express their opinions on such an important decision. As a result, the New York Assembly vetoed a statute, which would authorize Hochul to sign the gambling compact. Local officials have raised concerns regarding the proposed casino in Rochester. The Greater Rochester Majority Delegation has pledged to ensure that the agreement between the state and the Seneca Nation has been delivered in a transparent manner.
Shortly after that, Rickey Armstrong Sr., the Seneca Nation's President, said that the governor intentionally did not involve lawmakers and local officials in Rochester in the discussions to obstruct the compact renewal, which would benefit Delaware North. Armstrong also noted that the governor's actions aim to protect her husband's interests even though she publicly stated she would recuse from tribal gaming compact negotiations.
This May, the Seneca Nation organized various community support events, seeking support from the public to sign a gaming compact with the state before the end of the legislative session. The tribe signed a gaming compact with the state in 2002. Since then, the Seneca Nation has established three gambling venues, providing jobs for approximately 3,000 people.