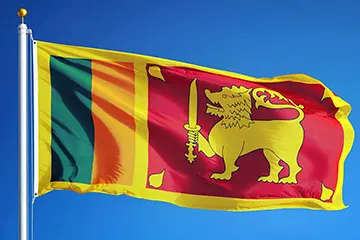 Sri Lanka's Cabinet of Ministers has approved a draft bill under which a gambling regulatory authority would be established. The watchdog would be responsible for overseeing the industry, examining the impact of gambling on society, collecting taxes, and preventing criminal activity. The legislative measure was introduced this Monday by the country's President Ranil Wickremesinghe. The bill does not provide only for the establishment of a gambling regulator but also sets the rules that would govern Sri Lanka's gambling industry.
It was reported that the gambling operator would issue licenses valid for up to 20 years. Operators must pay a 40% tax on their profits and an annual license fee of $1.36 million. However, details about the draft bill are yet to be revealed. Some experts claim the legislation aims to expand the country's gambling industry. Although this is still a rumor, we have a reason to think it is true. Last November, Singapore's Kreate Design Pte Limited unveiled plans to establish a casino and entertainment area at the Colombo Lotus Tower.
In July last year, the government agreed to issue licenses to all land-based casinos in the country. The move came in a bid to smoothen the tax collection process. According to Inland Revenue Department documents, Sri Lanka's active casinos owed a combined $7.4 million in taxes. But collecting these taxes proved to be a challenging task for the government. At that time, every penny counted for Sri Lanka because the country was shaken by a severe economic crisis. That is why the government came up with the idea to license the existing casino operators and aid Sri Lanka's crippled economy.
How Sri Lanka's Gambling Industry is Regulated?
The Sri Lankan gambling industry is regulated by the Betting and Gaming Levy Act No. 40 from 1988 and Act No. 17 from 2010. According to these laws, only licensed casinos could operate in the country, but ironically, the country had never issued licenses. Last year, the Sri Lankan government also introduced sweeping changes to the Betting and Gaming Levy Act, raising the annual tax imposed on casinos from $555,000 to $1.4 million.
A curious fact is that the reforms were introduced after Dhammika Perera was appointed Minister of Investment. He owns three of the Sri Lankan active casinos, including Bally's Colombo, Bellagio Colombo, and MGM Colombo, and that is why he is often called "the casino king". The other two Sri Lankan casinos are owned by Ravi Wijeratne.
In 2015, the government opposed opening the Sri Lankan gambling market to foreign operators. As a result, the development of three planned casinos, including the one proposed by Australia's gambling giant Crown Resorts, was stopped. However, in May 2021, the government approved a Chinese company's proposal to establish a $1.4-billion integrated resort called Cinnamon Life, slated to open this August at the heart of Colombo.