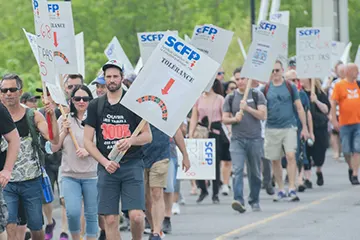 Nearly 1,700 workers at casinos in Montreal, Mont-Tremblant, Charlevoix, Gatineau, and Jeux en ligne have agreed to launch an unlimited general strike on Friday after negotiations over their wages failed. The move comes in a bid to increase the pressure on casino managers, who shared $650,000 in bonuses this year, according to the Confederation of National Trade Unions.
The union said that although the casinos had generated record-breaking revenue over the past year, they refused to raise the casino workers' wages. As reported by SuperCasinoSites earlier this month, casino workers demand a salary increase that reflects the rising cost of living plus $1 per hour. This way, casino employees' purchasing power will remain unaffected by inflation and make their jobs more attractive.
Loto-Quebec, the company that owns Montreal Casino, explained that it offers good working conditions and the salaries are at least 20% over compared to most other job categories. The company also explained that the raise casino workers are asking for is more than double compared to the raise granted to other employees over the past year. But Stéphanie Gratton, interim president, the union's interim president, said that Loto-Quebec's assertions are false.
In May last year, croupiers at Canada's Casino de Montreal launched a strike after they failed to reach an agreement with their employers over their wagers. The strike forced the operator to close the gambling venue's poker room temporarily. Eventually, the two parties shook hands, and the casino employees received a pay increase.
Casino Workers Push for Higher Wages, Not Giving Up on Their Demands
Riccardo Scopelleti, president of the security workers' unit, said the negotiations were at an impasse. At a general meeting held last Thursday, casino workers voted in favor of an unlimited strike to begin on June 23. The strike does not affect dealers at the Montreal, Charlevoix, and Lac-Leamy casinos, who have a separate union contract with the casino.
In a statement, Loto-Quebec said that Casino du Lac-Leamy, the Trois-Rivières gaming hall, and the Quebec City gaming hall would remain open despite the strike. Casinos in Montreal, Charlevoix, and Mont-Tremblant will not cease operations, too, but will work according to a modified schedule specific to each venue, and some services will be limited. Loto-Quebec's official website will also remain accessible, although the call center will be closed during the strike.
Just before the beginning of the Grand Prix weekend, almost 1,700 casino workers walked off the job site following the union's approval of a five-day strike mandate to be used "at the right moment". Considering that the Formula 1 Canadian Grand Prix has always been one of the most long-awaited events, drawing the attention of thousands of sports fans, there was no better time for the casino workers to launch the strike. The casino workers have been in negotiations with their employers over their wagers since last June.