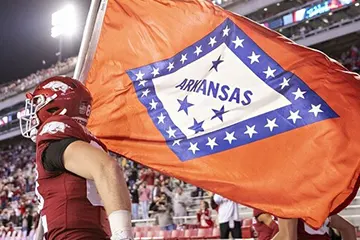 Yesterday, the Arkansas State Racing Commission agreed to add 17 new markets to its catalog of sports punters can wager on. The regulator's recent decision paves the way for casino operators to start providing odds for niche sports, such as lacrosse and cornhole.
Members of the commission unanimously voted in favor of the new markets proposed by casino representatives and Jennifer Rushin, the tax manager for the casino gaming section at the Department of Finance and Administration. Panelists agreed that operators must receive Rushin's approval before adding certain leagues within the new markets to their portfolios.
Since the state legalized retail sports betting in 2018, the gambling watchdog has approved 15 sports betting markets, including American football, Australian rules football, baseball, basketball, boxing, cricket, cycling, darts, golf, ice hockey, mixed martial arts, motorsports, rugby, soccer, and tennis.
Scott Hardin, a spokesperson for the Department of Finance and Administration, has announced that operators can now accept wagers on floorball, futsal, lacrosse, National Hot Rod Association drag racing, snooker, table tennis, volleyball, beach volleyball, bare-knuckle fighting, and bowling, among others.
When the state authorized retail sports betting, the Arkansas State Racing Commission approved a catalog of sports that punters are allowed to bet on instead of having a separate list of offerings for each casino. At the moment, three casinos operate in Arkansas, including Saracen Casino Resort, Southland Casino Racing, and Oaklawn Racing Casino Resort. In 2021, the Racing Commission awarded a license for a new gambling facility, Legends Resort and Casino, in Pope County, but it has been the subject of ongoing litigation.
Arkansas Bettors Should Be Able to Wager on Any Sport Offered by Other States
Last month, Rushin met with casino officials to discuss the possible addition of 56 new markets. Of all the proposed markets, however, only 17 were approved. Rushin more sports betting markets could be added soon. One of the sports that could not make it to the list of approved betting markets was professional tag and slap fighting. Other niche sports, such as floorball, bowl, and futsal, raised questions among commissioners but were eventually approved.
Carlton Saffa, the chief marketing officer of Saracen Casino Resort, told board members that the data integrity for each market is reliable. He confirmed that the proposed sports betting markets have already been approved in other states. Saffa also added that casino representatives would partner with Rushin to assess the integrity of the leagues in various markets.
Saffa hopes that representatives from the three casinos in the state can meet again soon to review more sports betting market opportunities. Saffa's goal is to ensure that Arkansas residents can wager on all sports authorized by other states. He also noted that casino operators could choose which sports betting markets to offer.
In 2022, Arkansas residents bet a total of $186 million, of which $122 was wagered through mobile apps. Hardi has announced that the average monthly state tax revenue from sports betting in 2023 is $417,500. Arkansas casinos pay a 13% tax if their annual revenue is below $150 million, and 20% if their profits exceed $150 million.