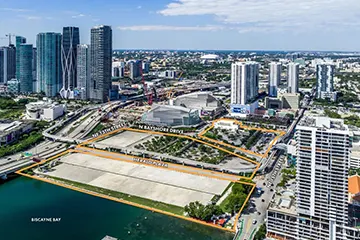 Genting Malaysia shareholders have announced they approved the sale of 15.5 acres of land by its wholly owned subsidiary Resorts World Miami in Florida to Smart Miami City, a branch of real estate developer Terra Group, for $1.23 billion in cash. At an extraordinary general meeting, which took place last Thursday, 979 shareholders (or 99.98%) approved the sale, while only 136 shareholders (0.02%) voted against the deal.
Under the recently signed deal, Smart Miami City LLC, Smart Miami City will obtain four parcels of land located close to residential, commercial, and shopping areas. Genting purchased three plots of land in May 2011 for $246 million. Six years later, the company bought the fourth parcel for $13 million.
Based on the figures, Genting will realize a gain of over $960 million. The Miami property market has experienced significant growth since the acquisition of the Miami Herald Land in 2011. As of December 1, 2022, the Miami Home Price Index has nearly tripled to 398.56. The proposed agreement presents an opportunity for Genting to capitalize on the steady market growth and improve its cash position.
On April 26, Genting Malaysia announced it entered into a conditional sale and purchase agreement with Smart Miami City LLC. Under the deal, Smart Miami City will acquire four parcels of land with a combined area of 15.47 acres.
Genting Will Use Cash Proceeds from the Sale to Expand Its Resorts World Casino New York Property
Genting Malaysia has made it clear that the cash proceeds earned from the sale will go to fund its slots-only Resorts World New York City if it manages to secure a casino license in New York. Genting Malaysia and MGM Resorts are among the strongest contenders for a full casino license in New York.
In an April note, Nomura analysts Tushar Mohata and Alpa Aggarwal explained that this is a major step forward for the company as well as its parent Genting Bhd. The two experts said that the deal will significantly improve the financial stability of Genting Malaysia and Genting, which net debt-to-equity ratio has risen from 19% at the end of 2019 to 71% at the end of 2022. The analysts forecast that the sale would reduce Genting Malaysia's net debt-to-equity ratio to 21%.
New York is to award three casino licenses for downstate New York, which includes New York City, Long Island, and Westchester County. State gambling regulators have announced that the first casino license is expected to be awarded earliest at the end of this year. The New York Gaming Facility Location Board (GFLB) has established a minimum bid of $500 million that operators who want to participate in the bidding process for one of three downstate casino licenses must pay. Approved operators will have to pay a $500 million license fee.