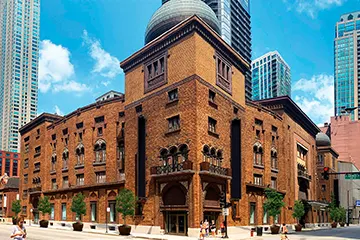 At its regular meeting this Thursday, all four members of the Illinois Gaming Board unanimously voted in favor of Bally's proposal to open a temporary casino at the historic Medinah Temple in River North. But the company still needs to receive a temporary license for the gambling venue and meet several legal requirements, one of them being a test of the casino, which will take two to four days.
The Illinois Gaming Board's administrator could grant Bally's a temporary license without another vote by the board members if the company meets all legal requirements. Bally's hopes its temporary gambling venue to open doors this summer. The temporary casino is almost ready to open – the company only needs to equip it with slot machines and gaming tables. The temporary gambling venue will operate for up to three years, while the company's $1.7-billion permanent casino is being built on the site of the Freedom Center printing plant.
Bally's permanent casino is expected to open in the second half of 2026 at Chicago Avenue and Halsted Street. The casino resort will offer a 500-room hotel, 10 bars and restaurants, a 3,000-seat entertainment center, and other amenities. The gaming area will host 3,400 slots and 170 gaming tables, corresponding to the preferences of every casino fan.
Bally's vice president Mark Wong revealed that the temporary casino will host 750 slot machines and over 50 gaming tables. Besides, it will feature a coffee shop, a bar, and two restaurants. Bally's representatives announced they have received over 11,000 job applications for the temporary and permanent casinos so far.
The permanent casino is expected to create 3,000 jobs. Bally's chief legal officer Kim Barker Lee revealed that the workforce is to include people of various racial, gender, and age backgrounds. The temporary casino will employ over 500 people and is projected to pump nearly $70 million into the state's economy for the remainder of 2023.
Bally's is Not the Right Choice, Some Officials Claim
Despite concerns that the casino would increase crime and traffic, Bally's casino proposal was approved by Chicago City Council on a 39-5 vote last summer. Alderman Brendan Reilly (42nd), whose ward includes Medinah Temple, disagreed with the Council's decision, expressing doubts about the fairness of the bidding process.
Alderman Brian Hopkins (2nd) also warned officials that Bally's lacks experience in building and operating a casino in such a large city. Hopkins also noted that the company purchased all its gambling venues instead of building them. He raised the question of whether Bally's could finance its casino project considering its debt of $3.4 million.
Bally's executives have announced that the sale-leaseback agreement on the land is expected to bring in up to $500 million, which will go towards funding the project. In addition, the company has access to a line of credit worth up to $500 million and can raise another $635 million through sale-leaseback deals on other casino properties it owns. Bally's operates 15 casinos across 10 states, with Bally's Quad Cities being among them. During the hearing, which took place yesterday, the Illinois Gaming Board also approved the renewal of the company's license for Bally's Quad Cities.