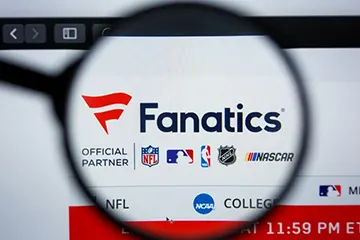 Last week, the Ohio Casino Control Commission ordered Fanatics Sportsbook to remove a social media commercial because the company used its merchandise business to attract customers to its sports betting platform. The commercial was aimed at all those sports fans who bought a baseball hat from Fanatics' sports apparel store for the modest price of $29.99.
The operator offered its customers from Ohio a bonus that would match the amount they spent on the baseball hat. The advertisement appeared on social media on Wednesday last week, and even though it complied with all responsible gambling standards, it appeared on the Ohio gambling watchdog's radar.
Why Ohio's Gambling Regulator Frowns On Fanatics' Social Media Commercial?
Last week, Fanatics, a retailer of licensed sportswear and sportsbook, was ordered to remove its social media advertisement even though it carried all required responsible gambling messages, including a 21+ sign and the national problem gambling helpline number.
In an email, Jessica Franks, the Ohio Casino Control Commission's director of communications, confirmed that the regulator is working on removing the commercial. However, she did not specify the rules that the advertisement violated, nor did she provide any reasons for the commission's decision.
Fanatics offered everyone who bought a baseball hat worth $29.99 from its store a "bonus bet" that would match the hat's price. The promotion was geared toward newcomers. But the Ohio Casino Control Commission stated that Fanatics used its merchandise business to spark its customers' interest in gambling.
Fanatics' commercial also provoked heated debates among social media users. Some people claimed that the sports betting ad could be seen by individuals of all ages, including minors. And although the company is unlikely to allow underage individuals to place sports bets through its platform, the perspective of using its merchandise operations to advertise its gambling services has been frowned upon. The controversial promotion was posted on Twitter on Wednesday.
Fanatics Believes That It is Better to Reward Players Than Spending Millions on Marketing
Last week, before the sports betting ad was published, Matt King, CEO of Fanatics Betting and Gaming, commented that the company would provide various sports betting offers to people purchasing items on Fanatics.com. He explained that it is better to reward bettors instead of paying media broadcasts for advertising.
The company did not comment on the advertising issue, but it is determined that it can learn from its competitors that have entered the market a lot earlier. Fanatics' customer base amounts to 95 million, making it one of the leading sportsbooks in the United States.
In January this year, the Massachusetts Gaming Commission approved Fanatics' sports betting license. On May 14, Fanatics signed a deal to acquire the US assets of PointsBet for $150 million. Under the agreement, Fanatics is to expand its operations to at least 15 states, with New York, Michigan, Illinois, and New Jersey being among them.