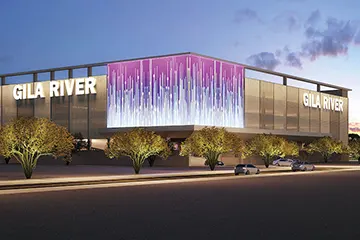 The Gila River Indian Community will open its new Santan Mountain Casino south of Chandler, Arizona, on June 30. The tribe promises the gambling venue will offer an elevated casino experience with its 813 slot machines, table games, and a fine dining area.
Santan Mountain bills itself as the largest casino sportsbook in the state. The groundbreaking ceremony was on October 18, 2021, after Governor Doug Ducey signed Arizona's Indian gaming compacts and allowed the Gila River Indian Community to establish a new casino.
Santan Mountain Casino's Design is Inspired by the Gila River Indian Community Culture
Construction work on the $180-million casino project took about 18 months, and now the venue is ready to welcome its first visitors as of June 30. Santan Mountain Casino is the first gambling venue to be established after Governor Ducey signed the new gaming compacts, which allowed the tribes to expand their offerings. Under the amended gaming compacts, tribes and pro sports teams can run sports betting operations if they obtain a license. The new deals also allow tribes to add Vegas-style casino games such as craps and baccarat.
Santan Mountain Casino's design reflects the culture of the Gila River Indian Community. Visitors will have the chance to enjoy masterpieces from local artists, representing breathtaking sights from the tribe's reservation. Blake Katsnelson, general manager for the casino, said that Santan Mountain aims to provide various entertainment options. He added that Santan Mountain would offer more than just traditional gambling.
Katsnelson revealed that the casino would hold a concert to celebrate its opening on June 30 but did not specify the performer's name. What makes Santan Mountain Casino unique is the atmosphere it will create. The gambling venue has large windows that provide more natural light. Katsnelson announced that indoor smoking would be prohibited. He noted that Santan Mountain does not include a hotel, but this may change soon.
Santan Mountain Casino Will Offer High-End Gambling Experience
A BetMGM sportsbook will occupy 7,000 square meters, offering booths and individual seating for people who want to book a table and watch a game or event. The gambling venue will also feature three pits for table games, including a high-limit table game area. The roulette table for high rollers includes a white roulette wheel, which cannot be seen in any other casino in the United States. In the high-limit area, players can enjoy a high-end bar with indoor and outdoor space.
Additionally, Santan Mountain can host various events as it features an event lawn and ballroom. There will be a new restaurant where people could try tasty dishes prepared with ingredients grown on the Gila River Indian Community land. The bar would offer a second-to-none atmosphere with its art installation with colored lights.
Gila River Casino Santan Mountain is the first casino built under the new gaming compact, but several others are under construction. The Tohono O'odham Nation has already broke ground on its casino project near Loop 303 and Northern Avenue. Ned Norris Jr., a tribal chairman, revealed that the venue is to offer 900 slot machines, table games, and other amenities.