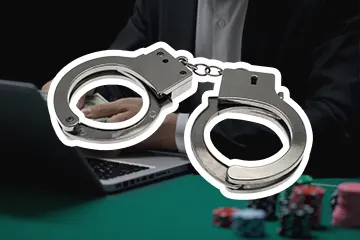 On Wednesday, Thomas Loewke, former New York State Police (NYSP) sergeant, admitted that he tipped targets of an illegal gambling investigation. The 51-year-old man pleaded guilty before U.S. District Judge David G. Larimer, and now he faces a penalty of up to five years in prison and a $250k fine. Loewke's tip prompted Louis Ferrari II, one of the targets of the investigation, to take action to obscure the operation. This January, the sergeant was arrested and charged with obstruction of a state or local law enforcement investigation.
The Sergeant's Tip Slowed Down the Investigation
Yesterday, U.S. Attorney Trini E. Ross announced that former NYSP Sergeant Thomas Loewke pleaded guilty before U.S. District Judge David G. Larimer for tipping off targets of an illegal gambling ring investigation, which obstructed the operation. In a guilty plea, the defendant admitted that Louis Ferrari II, one of the targets, took steps to thwart the investigation by changing the password for a sports betting site and its appearance and deleting any records of bets placed through his platform.
Assistant U.S. Attorney Meghan K. McGuire, who is handling the case, revealed that the New York State Police launched an investigation into the illegal gambling activities run by Louis P. Ferrari II and other accomplices in October 2020.
Loewke, who knew that Ferrari owned an illegal sports betting site, learned of the investigation on December 17, 2021. Ten days later, the former sergeant informed Ferrari of the police operation. As a result, the owner of the illegal sportsbook took steps to obscure the investigation.
Loewke's Abuse of Trust May Add More Months to His Sentence
Over a month after Loewke's arrest, seven local men, including Ferrari, Dominic Sprague, Tommaso Sessa, Anthony Amato, Joseph Lomardo, Joseph Boscarino, and James Cilvetti, were accused of allegedly running illegal gambling operations in an office suite in Rochester. Ferrari allegedly operated the illegal sports betting platform sport700.com. Prosecutors claim that Loewke placed bets through the illegal sports betting site occasionally.
Under recommended federal guidelines, Loewke could spend 10 to 18 months behind bars. Assistant U.S. Attorney Meghan McGuire said in court that federal prosecutors demand a longer prison sentence because Loewke abused his position as an officer and disclosed confidential information.
The abuse of trust charge may add more months to Loewke's sentence. But his lawyer, Michael Schiano, plans to argue that the abuse of trust charge should not be added to his client's sentence. After the sentencing, Schiano explained that Loewke feels responsible for his actions and wants to move on with his life after serving the sentence. The former NYSP sergeant is expected to be sentenced on September 6.