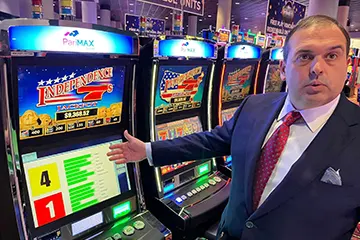 This Tuesday, Greene County filed a constitutional amendment in the Senate, seeking to legalize historical horse racing gambling machines. The proposal would be considered at the beginning of 2024 during a primary or special election, which will take place in Greene County. The proposed amendment includes provisions about the licensing procedure, the taxes imposed on operators, and the distribution of the funds collected by the racing commission.
Greene County Legislation Files Gambling Constitutional Amendment in the Senate
The state of Alabama has quite restrictive gambling laws. All forms of casino-style gaming, including table games and slot machines, are prohibited in the state. However, Alabamians can wager on greyhounds, dog racing, and horse racing. Although the state recognizes eight tribes, the Poarch Band of Creek Indians is the only tribe allowed to operate a casino in Alabama. It owns three casinos in the state – Wind Creek Wetumpka, Wind Creek Atmore, and Wind Creek Montgomery.
Since slots are forbidden in the state, many counties, including Greene County, push to legalize historical horse racing gambling machines. On Tuesday, Greene County legislators filed a gambling constitutional amendment, also known as Senate Bill 324, in the Senate that would legalize and tax historical horse racing gambling machines.
The author of the legislation is Senate Minority Leader Bobby Singleton (D-Greensboro). His bill provides for the taxes imposed on pari-mutuel wagering on historical horse races on computerized machines, the licensing procedure, the requirements for the operation of a racetrack, and the distribution of fees and taxes.
Under the provisions of the bill, only individuals who have been residents of the state of Alabama for at least five years qualify for a license to operate a racetrack. Corporations, companies, and other legal entities must have been incorporated in the state for at least five years to be eligible for a license. The Senate is expected to vote on the proposal at the beginning of next year.
Birmingham Race Course Has Been Offering Historical Horse Racing Gambling Machines for Several Years Now
In 2019, Birmingham Race Course in Macon County rolled out 301 historical horse racing gambling machines, allowing bettors to place wagers on horse races that have already occurred. Alabama Attorney General Steve Marshal said that Birmingham Race Course's new historical horse racing machines are legal provided that the business owner complies with specific requirements.
David Johnston, an attorney working with the course, explained that the games are legal according to Alabama's law and have been approved by Marshal's office. Johnston added that bets on the historical horse racing gambling machines are very similar to the bets placed on horse races simulcast from other parts of the country.
Historical pari-mutuel betting is allowed in several states, with Kentucky and Alabama being among them. These machines provide players with a slot-like experience, and that is why they are pretty popular among people residing in states where slot machines are illegal.