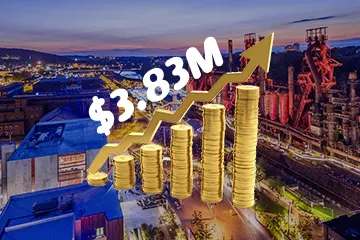 According to a document released by the Pennsylvania Department of Community and Economic Development, communities across the Lehigh Valley received $3.83 million in grants from gambling proceeds. The money will be shared between the communities to support their economic and public development, as well as public interest projects in Northampton and Lehigh counties. Northampton County will receive more money as it is adjacent to Monroe County.
Counties Will Use the Money to Fund Different Important Projects
During the Pennsylvania Commonwealth Financing Authority Board's meeting held in Harrisburg, officials approved the grants through Local Share Accounts. It is the Pennsylvania Race Horse Development and Gaming Act, under which the practice of awarding grants from gambling operations to various communities in the state was established. The Act was designed to benefit Commonwealth citizens through the legalization of gambling.
In a news release, state Sen. Lisa Boscola, D-Lehigh/Northampton said that the grants would allow communities to facilitate important projects, which would improve quality of life and safety. She added that the grants demonstrate the positive effect of gambling legalization.
State Rep. Robert Freeman, D-Northampton, said that over $1 million is going to his district in the Easton and Hellertown areas. As much as $200k, which will go to Hellertown, will be used to transform the former Reinhard School site into a community recreational facility.
Northampton County will fund the construction of five affordable townhomes at the former site of the Glendon Hotel in Glendon Borough with the $200k it will get. West Easton will receive $250k to support the removal of the Iron Street and Spring Street bridges.
Gambling in Pennsylvania Proves to Be a Significant Source of Revenue
Freeman expressed his gratitude to the Commonwealth Financing Authority (CFA) and his colleagues for giving his district over $1 million in grants. Many other community officials joined in announcing what projects they would sponsor with the money they received in grants from gambling proceeds.
Lehigh County Democratic state Reps. Mike Schlossberg, Peter Schweyer, Jeanne McNeill, and Josh Siegel announced that Lehigh Valley will use $37,783 of the grants to buy a van, which will help Lehigh Valley P4P Boxing to transport their boxers to and from competitions.
Pennsylvania was among the first states to legalize almost all forms of gambling. The gambling market in the state continues to grow, and figures come to prove this. In April this year, the Pennsylvania Gaming Control Board revealed that the state's gaming revenue exceeded $500 million for the first time in a single month. The gambling watchdog announced that the total revenue generated from all forms of legal gambling activities in the state reached $515.3 million in March 2023. All counties that host licensed gambling venues can apply for a portion of the money from the Local Share Program.