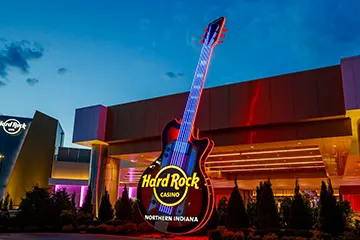 According to data released by the Indiana Gaming Commission, Hard Rock Casino generated more profits after paying bettors' wins than any other commercial casino in the state. This is the 19th time in a row that Hard Rock Casino's revenue outpaces all other casinos' profits in the state. Last month, Hard Rock generated $39.1 million in net profits, representing a 2.3% increase compared to the previous April, when the gambling venue generated a win of $39.2 million.
Hard Rock Casino Generates the Most Revenue of All Other Commercial Casinos in the State
For a second consecutive month since March 2018, Hard Rock Casino became the first gambling venue in Indiana that generated almost $40 million in net profits. Data published by the state's gambling regulator revealed that Hard Rock pocketed a $39.1 million win last month, making it the most profitable gambling venue in Indiana for the 19th month in a row.
Slot machines were the biggest moneymaker for Hard Rock Casino, with a total of $275.1 million in play for April 2023 and $260.5 million for the same month last year. After paying successful players' wins, Hard Rock generated a win of $27.3 million in April this year and $25.5 million in April last year from slot machines.
Matt Schuffert, president of Hard Rock Casino Northern Indiana, said that much of Hard Rock Casino's success could be attributed to the addition of new slots, various entertainment opportunities, and excellent dining options. Mr. Schuffert expressed his concerns about the fact that the entire Northwest Indiana market experienced a decline of nearly 8%.
Overview of Indiana's Other Casinos' Performance
Data show that the Gary casino is the second best-performing casino for April. The gambling venue accounted for 18.5% of the state's casino wins of $211 million. The gambling venue saw a total of $52.3 million wagered through its table games, with baccarat being the most successful game. The Gary casino generated a total of $11.8 million in wins from table games. According to the report, a total of $47.8 million was wagered on table games at Indiana's five Ohio River casinos and the French Lick Casino saw.
Horseshoe Casino in Hammond was the third most profitable gambling venue in Indiana in April this year. The casino generated $25.7 million in profits, representing a decline of 19.3% from its April 2022 win of $31.9 million.
Ameristar Casino's win dropped by 9% to $17.2 million in April compared to its profits of $18.9 million for the same month last year. Blue Chip Casino's win amounted to $11.7 million in April, representing a decrease of 6.8% compared to the casino's net profits of $12.5 million for the same month last year.
The report also shows that the sports wagering handle in Indiana was $321.4 million last month versus $360 million in April 2022. According to the Indiana Gaming Commission, the state received $66 million in tax revenue from slot machines and table games and $2.8 million from sports betting.