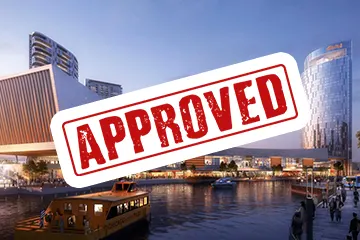 Yesterday, Bally's announced that the Chicago Department of Planning and Urban Development greenlighted its plan to establish a $1.7-billion casino hotel in River West. The company explained that the gambling establishment would create over 3,000 permanent. Construction work is slated to begin in late 2024. The Chicago casino resort will be the operator's most expensive project to date. Bally's application is now pending approval from the Illinois Gaming Board (IGB).
Bally's Chicago Casino Project Moves Forward
Bally's Chicago casino project has finally received long-awaited approval from the Chicago Department of Planning and Urban Development. The project needs to get the nod from the Illinois Gaming Board so the company can start offering gambling services at the venue.
The announcement that the said department approved Bally's Chicago casino project came yesterday, only several days after the company reached an agreement with Tribune Publishing to leave the Freedom Center printing plant in River West by July 2024 so the construction of Bally's casino can commence.
Under the agreement, Bally's will make a series of cash payments to the newspaper in return for its commitment to exit the Freedom Center as soon as possible and make way for the construction of the entertainment complex. Bally's plans to break ground next year and open the permanent casino by 2026.
The casino resort in River West is Bally's most expensive project to date. The entertainment center will include a 500-room hotel, a 3,000-seat theater and event center, and a riverwalk. The casino would offer 4,000 gaming options.
This Tuesday, Bally's announced it plans to sell a 25% share of its Chicago casino project to city residents in order to meet qualification requirements, under which at least 25% of the project's equity must be owned by minorities. Bally's explained that the terms and the price range for the proposed offering are yet to be determined based on market conditions.
Bally's to Open a Temporary Gambling Venue This Summer
The company also considers opening a temporary casino at Medinah Temple while it builds the permanent casino in the River West neighborhood. In February this year, the Illinois gambling regulator approved supplier licenses for the Medinah Temple building and the land it sits on.
Earlier this week, Bally's President George Papanier said that both projects are on schedule. This means the company will open the temporary gambling venue this summer, while the permanent casino resort is slated to commence operations in 2026.
The temporary gambling establishment is important to the company and the state. It will provide the company with the opportunity to build a database of its customers while pumping money into the state's coffers.