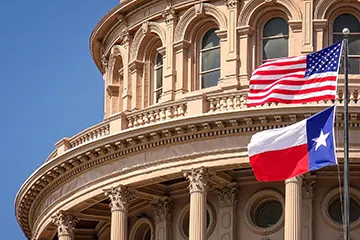 On Thursday, the Texas House approved a legislative measure to legalize online sports betting in the state. The bill, also known as House Joint Resolution 102, received the needed 100 votes to move on to the Senate for consideration. After a vote verification, it turned out that 101 House members voted in favor of the resolution. On the other hand, the final consideration of the bill, which would allow for up to eight Vegas-style casino resorts if approved, was delayed until 10 p.m. Thursday.
Texas House Passes Sports Betting Bill by a Thin Margin
Since both resolutions aim to amend the Texas constitution, they need the support of at least 100 policymakers. As SuperCasinoSites reported yesterday, both proposals fell just several votes short of the required 100 on the second reading. While the legislation that would allow the establishment of eight casino resorts was approved by 92 lawmakers, the sports betting bill received 97 votes.
But on Thursday, the bill seeking to pave the way for a legalized online sports betting market in Texas cleared the two-thirds threshold by a narrow margin. Initially, the bill received 100 votes. But a vote verification was requested because one or more voting machines malfunctioned during the vote.
In the end, the House passed the sports betting bill by a 101-42 vote, and now it goes to the Senate. But even if the resolution passes both chambers and receives Governor Greg Abbott's signature, it still needs to be approved by the majority of Texans, who will have the final say on the proposal.
The fate of the bill, seeking to create eight licenses for casino resorts is still unclear. Policymakers decided to postpone the final consideration of the legislation until 10 p.m. Thursday. It also needs to get 100 votes or more to go through the House and advance to the Senate.
The Sports Betting Bill Sparks Heated Debate among House Members
In a statement, Jeremy Kudon, president of the Sports Betting Alliance, which represents major betting companies, commended the House's decision to approve the sports betting proposal. He added that Texans deserve to have the freedom to bet on sports.
Rep. Jeff Leach, the bill's sponsor, said that online sports betting could generate $1 billion in property tax relief for Texans. Rep. Julie Johnson spoke in favor of the bill, explaining that the bill could create new opportunities for women's professional sports. Rep. Barbara Gervin-Hawkins noted that sports betting could provide professional teams with a fresh source of revenue.
Some House members refused to embrace the bill, stating that legalizing gambling would be against children's best interests. Rep. Matt Shaheen said such a move would benefit billionaires instead of Texans.