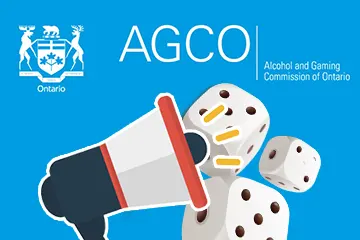 The Alcohol and Gaming Commission of Ontario (AGCO) has extended the consultation period on the proposed reform of online gambling advertising standards, giving industry stakeholders more time to express their thoughts and positions. The proposed changes sparked debates among interested parties, hence why the regulator has moved the deadline from May 8 to May 15.
Why AGCO Has Rescheduled the Deadline for Stakeholder Consultation?
According to studies, teenagers are two to four times more susceptible to developing a gambling problem than adults. Recent discussions regarding gambling advertising in Ontario's regulated market, focusing on ad volume and content have encouraged the gambling regulator to amend the current advertising code.
This Monday, Ontario's gambling watchdog suggested prohibiting gambling companies from using cartoon figures, symbols, role models, social media influencers, athletes, and celebrities in their commercials. The act comes in a bid to protect children and other vulnerable groups. If the suggested amendments receive approval, operators will be given three months to adjust to the new standards.
Implementation of AGCO's proposed changes would result in the discontinuation of ads featuring Jamie Foxx for BetMGM, Auston Matthews for Bet99, Jon Lovitz, Russell Peters, and Patrick J. Adams for theScore Bet, as well as Aaron Paul for Bet365.
Opinions on the AGCO proposal are polarized, which most likely contributed to the regulator's decision to extend the consultation period by one week. The watchdog encourages all Industry stakeholders to register on AGCO's engagement portal and share their positions regarding the proposed changes.
Opinions on the Proposed Reforms of Online Gambling Advertising Standards are Mixed
Shelley White, CEO of the Responsible Gambling Council, commended AGCO's review of online gaming advertising and marketing standards, focusing on the influence of athlete and celebrity participation in gambling advertisements on adolescents. White suggested a comprehensive review of existing advertising standards be conducted and encouraged operators to enhance awareness of gambling-related problems.
Aly Lalani, head of marketing for BetRegal, explained that a complete ban on brand ambassadors and celebrities is not the right way to go and urged AGCO to take a more balanced approach. Lalani said that if the messages from celebrities, players, and influencers reach the intended audience, such a ban would not be needed. In his opinion, limitations on marketing channels or moderated communication for ambassadors will solve the problem.
There have been numerous calls to completely ban online gambling advertising. Brian Masse from the New Democratic Party supports the idea of prohibiting ads featuring National Hockey League stars and other athletes. The Campaign to Ban Advertising for Gambling proposes a complete ban similar to tobacco and cannabis ads.
Marketing experts hold different perspectives on the matter. Professor David Soberman, Canadian National Chair in Strategic Marketing at the Rotman School of Management, University of Toronto, cited substantial research, which found that adolescents cannot differentiate between good and bad influences. Soberman confirmed that celebrities and athletes have significant appeal to minors. He suggests excessive gambling commercials be reduced or eliminated.