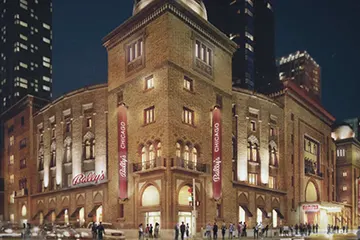 Bally's may have to move the opening date of its temporary casino at Medinah Temple, initially scheduled for June 30, as the subject will not appear on the Illinois Gaming Board's agenda before June 15. The company wanted to build a temporary gambling facility, which will operate until Bally's $1.7 billion integrated resort in River West opens doors somewhere in 2026. The city of Chicago hopes that the temporary casino will open as soon as possible because revenues from its proceedings will be used to pay old pension debts.
Bally's Gaming License is Still Pending Approval
Bally's temporary casino at the Medinah Temple in the River North is expected to commence operations later than June 30. The reason for the delay is that the company has not received approval from the Illinois Gaming Board yet. Although the board is scheduled to meet today, it will hold a public hearing on proposed changes to the Illinois Video Gaming Law. This means that Bally's temporary casino will not appear on the board's table this month.
Chicago Business reported that the board is scheduled to meet on June 15, and that is the earliest date Bally's may get the nod that it can open the temporary gambling establishment and commence gaming operations.
If the regulator does not discuss the matter during the June session, its next meeting is slated for July 27. In an email, the board spokeswoman Beth Kaufman said that the regulator could not provide information about the status of pending license applications.
Earlier this year, the Illinois Gaming Board unanimously approved licenses for the site's building and the land. However, the company is not allowed to open the temporary casino before the regulator approves Bally's gaming license.
Chicago Hopes the Temporary Casino Will Start Operating Soon
The city of Chicago explained that when will the temporary casino receive approval depends entirely on the Illinois Gaming Board. But city officials expressed hopes that it will commence operations soon.
But that is not surprising considering that the city faces a pension debt of $48 billion and is desperately looking for ways to tackle the problem. That is why the Chicago City Council approved Bally's casino plans in the first place. The city will have a share of the temporary gambling venue, which is expected to generate $200 million annually.
Last year, Bally's unveiled plans to build a temporary casino at 700 W. Chicago Ave., the former Tribune printing plant, which will operate until its permanent casino at the Tribune Publishing site in River West opens doors. The location for the temporary site was changed to Medinah Temple after concerns about increased traffic in the neighborhood were raised.