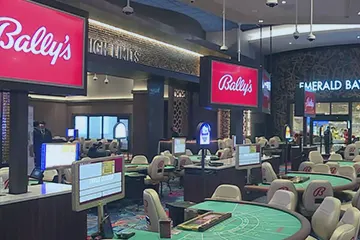 Yesterday, Bally's Corporation announced the opening of a 40,000-square feet new gaming space and other amenities. The $100-million expansion plan was introduced three years ago when the company entered into a partnership with the gambling technology provider International Game Technology (IGT). Visitors will enjoy new slot machines and table games, a food hall, a high-stakes poker room, and a cigar bar. A grand opening ceremony attended by Bally's representatives and local officials, including Governor Dan McKee, was held on Tuesday to commemorate the event.
The Expansion Includes the Addition of More Gambling Opportunities to Twin River Casino
Plans to expand the then-Twin River casino floor emerged in January 2020 after the company entered into a joint venture agreement with IGT. Under the proposed 20-year agreement, IGT would be Rhode Island's exclusive gaming technology provider, while Twin River (currently known as Bally's) would receive a share of the revenue for offering video slot machines.
The 40,000-square-foot expansion of Bally's Twin River casino floor includes the addition of 355 slot machines, 57 table games, and 27 new "stadium-style" games. Bally's executives expressed their hopes that the expansion will help Twin River to stay ahead of the competition.
Bally's Regional Vice President and General Manager Tony Rohrer said that the gaming area is designed to be in harmony with feng shui principles and every detail, from the waterfall feature to the wooden slat facade of the Emerald Bay Food Hall, is carefully thought of.
Are Visitors Allowed to Smoke on the Casino Floor?
Smoking is allowed on the new first floor of the casino even though some Twin River employees urged legislators to remove the exemption of casinos from smoke-free indoor air laws. Craig Eaton, senior vice president and head of Rhode Island operations, said that thanks to the expansion, the company improved the casino's ventilation system.
He added that the casino's second floor is a non-smoking area where players can enjoy a full range of gambling options. Mr. Eaton also said that Twin River Casino has a competitive advantage as smoking is banned in Massachusetts casinos.
To the question of whether casino workers should be constantly exposed to second-hand smoke, Governor Dan McKe did not take a position. He only said that he feels for the workers and is aware of the health problems that can be caused by inhaling second-hand smoke.
This Tuesday, the House Finance Committee held a hearing on a bill sponsored by Rep. Teresa Tanzi, D-South Kingstown, seeking to prohibit indoor smoking at Twin River and Bally's casino in Tiverton. McKee's Director of Health, Dr. Utpala Bandy, wrote a letter to the Committee to support the casino workers' stance.