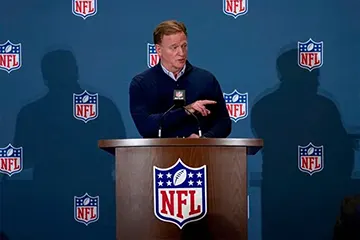 On Friday, the National Football League (NFL) announced that it suspended three players for placing bets on NFL games in the 2022 season for an indefinite period, while two other athletes will miss the first six regular season games for violating the league's gambling policy, under which players are prohibited from engaging in gambling and sports betting activities in any of the league's facilities, including practice venues, and wagering on NFL games.
Which Five Players are Suspended and for How Long?
Detroit Lions wide receiver Quintez Cephus, Lions safety C.J. Moore, and Washington Commanders defensive end Shaka Toney are suspended indefinitely for betting on NFL games last season until the end of the 2023 season at the least. After that, they are allowed to petition for reinstatement.
A curious fact is that Moore's suspension came only a month after the Lions signed the player to a two-year deal, which also includes a $1.4 million signing bonus. Following NFL's announcement, the Lions decided to part ways with Moore, but they still have to pay him the signing bonus. The Lions also released Cephus.
Stanley Berryhill and Jameson Williams from the Lions were penalized with a six-game suspension. The two players will be able to participate in the off-season and pre-season events but cannot play in the first six regular-season games.
The NFL said no games were compromised as a result of the players' gambling activities. Detroit executive vice president and general manager Brad Holmes said that the Lions will work with the suspended players and ensure that they are aware of the league's rules and understand the problem.
Gambling Incidents are Rarity for the NFL
In March 2022, the NFL announced that it had suspended Atlanta Falcons wide receiver Calvin Ridley indefinitely for wagering on NFL games during the 2021 season. This March, the NFL player was reinstated after being traded from Atlanta to Jacksonville Jaguars. In 2019, Arizona Cardinals cornerback Josh Shaw was sidelined after being caught betting on NFL games. The player was forced to miss the rest of the 2019 season and the entire 2020 season.
However, gambling incidents are not usual for the NFL. After the Professional and Amateur Sports Protection Act of 1992 (PASPA) was repealed in 2018, many states have legalized sports betting. Some professional teams, such as the Washington Nationals (from Major League Baseball), the Phoenix Suns (from the National Basketball Association), and the NHL's Washington Capitals, even have sportsbooks in their stadiums.
As sports betting ads have dramatically surged across the United States, major leagues, including the NFL, along with media companies NBCUniversal and Fox, formed the Coalition for Responsible Sports Betting Advertising. As SuperCasinoSites reported last week, the alliance aims to regulate sports betting advertising before the government steps in to tighten the rules.