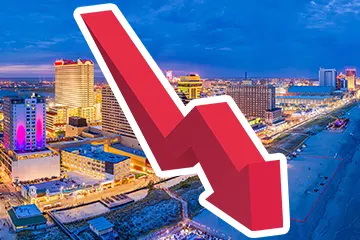 Speaking at the East Coast Gaming Congress held on Thursday, panelists predict that the three new casinos to open doors in New York would decrease Atlantic City's casino revenue by 20% to 30% and may lead to multiple casino shutdowns. Several Wall Street analysts also suggested that the New York casinos would significantly hit Atlantic City's casino revenue.
Atlantic City Will Surely Experience a Casino Revenue Decline
Jim Allen, chairman of the global Hard Rock Casino, entertainment, and hospitality company, said that New York's new casinos would have a huge impact on Atlantic City's revenue. He also noted that a revenue drop of this magnitude could lead to the closure of at least one Atlantic City casino.
In an interview with the Associated Press, Allen explained that 20% to 30% of Atlantic City's revenue comes from upstate New Jersey and downstate New York, which means that the opening of the three casinos in New York will undoubtedly affect Atlantic City's revenue.
Currently, Hard Rock Casino, Borgata, and the Ocean Casino Resort are Atlantic City's three best-performing gambling venues in terms of revenue generated from in-person bets. However, Allen expressed concern for the other casinos, suggesting that if these businesses do not perform well, there could be some instability, potentially leading to closures.
Mark Giannantonio, president of Resorts Casino and the Casino Association of New Jersey, refused to comment on Allen's opinion, but several Wall Street analysts confirmed his prediction. Duane Bouligny, managing director at Wells Fargo, said that casinos that do not invest in their businesses are unlikely to survive.
What Atlantic City's Can Do to Stay in Business?
David Schwartz, a gambling historian with the University of Nevada Las Vegas, explained that Atlantic City's casinos have to find a way to stay competitive. He added that gambling venues should diversify their amenities and provide superior customer service in order to attract visitors.
Allen revealed that sportsbooks and casinos must share their revenue with third-party providers, which means that the numbers reported by the state are misleading. He added that the revenues of most casinos in Atlantic City have been flat or down since 2016.
For years, Atlantic City has been trying to diversify its business model by investing in hotel rooms, restaurants, entertainment venues, and others. A massive indoor water park is expected to open in Atlantic City by Memorial Day weekend this year. Caesars Entertainment, on the other hand, is adding a new entertainment venue and a Vegas-style residency show.
In 2015, Hard Rock unveiled plans to build a casino in the northern New Jersey Meadowlands. But most people voted against the proposed casino in a statewide referendum. Allen said that to the best of his knowledge, lawmakers do not intend to revive the issue in the foreseeable future.
Jeff Gural, who runs the Meadowlands Racetrack where a Hard Rock casino would be established, noted that people would prefer to visit a casino in the Meadowlands rather than drive over the busy George Washington Bridge and pay $18 in tolls.