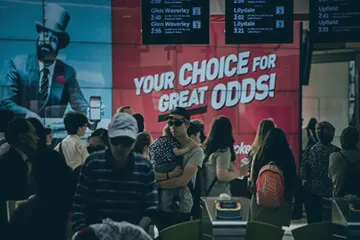 On Wednesday, professional sports leagues and the media agencies Fox and NBCUniversal joined forces to ensure that sports betting advertising is delivered in a socially responsible manner and does not target underage individuals. The National Football League, Major League Baseball, the men's and women's leagues of the National Basketball Association, the National Hockey League, NASCAR, Major League Soccer, Fox, and NBCUniversal created the Coalition for Responsible Sports Betting Advertising.
What are the Objectives of the Alliance?
Currently, sports betting is legal in 33 U.S. states, including Washington D.C. The saturation of sports betting adverts made state regulators tighten sports betting advertising rules. A major goal of the newly-formed alliance is to regulate sports betting advertising before the government steps in and imposes strict rules.
The Coalition for Responsible Sports Betting Advertising is a voluntary alliance that has pledged to control print and online sports betting commercials presented to would-be customers. The alliance will ensure that sports betting is marketed to adults only. Moreover, commercials should promote responsible gambling and should not feature misleading information. Another principle of the coalition is that media agencies publishing sports betting adverts should take pay attention to complaints from consumers and conduct internal reviews.
The creation of the alliance comes after the American Gaming Association released an updated Responsible Marketing Code for Sports Wagering last month, according to which commercials should carry a 21+ legal wagering age warning. Besides, anyone featured in a sports betting commercial should be over 21 and the term "risk free" will be prohibited. The code also bans college partnerships that promote sports betting. Advertisers should adjust to the new rules by July 1.
People in the Industry Commend the Alliance
Speaking at a gambling industry forum in Atlantic City, West Virginia state Delegate Shawn Fluharty confirmed that lawmakers are worried about the surge in sports betting commercials. He added that the leagues know that if they do not take matters into their own hands, the government will.
Kenny Gersh, executive vice president of media and business development for Major League Baseball, said that the group will play a crucial role in the sports betting industry that continues to grow. He explained that sports betting provides fans with the opportunity to enjoy sports in more ways, but betting should be marketed to the right audience in a "mindful and deliberate" way.
David Highhill, general manager of sports betting for the NFL, said that advertising is a powerful tool in promoting responsible gambling. Mike Mulvihill, an executive vice president with Fox Sports, explained that the media agency is focused on keeping the integrity of the games and protecting sports fans from gambling problems.
Keith Whyte, executive director of the National Council on Problem Gambling, applauded the group and praised their efforts to prevent gambling problems.