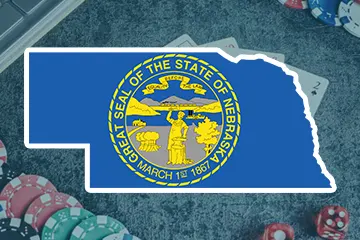 On Tuesday, changes to Nebraska's gambling laws were approved by the Legislature on a 46-0 vote and sent to the governor's desk. The changes seek to create a hearing panel for violations of the state's gambling laws and provide a clear definition of a racetrack. The objective of the proposed changes is to better regulate the industry rather than expand it, according to Senator John Lowe of Kearney.
People in the Horse Racing Industry Welcome the Proposed Changes
Lawmakers gave final approval to an omnibus bill that seeks to update Nebraska's gambling law. LB775, sponsored by Sen. John Lowe of Kearney, aims to update the definition of licensed racetrack enclosure in the Nebraska Racetrack Gaming Act. If approved, the bill will give the Nebraska Racing and Gaming Commission the authority to create a subcommittee, which will be responsible for investigating violations of the state's gambling laws.
Tom Sage, executive director of the Nebraska Racing and Gaming Commission, praised the changes and said that some of them came at the request of the authority he represents. Lynne McNally, Chief Executive Officer of the Nebraska Horsemen's Benevolent and Protective Association, said that the horse racing community welcomes the changes and expressed gratitude to the lawmakers who approved the proposed reforms.
Ms. McNally shared that she wants sports betting to be legalized in Nebraska because this would support people who own properties in the state. She explained that 20% of casino revenues go to property tax relief funds and another 25% goes to the city where the casino is located. McNally noted that the City of Lincoln, Lancaster County, the City of Omaha, and Douglas County enjoy economic benefits from hosting gambling venues.
What Other Provisions the Omnibus Bill Includes?
The omnibus bill also includes provisions for four other bills. A measure sponsored by Grand Island Sen. Raymond Aguilar aims to introduce changes to the Nebraska County and City Lottery Act and redefine the term gross proceeds in such a way as to exclude admission costs collected at locations where the lottery is available to the public. Another bill sponsored by Aguilar seeks to allow funds from the County Visitors Promotion Fund to be used to improve facilities that host parimutuel wagering and state fairs.
Legislation sponsored by Omaha Sen. John Cavanaugh would authorize the sale of digital-on-premises tickets. Currently, keno tickets are available only in paper form. Moreover, it would allow the use of additional payment methods such as debit cards, bank accounts, prepaid cash accounts, or the cash balance of a payment application. Nebraskans who would like to use their debit cards to play keno will have to comply with a limit of $200 from a lottery operator in a calendar day.