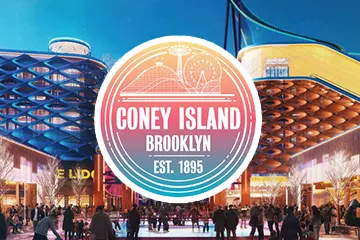 Community Board 13 held an open community forum on Wednesday at 6 p.m. at Gargiulo's Restaurant, 2911 W. 15th St., where representatives of the Coney had the opportunity to provide more details about their casino and entertainment project that would be located close to the iconic boardwalk. Members of the United Front Against Displacement expressed their disapproval of the casino project by protesting outside the restaurant.
Pros and Cons of Having a Casino in Coney Island
This Wednesday, community leaders and activists once again had the opportunity to express their concerns associated with the casino proposal, also known as "The Coney", and outline the adverse effects of having a casino in their neighborhood. Project officials also attended the meeting to present the casino proposal in detail in front of the community.
According to casino naysayers, the entertainment venue would bring many negative impacts related to pollution, traffic jams, crime, and possible gambling problems for young people. But casino proponents say that such a venue would create more jobs, attract more people to the neighborhood, and further boost the local economy. Casino opponents believe that most jobs will be low-wage positions and that the economic benefits that such a project would bring are exaggerated.
The objective of the open forum was to provide a tribune for both casino proponents and opponents to voice their opinions and concerns. The United Front Against Displacement, a community organization that advocates for affordable housing and community-based development, organized a rally to protest the casino. The organization claims that the casino project would lead to the displacement of long-time residents and make rents more expensive.
The future of the casino project is still unclear as the state has to decide whether or not it will grant a casino license. Brooklyn Borough President Antonio Reynoso has announced that they are still discussing the project with the governor.
Developers' Bids for New York City Casino License
"The Coney" is a joint venture between the Chickasaw Nation, Saratoga Casino Holdings, Legends, and Thor Equities. The $3 billion investment is expected to create 2,500 construction jobs. The goal is to transform Coney Island into a year-round destination.
The Coney Island casino bid is not without competition. The New York Yankees are among the investors interested in obtaining one of the three casino licenses. Steven Cohen, the owner of the New York Mets, also expressed his desire to open a casino near Citi Field.
However, supporters of the Coney Island bid remain optimistic that the project will be successful. They see it as a way to reinvigorate the economy of the area and bring much-needed employment opportunities.